8 things to make in a blender to speed up every day meals
Speed up everyday meals and make light work of entertaining with our blender-friendly ideas…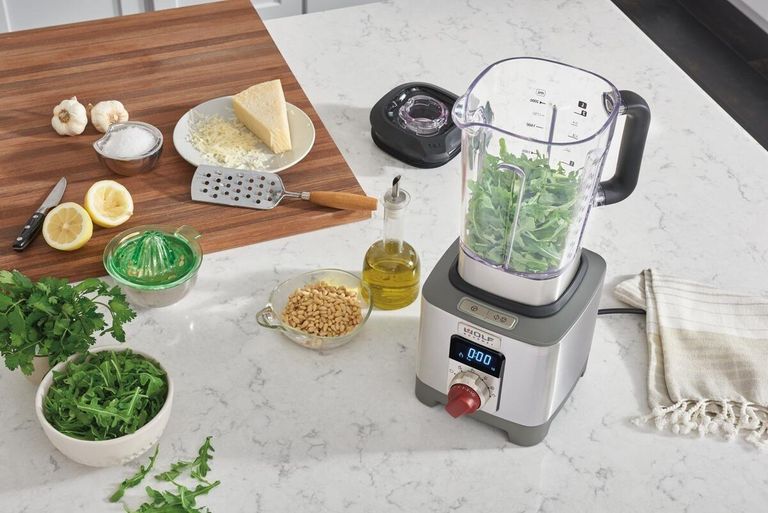 (Image credit: Subzero Wolf)
Wondering what to put in a blender to make entertaining and evening meals easier? Whether you have one languishing in the cupboard that you've vowed to use or lose, only bring yours out for smoothies or are thinking about adding the best blender to your batterie de cuisine, we believe a blender is a vital tool in any keen cook's kitchen armory.
However, there's a lot more to the humble blender than lump-free beverages, and many of the suggestions in this guide apply to immersion blenders and portable blenders, too.
We tick off a few blending basics, but also focus on how to maximize a blender's full culinary potential. By taking a more holistic approach to ingredients and really getting to grips with how it works, you'll soon be reaching for your blender every day.
1. Fresh pesto
You can of course make pesto in a food processor but as much bigger machines than blenders, they're often stowed away rather than out on your countertop. Blenders are far more likely to be close-to-hand, plugged in and ready-to-go. Arguably, cleaning a blender is also a whole lot easier.
Featuring soft and liquid ingredients, pesto doesn't need a particularly powerful blender to produce fabulous results. To make a herb pesto, simply add all the ingredients in step one to your blender, starting with the liquids, then the herbs (roughly chopped), and finally the pine nuts. Use the pulse button a few times to get things going, then blend to your preferred consistency.
2. Delicious soups
An immersion or hand blender that goes directly into the saucepan will reduce washing up but if you only have a jug blender to hand, soup is absolutely doable.
The key is to allow a little time for the cooked soup to cool as most blenders are not designed to work with liquids above 80°C. Pop in a couple of ice cubes before you decant from saucepan to blender and your soup will be safe to blend in a jiffy.
3. Cool cocktails
You don't need cocktail waiter skills to shake up some Tom Cruise-worthy blends! Blitzing cocktails in your blender is particularly useful when entertaining a crowd, as you can produce bulk orders with speed, ensuring nobody is left empty-handed.
Recipes that feature crushed ice, like daiquiris, margaritas and mojitos, are perfect thirst-quenchers in the summer months, but make sure you add at least a cup of liquid to the ice cubes to ensure a smooth, non-lumpy adult slushy!
4. Pizza sauce
The ingredients in our pizza recipes by Alice Hart can be blended first to achieve a smooth base for pizza toppings. Blending pizza sauce is also a good way to sneak if a few 'hidden veg' like chopped onions and cooked carrots to boost your family's five-a-day without alerting fussy eaters.
5. Pancake mix
A simple and quick way to ensure silky smooth, lump-free pancake batter is to harness the help of your blender. This indulgent pancake recipe uses an immersion blender, aka stick blender, to ensure perfectly combined liquids but you could also use a traditional jug-style blender.
It's not necessary to blend all the ingredients in this recipe but if you'd like to, do it in two batches to avoid seepage at the lid – depending on the size of your jug.
Recipes aimed at eight pancakes or fewer is ideal for a speedy breakfast or brunch pancake hit.
6. Speedy ice-cream
With no laborious custard base or cooking required, ice cream recipes made in the blender really couldn't be easier. All you need is an equal amount of any frozen fruit and double cream, adding sugar to taste.
For example, try 150g frozen raspberries with, 150g double cream (fresh from the fridge) and a tablespoon or two of caster sugar. Blend until smooth and then freeze for an hour or so, if necessary. Use a medium speed and be careful not to blend for too long or the cream can separate, and you'll end up with butter.
Switch cream for water or fruit juice to make a refreshing sorbet.
7. Salad dressings
Any salad dressing that's best served super smooth is prime fodder for your blender. A quick vinaigrette can be whipped up in about 30 seconds and will taste far fresher than any shop-bought dressing.
The secret to success is all in the ratios – three parts extra virgin olive oil to one part vinegar (we like cider vinegar but go for balsamic for more robust flavor).
Blitz. Season. Serve!
If you prefer a little more zing in your vinaigrette just add a splash of lemon juice or a teaspoon of mustard. More classic blender-friendly dressings include honey and mustard, Caesar and ranch.
8. Almond milk
You don't need to be dairy intolerant to appreciate the velvety creaminess of almond milk, which tastes amazing in your morning coffee, on cereal or just on its own.
Once you've tasted homemade almond milk, you'll never look back. It can be made in both a blender or food processor but we think the blender wins in terms of silky smoothness. A food processor produces grainier results, which is okay on granola but not so great in tea.
The process is pretty straightforward: soak raw almonds in water for at least 24hrs (48hrs is preferable), drain and rinse, then pop in the blender, just covered with fresh water. Hit pulse a few times, then ramp up to full power for at least two minutes. Finally, strain the results through a sieve lined with cheesecloth and sweeten the resultant liquid with honey or maple syrup, if desired. Store in the fridge for up to three days.
Linda graduated from university with a First in Journalism, Film and Broadcasting. Her career began on a trade title for the kitchen and bathroom industry, and she has worked for Homes & Gardens, and sister-brands Livingetc, Country Homes & Interiors and Ideal Home, since 2006, covering interiors topics, though kitchens and bathrooms are her specialism.