How to keep a mudroom tidy – 10 clever ways to keep things neat
It's the hardest-working room in the house, so be inspired by these tips and hacks to keeping your mudroom tidy, clean and organized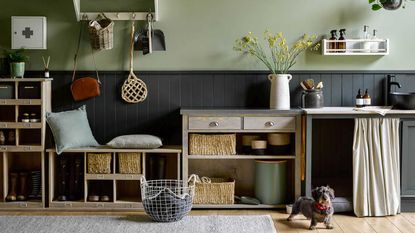 (Image credit: Garden Trading)
Sign up to the Homes & Gardens newsletter
Decor Ideas. Project Inspiration. Expert Advice. Delivered to your inbox.
Thank you for signing up to Homes & Gardens. You will receive a verification email shortly.
There was a problem. Please refresh the page and try again.
It's the place you hang your coat, leave your shoes, stash your bags, store your sports gear and even keep the dog's kit. So it's no wonder the mudroom can often be a bit of a catch-all clutter magnet.
Keeping such a busy space tidy is difficult; but the problem is, once your mudroom becomes disorganized, things go downhill fast, leaving you feeling frustrated when you leave the house, rather than ready to face the day ahead.
The answer? Developing a few regular good habits to help keep things neat as you go along. So, whether you are decluttering an existing mudroom, designing a mudroom from scratch, or trying to get a mudroom area organized in a small space, we've compiled a list of ten tasks, tips, and tricks you can use day-to-day, to help curb the clutter for good.
How to keep a mudroom tidy
1. Declutter seasonally
For a mudroom to work efficiently, everything in it needs to be both used and useful, so give it a seasonal declutter every summer and winter, storing out-of-season items elsewhere in your home when not in use.
'Begin by taking an inventory of what you have at the moment, and give away what you don't need,' suggests interior designer Larina Kase. 'Then, take what you're left with and ask yourself if the items need daily access, such as shoes and jackets, hats, scarves, sunglasses, keys and bags. Bulkier items like sports equipment might be better off in the garage; whereas additional seasonal jackets, shoes and umbrellas can be stored in a guest room closet.'
An award-wining interior designer, serving the Main Line and Western Suburbs of Philadelphia, Larina runs Larinakaseinteriordesign.com. Her goal is to understand each client's style and needs to design spaces uniquely suited to them. She approaches the process collaboratively and believes people know what they love when they see it. As a mom to three energetic boys, Larina is passionate about creating family-friendly homes for everyone to enjoy.
2.Design your mudroom for you, not Instagram
We've all scrolled through Insta and lusted after pictures of beautiful bespoke wall-to-wall cabinetry when looking for mudroom storage ideas. Sadly, though, what works on the 'gram may not work in reality. Plan your storage with real life in mind, and it'll be easier to keep things organized.
'One of the biggest mistakes people make with mudrooms is trying to force a design that doesn't work in their particular space,' reveals Larina. 'Another is not taking time to think through your personal storage needs.'
'So, when designing or reconfiguring your space, sit and think about all the items you want to go into your mudroom, as well as what works for you now – and what doesn't,' suggests interior designer Melissa Holt, from Holt Design House. 'Some families want a place for their lunchboxes, while others prefer space for sports gear. Do you need somewhere to sit and put your shoes on, or specific spots for school paperwork?'
Melissa is the acclaimed interior designer behind Holtdesignhouse.com, and on a personal level, like her clients, she's a busy professional mom. An authority on casual California living, her signature look has graced some of the Bay Area's most beautiful homes. Noted for integrating trend-forward technology into her projects, she works with a select number of families each year to design, build and renovate turnkey residences.
3.Give everything a home
'If everything in your mudroom has a home, it's far easier to put it away every day,' says Melissa. 'For example, where do you put your purse – do you need a special hook for it, or will it sit on counter?'
'Not only will having a place for everything mean your mudroom looks tidier, but it will mean you're far less likely to lose things,' adds interior designer Jackie Hoyte, from Decor Buddi. 'Even little things, like a bowl or holder for keys from The Container Store, or a stand for your umbrella, at Wayfair, can make a big difference.'
Jackie is an interior designer with Decorbuddi.com, and has over 16 years of creative experience, offering both bite sized interiors advice as well as designing a range of projects from small flats and starter apartments to large family homes.
4.Think small
Short on space? Make it work smarter. 'Firstly, see if any items can be put elsewhere,' suggests Melissa, 'Then give yourself flexibility with hooks and baskets rather than fixed cabinets.'
'Small mudrooms can be very functional,' adds Larina. 'Consider swapping existing cubbies for a long shoe bench, and add lots of hooks to the walls. Utilize all of your vertical space by adding shelving above the hooks; and put baskets on the shelves for additional storage and a nice textural element to your scheme.'
5.Put pets in their place
Let's face it, pet paraphernalia isn't always particularly clean – or attractive. 'Creating a dedicated pet zone in your mudroom will ensure all the mud and dirt stays in one place, and you always know where to find everything,' says Jackie.
Melissa agrees: 'More and more people are integrating dog washing stations or kennels into their mudrooms, so it feels more seamless and less of an eyesore.'
6. Keep storage flexible
Too much built-in boxy or closed storage can make a room feel visually 'heavy' says Melissa, and it's usually configured for one specific purpose – making it harder to keep tidy if you want to use it in a different way. 'Mudrooms are multifunctional spaces, so keep things flexible, as your needs and the way you use the room will change over time. What you want now with young kids may not be what you want when they are teenagers. With this in mind, keep a mixture of both closed and open storage, hooks, cubbies and shelves, that can grow with your family.'
7.Give each family member a designated spot
Spread the load by giving each member of your family a dedicated storage space that they're held accountable for, says Jackie. 'For kids, this may be hooks at a lower level for their coat and school bag, and a bin or basket, from Amazon, for their shoes. Encourage them to put their own things back every time they finish using them. If they know where something goes, they can tidy it away themselves – and hopefully, you won't have to lift a finger!'
8. Make your storage stylish
If your mudroom looks beautiful, you'll be more motivated to keep it that way, says Melissa, so be bold with your décor choices. 'This is a place you can play with pattern and color, so make it more interesting, with your favorite paint shade, stylish hardware, fun wallpaper or floor tiles.' Unsure what kind of palette to choose? There are some colors designers advise against painting a mudroom, but if you love it, go for it.
9. Get tough with your décor
Mudrooms see a lot of action, so keep yours looking neater for longer with durable décor. 'Walls can be brushed against more often in mudrooms, so consider adding wainscoting or a durable wallpaper, such as a vinyl,' recommends Larina.
'Choose a wipeable, hard-wearing paint finish for any wall or woodwork, and lay practical flooring such as vinyl or tiles in the mudroom,' suggests Jackie.
10. Ready, set, charge
Install a couple of extra sockets and never wade through a tangle or wires or set off for work with a half-charged phone again, suggests Melissa. 'Set up a dedicated daily charging station in a mudroom cubby for things like Apple watches, cell phones or tablets. That way, you can find things easily and it's always fully charged and ready.'
FAQs
What should be stored in a mudroom?
There are no set rules about what you should put in your mudroom or bootroom says Jackie Hoyte, but it ought to be things you use on the regular. 'Coats and jackets, shoes, boots, sports equipment, bags and purses, school stuff, gym kit, hats, gloves, scarves, sunscreen and bug spray, sunglasses, phone chargers, small electronics such as earphones, pet care items and even pet beds.
'All of these can live in a mudroom if that's the most useful place for them. If you don't use these things at least weekly, however, they may be best stored elsewhere, making your mudroom tidier – and your life a whole lot easier – in the process!'
---
'Never underestimate the power of a well-organized mudroom,' says Jackie – and we can relate. Once you've got a few of these systems in place, given everything a home – and taught your family some helpful new habits – you should find your mudroom functions far better, helping rather than hindering you on the way out the door.
Sign up to the Homes & Gardens newsletter
Decor Ideas. Project Inspiration. Expert Advice. Delivered to your inbox.
Jenny has been a features and lifestyle journalist for over 20 years and writes about homes and gardens for a range of national newspapers and magazines. Jenny writes about organization, decluttering and storage for Homes & Gardens.