Ceiling trim ideas – 12 ways to enhance this architectural feature
Add elegant decoration and colorful character to your ceiling with our inspiring ceiling trim ideas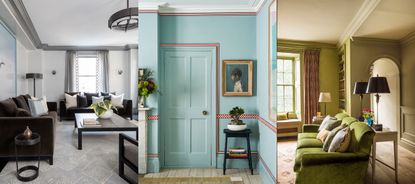 (Image credit: Ginny Macdonald Design, photography Raquel Langworthy | Susie Atkinson | One Represents Ltd)
Our ceiling trim ideas explore how there are many creative options for this often overlooked, subtle surface area in the home; from beautiful bright colors, to unique materials and innovative modern adaptations.
Ceiling trims, also known as crown moldings, have been used for years as coverings and dividers between the section of space where a wall and ceiling meet, establishing a smooth and neat transition.
Originally designed to add both a practical and decorative design feature to a room, over the years there have been many changing styles of ceiling trim, from the ornate to the sleek and simple.
When planning your ceiling ideas, enhancing the trim, whether that's through paint or material and decoration, can created a unified, well-thought out design that makes the most of every inch of space available.
Ceiling trim ideas
For some stylish inspiration, we have curated a collection of 12 different looks that show the variation and creativity that can be had with ceiling trim ideas in the home.
1. Keep things cool and contemporary
In this modern living room, designed by Ginny Macdonald Design, the ceiling trim has been painted in a cool, contemporary gray shade, adding a sleek modern edge and focal paint to the sophisticated design.
However, the ceiling trims have not just been just been merely painted, they have been cleverly crafted and shaped to enhance the feeling of ceiling height in the room. Macdonald states of the design process, 'throughout the home, it was a big focus of our design work to preserve ceiling height while also attending to our client's need to install air conditioning and "smart home" technology.
We worked very hard to conceal ductwork and chases for additional electrical conduit in soffits and hidden alcoves. When this wasn't possible, we were required to drop certain ceilings a dreaded few inches. As a result, we designed crown moldings that would give one the impression that the ceilings were much higher than they actually were.
The crown in this home travels further out from the corner horizontally across the ceiling than it does vertically on the wall. However, when looking at the wall straight on, it looks like the entire volume of the moldings is an integral part of the vertical wall height - thus higher ceilings! It really works and has the added benefit of elevating the architecture and bones of home.'
2. Celebrate the beauty of original decorative designs
In this relaxed, inviting white hallway, the ornate, decorative ceiling trim enhances the all-white ceiling design.
Adding intricate texture, depth and timeless beauty to the ceiling space, the trim is reminiscent of a classical, Victorian style, with this hallway establishing a beautiful blend of different eras of design and craftsmanship techniques.
Many period properties are finished with original plasterwork and ornate detailing, such as the above, however, if you want to bring in this style of ceiling trim to a modern property, there are many decorative ceiling trim designs that you can purchase and have installed to re-create the look.
3. Enhance your ceiling trim with a pretty border
To enhance your ceiling trim with color, pattern and texture, why not use a pretty border.
This elegant blue hallway has been finished with a mix of checkered and striped decorative designs, creating a beautiful contrast and accent color in the space as well as a unique decorative detail.
These border designs, an expansion of Susie Atkinson's wallpaper range in collaboration with artist, designer and print maker Ellen Merchant, come in a palette of bright colors and different patterns.
Susie states of the designs, 'borders have been used for many years to elevate the simplest of rooms, adding details and delight in an easy, affordable way. They are less of a commitment than wallpapering the whole room but still bring that color and interest to wall, adding an accent to contrast or compliment a room. The possibilities with them are endless.'
4. Create a colorful and cohesive design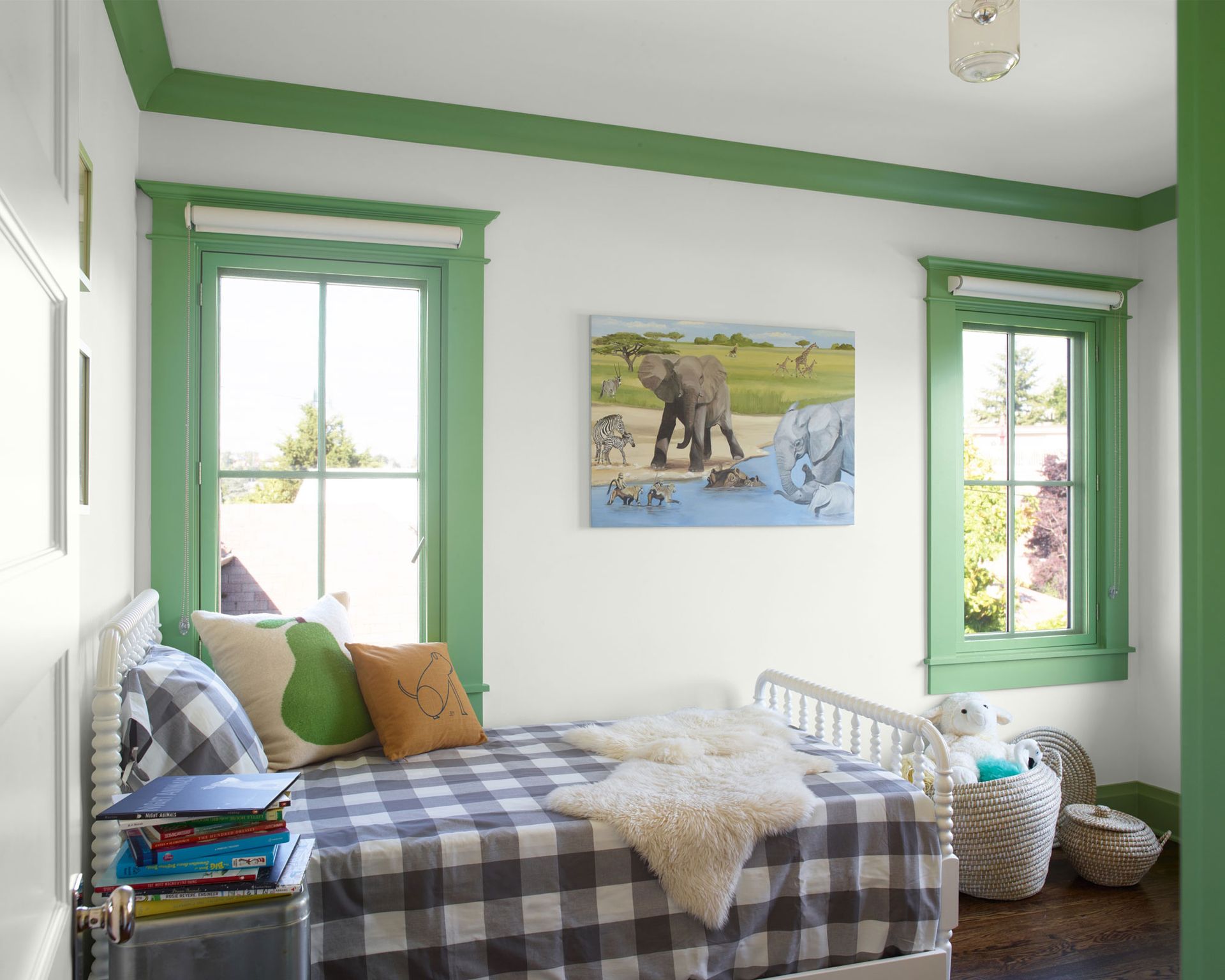 If you are looking for ways to bring color into a bedroom but do not want to use paint on the walls, painting skirting boards and the trims around the ceiling, windows and doorway can create a fun, vibrant and unique look.
Emma Bestley, co-founder & creative director of YesColours says, 'skirting boards and trims as well as door and window frames shouldn't be restricted to the standard off-white, instead give them a little personality with a contrasting color to the wall.'
In this kid's bedroom, the trims have been uplifted by a bright Cedar Green paint by Benjamin Moore. Making an eye-catching feature out of these simple yet beautiful architectural details, the design makes for a stylish kid's bedroom that can grow with them and the space over time.
5. Wow with wood
This stunning home, which dates back to 1905, is situated in Angelino Heights, north of Downtown Los Angeles, and has been beautifully restored by Jamie Haller.
Defined by a masterful use of wood and expert craftsmanship, the trims in this space have been finished in a warming dark wood, creating a unique, cozy cabin decor look that feels utterly luxurious, perfect for wood ceiling ideas.
Haller states of the project, 'specialty fine carpenters were used to copy and replace the homes extremely unique crown molding in the club room / study (shown above), with custom baseboards and crown moldings recreated to exactly match the homes original millwork.'
A stand-out example of what can be achieved when working with wood, this room is rich with inviting texture and has a timeless, organic appeal that celebrates the beauty of long-lasting natural materials.
6. Get creative with paint
In this traditional entryway and living space in a Georgian home in Winchester, one section of the room has been decorated in a beautiful, green damask wallpaper, with the other painted in an earthy, neutral color, finishing with a bright white ceiling.
To enhance the use of color in the space, the ceiling trims have been painted in a matching shade, creating a unified look that cleverly zones each space.
Simple but highly effective, extending your paint ideas to the ceiling trim, as well as thinking cleverly about how you can enhance the look of your wallpaper ideas, makes for a stylish and cohesive design.
7. Think outside the box
We have explored a range of 'typical' ceiling trims and ways to enhance them through paint and color, but there are also many innovative, modern designs that you can choose that think outside the box when it comes to creating a unique, ceiling trim effect.
Marking a distinct separation between the wall and ceiling, the LED strip lights in this bathroom by HiB, a great example of LED bathroom lighting ideas, also provide practical illumination and an alluring glow throughout the space.
Not your standard ceiling trim, but a creative idea that achieves a similar effect and eye-catching focal point, LED strip lights like this can also be mounted above or below an existing trim, enhancing the design and creating a beautiful lighting feature.
8. Match with your painted ceiling
If you are wanting to explore ceiling paint ideas, including the ceiling trim in your chosen painted design can both look beautiful as well as work as a clever paint trick for low ceilings.
Patrick O'Donnell, brand ambassador at Farrow & Ball says, 'most of us default to a white ceiling, but this can be hugely missed opportunity to add another layer of design to a room. Looking at your ceiling area in a considered way can enhance the room design, such as the scale, lowering the height or softening awkward angles in an attic space.
Use one color all over the ceiling and trims - this is one of the most useful considerations, especially if your ceiling height feels low. It will remove the visual contrast where the wall stops, and ceiling begins and accentuate a seamless flow in your room.'
9. Coordinate with your wallpaper
A great way to enhance and frame your wallpaper, choosing a beautiful paint shade for your trim, whether to create contrast or cohesion, can create a truly elegant look.
As shown in this colorful dining room by Elizabeth Cooper Interior Design, the unique, pomegranate inspired wallpaper print has been elevated by the painted trim and paneling, enhancing the design through added color and texture.
Cooper states of the design for the room, 'we wanted the wallpaper in this room to be distinctive and unique, and not too matchy-matchy. The paneling on the lower half of the walls is painted in a beautiful blue-gray by Portola Paints, the wallpaper is by Idarica Gazzoni.'
10. Create an enhanced ceiling trim effect
Whether you want to create a colorful statement in a room, or establish a striking, two-toned design, using paint to establish an enhanced ceiling trim effect can make for a stylish and modern design.
Pink and green are renowned to be a harmonious and beautiful color combination, as shown in this refreshing and bright living room painted in Pea Green and Leather pink by Little Greene.
Patrick O'Donnell states, 'make a bold statement to a ceiling trim and add a splash of whimsical fun with a bright contrast. This look work's especially well with a strong color or bold print on your walls.'
A vibrant, abstract and unique living room paint idea, the vivid pink paint makes for a beautiful border below the white ceiling trim design, balanced out by the calming green for a more relaxed, grounded feel.
11. Keep things plain and simple
As fun and unique as some of the ceiling trim ideas that we have explored are, sometimes you can't go wrong with keeping things plain and simple.
In this elegant black and white bedroom by Mary Jo Fiorella of Fiorella Design, the sleek white ceiling trim works perfectly in the more modern, minimalist space.
Still adding a subtle element of texture and separation between the walls and ceiling, this clean, white design is an timeless option for ceiling trim ideas.
12. Unite the classic and contemporary
This bedroom beautifully balances a fusion of the classic and the contemporary, with an eclectic collection of furniture, lighting designs, artworks and upholstery.
For the ceiling trim ideas in this space, a unique, slender painted red line marks a striking yet effortlessly simple separation between the cream painted walls and white painted ceiling.
An artistic, modern take on a traditional ceiling trim design, this fine line has a great impact on the space, creating unique visual interest and a stylish contrast with the more classically designed space.
What kind of trim is popular?
There are many different styles of ceiling trim used today, from modern paint ideas to the celebration of traditional ornate designs.
In recent years, many of us are moving away from a standard painted white ceiling, and embracing more creative ways that we can bring in color and character to our homes.
As we have explored, it is definitely worth paying extra attention to the ceiling trim in your space, carefully considering how this enduring architectural feature can enhance your design scheme.
Is ceiling trim out of style?
A lot of modern house designs do away with ceiling trims, with construction techniques allowing for a seamless, sleek finish. However, that is not to say that ceiling trims are out of style, many of us go out of our way to install them into our homes for added texture and charm.
Whether you bring in a decorative design to a new-build, or paint your traditional trim a bright color, there are ceiling trim ideas to suit all spaces.
Sign up to the Homes & Gardens newsletter
Decor Ideas. Project Inspiration. Expert Advice. Delivered to your inbox.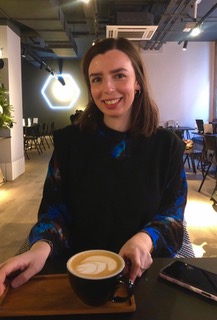 Zara joined Homes & Gardens in February 2022 as a Content Editor. After studying English Literature at University, she worked as an Ecommerce Website Editor, Content Writer and Buying Intern at multiple independent businesses within the luxury retail and lifestyle sectors. Her role at Homes & Gardens unites her love, experience and passion for the world of design and desire to create inspiring written content. She enjoys nothing more than discovering new trends, brands and products, whether that be in fashion, interior design or lifestyle.