White hallway ideas – 10 ways with white to establish a welcoming space
Explore our favorite white hallway ideas for a timeless and versatile scheme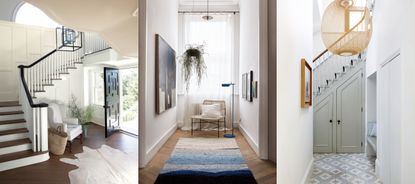 (Image credit: Benjamin Moore | Davide Lovatti | Richard Powers)
White hallway ideas can create a refreshing and uplifting entry point into the home.
Renowned for its versatile and timeless qualities, decorating with white can establish a long-lasting scheme in interiors of all shapes, sizes and styles.
When planning what color to use for your hallway ideas, light colors such as white are often considered to be the best option, as they can make this busy, multifunctional space in the home feel lighter, brighter and more spacious.
A truly versatile shade, a white hallway can make for a relaxing, long-lasting design that can grow with your interior space for years to come.
White hallway ideas – 10 inspiring white looks for the entrance
Whether you want to create a serene, all-white scheme, or simply use white paint on your walls to create a neutral backdrop for paint ideas, we have gathered a collection of white hallway ideas to provide you with some inspiration.
1. Keep things simple
If you want to achieve a pared-back, minimalist look, white hallway ideas can create a simple and sophisticated scheme.
This hallway is defined by an elegant, monochrome look, where classic color combinations and the beauty of raw and natural materials take center-stage.
A monochrome color palette can work well in both period properties and sleek modern spaces. When combined with added textures and subtle accent colors, decorating with black and white can create a clean and uncomplicated hallway design.
2. Create a soft space with carpet
When planning your white hallway ideas, ensuring you have plenty of added texture in the space can ensure the overall design does not feel cold or 'flat'.
One way to lift your white hallway scheme is to use hallway carpet flooring, as Lisa Conway, Marketing Manager at Brintons explains, 'the texture of carpet is key to preventing a neutral scheme from looking dull. An alternative flooring like wood or tiles can sometimes make a room feel stark and bare, whereas a soft woven wool carpet, layered with accessories in cashmere, mohair and linen, will all work to soften a look and create an inviting scheme.'
3. Fully embrace natural textures and neutral palettes
Neutral room ideas prove ever-popular in interior design, often creating grounding and relaxing designs that reference the beauty and colors found in the natural world.
For your white hallway ideas, using other neutral colors and natural materials in combination can create a cozy and truly welcoming space.
In this relaxed hallway by Lucie Ayres from 22 Interiors the design is defined by a calming, neutral color palette and inviting, tactile textures. She states of the process for the design, 'we want to add softness at every opportunity, focusing on organic elements as well as nature inspired tones took that modern, harsh edge off the space successfully.'
Simple additions such as the woven pendant light, cream runner and artwork make this spacious, contemporary white hallway feel more intimate and soft, beautifully inviting you into the home.
4. Use bright accent colors
The beauty of white hallway ideas means that you can get creative with almost any accent color, with bright accents working well to create a stylish and eye-catching design.
In this hallway, the all-white space has been lifted by the bright green carpet runner on the stairs, establishing a striking focal point as you enter the space. This use of green is enhanced by the green and pink artwork on the wall, resulting in an elegant, cohesive hallway design where bright and neutral colors work harmoniously together.
5. Add texture with paneling
Wall paneling ideas can add a beautiful element of texture and depth to your hallway, and choosing white paneling can make this classic, decorative feature feel utterly timeless.
Often associated with traditional interiors, there are many modern hallway paneling ideas to choose from also, highlighting just how versatile this design idea can be for homes of all ages.
In this large hallway by Elizabeth Cooper Interior Design, the space is defined by a unique mix of decorative ornaments, design styles and textures. She states, 'we have several antique pieces from different time periods and places which create a unique mix in the space. These pieces work well with the classic entry but prevent it from looking too stuffy and formal for this young family.'
Bursting with character, the traditional paneling complements this varied mix of styles and objects, with the white finish ensuring the space still feels modern and fresh.
6. Create an oasis of calm
For many, the color white symbolizes feelings of tranquility, peacefulness and purity, and using this color in interior design can help to create an oasis of calm in your home.
Patrick O'Donnell, Brand Ambassador for Farrow & Ball states, 'white represents purity, innocence and new beginnings, as well as cleanliness and clarity, it can be used everywhere in the home.'
The hallway is often treated as a busy thoroughfare, seen as merely a space that connects you to more important rooms in the home, but carefully curating a well-thought out design that prioritizes feelings of calm and restfulness will only invite you to want to stay longer in the space.
In this cozy corner in a modern hallway, the clean, white walls have been paired with a warming, light wooden floor and inviting, soft furnishings and accessories with elegant blue accents. Decorating with blue and white will always be a winning combination, and this hallway, it creates a restful space where you can truly sit back and feel relaxed.
7. Add warmth with wooden flooring
Using wood flooring ideas for your white hallway can make your white scheme feel more grounded and cozy, as well as beautifully showcasing the timeless beauty of working with wooden flooring in interior design.
Sarah Escott, Amtico Design Manager states, 'mindfulness and wellbeing remain a key topic and more important than ever when creating restful spaces to retreat to from our busy lives, and monochromatic schemes based around the beautiful, natural wood grains bring a sense of calm and order to a space.'
The dark wooden floor and white paint by Benjamin Moore in this hallway perfectly complement one-another, creating a stand-out, neutral scheme where calming colors and natural materials work harmoniously to create a timeless and welcoming hallway design.
8. Decorate with books for added color and texture
Accessorizing with books is an easy and simple way to inject an element of texture and color to your white hallway space.
Not often associated in a hallway, using bookshelves in this space for your bookshelf ideas can create a welcoming focal point and tactile design feature.
Embracing the colors, textures, shapes and sizes found in your book collection can effortlessly transform the look of your hallway space, as well as adding personality and character.
9. Use wallpaper to uplift an all-white scheme
A great way to add an element of color and pattern to your white hallway, hallway wallpaper ideas can create an impressionable, decorative design feature in the space.
With white being able to coordinate with pretty much any other color out there, you can be both adventurous or subtle with your chosen wallpaper design.
In this hallway, the Art Nouveau floral wallpaper adds an elegant, visual interest to the all white space. The use of pattern and a contrasting, darker color on this wallpaper design effortlessly uplifts the white space, creating a rustic, minimalist look.
10. Create contrast with your flooring
With many hallways defined by Victorian hallway tiles or traditional flooring patterns and materials, embracing white hallway ideas can let these beautiful flooring designs take center-stage.
With a grand array of floor tile ideas to choose from, many styles can effortlessly integrate into a white scheme.
In this hallway, the geometric, gray tiles work perfectly with white walls, as well as complementing the gray painted storage cabinet under the stairs. Finished with natural accents such as the woven pendant and wooden picture frame, this hallway space embraces a modern, minimalist look, with the flooring adding inviting character, pattern and charm.
Is it ok to paint your hallway white?
A white hallway can create an inviting, relaxed space that effortlessly welcomes you into the home.
Ideal for both large and small spaces alike, working with the color white can enhance on the feeling of brightness and space in a room - ideal for a high traffic and busy area such as a hallway.
When choosing the right white shade for your hallway, Charlotte Cosby - Head of Creative at Farrow & Ball states, 'when using white in a hallway, the number one consideration is selecting the correct finish. White will show the most wear and tear in a busy through-space, so making sure you have something washable/ wipeable on the walls like Modern Emulsion is key - keeping your walls looking beautiful for longer. Hallways also tend to receive the least light in a home, so look to whites with a gentle yellow undertone to lift the space from feeling too sharp or flat.'
How do you make a hallway look welcoming?
You want your hallway to make a great first impression as friends and family step inside your home, you also want to create a welcoming design that makes people feel comfortable and at ease as they enter into your space.
Bo Hellberg , CMO at String Furniture states, 'the hallway is the first impression of your home. But keep it simple and don't clutter. Start from everyday functions and think about how to make those functions elegant. Like a simple mirror or pendant light. Or stylish hooks to hang anything that looks good.'
The hallway will always need to contain functional designs, such as hooks, shoe storage ideas and seating, however, you also want the space to embody your style and personality. Remembering to accessorize the space with unique ornaments, artwork and pops of color will help to make this area more personal and thus, more welcoming.
Sign up to the Homes & Gardens newsletter
Decor Ideas. Project Inspiration. Expert Advice. Delivered to your inbox.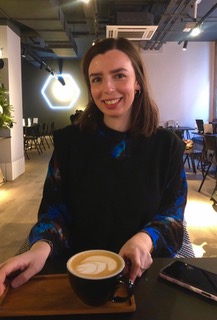 Zara joined Homes & Gardens in February 2022 as a Content Editor. After studying English Literature at University, she worked as an Ecommerce Website Editor, Content Writer and Buying Intern at multiple independent businesses within the luxury retail and lifestyle sectors. Her role at Homes & Gardens unites her love, experience and passion for the world of design and desire to create inspiring written content. She enjoys nothing more than discovering new trends, brands and products, whether that be in fashion, interior design or lifestyle.