Victorian hallway tiles – 16 ideas and tips for period decor
Beautiful but durable, Victorian hallway tiles are back and adding both color and pattern to your period decor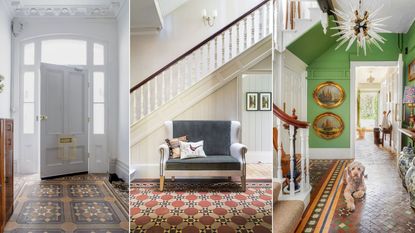 (Image credit: Future)
Despite the abuse they have suffered in previous decades, Victorian hallway tiles are finally getting the appreciation they deserve. From being covered in bitumen to having underlay nailed into them, these gems of the Victorian era are being brought back to life by loving homeowners.
Now viewed as the celebrated original features that they they are, Victorian hallway tiles are being restored in homes throughout the country, while replica design have found themselves woven into a wide range of hallway ideas.
Whether you are looking to restore some original character to your Victorian home or are simply hoping to emulate the look, these designs are sure to inspire.
Victorian hallway tiles
Victorian homes are often filled with abundant treasures, from original cast-iron fireplaces through to stained glass windows. However, none are quite as striking as the iconic hallway tiles. 'Geometric and encaustic tiled floors first appeared in public buildings, churches and grand villas in the Victorian era,' explains Andy Triplow from The Vintage Floor Tile Company.
Whether you're looking to replace a long lost mosaic floor, start from scratch, or style existing Victorian hallway tiles, we asked the experts to share their tips for bringing a period entryway back to life.
1. Opt for traditional encaustic tiles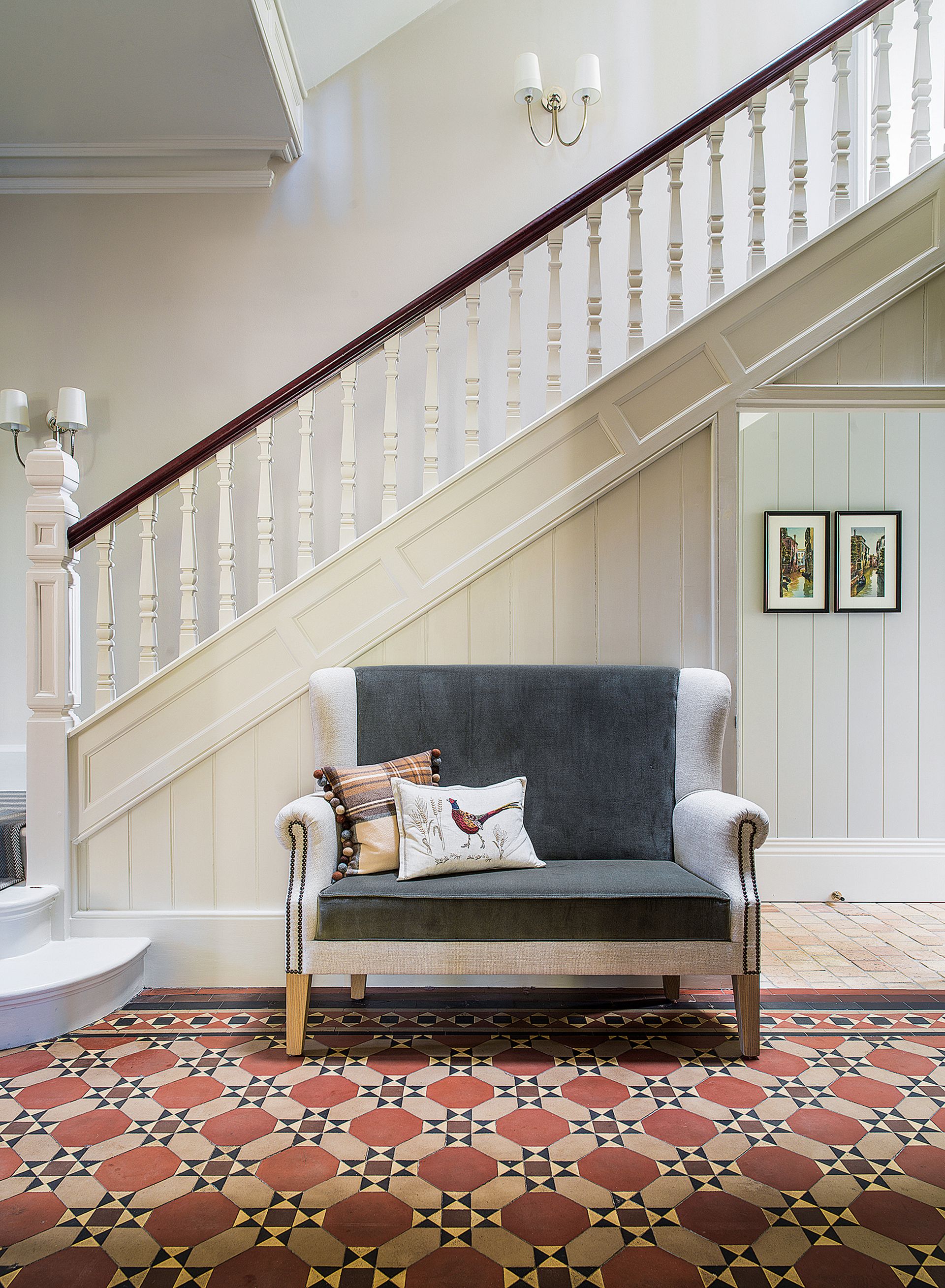 Victorian hallways were traditionally created using encaustic tiles. These are ceramic tiles that are composed of different colored clays.
'Using individual pieces also allows for greater flexibility upon installation, as well as a more aesthetic and authentic finish, perfect for older properties where walls and floors may not be the most even. Back in the Victorian era, this is how these style of tiles were installed – it's a true craft and takes more time than your average tiling project but the finished result is worth it,' says Emma Hughes, studio manager at Original Style.
However, if buying new encaustic tiles be sure to check whether the color has been layered throughout the tile rather than just screen-printed on top – this ensures the tiles' durability and means the pattern won't fade with age.
2. Follow a historically-inspired laying pattern
Traditional Victorian hallway tiles are composed of a series of smaller encaustic tiles laid in geometric patterns. These patterns can be simple or highly intricate. However, with so many options available it can feel daunting. Thankfully, many companies such as Original Style have a host of predesigned combinations from which to choose.
'For hallways, opting for a timeless look, octagon dot is a great choice. The octagon dot pattern goes back further than the Victorian era when it also enjoyed huge popularity. Such a classic will always be in vogue. Keep it simple in black and white or add hints of colored 'dots'. You can be bold by reversing the color emphasis or just enjoy its linear beauty in a single color,' says Emma Hughes. Alternatively if you have a pattern in mind – perhaps hoping to restore the original pattern to your home as seen in neighbouring properties – then you can also create a bespoke design.
3. Restore original tiles
If you are lucky enough to have original Victorian hallway tiles, preserving and restoring them is a must. 'Most domestic interior tiled floors have survived 100 years of family wear and tear. With a little care, they will probably be good for another 100 years,' explains Andy Triplow. Despite this, some tiles may have seen better days, especially if they've been poorly cared for.
However, with some TLC they'll be back to their historic grandeur in no time. 'Tiles will sometimes be discovered beneath thin screeds, lino and carpets, often bonded with adhesives. Removing these is time consuming and difficult but scraping with a wooden or plastic spatula - not metal - and softening with water or paint remover should help. Where water is used, control its spread; a wet towel left on the floor overnight can be effective,' adds Andy.
4. Ensure you care for your encaustic tiles correctly
The benefit of traditional Victorian hallway tiles is their durability and ease of care. However, it is still important that you know how to clean encaustic tiles in order to keep them looking their best.
'Encaustic and geometric tiled floors are generally easy to maintain but grit and moisture trodden in from outside will quickly spoil their surface. A good quality doormat at the front door will reduce the problem but it must be shaken out frequently. Floors need to be regularly brushed or vacuumed. Any loose tiles should be temporarily secured with duct tape and be promptly refixed,' advises Roger Hunt, author of Old House Handbook. 'Tiles that have become stained or dirty can generally be cleaned with fresh water, detergents or proprietary tile cleaners, but never soak the floor. Nylon scourers will help removed stubborn marks, although wire brushes or other abrasives should be avoided.'
5. Try pastels for a modern take on the classic
Rich terracottas, delicate creams, subtle greys, deep burgundies and even vibrant blues are the hallmark of traditional Victorian hallway tiles. Today, however, these are by far from the only options available. For a more modern take on the classic design, consider opting for a soft pastel color scheme. Lighter shades such as baby blues, greens, pinks and yellows will reflect light, helping to brighten what is traditionally quite a dark space in the home. They are also better suited to a more contemporary interior style, without compromising heritage style.
6. Consider reclaimed tiles for authenticity
Installing reclaimed Victorian hallway tiles is a great way to add heritage charm to your hallway. 'As reclaimed tiles come from all sorts of properties, they often have a unique story attached to them,' explains Andy Triplow.
However, since they are reclaimed rather than made, there is a limited number available, therefore it can be a challenge to lay a whole new hallway floor from reclaimed tiles. If you have a small hallway, you may strike lucky and be able to find enough reclaimed pieces to tile your space. Reclaimed tiles can also be used to extend or repair and existing hallway floor 'It is much easier than trying to match the tiles with new versions,' adds Andy.
7. Pair rusts with a splash of blue
'If your goal is to recreate a Victorian pattern as a nod to the home's history, opt for a classic color combination,' says Hughes. For a design that fits seamlessly among your wider period entryway ideas, choose an authentic color scheme for your mosaic tiles. Although the Victorian era may not be widely thought off as the most flamboyant, they loved to splash a little color in their tiling: warm, inviting rusts, yellows and ochres were often punctuated with jewel-like greens or even sky blue like in this stunning example.
8. Keep it classic with a chequerboard design
'For hallways, you cannot go wrong with a classic chequerboard pattern,' says Hughes. While chequerboard-style floorings have long been a favorite for grand foyers, smaller format Victorian-style tiling means the pattern can look great with narrow hallway ideas too, as demonstrated in this example. 'Our 'Dorchester' pattern uses smaller squares for a more intricate feel and 'Oxford' uses larger squares to achieve a classic look,' she added.
Monochrome is an enduring favorite, but Hughes recommends thinking outside the box. 'Popular in black and white, these patterns look beautiful in many colorways – we love mixing three tones together such as grey, green and white for a more contemporary look.'
9. Finish off your pattern with a border
A key design aspect of Victorian tiled hallways is the use of borders that are almost as elaborate as the central pattern itself. 'Victorian tile borders allow for complex pattern field areas to fit neatly within challenging spaces, and are a great solution for areas such as hallways where many door openings and staircases interject into the space,' explains Adrian Blundell, production director at Craven Dunnill Jackfield.
And you don't need a huge entrance hall to make them work either: this example shows that a vibrant, wide-set, contrasting border can work just as well with your small hallway ideas.
10. Use existing tiles to inspire your hallway color scheme
'We love to celebrate a home's original features such as fireplaces, windows, or flooring,' says Louise Wicksteed, Design Director at Sims Hilditch. Not only should you consider keeping period features, but think about how you can use them to set a tone for the likes of your hallway paint ideas and beyond.
'We retained the original Victorian floor tiles in the hallway of our Malvern family home project, using them as inspiration for the color scheme threaded throughout the rest of the interior. Not only does this patterned floor design pay homage to the home's original character and heritage, it adds a splash of color to the space, drawing the eye through to the rest of the house.'
11. Choose modern colorways for a contemporary look
If you love Victorian tiling but want to make them fit among your more modern hallway ideas, consider shaking up classic color schemes.
'We offer an endless amount of patterns thanks to the variety of individual shapes on offer, allowing you to choose from simple patterns to bold, intricate ones,' says Hughes. 'You can use a number of colorways to achieve your desired style, from cool greys and monochromes to blue, green, warm browns and even pastel tones such as pink and yellow.'
In this example from the Original Style's collaboration with Period Living, on-trend blues and soft tonal greys create a contemporary take on the historic tiling style.
12. Keep the rest of your scheme simple to let your tiles shine
'Furniture, including coats and plant stands were typical items found in Victorian hallways, however keeping the space clutter free to be able to see the floor patterns was paramount,' says Blundell. 'The same can be said today and while Victorian tiles make a wonderful backdrop to contemporary furniture, they are also individual pieces of art that make the biggest statement within clear spaces.'
While hallway storage ideas are essential to keeping the space uncluttered, try to make them as discreet as possible to allow your tiles to be the star of the show. In this example, fresh white walls and minimal decor take a step back, while a large cupboard under the stairs provides plenty of space to stash away coats and shoes.
13. Pair Victorian tiles with an authentic stained-glass door
Tiled hallways can really make an impact as a standalone period feature in a hallway, but pairing your flooring with similarly cherished pieces of Victorian design shows real love for your home's history. In this entryway, an intricately tiled floor is paired with a similarly ornate door, with a beautiful stained glass window at its center, and panels framing the door up to the ceiling. The overall design scheme celebrates not one, but two key aspects of Victorian interior design and craftsmanship (as well as a classic approach to entry table decor ideas), while keeping the space feeling fresh and modern with white walls.
14. Choose black and white for a chic monochrome look
If it's not a color injection you're after, add a smack of visual interest to a monochrome scheme with a patterned black and white floor. Chequerboard works well for a simpler affair, but this home uses Victorian-style tiling to create a real statement feature in its hallway floor, the pattern veering towards Mediterranean in its design. Here, it's paired with crisp white interiors with dark accents, but a monochrome floor can also work really well among trending grey hallway ideas to create some tonal contrast.
15. Mimic historic patterns for an authentic design
For true Victorian authenticity, you can't get closer than copying a genuine 19th century design – and there are many out there to choose from.
'A vast number of companies at the turn of the century were producing these beautiful Victorian geometric mosaic tiles and as such, historic original schemes have an amazing variation in size, color, and design,' explains Blundell. 'Craven Dunnill Jackfield are fortunate to have archive catalogues dating back to the time of the formation of the company in 1872. From very simple plain schemes to ultra-complex designs, Victorian tile patterns cover all budgets and are an ideal way of incorporating color into a scheme and making a historic design statement.'
16. Emulate a geometric mosaic with patterned encaustic tiles
If putting together a full-blown mosaic for your floor is a little beyond your expectations at the moment, there are modern reimaginings that can help you get a similar look in a simpler fashion. Patterned encaustic tiles are having a real moment among entryway tile ideas, and it's possible to use these colored cement tiles to create an intricate geometric look with fewer pieces. This example shows a simple repeating pattern created using square tiles, but you can get even more decorative if you like, and even create borders.
What tiles are best for hallways?
As a high-traffic area of the home – and one that typically has to battle against muddy boots and more – it's important to choose a durable tiling solution for your hallway floor. Porcelain is a favorite for this reason, as well as its ability to emulate other surfaces and the ease of its cleaning, but Blundell champions encaustic tiles too.
'Utterly durable and long lasting, Victorian-style encaustic tiles are completely timeless and promise to stand the test of time' he says. 'Typically seen in historic locations, they are now being discovered and preserved within residential homes. For practical reasons, encaustic tiles are easy to clean and stylistically, they are the perfect way to incorporate pattern and color into a scheme.'
What are Victorian floor tiles made of?
Victorian tiles were traditionally made of ceramic and the modern equivalent still are today.
'Our Victorian floor tiles are made of clay and powdered glazes, then fired in a kiln, giving them a matt finish in many color options,' says Hughes.
If you're thinking of going really authentic and using reclaimed original tiles for your floor, do so with caution. 'These are available through architectural salvage centres, however due to the vast number of factories manufacturing geometric floors in the Victorian era there are many variations in color and design,' explains Blundell.
'At the turn of the century these products were batch produced and fired in coal fired kilns. These kilns produced a wide range of firing temperatures within each firing and as such the tiles shrank to slightly differing sizes. The skill of the Victorian tiler, to be able to handle the size variations within the product, whilst installing complex geometric layouts is something that we overlook today but should be celebrated.'
Sign up to the Homes & Gardens newsletter
Decor Ideas. Project Inspiration. Expert Advice. Delivered to your inbox.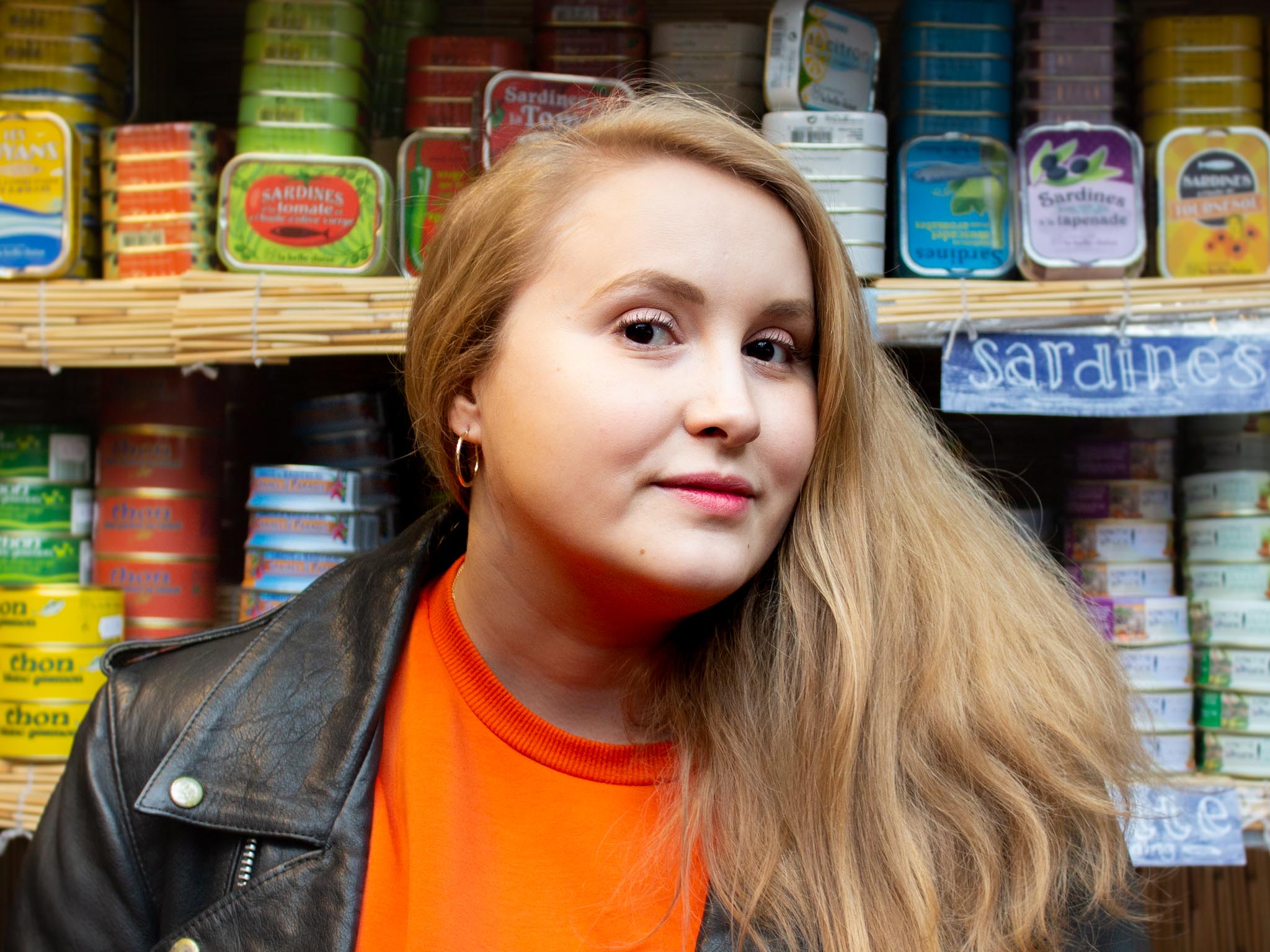 Ailis started out at British GQ, where a month of work experience turned into 18 months of working on all sorts of projects, writing about everything from motorsport to interiors, and helping to put together the GQ Food & Drink Awards. She then spent three years at the London Evening Standard, covering restaurants and bars. After a period of freelancing, writing about food, drink and homes for publications including Conde Nast Traveller, Luxury London and Departures, she started at Homes & Gardens as a Digital Writer, allowing her to fully indulge her love of good interior design. She is now a fully fledged food PR but still writes for Homes & Gardens as a contributing editor.