Basement ceiling ideas – 10 designs that bring beauty to a basement
From colorful paint to warming wood, explore our favorite basement ceiling ideas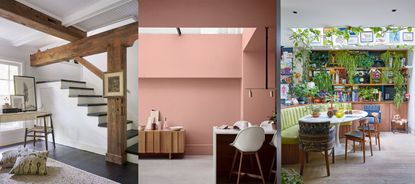 (Image credit: Elizabeth Krueger Design | Crown Paints | James Merrell)
Basement's are usually defined by low ceilings and a lack of natural light, so carefully considering your basement ceiling ideas is vital for a welcoming, comfortable and of course, stylish design.
Ceiling ideas are not often on the top of people's lists when putting together a design scheme for a room, however, whether you're planning on converting a basement or refreshing an existing design, this fifth wall is one of the most important aspects to consider for basement ideas.
From colorful, contemporary ceiling paint ideas, to clever lighting solutions, your basement ceiling should not only feel connected with the rest of the space, it should work hard to make the area feel like any other room in the home.
Basement ceiling ideas
We have a collected a range of diverse, inspiring designs to help with the basement ceiling ideas in your home.
1. Uplift the ceiling with color
A basement is a great place to get creative with bold, bright and eye-catching color palettes. If your basement is lacking lots of natural light, bringing in colorful paint ideas can help to transform the dark room into a more inviting, fresh space with bags of character.
In this contemporary basement kitchen, the walls and ceiling have been adorned with a beautiful, Powdered Clay pink paint by Crown Paints. Pink room ideas are becoming more and more popular in interior design, with many calming, more muted shades being considered as 'new neutrals' in recent years, making it a truly versatile choice.
Painting your basement ceiling, whether that's a different shade from the one used on the walls to make a statement, or to achieve a more color drenched look like in the basement kitchen above, can uplift the ceiling space with personality and colorful charm.
2. Celebrate the original bones of the house
A great option for a basement in a older, period property, leaving visible beams on show on your ceiling can create beautiful character and a ceiling design rich in history, texture and warmth.
In this basement office by Elizabeth Krueger Design, the ceiling is defined by sleek, white wooden panels and large wooden ceiling beams. An elegant mix of materials, colors and styles, the rustic nature of the wood is perfectly balanced by the used of white paint throughout, a great example of beamed ceiling ideas.
This basement ceiling highlights the beauty and craftsmanship of the original construction for the home, making a striking feature out of the timeless nature and long-lasting durability of wood.
3. Create a unique, decorative display
Whether you want to use your basement as a family room or entertaining space, or simply make it feel more personal, a unique ceiling display can be a creative and fun decorating idea.
In this vibrant, colorful kitchen diner, belonging to Lucy Hammond Giles, a decorator for Sibyl Colefax & John Fowler, the skylight on the ceiling is enhanced by beautiful greenery and a collection of eclectic artwork pieces. She states of the design, 'we kept it light and used a lot of greens and plants to distract from the lack of windows at the kitchen end'.
Not only does this design bring the beauty of the outside in, the decoration cleverly captures your gaze to be drawn to the main source of natural light in the space, creating an inviting and relaxing effect.
A decorative design display that works wonderfully to make the ceiling in this space full of life and character, getting creative with plants and artistic pieces can truly make a space feel utterly unique.
4. Make a dramatic impact with a dark ceiling
As we have discussed, many basements are often dark spaces with a lack of natural light, so why not play on this feature and create a dramatic impact with a dark ceiling.
In this stunning basement area, with a beautiful Helical staircase designed by Bisca, the design is defined by a luxurious mix of dark materials, such as wood and metal. Establishing a striking effect and contrast compared to the lighter and brighter upper level, as you descend the winding stairs, you are transported to a truly immersive space that feels like a unique, underground venue.
The dark color palette is softened by the use of natural materials such as the brown leather chairs, hides and warming wooden tables, as well as from the textured element of the wood used on the walls and floor.
A brave, bold design, a dark basement is not for everyone, but this space shows how a darker ceiling can sometimes work to great effect - an ideal choice if you want to use your basement as a cozy cinema or TV room.
5. Make a feature of the staircase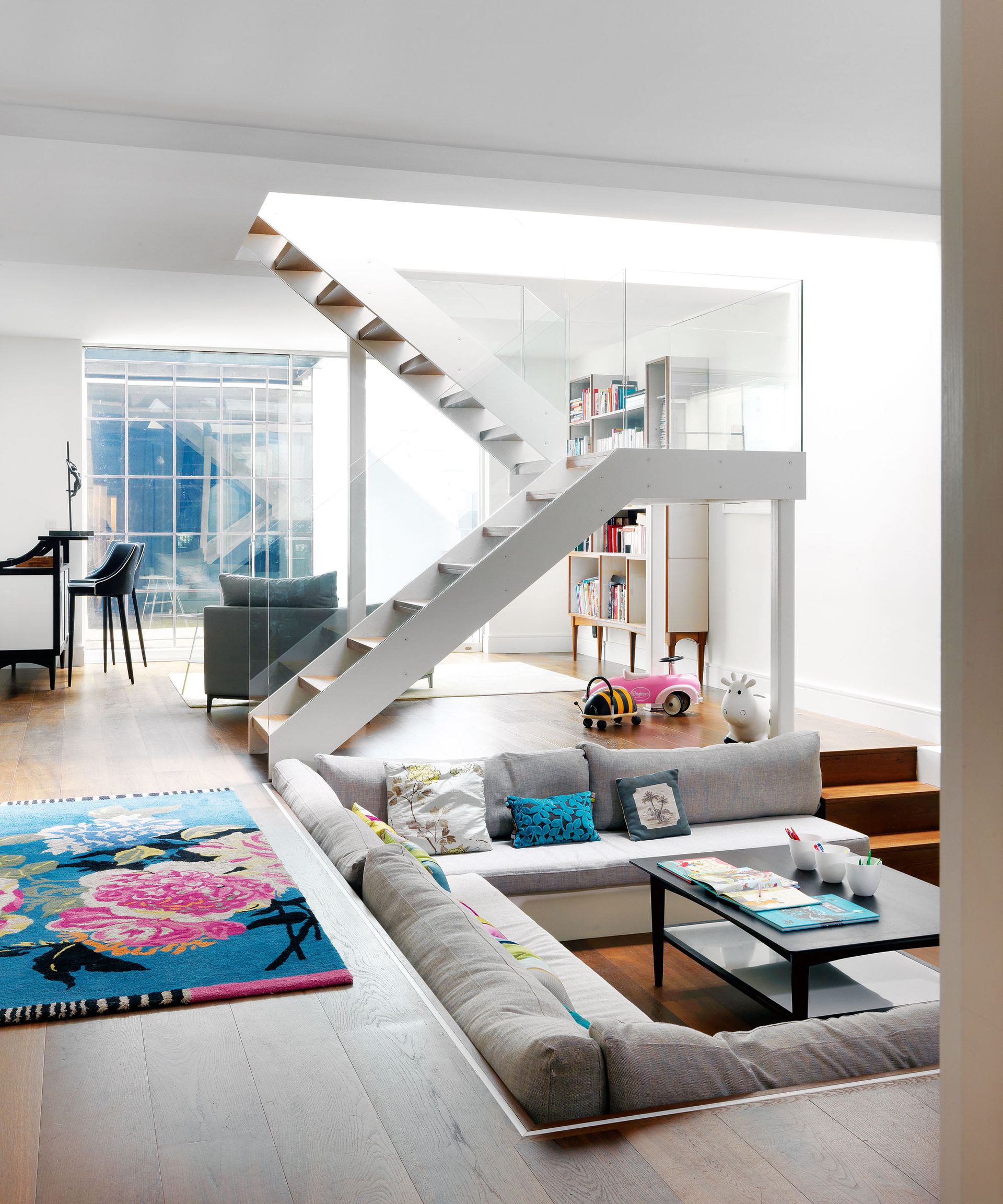 Basement stair ideas are an integral part of a basement design, with many staircases transforming the look of a section of the ceiling and making a statement feature.
Basement stairs are often tucked to the side next to a wall, however, in this Edwardian family home in west London, the large staircase is placed centrally in the space, allowing for more natural light to flood into the room and making the basement feel more connected to the rest of the house.
An elegant disruption of the ceiling space, the stairs are finished in a smooth white paint and sleek glass panels, creating a light and airy feel that beautifully blends in with the use of white paint on the rest of the ceiling and walls.
6. Think cleverly about the lighting
'Basements are renowned for their lack of light and sense of darkness, so your basement lighting ideas are incredibly important to ensure the space feels welcoming and well-lit at all times of day.
As the ceilings in many basements are quite low, certain pendant and ceiling lights often do not fit or look right, but there are many other creative lighting options that can both light up your ceiling and the surrounding space,' says Homes & Gardens' editor in chief Lucy Searle.
In this basement by AMC Design in a renovated Edwardian family home in Yorkshire, the walls and ceiling in this entertainment area have been beautifully lit by luxurious gold wall lights, featuring an intricate leaf design. Casting decorative and practical light both up on the ceiling and down the walls, the lights have been dotted around the room to create a continuous flow of warmth and light, leaving the low ceiling space clean and clutter free.
Wall lights are a great option for a basement, bringing in an abundance of ambient light as well as freeing up your ceiling space to make the basement feel more open and inviting.
7. Add subtle textural interest
The subtle use of spotlights, a skylight and a unique recessed section create pleasing texture and interest on the ceiling in this modern basement.
The skylight makes for a welcoming entrance into the basement as you are greeted by a flood of natural light, the spotlights then guide you through to the more open area where the recessed ceiling section starts - adding beautiful height and depth to the space.
Finished with a dramatic, bright yellow structural support, these different areas of the ceiling not only create texture and visual interest, but help to zone the open-plan space, proving just how creative and functional basement ceiling ideas can be.
8. Keep it simple with white
A simple yet timeless and sophisticated option, painting your basement ceiling white can help to make the space feel more open, bright and welcoming.
'White room ideas will always stand the test of time, so creating an all-white scheme for your basement makes for a versatile and long-lasting option,' says Jennifer Ebert, Homes & Gardens' digital editor.
In this elegant, minimalist basement, the all white design complements the expansive space, with features such as the two light wells, artistic mural design and warming wooden flooring and staircase taking center stage.
A relaxed and calming space, this basement highlights how a simple design can still be show-stopping.
9. Create a warm and welcoming space
From new conversions to the foundations of an original construction, using wood for your basement ceiling ideas can bring in warmth and a timeless, organic appeal to the space.
Wood ceiling ideas are guaranteed to add a rustic character and charm to a room, and are great for creating a cozy and inviting atmosphere.
The beautiful wooden ceiling in this basement is enhanced by the use of wood and a neutral, natural color palette throughout. Establishing a stripped back, exposed design that feels stylish and Scandi-inspired, this overall basement design is timeless, comforting and rich with texture from the outside world.
10. Trick the eye
There are many clever solutions you can bring into your basement to make the ceiling space feel bigger and higher; from inventive paint tricks to lighting and decorating with mirrors.
In this basement by AMC Design, a brilliant example of basement bar ideas, a mirrored wall has been created behind the bar area, with the reflective surface helping to cast light around the room, establishing the illusion of more ceiling height and space.
To enhance this mirrored effect and look even further, why not extend this idea and take mirrors to the ceiling in your basement - a good option if you have no natural light in your basement at all.
What can I put on my basement ceiling?
Deciding what you should put on your basement ceiling all depends on the size, style and construction of the basement in your home.
As we have explored, there are many subtle and dramatic options for this often neglected fifth wall, from colorful paint ideas, to skylights and mirrors, helping you to make the most of your basement.
Basements can often feel quite enclosed and dark, especially if they have a low ceiling, so thinking cleverly about how you can open up the space through your basement ceiling ideas is key.
However, a basement is also a great place to get creative with dramatic color palettes and materials, perfect if the space is used as more of an entertainment and social space. So don't be afraid to go big and bold with a statement color or design, as ultimately, you want the space to feel integrated and connected to your style and to the rest of the rooms throughout your home.
How can I make my basement ceiling look good?
There are many ways to make your basement ceiling look good. From rustic designs that celebrate the beauty of exposed beams and slats, to being creative with color and textured materials.
For many, the key to a successful basement design is creating an enhanced feeling of light and space, so considering how your basement ceiling can work with your overall scheme to create this welcoming effect is a great place to start.
Sign up to the Homes & Gardens newsletter
Decor Ideas. Project Inspiration. Expert Advice. Delivered to your inbox.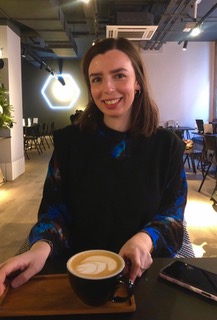 Zara joined Homes & Gardens in February 2022 as a Content Editor. After studying English Literature at University, she worked as an Ecommerce Website Editor, Content Writer and Buying Intern at multiple independent businesses within the luxury retail and lifestyle sectors. Her role at Homes & Gardens unites her love, experience and passion for the world of design and desire to create inspiring written content. She enjoys nothing more than discovering new trends, brands and products, whether that be in fashion, interior design or lifestyle.