Basement office ideas – 11 stylish work from home spaces
Think basement office ideas are dark and uninspiring? Think again: these beautiful, clever spaces will kickstart your project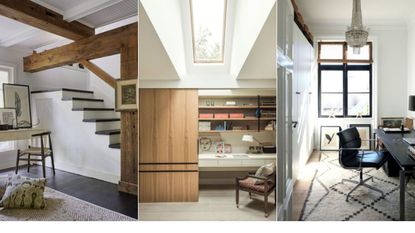 (Image credit: Elizabeth Krueger Design/Mel Yates/Peter Carlsson)
Sure, basement office ideas rely on a strong eye for functionality and practicality in their design and layout. But get those boxes ticked and they can actually be just as beautiful as other rooms in your home.
So while you may have had small ambitions for your basement office, you can adjust those, upwards.
If your search for home office ideas and basement ideas is combined, you do have more work to do in terms of getting the basics – layout, lighting and especially storage – as near to perfection as possible. Beyond that, it's all window dressing, as they say.
Below, we bring you our favorite basement office ideas and ploys for a fabulous working from home room.
Basement office ideas
If you want to make the most of your basement, it's likely that you'll be using for more than junk storage, especially if the pandemic created a change in work patterns. Or perhaps your kids just need a quiet place to study now everyone is home more? Either way, here's how to get the perfect home office setup, with basements in mind.
1. Build basement office storage into the architecture
Home office storage ideas have to be top of your list for a basement office, but if floor space is limited, what to do? If you're looking at basement stair ideas as part of your space's remodel, why not work a shallow system of bookshelf ideas into the design?
'This idea is perfect for adapting to both a basement office or a multi-purpose space. You can use it to stash smart files so that they're on hand but not on a piece of furniture that will take up valuable room real estate,' says Homes & Gardens' Editor in Chief Lucy Searle.
'However, I would suggest that using some of the shelving for display, as here, will create a calmer, more pleasing-looking space, so if you can, do.'
2. Zone your basement office with paneling
Using hidden desk ideas is a tried and tested way to create a home office within a shared space, and even more so in a basement where space might be tight and the uses of the room numerous. We love how this room's office can be hidden behind sliding doors, and if you are planning a basement from scratch or even just remodelling, it's a no-brainer.
'Given the same consideration as other rooms, the basement can become just as stylish and functional as a main floor living space. An ideal spot in the house for an office, especially if you have a busy household and need to focus on work tasks,' say Jen and Mar, co-founders of Interior Fox.
'Consider the zoning technique to create a desk area that motivates you, even in the smallest of spaces this can be a visually impactful option. Natural light is often limited in the basement so invest in a good quality task light which will illuminate your working area.'
3. Put a home office under basement stairs
One of the most obvious places to put a small home office is under your basement stairs. You won't miss the head height with the desk in the tallest part of the nook, and the more awkward areas reserved for bespoke storage.
Choose pale colors for this type of scheme to keep it feeling light and uncluttered, and investigate the possibility of having it screened off with doors if you want a streamlined look when it's not in use.
'Even if your basement's small, or you only have a corner to turn into an office, all you need is a slimline desk and a chair. As basements tend to be on the dark side you can turn this into a design feature by using white as a bold contrast,' says Lucy Searle, Global Editor in Chief, Homes & Gardens.
4. Be clever with basement office furniture choices
Whether you are looking for home office desk ideas or home office seating, it pays to pick light-colored furniture if you want to make the room feel as large as possible. Another home office design tip interior designers repeat again and again is to consider the furniture's size and profile carefully: low-slung pieces (for example, rather than high-backed chairs) and those with narrow or slim silhouettes will make the space feel less cluttered and larger. That needn't mean they are soulless.
'Basement offices can have a rustic feel, embrace this by leaving the walls natural – the rough plaster look is ideal for the pared back trend and we love how it looks with pale blonde wood. Keep the furniture simple, this look is about being uncluttered,' says Jennifer Ebert, digital editor, Homes & Gardens.
5. Be creative to get light into your space
The usual home office lighting ideas you might usually choose need to be carefully combined with basement lighting ideas to bring enough natural and artificial light into your space.
'If you can put a rooflight or window into a wall in a windowless basement office, that will of course be best, but if not, you can "borrow" light from other parts of your basement with an interior window, as in the room above,' says Melanie Griffiths, editor, Period Living. 'Combining that with great task lighting will ensure that you can not just see what you're doing day and night but actually feel the desire to go into the space in the first place.'
6. Create a minimalist scheme that's stylish too
Modern home office ideas tend to be more streamlined than traditional ones, but this needn't mean it has to be characterless. The key is to create a wall of storage, if you have the space, to hide away everything from paperwork to the usual basement clutter. That will allow you to consider desk styles you might not have considered otherwise.
'Organizing a home office is a must especially if your office is in a smaller basement. Consider what storage you require and ensure you are thinking ahead when designing the room.
'If your desk of choice is sleeker and more contemporary in design, in-built storage is often lacking so the perfect pairing is to incorporate a free-standing option. This is the simplest to add into a room and will work with you should you need to adapt,' say the team at KING Living Design Studio.
A word about basement flooring ideas: there's no reason not to layer them for comfort, color and pattern, just as you would in any other space you spend time in.
7. Keep it cozy with warming tones
Experts giving home office productivity tips will often advise on light colors for inspiring a good work ethic. However, we'd disagree: home office paint ideas really ought to be chosen according to what you find calming, comforting and inviting (though not too relaxing).
'Dark spaces, which a basement office can be, are no reason to not create a cozy area to work in. Use subdued lighting and warming tones of plaster pink on the walls, matched with mahogany furniture,' says Andrea Childs, editor, Country Homes & Interiors.
8. Put in understairs storage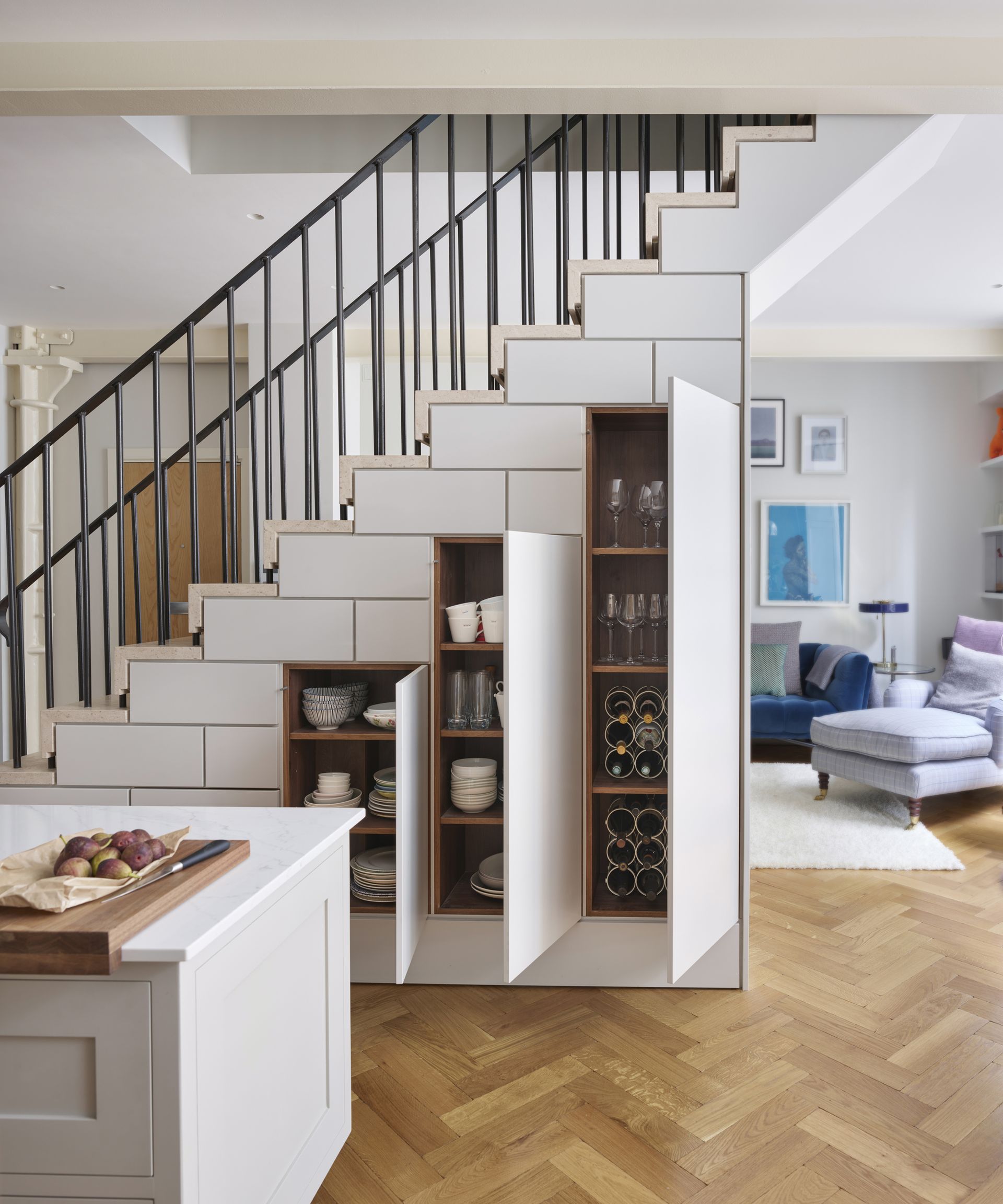 Yes, we know this isn't a basement office, but it is a room that shows off one of the best under stairs storage ideas that we've seen, and which could easily be adapted for a home office down in the basement. Why not copy it? The cabinets are great for files, while the horizontal spaces make perfect drawers; get electricity into them and you could even house a printer, hide cell phones that are charging, or keep stationery well hidden. Put locks on the doors and you have a more secure space, too.
'Keep the overall look simple and the colors neutral, it will create an earthy, grounded look that will be calming yet productive,' says Jennifer Ebert, digital editor, Homes & Gardens.
9. Ensure your basement office is well lit
'There is often a lack of natural sunlight in a basement and hence serious attention needs to be given to the lighting,' says Jo Plismy, founder of Gong.
Using a combination of ambient lighting for overall illumination and task lighting will help to create a comfortable working environment. Organizing a desk so that lighting is prioritized is important, too.
'It is important to ensure your work area specifically is well lit, and lighting is positioned appropriately to avoid shadows and glare to computer screens, which may cause eye strain.
'Consider table, wall or floor lights which can be angled to overcome this problem. Whilst lighting for a home office does need to be practical, this does not mean it can't be stylish and add to the overall interior design. Going bold with a large statement pendant for example, is a great way to add interest and texture to the room,' adds Jo.
10. Keep your flooring pale
'If your taste for decor in a basement office runs to cozy, go for it,' says Melanie Griffiths, editor, Period Living. 'However, I would always advise keeping the flooring light. Doing so will reflect light back up into the room and can make it feel larger, too. This is a must, particularly for small basement ideas, office or not.'
11. Show off your basement's architecture
If you are lucky enough to have a home with beautiful bones, why not highlight it as part of your basement office design? A great option for beamed ceiling ideas also.
'This is a really clever way of not only adding character,' says Lucy Searle, 'but can also be used as a technique for making the space feel larger. After all, strip back the dry wall (etc) and you have a more open, larger feeling space. And, if your home doesn't have a structure you want to show off, fake it - ideal for basement ceiling ideas.'
How can I make my basement office nice?
The first thing to do is ensure the storage is good enough that the room doesn't feel cluttered. That done, work on improving the room's lighting, getting natural lighting if you can and if not buying artificial lighting with LED bulbs that mimic daylight as closely as possible. Next, look to the furniture: could it be less ergonomic and more beautiful? Then, work out how to introduce more accessories that you might usually find in a living room. Creating a display of vases on a shelf, for instance, will break up the 'office' and introduce the 'decorative'.
How do I convert my basement into an office?
Just like any basement conversion, you will need to get the basement inspected and assessed to see whether it is possible to convert it. At this stage, consider whether you want to access the basement office from inside the house via an internal staircase, or save space in the room and create more separation by having an external door. Ensure, too, that ventilation is good: will there be a window that can be opened, will you need air con, will you need a dehumidifier?
When working out your basement conversion costs, be sure to include sound-proofing in your must-haves, so that both the noise above doesn't work its way down to you, and any noise you make (shouty Zoom calls anyone) doesn't disturb the family above.
Finally, plan your office layout right at the beginning of the design process so that wiring is in exactly the right place. You might like to consider, too, whether you want to include a kitchenette or half-bath downstairs, too.
Sign up to the Homes & Gardens newsletter
Decor Ideas. Project Inspiration. Expert Advice. Delivered to your inbox.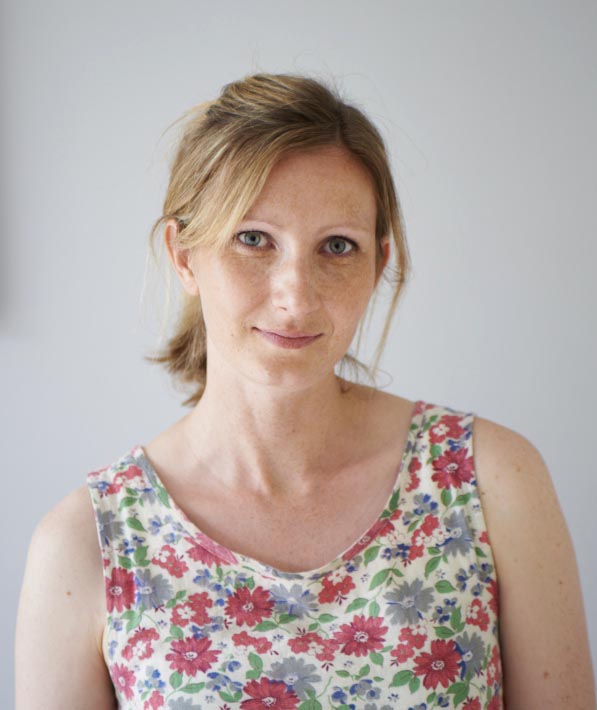 Sophie has been an interior stylist and journalist for over 20 years and has worked for many of the main interior magazines during that time, both in-house and as a freelancer. On the side, as well as being the News Editor for indie magazine, 91, she trained to be a florist in 2019 and launched The Prettiest Posy where she curates beautiful flowers for modern weddings and events. For H&G, she writes features about interior design – and is known for having an eye for a beautiful room.