Basement flooring ideas – 10 ways to get a stylish and functional finish
Take a look at basement flooring ideas that complement the rest of a home perfectly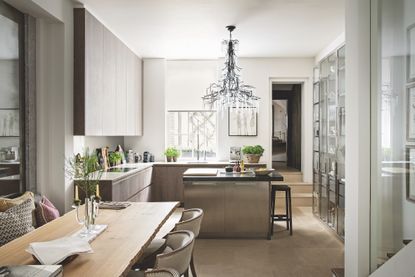 (Image credit: Future Publishing Ltd Photograph: Paul Raeside)
Basement flooring ideas should create continuity with the rest of the flooring in a home. The below grade location definitely shouldn't lead you to make flooring choices that don't create flow if the overall effect is to be pleasing.
But, as in any other room, basement flooring needs to be durable enough for the foot traffic in the space, suit the uses to which the basement is put, and should require only the cleaning and maintenance that you have time for.
Basement ideas might include kitchens, bathrooms, laundry rooms, additional living space and more, but whatever the plans for yours, be inspired by these basement flooring options.
Basement flooring ideas
The full range of flooring options is possible for a remodeled basement, so think about the function(s) of the room when selecting. A basement bar shared with friends and family requires hard-wearing flooring that may have to cope with spills, and a basement bathroom will see splashes, for example.
Discover our selection of basement flooring ideas.
1. Choose hardwood flooring
Opting for hardwood can make the space as stylish as other stories when you're planning a basement extension. 'I love when basements don't feel like basements, but more like an extension of the rest of the home,' says Elizabeth Krueger of Elizabeth Krueger Design.
'Adding hardwood floors instantly elevates the space and helps to make it feel like you aren't below grade.
'Draperies can also be the perfect opportunity to turn up the style while lending an unexpected touch of comfort to a basement space.'
2. Start from kitchens and bathrooms
Don't think about basement flooring ideas in isolation from those chosen for other areas.
'We begin by discussing with our clients what flooring is best for the practical spaces – the kitchen and the bathrooms,' explains interior designer Irene Gunter, founder of Gunter & Co. 'We then use this as a foundation for the palette of flooring materials for the rest of the home. The way the different flooring surfaces flow together is paramount. Get it right and you'll create a sense of harmony and continuity that weaves its way throughout your home.'
While quality finishes will add to basement conversion costs, they are worth the extra expense. 'For hard floors, my "go to" is always natural materials, such as the lime-washed engineered oak flooring seen in this basement living space,' says Irene.
3. Connect inside and out
In order to make the most of a basement, consider joining it to the outside of your home, but be aware that if that's the case, basement flooring ideas need planning with this in mind.
'Terrace level rooms often connect directly to outdoor entertaining spaces, so durability for these high traffic areas is critical,' says Tim Adams of TS Adams Studio Architects.
'Consider extending exterior flooring materials, such as brick and stone, from outside inward. This technique will create an inviting visual connectivity between the home and garden.'
4. Focus on care
When there's a bar in the space, basement flooring ideas need to take the possibility of spills into account. It needs to be easy to mop, and stainproof, too. Porcelain tile is a sound option as it's non porous and can be cleaned and dried easily. It doesn't require sealing like natural stone can.
If you do opt for tile, think about maintenance of the grout, too. An epoxy version should prove as stainproof as the tile itself.
5. Pretty up with pattern
A small basement can be an ideal location for a laundry room but with the right basement flooring ideas it can be an appealing as well as useful area. Think patterned tile to lift the look as well as ensure the floor is unaffected by splashes and easy to clean.
Alternatively, if you prefer a floor that's a little more yielding underfoot, consider luxury vinyl tile. It's easy to care for and can replicate the look of a whole host of different tile motifs.
6. Keep it cozy
Create a warm welcome for guests in a basement bedroom with flooring that is kind to bare feet. Carpet always feels pleasing to step on to in the morning, and a wool version is soft while being a durable choice.
If you opted for hardwood flooring in the basement instead, layer an area rug on top in a guest bedroom. Size up so that it extends either side of the bed to create the same gentle landing for anyone getting out of bed in the morning.
7. Take color into account
Continuity of flooring materials throughout a home is important but pay attention to color, too, to link the basement to other rooms.
'I recommend continuing with the flooring from the main floor of the home in the basement,' says Andi Morse, founder of Morse Design. 'Having a totally different color for the hardwoods in the basement compared to the main floor makes the house seem disjointed. Maintaining the wood tone in the basement makes it feel like it's a part of the home. Otherwise, I recommend carpet.'
8. Focus on basement stair flooring
The flooring chosen for the basement needn't be the same as that selected for the basement stairs in order for the design of the space to work. Harmonious tones are essential, of course, for a pulled-together look, but you might want to quieten basement stairs by laying carpet while opting for hardwood in the basement itself.
Go for stripes and the staircase makes an eye-catching feature and leads the eye upwards for an impression of greater space.
9. Consider polished concrete
Basements often feature concrete slab flooring if they haven't been transformed into useful extra rooms, but don't count the material out for a remodeled basement. Polished concrete can be a beautiful as well as easy to care for flooring for a basement kitchen and the finish can help brighten the space by reflecting any natural daylight the basement enjoys.
Combine with modern cabinets for contemporary kitchen style.
10. Add interest with herringbone
Bring interest to a basement TV den or movie theater with hardwood flooring in a herringbone pattern.
The pattern adds the extra detail a room with walls and furniture in soothing neutral shades can lack, and a pale wood finish can also reflect light to make the basement feel more spacious during the hours when you're not cozying up to catch the latest releases or indulge in a favorite box set.
What type of flooring is best for basements?
The best type of flooring for basements could be selected from a wide range provided the space is a remodeled one that makes it an additional story of the home.
Hardwood is a popular choice, allowing its continuation from other rooms to create continuity throughout the home's interiors. Carpet is a further possibility, and will make the basement cozy.
Kitchens and bathrooms located in the basement should always have flooring that won't be affected by splashes and humidity in the case of the bathroom. Tile or luxury vinyl tile are possible options here.
What type of flooring is best over concrete?
Basements often have a concrete slab so any flooring you choose needs to be compatible with this substrate. Possible choices include engineered wood, luxury vinyl tile or planks, carpet, and tile.
Bear in mind that before basement flooring is laid, any moisture issues will need to be dealt with. Check, too, that the concrete slab is level.
Sarah is a freelance journalist and editor. Previously executive editor of Ideal Home, she's specialized in interiors, property and gardens for over 20 years, and covers interior design, house design, gardens, and cleaning and organizing a home for H&G. She's written for websites, including Houzz, Channel 4's flagship website, 4Homes, and Future's T3; national newspapers, including The Guardian; and magazines including Future's Country Homes & Interiors, Homebuilding & Renovating, Period Living, and Style at Home, as well as House Beautiful, Good Homes, Grand Designs, Homes & Antiques, LandLove and The English Home among others. It's no big surprise that she likes to put what she writes about into practice, and is a serial house renovator.