Basement conversion costs – a guide
Asking how much does a basement conversion cost? Whatever your plans, find the answer right here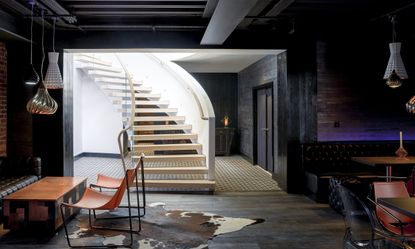 (Image credit: Bisca)
If you need extra living space in your home, you might be asking how much a basement conversion costs? The beauty of a basement extension is that it could add to total square footage but, unlike an addition, won't make your yard smaller.
And a basement extension has plenty of potential. It could be used as an additional living room or a home movie theater, create space for guests, add a playroom for kids, or a games room for all ages, a home office, a crafts room, and more.
But crucial to whether it's the right project for your home is the cost of a basement conversion cost – we've called on an expert to provide the lowdown so that your basement ideas can become reality.
How much does a basement conversion cost?
The cost of a basement conversion will depend on what the project consists of. You might already have a basement but plan to remodel it to create living space. Alternatively, a crawl space could be converted into a basement, or it might be a question of planning a basement conversion by digging where the house didn't have one before.
How much does it cost to remodel a basement?
If the house already has a basement, adding a basement extension could just be a case of remodeling. How much does a basement conversion cost in these circumstances?
'Remodeling an existing basement into a living space can range in cost from $12,000 to $70,000 (£9,000 to £52,000) but tends to average around $21,500 (£16,000),' says Bailey Carson, home care expert at Angi.
Be aware that what you plan to use the basement for will influence costs. 'Adding a basement bedroom may cost between $3,000 and $10,000 (£2,250 and £7,500), while an additional bathroom will cost more along the lines of $6,500 to $16,500 (£4,900 to £12,300),' says Bailey. 'A home theater averages around $12,000 (£9,000), basement bar ideas around $8,000 (£6,000) and a home gym can range from $300 to $15,000 (£225 to £11,200), depending on equipment and other components.
'Finally, an office may range from $500 to $3,000 (£375 to £2,250), depending on lighting, framing, flooring, doors, furniture and more.'
And if you have included any of these, you might want to factor in basement bathroom ideas, too.
Other factors that should be kept in mind? 'The cost of a basement remodel will depend on factors including size, location, design, labor, materials, permits and inspections,' says Bailey.
'It will also depend on the status of your basement pre-remodel. For example, finishing an unfinished basement will cost more than a finished basement refresh. Adding or moving plumbing, walls or electricity, as well as installing egress windows or separate entrances, will also impact cost.'
This type of basement conversion can prove a worthwhile undertaking. 'Remodeling a basement can turn an under-utilized space into more liveable space for you and your family,' Bailey says. 'The basement could be used as a gym, office, playroom, entertainment area, guest suite or even an ADU (accessory dwelling unit) you can rent out for additional income. Remodeling a basement can have a great return on investment while also adding liveable space while you're still in your home.'
Basement stair ideas also need factoring into your final tally – and these will vary widely, depending on the materials used and whether they are made-to-order or off-the-shelf. And if you are thinking of renting out your basement, you will definitely want to consider basement kitchen ideas.
How much does it cost to covert a crawl space into a basement?
Converting a crawl space into a basement is a much bigger investment. So how much does a basement addition cost in this scenario?
'The average cost to convert a crawl space to a basement is around $50 per square foot (£540 per square metre), ranging from $50,000 to $150,000 (£37,300 to £112,000) for 2,000 square feet,' says Bailey. 'This includes digging out the crawl space, raising and bracing your home, installing drainage and plumbing, pouring foundation and more.
'The additional cost to finish the space will then add anywhere from $10,000 to $70,000 (£7,500 to £52,250), depending on how you want to use the finished basement.'
Bear in mind the factors that will impact the final bill. 'How much it costs to convert a crawl space will depend on the size and layout of your home, how deep you want to dig, and how you want to design the finished space,' says Bailey.
'The type of foundation you need as well as any landscaping or repairs to your home after it has re-settled may also increase the cost of converting a crawl space into a finished basement.'
As for whether it's a project you should contemplate, Bailey says: 'Digging out a crawl space is risky and expensive, so we generally don't recommend it. If possible, consider building an addition with or without a basement, or building up instead of down. If you have an attic, you can also look at redoing that – instead of the crawl space – to add to your home.'
How much does it cost to dig out a new basement?
If you live in a home without a basement in a region where digging one of these out is a viable project, how much does a basement extension cost?
'The average cost to build a full basement of around 2,000 square feet is around $110,000 (£82,100) if you're starting from scratch,' says Bailey. 'If you need to lift your home to add a basement, you could be looking at a cost of up to $175,000 (£130,600).
'However, these estimates do not include the cost of finishing the space and making it livable, which could add up to $35,000 (£26,100) in additional expenses for up to 1,500 square feet.
'It's important to note here that location plays a major role in the cost of adding and finishing a new basement. While the national average for finishing a basement is around $18,500 (£13,800), the cost in major cities like New York or Denver may be much higher.'
There are variables you should be aware of that can affect the final total. 'How much it costs to add a basement will depend on a variety of factors, starting with size, layout, location, permits and design,' says Bailey. 'Costs will also increase if it needs waterproofing, plumbing and electricity. You also need to factor in the cost of raising your home to add the basement, if necessary.'
This type of basement conversion could be worth the spend. 'Adding a basement can add storage space or living space to your home without taking up your yard space or raising your roof,' says Bailey.
'It is also likely to increase the value of your home since you're creating additional square footage. It may be a worthwhile investment if you're planning to stay in your home for a while and need more liveable or storage space. However, it's an expensive investment and if you live in warmer regions, like Florida or Georgia, a basement may not be an option.'
Can a basement extend past the house?
A basement can extend past the house in theory. However, be aware that there may be restrictions on what you are permitted to do in your area, so check whether you can consider it as an option first. The soil also needs to be suitable and you will need a professional to survey the yard.
Extending the basement past the house will, of course, have an impact on the size of the backyard, and if doing so will make the property less desirable when you come to sell as well as affecting your enjoyment of it in the mean time, then it's an option you'll want to avoid.
Is it worth digging out a basement?
It can be worth digging out a basement, but if you're also concerned by the question how much does a basement extension cost, be mindful that is is not a low budget approach to increasing the square footage of a home. Other ways to add to a home's square footage – such as building an addition – could prove a less costly strategy if circumstances allow.
If it is an option you're considering, be mindful that it is a major project, and costs can increase if access to the site is difficult and neighbors' homes are close to yours. Take expert advice before deciding if it is the right approach for your home.
Sarah is a freelance journalist and editor. Previously executive editor of Ideal Home, she's specialized in interiors, property and gardens for over 20 years, and covers interior design, house design, gardens, and cleaning and organizing a home for H&G. She's written for websites, including Houzz, Channel 4's flagship website, 4Homes, and Future's T3; national newspapers, including The Guardian; and magazines including Future's Country Homes & Interiors, Homebuilding & Renovating, Period Living, and Style at Home, as well as House Beautiful, Good Homes, Grand Designs, Homes & Antiques, LandLove and The English Home among others. It's no big surprise that she likes to put what she writes about into practice, and is a serial house renovator.