Lucy Hammond Giles' jewel-colored London home is full of Christmas cheer
The London home of Sibyl Colefax & John Fowler's Lucy Hammond Giles is awash with joyful color and pattern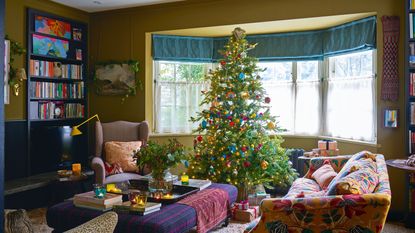 (Image credit: Future/ James Merrell)
'Design is about working with space,' says Lucy Hammond Giles. Creating rooms that look beautiful but also that feel right and make people comfortable being in them – combining timeless form with essential function, mixing both the prosaic and the poetic.'
Lucy speaks from years of experience as one of Sibyl Colefax & John Fowler's prestigious team of decorators. 'It's about understanding what is existing: the house and the people who will live in it, and how to make it joyous and interesting while functional and relaxed.'
When it came to her own home, where joyful color and pattern have ensured this is one of the world's best homes, Lucy faced every decorator's challenge of being aware of the myriad possibilities, while dealing with the parameters of real life.
'I love light, space and pattern but there were limits, narrowed by our circumstances: the house is a 1950s build, we are a family of four with a dog, we didn't have a huge budget and had existing furniture and paintings,' she says.
The family have been in the house for 13 years. 'It was very respectable when we bought it, but with disjointed divisions of space and no focus towards the garden,' says Lucy.
Kitchen dining area
Lucy knew instinctively that she would want to open up the courtyard and incorporate it into the kitchen but she and husband Marco, a lawyer, didn't do this until they had lived in it for three years.
The now extended kitchen diner showcases dining room ideas and with ceiling skylights is the brightest room in the house. 'We kept it light and used a lot of greens and plants to distract from the lack of windows at the kitchen end,' says Lucy.
Home office
Originally a garage, this vibrant area beside the kitchen diner area is now a work space and games room with lots of storage ideas to hide the messy bits. For anyone looking for home office ideas, the space makes for wonderful inspiration.
Kitchen
The kitchen abounds with kitchen ideas. The cabinets were designed by Lucy, made in timber by a carpenter and spray painted an RAL (Reichs-Ausschuß für Lieferbedingungen und Gütesicherung) color.
Living room
Bought partly for its proximity to a west London park, the house is deceptively small from the outside and quite unexpected inside.
This family space, where jewel colors provide a rich atmosphere all year, is awash with living room ideas. As well as its deep dramatic paint colors such as the cozy and grounding sludgy green walls, it is layered with textures, upholstered in rich cloths and peppered with family art and antiques.
A few modern pieces are set against the vintage, and every available surface is a home to cascading greenery, making it feel very alive.
'We read in the formal living room on rainy weekends and dark evenings, with the radio on and fire lit,' says Lucy.
Hallway
The lavender shade is used in the ground floor hall but Lucy didn't want to carry it to the top, so using it half and half was a good way to transition color, one of many clever hallway ideas.
Basement hall
All along, the couple had decided they didn't want a basement but when, six years ago, neighbors on either side started digging – 'we couldn't get out of our front door as we're in a corner' – they thought they'd join them.
It was more than worth the upheaval. 'It's actually so much better than I could have hoped with high ceilings, light wells and valuable extra space,' says Lucy.
The house had been created with flexible family living in mind from the word go. Lucy's two sons, Freddie, 13, and Joey, 10, currently share a large bedroom at the top of the house, but as they grow they will move down to their own 'apartment' in the basement.
The hallway in the basement was to be used for books but instead it has been utilised as a climbing wall for Marco. 'His genius idea and much more exciting,' Lucy says.
Basement bedroom
The bedroom is a masterclass in bedroom ideas. A sharp teal blue on the walls keeps the room from feeling entirely traditional.
Main bedroom
Deep blues are the order of the day in the bedrooms. 'I love how dark colors work well in dark bedrooms – they make them cozy, while anything you put on walls looks amazing,' says Lucy.
Shower room
The shower room is inspirational with plenty of bathroom ideas. 'This is a riff on the Hollywood lights from my mother's bathroom in the 1980s,' says Lucy.
Shower room
A patterned wallpaper injects character into the shower room. 'I had wanted to use this paper – the pattern brings in excellent color and movement,' says Lucy.
Festive celebrations mean that this home is used even more heartily than usual. They begin with a Scandi-style Christmas Eve with Jansen's Temptation (dauphinoise with anchovies) and shots of Aalborg (aquavit), in a nod to Lucy's half-Swedish stepfather; the day itself starts with stockings in bed and a reviving dash across London parks followed by an early-ish 'proper' dinner, then dancing and plenty of popping of corks, before collapsing in the living room for a film – or a snooze.
Interior design/ Sibyl Colefax & John Fowler
Photography/ James Merrell
Sign up to the Homes & Gardens newsletter
Decor Ideas. Project Inspiration. Expert Advice. Delivered to your inbox.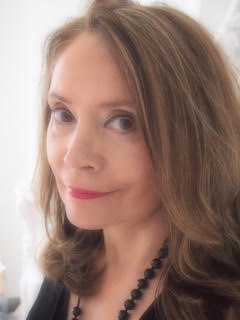 Mary Weaver has had more than 20 years experience in the world of interiors magazines. She is a writer, stylist, art director, video and events producer. She has contributed to Homes & Gardens for many years and was Houses Editor of Livingetc for 14 years. During her career she has worked for all the major magazine titles, and previously enjoyed a career as a fashion editor.