Wood burner ideas – 12 cozy designs and expert buying and installation advice
Bring warmth and a welcoming ambience to your home with our wood burner ideas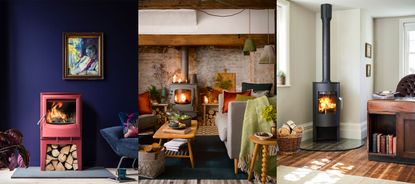 (Image credit: Arada | Max Attenborough | Morsø)
Our wood burner ideas can help to create a cozy, warming and inviting ambience in the home.
Fire has been used for centuries to provide us with warmth and light, and when heating up the home, a wood burner can be both a highly efficient and stylish choice.
Great for those cold winter evenings, as the days grow shorter and the nights longer, a log burner not only provides warmth, it can establish a characterful and comforting focal point in a room.
Whether you want to refresh your fireplace ideas and add a wood burning stove, or incorporate an electric wood burner in a dining room or for your living room fireplace ideas, there are options to suit all styles and spaces.
Wood burner ideas
We have gathered some of our favorite wood burner ideas, from the traditional to the colorful and contemporary, as well as spoken to the experts, to help you make the right decision for the wood burner in your home.
1. Establish a cohesive, coordinated look
When many of us think of wood burners, we think of black box, traditional designs, however, as technology and styles have adapted over time, we are seeing many more colorful, stylish wood burners that can beautifully integrate into the modern home.
As shown in this light and bright living room, the Chesneys Beaumont Gas Stove in Parchment perfectly coordinates with the calming, neutral scheme. Establishing a cohesive and coordinated look, many brands offer a range of colors for their wood burners so the design can perfectly match with the style of your home.
2. Make a statement with your stove
Throughout history, fires have created natural gathering points where people come together to appreciate and benefit from warmth and light.
A fireplace or stove establishes a hub in the home where family and friends naturally congregate to both socialize and relax, so why not make a statement of your stove to elevate this central feature and focal point.
In this living room, the 690 Style wood burning stove by Contura Stoves is a truly stand out piece of design. The majestic, modern style and large, cylindrical shape create a striking contrast with the rest of the room, making the sleek stove the real star of the show.
3. Create an enhanced feeling of coziness
For many of us, incorporating a wood burner in our home is to create an enhanced feeling of coziness; helping us feel more relaxed and content in our space.
This inviting living room is a beautiful embodiment of coziness and comfort, and is exactly where you would want to be snuggled up on a cold winter's night, a great example of fall mantel ideas.
The traditional fireplace has been redesigned with a new wood burner, with the surrounding area beautifully decorated and styled with log storage, candles and decorative pieces; making a real feature of the space. A charming living room, this wood burner is at the center of a design that prioritizes that comforting feeling of coziness.
4. Embrace color
Fireplaces and wood burners often establish themselves as one of the main focal points in a room, with many rooms with a fireplace designed so the eye will be drawn to that area.
For added impact and allure, embracing a bright and colorful wood burner can not only make a statement, but it can make the stove feel united in your scheme.
This striking design from Arada Stoves, part of an innovative new series of never before seen colors, injects a fun and unexpected element of color and charm into the elegant pink living room. With pink and green being a match made in heaven in interior design, this Peapod finish adds a dynamic energy and element of freshness into the space, creating an eye-catching and long-lasting impression.
5. Choose a traditional design with a canopy
For traditional fireplace ideas and for stoves that are in keeping with a more classic look, choosing a wood burner with a canopy can create a subtle element of grandeur and tradition in a space, as well as making the stove feel more integrated into the fireplace.
As shown here, the Elmdale Inglenook Woodburning Stove by ACR Stoves, offers a contemporary solution for traditional, large inglenook fireplaces. Defined by an elegant, curved canopy, the stove then features more contemporary glass doors, allowing for an expansive, clear view of the fire - an innovative mix of the old and the new.
6. Opt for a striking, integrated stove
Combining the timeless beauty and practicality of traditional stoves with contemporary technology and versatility, there are an increasing amount of modern stove designs that can adapt to homes of all shapes, sizes and styles.
An integrated stove is not only a striking design feature, it can be a more practical option for saving on space, with many able to be placed virtually anywhere in the home.
As shown here, the Celsius stove by Schiedel creates a beautifully modern fireplace. Crafted from volcanic pumice, sourced directly from the Hekla Volcano in Iceland, the stove is surprisingly lightweight, with its small, simple and clean design ideal for creating a more minimalist, Scandi inspired look.
7. Keep it compact yet charming
If you're looking to update a traditional fireplace with a new stove, choosing a more compact design can allow you to get creative with styling the surrounding space.
Similar to mantel decor ideas, thinking about the area that surrounds the stove, and enhancing the physical warmth with visual warmth, such as innovative log storage ideas and decorative designs, will only create a more inviting area in the home.
In this country home, the traditional space has been lifted by the use of floral wallpaper and paint. The compact Morsø stove sits charmingly within the refreshed, white brickwork, with the use of lanterns, fireside accessories, baskets and bowls adding inviting texture and decoration.
8. Let the flames take center-stage
On many original stove designs, the doors are relatively small, concealing the fire within. However today, many designs embrace the beauty of the flames and make a spectacle of the fire by having larger glass doors.
Vicky Naylor states, 'consumers want to see as much of the fire as possible, so the larger the glass viewing area the better.'
The Charnwood Cranmore 5 stove shown above is defined by a large, glass picture window, with its Regency era style able to integrate into both modern and traditional spaces. Providing greater flame visibility, these innovative designs try to depict the same effect of watching flames on an open fire.
9. Bring a stove into a dining room
Fireplaces and wood burners are often associated with living rooms, due to the placement of chimneys and traditional fireplace designs. However, with many modern styles allowing for more flexibility in placement across the home, why not bring the warmth and character of a wood burner into a dining room space.
In this stylish, monochrome dining room, an electric wood burner has been placed towards the end of the table. An easy way to make a dining room feel more cozy and inviting for your dining room ideas, this wood burner is a simple addition that makes the room feel more intimate and comfortable.
10. Choose a design that incorporates log storage
Choosing a wood burner design that incorporates a log store can create a clean and uncluttered look, and provides an easy solution for your log storage ideas.
Both visually pleasing and highly practical, stove designs that incorporate areas for log storage also allow for you to keep logs beside the stove without any safety concerns.
This Farringdon stove from Arada Stoves is part of a collection available in a pretty palette of autumnal colors. This bright Spice finish, inspired by the colors of winter leaves, makes for a stunning color pairing with the deep blue, painted walls. With the stove mounted on a matching stand to create a handy area to store and display logs, this design creates both a practical stove area and stand-out design feature.
11. Raise the stove as well as the temperature
As we have discussed, wood burners and fireplaces are often one of the main focal points in a room, so to enhance this effect even further, instead of placing your stove on the floor, why not elevate it so it stands tall and easily within eye level when seated.
As demonstrated in this cozy, open-plan living space, the raised area, built to mirror the colorful wooden paneling on the walls, creates the perfect platform for the wood burner, a great look for farmhouse fireplace ideas.
Adding a modern touch to what we would expect from a traditional fireplace and stove area, this unique, tiered design creates a beautiful feature of the stove, ensuring you are in full view of the flames no matter where you are in the room.
12. Make the most out of your space
With so many shapes and styles to choose from, there really is a wood burner to suit all manner of interior spaces, no matter the size, layout or design of your home.
Many stoves can fit into awkward alcoves and cozy corners seamlessly, ideal for smaller spaces where there isn't as much space available.
As shown in this study, the Morsø 4043 stove is defined by a sleek, functional design that can easily integrate into most homes. Simple and stylish, the stove fits into this corner of the study perfectly, with the elegant glass hearth effortlessly zoning the space.
What are the different types of wood burner?
When deciding what wood burner is best for your home, there are four main options to choose from:
Wood Burning Stove - A stove that burns wooden logs, Jon Butterworth, Director at Arada Stoves states, 'burning proper fuel will ensure you get the best results from your stove. Low-moisture wood is better than wet wood, as wet wood is known to increase smoke and emissions, with minimal heat output. Not only is this inefficient but it causes soot to build up, blackening the glass of your stove. Opt for seasoned wood which can be recognized as it's noticeably lighter than wet wood.'
Multi Fuel Stove - A multi fuel stove can burn wood, coal or smokeless fuel such as peat. A versatile stove design that can cater to different fuel types, from traditional logs to more eco-friendly options.
Gas Wood Burner - Energy efficient and easy to clean and control, gas wood burners are often much cheaper to run than others, so a more cost effective option for your wood burner ideas.
Electric Wood Burner - If you do not have a chimney of flue, but want the aesthetic, coziness and warmth of a roaring fire, an electric wood burner is for you, simply plug the stove into an electric power supply to feel the heat and and watch the mesmerizing LED flames.
Is a wood burner a good idea?
A wood burner is not only a source of warmth and light, they can add character and coziness to a room, making it more inviting and comforting.
Jon Butterworth states, 'although used mostly in the winter months, a wood burning stove is a statement feature in any room throughout the year. Whether the style of your home is traditional or contemporary, a wood burning stove is a timeless piece.'
With so many styles to choose from, from classic to colorful, there are options that can be incorporated into any interior design.
Vicky Naylor says, 'choosing and installing a stove is a real investment, not only increasing the value of your property but adding a real sense of warmth and comfort to your living space.'
Before you buy your stove be sure to do some checks of your space, and ensure that your chosen design will work perfectly in your home. As Phil Wood at Contura states, 'there are a number of factors to consider before selecting and installing a wood burner. Whilst aesthetics are of course, important, it is essential to look at the size of the stove, its heat output, and the technology of the stove model. Try to also look out for a stove that features a Clean Burn system – this means it burns more efficiently and for longer periods of time, resulting in a combustion with very low particle concentrations.'
Wood burners can be both highly energy efficient and cost efficient, meaning that wood burner ideas can keep you warm, help you save money as well as helping the environment - an ideal situation really!
How do you install a wood burner?
An electric wood burner is relatively easy to install: work out the right location, plug in and you're done. Niall Deiraniya, UK General Manager for DRU Fires supports this and says, 'electric fires can be installed without any special preparation, an electrician may be required to install the cabling and power points and there may also be the need for some chimney restoration work.'
However, for others, checking gas connections, ventilation, chimneys and flues is key when installing and deciding which wood burner is best for your home.
Vicky Naylor, General Manager at ACR Stoves states, 'you should always enlist the help and advice of your local stockist and registered competent heating engineer before purchasing your stove to ensure that the installation will comply with building regulations and the manufacturer's instructions.
'When it's time to install, it's important that the chimney should always be checked for soundness and lined if necessary. Remember that each installation will be different - it is important to ensure that the hearth requirements and clearances are complied with, but the level of work will alter from installation to installation.'
Are wood burners sustainable?
Many modern wood burner designs have an increased focus on sustainability, having to pass certain environmental regulations and standards before they can be used.
For wood burning stoves, The Stove Industry Alliance states, 'a wood burning stove costs about a third of the price of electric heating and less than gas central heating for the average household under the current price cap, with that saving set to further increase as fuel prices continue to rise. This cost effectiveness, combined with wood fuel's renewable and sustainable credentials, and the ability to source fuel locally, further reducing the carbon intensity of home heating, means responsible wood burning has a clear role to play in our low carbon future.
A professionally installed, regularly serviced modern Ecodesign stove used with correctly seasoned wood fuel is a very low carbon, low emission, sustainable and cost-effective way to heat our homes.'
For more information and exploration on this topic, Sebastian Cox demystifies the environmental impact of wood burners.
Sign up to the Homes & Gardens newsletter
Decor Ideas. Project Inspiration. Expert Advice. Delivered to your inbox.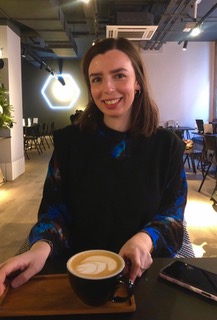 Zara joined Homes & Gardens in February 2022 as a Content Editor. After studying English Literature at University, she worked as an Ecommerce Website Editor, Content Writer and Buying Intern at multiple independent businesses within the luxury retail and lifestyle sectors. Her role at Homes & Gardens unites her love, experience and passion for the world of design and desire to create inspiring written content. She enjoys nothing more than discovering new trends, brands and products, whether that be in fashion, interior design or lifestyle.