Farmhouse fireplace ideas – 10 ways to true rustic style
Discover farmhouse fireplace ideas to create a homely focus for your space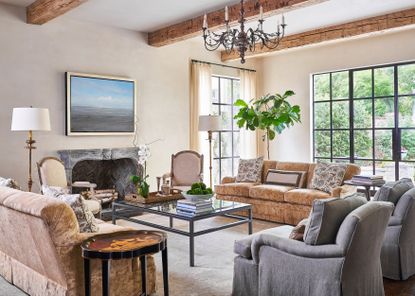 (Image credit: Lucas Eilers)
Farmhouse fireplace ideas will make a worthy focal point for any space. At the center of a group of seating, a farmhouse fireplace should be as attractive a feature of the living room when the fire isn't lit in warmer months as it is when the flames are dancing. And choosing the right pieces for the mantel is essential.
The top modern farmhouse ideas include strategies for the fireplace and below we have put together a wonderful selection along with advice from experts on mantel decor ideas for your farmhouse fireplace.
Farmhouse fireplace ideas from the experts
Using fireplace ideas to create supremely welcoming schemes is key among farmhouse living room ideas. But modern farmhouse style is a curated look that avoids crowded surfaces and eclectic mixes. Successful farmhouse fireplace ideas showcase carefully selected pieces in a well thought-out palette of materials for a result that's serene.
1. Keep the color palette soothing
Complement natural tones for living room fireplace ideas with decorative accessories in the same shades for an effect that's relaxing.
Nancy Charbonneau of Charbonneau Interiors explains of this room: 'With wood elements and the reclaimed beams all throughout the first floor, we wanted to incorporate another element of nature in the family room, so we went with a stone-faced fireplace.'
With the TV located centrally, the long mantel accommodates decorative objects at either end, and they're arranged on the shelves in the alcoves either side, too, repeating the hues of wood and stone.
2. Turn up the contrast
The pairing of black and white is typical. 'High contrast color is a hallmark feature you will see in many modern farmhouse ideas,' says Eric Ross, founder of Eric Ross Interiors.
Consider it as a way to decorate your farmhouse mantel, too, pairing ceramics in white and black, or a softer charcoal. Think different textures as well, and objects of different heights to make a pleasingly shapely display.
3. Be prepared to go bare
The style of a fireplace might mean it's better to stick to decorating above the mantel only rather than placing objects directly on it.
Sarah Eilers of Lucas Eilers Design Associates explains why the mantel of this version was left undressed. 'The antique marble fireplace is the perfect anchor to the tranquil art above,' she says. 'Embedding the mantel into the plaster wall as it would have been originally left little depth to hold accessories which works well with our design aesthetic to keep the space simple and edited.'
4. Bring nature inside
Whether it's part of a house actually located in a rural location or yours is a city home made welcoming with a farmhouse aesthetic, dressing the mantel with flowers and foliage brings the coziness of country style into a living room.
Choose architectural leaf shapes for the best effect, while white blooms will be sympathetic to a neutral color scheme. Set the display in front of a mirror and it'll create a second view.
5. Opt for elegance with a mirror
To decorate your farmhouse mantel in classic style, use a mirror, as shown in this scheme from Lauren Ramirez.
'A fireplace is an obvious place for a mirror but a pair either side or in alcoves also work well,' says Owen Pacey, antiques expert and founder of Renaissance London.
'Don't be afraid of scale when it comes to choosing your mirror and do group them together in pairs, trios or clusters to make an impressive wall feature. And don't concern yourself too much with finding exact duplicates as groups of the same era add more personality.'
6. Create a balanced effect
Opt for farmhouse fireplace ideas that create a display that's balanced but avoids rigid symmetry. After all, these are room schemes that should feel welcoming rather than formal, and that draw on a contemporary aesthetic.
In this scheme by Lucas Eilers Design Associates, a group of candlesticks on one side of the rustic mantel is balanced by a vase with branches at the other. Both add appealing curves to the scheme in harmony with the room's other details. Meanwhile, decorative fireplace tile ideas add decorative texture to the scheme.
7. Combine old and new
Modern farmhouse style celebrates the historic and embraces contemporary design, and farmhouse fireplace ideas can echo this overall approach with antiques on display along with newer pieces.
'Antiques are just examples of design that have stood the test of time,' says Ottalie Stride, creative director at Fitzrovia, London-based interior design studio Albion Nord. 'By the very fact that they are 100 plus years old and could still work in a scheme, I personally find it hard to choose anything else. They add a sense of establishment and, when paired with more contemporary pieces, really add soul to a space.'
8. Go for glass on a farmhouse mantel
Glass accessories can be a brilliant choice for dressing a farmhouse mantel. The lightness of its presence will help achieve the uncluttered feel that's so crucial to making the look modern rather than traditionally rustic.
Try teaming glass with ceramics, or simply play with the shapes and heights of a group of glass pieces like candlesticks, vases and tealight holders for either end of the mantel.
9. Complement a simple fireplace
Looking for farmhouse fireplace ideas for the simplest of designs? Take inspiration from this room which, rather than a mantel above the fireplace, has a rustic seat below with seat cushions adding a pop of color to what is a quite traditional fireplace ideas.
Hanging a picture above draws the eye, and if your fireplace is similarly modest in size, follow the example of scaling the artwork down to keep it in proportion.
10. Swap one picture for a group
While a single picture above the mantel is a great way to dress a fireplace, don't dismiss the option of hanging a group of images instead. These are hung to reproduce the scale of a solo artwork, and bring in nature with their botanical detail.
A display of foliage at either end of the mantel completes the picture and brings more of the outdoors in, fostering the cozy atmosphere.
How do I decorate my mantel?
To decorate a mantel, consider the center first. A mirror is a traditional option that works as well in farmhouse style homes as it does in others, but you could hang a picture or even a group of them centrally instead. If the TV is above the mantel? In this case, it takes the place of the mirror or picture.
After that, you can consider the ends of the mantel. Aim to create balance but for a look with a contemporary aesthetic avoid a pair of matching objects. Single larger decorative pieces might be set against groups of three or five, for example, or one small group of objects against another.
Aim to use materials, finishes and colors found elsewhere in the room for a cohesive effect, and consider incorporating displays of foliage or flowers to bring a natural vibe to the space.
How do I choose a fireplace mantel color?
Generally, a fireplace mantel should be a neutral color that will blend in with the room. For a farmhouse style home, if you're adding a fireplace, you can choose between an old version, or going for a new one sympathetic to the house.
'It's important to decide whether you would prefer a restored antique fireplace, salvaged from another property, or whether you would like to create your own based on your research of the property and the kind of look and feel you aspire to for your home or room,' says Owen Pacey.
'Restoration can be a hugely gratifying and challenging process, from sourcing to installation, but the result is a true piece of history amongst the fabric of your home.'
Sarah is a freelance journalist and editor. Previously executive editor of Ideal Home, she's specialized in interiors, property and gardens for over 20 years, and covers interior design, house design, gardens, and cleaning and organizing a home for H&G. She's written for websites, including Houzz, Channel 4's flagship website, 4Homes, and Future's T3; national newspapers, including The Guardian; and magazines including Future's Country Homes & Interiors, Homebuilding & Renovating, Period Living, and Style at Home, as well as House Beautiful, Good Homes, Grand Designs, Homes & Antiques, LandLove and The English Home among others. It's no big surprise that she likes to put what she writes about into practice, and is a serial house renovator.