5 simple ways to decorate your outdoor space for summer entertaining
The doyenne of Designers Guild offers her expertize on decorating your outdoor space for summer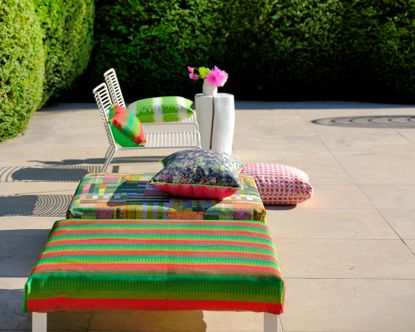 (Image credit: Designers Guild)
Now that spring is officially here, those warmer, lighter and longer days are around the corner and those impromptu 'let's eat outside' moments are too. Is it just me or does every mouthful always taste better when you're outside?
Even the simplest meal feels special and to really make the most of every sunny opportunity, it's worth getting prepped and al fresco-ready in good time. I have always loved setting a table – inside or out; to me, it is as important as the food that you eat- making your friends and family feel special, adding that level of care and style to even the most relaxed meal is one of life's simple pleasures.
Interior Designer
Interior Designer
Tricia Guild
Tricia Guild OBE is the creative force of Designers Guild and has been at the forefront of interior design since starting the company in the early '70s. Internationally renowned for her passion for color, pattern and texture as well as her signature lifestyle brand and books, Tricia Guild has been setting the pace with her dynamic and innovative collections, instantly recognisable for her unique and contemporary style.
How to decorate your outdoor space for summer
Whatever the size of your garden, realizing your outdoor living room ideas can create space for drinks and for relaxing in comfort.
I've gathered together all my favorite ideas for entertaining garden ideas that will suit everything from large gardens to small patios to give you all the style inspiration you need this summer.
1. Decorate with a well-chosen color palette
Decide on two to three different color palettes that you can use throughout the season. Maybe a couple of plains that are interchangeable and a couple of co-ordinating designs that add that bit of magic. Experiment and mix color combinations for a stylish table that will make al fresco meals as elegant as indoor ones. For a statement indoor-meets-outdoor style, our our Odisha Peridot Cushions (opens in new tab) are a wonderful choice.
2. Use fabric to add interest
Dressing your garden with banners of fabric can help create different zones in even the smallest space, section of an area for that can be used for drinks and nibbles. I use a simple metal frame that sits over my table – it is slim and unobtrusive but allows one to hang fabrics, or flowers to make your table feel even more intimate and cozy. I prefer to use specially treated fabrics that can be left out during the summer months. This Achara Outdoor Epice (opens in new tab) is a bold and inspired choice for any garden.
3. Light a candle
Use a mix of colored dinner candles that work with your table linen and then add white ones – everything looks better in candlelight and even the simplest of meals feels special with masses of them. I also love to use tea lights and float them in water in vases with flower petals.
4. Set the scene with rugs and runners
Adding a few cushions and a small rug, like our Saliya Noir Rug (opens in new tab), can set the scene in your garden and complete the look and make your outside surroundings feel extra relaxed and comfortable. Hard metal furniture looks fantastic and adds structure – softening them with a table cloth or cushions works wonders.
5. Position side tables for drinks
Having your drink close to hand is imperative. After all, who wants to keep getting up and down mid-conversation? Position side outdoor furniture for drinks and nibbles. I love to use a mix of materials of wood, terrazzo and steel.
Finally, have a basket or a tote bag with vases and table linens that you can access quickly and easily near your back door. As well as throws and candles – for when the temperature drops.
So whether you want to design an entertaining garden or outdoor dining room ready to share seasonal food alfresco, to relax in the sun with friends, or to welcome a crowd for a special occasion, take your cue from these summer entertaining tips.
Tricia Guild, OBE, founder & creative director of Designers Guild. (opens in new tab)