How to make a backyard look bigger – 8 space-enhancing tricks that work every time
These simple approaches will stretch the feeling of space in any backyard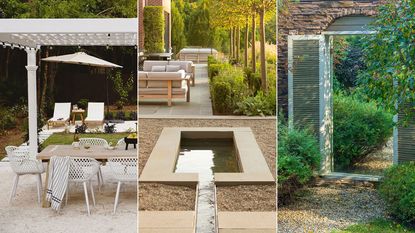 (Image credit: Yardzen; James Doyle Design Associates; Getty Images)
Creating the illusion of a larger backyard is a common design challenge. The good news is there are plenty of ways to make a backyard look bigger without compromising on style.
There are plenty of backyard ideas that can trick the eye into thinking a space is bigger than it actually is. From which colors and style of furniture you choose to clever landscaping and planting choices that appear to stretch your space.
Use our expert suggestions as your starting point then put your own spin on them to create a harmonious space that feels like it's giving you more.
8 simple tips to make a backyard look bigger
Whether you're looking for ways to enhance your small backyard and make it feel bigger, or you've just moved into a new home and want to completely rework an outdoor space, there are plenty of ways to visually extend the feeling of space.
1. Zone your yard into purposeful spaces
Creating distinct areas in your yard opens the space up and makes it feel bigger. Get your garden zoning ideas off to the right start by planning clearly defined areas for relaxing and dining, thinking of them as separate 'rooms'.
'Dividing your backyard into separate areas is a great way to give the illusion of more space,' says Keith Melanson, interior designer and owner of the Renos Group. 'A dining area with a table and chairs can be placed on a patio or deck, while a lounge area with comfortable seating might be best situated on a grassy area.'
Multiple zones will add a fresh dimension to your backyard layout and help you make the most of the space you have by organising it according to purpose. Pergolas, modular furniture, outdoor rugs, and decorative screens are all quick ways to make your designated space feel clearly defined.
2. Be clever with furniture choices and placement
Think carefully about choosing a style of furniture that fits your space. Avoid big solid shapes and instead go for designs such as slimline outdoor benches and bistro tables and chairs that let light and air move through them and can be folded away when not in use.
Multi-purpose furniture is a popular choice for making a small garden look bigger, especially pieces that combine garden storage, seating, or other functions like this genius Keter bar side table from Amazon with inbuilt beer and wine cooler.
'It's always a good idea to choose furniture that is proportional to your space and has multiple functions,' says Artem Kropovinsky, head of Arsight, an interior design studio based in New York. 'For example, a bench that can also store items or a table that you can easily fold up.'
Artem Kropovinsky is an interior designer and founder of Arsight, a NYC-based interior design studio. The company specializes in residential and commercial interior design projects, ranging from complete new-builds and renovations to retail stores and restaurants.
3. Include different levels to extend the space
Embracing split-level designs or changing the elevation as part of a backyard landscaping project is a great way to make your space feel bigger. It helps to break things up and makes your yard much more interesting visually than a standard rectangular block.
'Embrace different changes in elevation and divide your space,' says Max Guidon, founder of Guidon Studio, a boutique interior design consulting firm based in Miami. 'Dedicate an area each for seating and dining, and with the rest of the space, try to incorporate raised garden beds so the space can feel richer and more diversified.'
Landscaping options to consider include a secluded raised deck at the end of the yard (perhaps incorporating a pool like this design), a sunken patio you can turn into a conversation cove, a slightly elevated platform for dining and innovative patio steps ideas. Having spaces at even just slightly different heights will make your backyard feel bigger too.
'Just like in the world of fashion, layers are everything,' says La Jolla and San Diego-based interior designer and realtor Joy Aumann of Luxurysocalrealty.com. 'Adding various levels to your backyard can create depth and the illusion of more space. Sunken seating areas and split-level deck ideas can really contribute to this effect.'
Venezuelan-born Max Guidon graduated Cum Laude from the Simon Bolivar University with a degree in Production Engineering. In the search for his creative passion, he decided to move to Miami, Florida to supplement his earlier degree with a B.A. in Interior Design, in which he earned Magna Cum Laude Honors, and the title of Class Valedictorian. After years of field experience, he opened Guidon Studio.
4. Limit the lawn area and max up planting
Who would choose an ordinary looking small patch of lawn when there are so many other more sustainable garden ideas to break up the space and enhance your backyard design? For a no-grass backyard idea, try increasing the size of your flower beds, introducing gravel areas with drought tolerant planting ideas, or mixing in textured hard landscaping with planting pockets.
'Replacing your lawn with low-maintenance alternatives like ground cover plants, gravel, or pavers can make your backyard feel larger and more versatile,' says Joy Aumann. 'Plus, you'll be the envy of your neighbors as you sip your morning coffee while they're out mowing their lawns.'
If you're thinking of increasing planting areas, choose plants that, when fully grown, don't need to be pruned in order to keep them from growing too large for the space. 'Taking mature plant size into account can help prevent the garden from having an overgrown and messy appearance which, in turn, will make the space appear smaller,' says Morgan Feilmeier, a landscape designer at Argia Designs in the San Francisco Bay Area.
When choosing trees for small gardens, opt for species that naturally have a more open branching structure. When choosing plant materials for the space, a smaller selection can help a space feel larger by reducing the amount of things the eye has to process.
A native Californian, Morgan started Argia Designs as a culmination of a lifetime of interest in art and the environment. Growing up in the San Diego foothills, she spent her childhood exploring the native chaparral and the farm where her family grew organic fruits and vegetables to sell at the local farmer's market. In college, her first job at a local tropical nursery helped nurture her love of plants and the environment even further. She began designing landscapes in 2004 while working at Las Pilitas Native plant nursery in Escondido, and grew her business from there, partnering with contractors and architects on projects throughout California.
5. Blur backyard boundaries to disguise dimensions
Blurring the boundaries with fence decorating ideas so it's not possible to see where your yard ends and your neighbor's yard begins is an easy trick to do when it comes to how to make a backyard look bigger. Avoid any solid stretches of wall or fence that can feel claustrophobic in a backyard where you don't have the benefit of lots of space.
'It's easy to blur boundaries to trick the eye,' says Kerry Sherin, consumer advocate at Ownerly. 'One way is to disguise your fence, which is a visible boundary that shows exactly how small your space is. If you cover it with greenery, vines, and flowers, it will disguise the end of your space.'
Layered planting is the go-to choice to make boundary walls and fences fade out of the picture. Climbing plants will scramble over or twine prettily around dull fence panels. Alternatively choose tall screening plants that grow against a wall or fence to soften the outline and create some backyard privacy.
6. Play with perspective to trick the eye
It's relatively easy to trick the eye into making your backyard feel bigger. The aim is to draw the eye across the space rather than just straight down it. Do this by adding interest at the edges and opt for curved lines such as billowing flower bed ideas rather than anything too straight and geometric.
Playing with perspective also tricks the eye. 'You can use diagonal lines, patterns and shapes to create a sense of movement and distance,' says Artem Kropovinsky. 'For example, you can lay pavers in a zigzag pattern or plant flowers in a V-shape.'
A tried and true landscaping principle for drawing the gaze through the yard is to design on both the horizontal and vertical plane. 'Think pathways, arbors, trellis ideas, and even gazebos for climbing vines,' says Allison Messner, CEO and co-founder of Yardzen Landscape Architects. 'We are seeing a trend for playing with height in order to amplify the visual impact of the yard.'
Allison Messner is on a mission to help people live better lives outside. She is a co-founder and CEO of Yardzen, a leading online landscape design and build platform. In 2021, Allison launched the American Rewilding Project, an initiative to offset climate change in every Yardzen design through the use of habitat-supporting plants, water conservation and sustainable materials.
7. Choose the right colors to make a space feel bigger
Paint can be used to enhance a small space by making it appear bigger, as long as you choose colors that will work in this way.
'While normally we might associate shades of white with making rooms look bigger, that is not the case when it comes to gardens,' says Miguel Camperos, VP of Operations at SunVara. 'White and light-colored fences and walls actually make the perimeter of your yard more noticeable, which in turn makes it look smaller.'
Instead, choose greens that are close in shade to the color of your plants and greenery, or darker, natural brown or gray tones. 'These colors inherently don't stand out as much, therefore the perimeter and size of your yard isn't as instantly noticeable,' explains Miguel.
Blue-toned greens are a good choice (rather than yellow-toned greens) for walls, fences and deck colors as they contain elements that are recessive so will make the space feel larger. Plus of course green is good for outdoor spaces as it links seamlessly with foliage. Personally I'm loving this Rust-Oleem Ultra Cover Spray Paint in Satin Moss Green from Amazon for one of my current backyard projects.
'A light bluish gray will also work if you don't like green,' says Kerry Sherin. 'It can tie in the color of the sky.'
8. Focus attention with a statement piece
Another alternative is to have a focal point like a stunning piece of garden sculpture or other yard art ideas, a water feature, accent tree or oversized statement pot like this Block Series pedestal planter from Wayfair that will divert attention from your yard's size limitations.
'You can definitely make your backyard look and feel larger by creating an eye-catching focal point or an alternative view beyond,' says landscaping expert Scott Gilmore, owner of Landscape Creations in Las Vegas. 'By adding a focal point such as a water feature that draws the eye beyond your backyard's boundaries, you're creating a sense of depth and expansiveness.'
You can also use natural materials like wood and stone to blend in with your surrounding landscape and lead the eye beyond. Scott suggests making sure that you're creating a seamless transition between your own backyard and the surrounding environment.
---
Whether you have a modern backyard or a more traditional space, being clever with your design ideas can create that sought-after sense of space.
Rather than trying to squeeze in lots of small items that can make a backyard feel too busy and cramped, it can pay to go bold with one or two statement pieces that will make an impact and draw your eye. Instead of scaling down, be brave with your design decisions and you'll see the space-enhancing benefits.
Sign up to the Homes & Gardens newsletter
Decor Ideas. Project Inspiration. Expert Advice. Delivered to your inbox.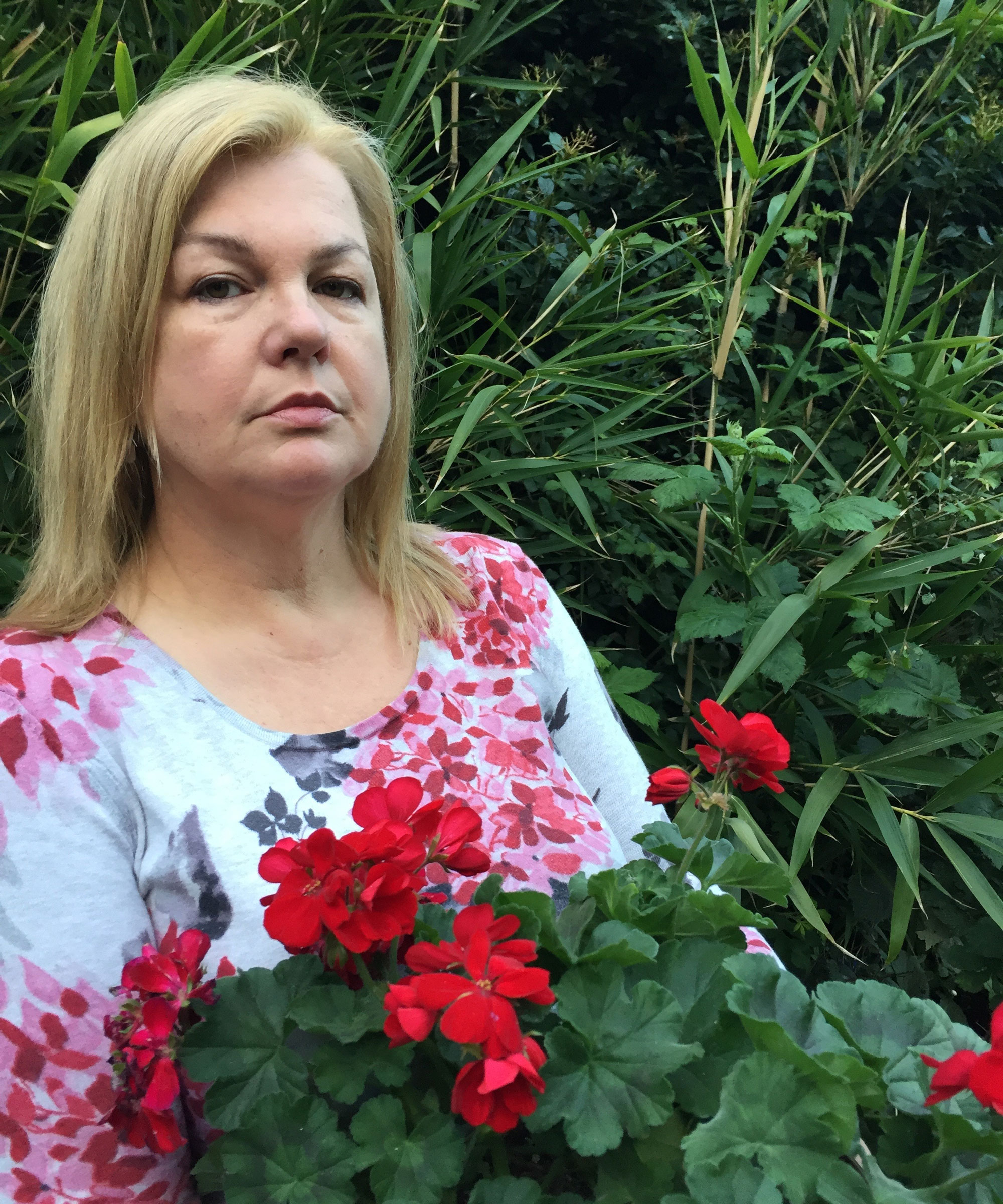 Lifestyle journalist Sarah Wilson has been writing about flowers, plants, and garden design and trends since 2015. Having already studied introductory garden and landscape design as well as a course in floristry she is currently adding to her list of qualifications with an RHS Level 2 course in the Principles of Plant Growth and Development. In addition to homesandgardens.com and livingetc.com she's written for gardeningetc.com, Modern Gardens and Country Homes & Interiors magazines.