Deck planting ideas – using beds, planters and living walls
Add greenery or color and finish your seating or dining space with these inspirational deck planting ideas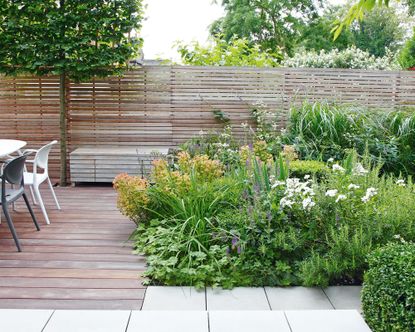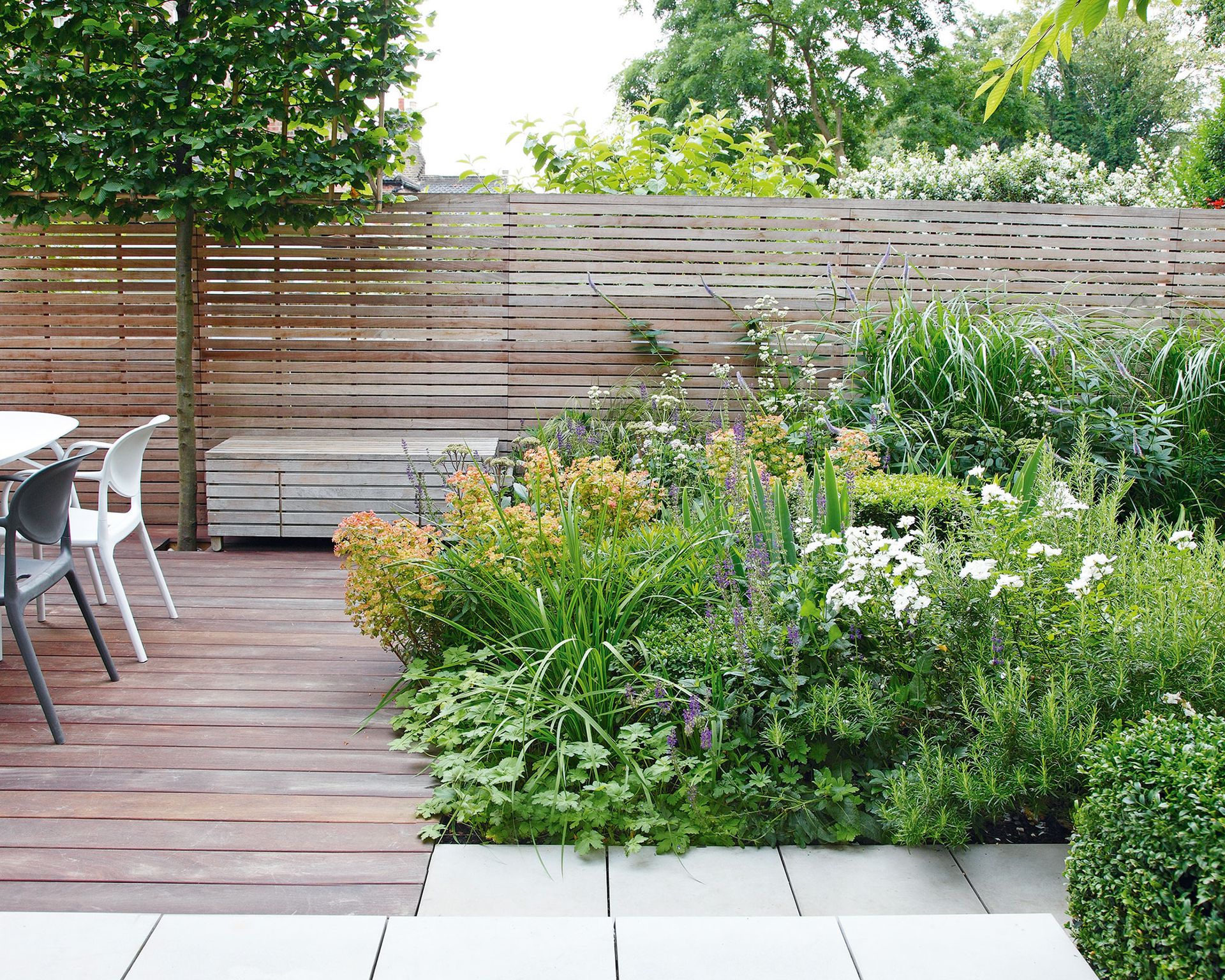 (Image credit: Future / Annaick Guitteny)
If you want a seating or dining space that blends into your backyard, beautifully then great deck planting should be high on the agenda. Whether it's a question of building beds into the overall design, adding planters, or opting for living walls, the best ideas will harmonize hard and soft landscaping to wonderful effect.
See: Deck ideas – creative decking ideas for your garden, patio or terrace
'Plants are one of my favorite elements of designing a deck,' says Karl Harrison of Karl Harrison Landscapes. 'Think decking and plants at the same time to create a seamless garden design.'
Deck planting ideas
To inspire your deck design, or bring flowers and foliage to an existing space, take a look at our wonderful deck planting ideas.
1. Opt for architectural plants
With fabulous spreading fronds and a thick trunk, tree ferns are a deck planting option that will draw the eye. Build a bed into it or locate it alongside, and when you plant the tree ferns ensure there's room at the top for their fronds – which can reach a length of 6 feet (2m) – to spread into.
Tree ferns are very slow growing, so invest in plants of the height that suits the deck now unless you're prepared to wait over years for them to create the spectacular display the examples in this garden do.
2. Build in planters
Incorporate planters into the deck design, and you can add a living element to the area without compromising the space available for lounging or positioning a dining set. You could opt to put in evergreens for year-round interest.
Here, space has been left in the middle of the structure for seating – all that's necessary to make it a comfortable perch is to add a seat pad. If you follow this example, bear in mind that you'll need to keep up with pruning to stop the plants growing into the bench area.
3. Go contemporary
Looking for deck planting ideas that have contemporary style? Design in beds with geometric lines to complement the deck. Shapely evergreen shrubs are the ideal choice for a modern structural scheme, and beds can be top dressed with slate chippings to complete the look and keep the space low maintenance by suppressing weed growth.
See: Deck color ideas – how to choose the color to paint your deck
4. Grow a living wall
If space is limited, you can't build in beds, and even containers would take up too much of the area, a living wall is a brilliant deck planting idea. It transforms a boring vertical expanse into something impactful without intruding on the deck itself.
Choose annuals, perennials, and even herbs or vegetables as part of a living wall design. Just make sure they're compact, or they won't suffer if you prune them to keep the wall in shape.
5. Follow the curve
Complement a curved deck design with an adjoining bed following the same curve that will make any planting feel like an integral part of the whole. 'Curved edges can be used to soften the look and feel of an outdoor space,' says Charles Taylor, Director of Composite Prime.
'Circular fire pits in the centre of composite decking is a trend we're seeing in new garden renovations, and bay trees and ornamental topiary are also popular to prevent straight lines.' Or, you can copy the look above, with a circular deck around a water feature, complemented by circular deck planting around it.
6. Work with the landscape
You might be able to add a deck to the planting rather than adding the planting to the deck in some landscapes. Located by a river, the deck in this backyard is cantilevered over the water and is set amongst the plants that grow there naturally so it's immersed in greenery. It's been designed around the tree that was already there, too, with a hole cut for the trunk to emerge through the deck opposite the built-in seat.
7. Dress it like indoors
A covered deck creates a fabulous outdoor room, and deck planting that echoes what you might choose indoors can be a great option for an area like this. In this comfortable seating area, palms set in wicker planters add to the cool shady feel and introduce organic color and shape.
Follow this deck's example of choosing tall plants to make an impact and position them to echo the symmetry of the furniture. They can be combined with smaller planters at eye level from the seating.
8. Create a green canyon
Soften a deck that's surrounded by high walls whether of the house or the garden's boundaries with planting that extends from the deck to the highest level. Layering the plants can maximize the feeling of being surrounded, so fill borders even if they're narrow, grow climbers behind, add trees in containers rather than smaller plants, and plant up any balcony space, too.
9. Enjoy color
Containers filled with flowers are a lovely planting idea for a deck, as well as a fantastic way to bring color to other parts of the garden. 'If I had to name one thing I've increasingly enjoyed in my garden over the last few years, it would have to be our ever-burgeoning tribe of pots and containers,' says gardener and writer Sarah Raven.
'They're a powerful strand of color that draws lines, creates groups, curves and circles, highlights layers and steps, but most of all gives the Perch Hill garden crucial dollops of full-on painterly color.'
'For smaller pots I love pelargoniums,' Sarah adds. 'Most flower without cease, with little water and almost no dead-heading. My top all-round favourite variety is the scented-leaved Attar of Roses, but this soft pink flowered pelargonium couldn't be claimed to be a full-on color merchant. For bold and brilliant color you want Pink Capitatum (syn. P. caprifolium), P. Clorinda, or Lara Starshine, all three bright, breezy, easy to look after and always flowery.'
Find the products shown above at Sarah Raven.
10. Scale deck planting to the size of the backyard
Bear the proportions of the backyard in mind when planning deck planting. 'To maximize light and space in a tiny basement yard, the planting for the
deck had to be minimal,' says designer Laara Copley-Smith of this London garden. 'Bamboo was a must on the client brief and I advised this must be contained to avoid it spreading and so planters for it were built into the design.
'Two multi-stem Acer palmatum were planted alongside the deck for their shape, form and foliage with a Trachelospermum jasminoides on a stainless-steel trellis bringing scent and flowers to the garden.'
See: Small garden decking ideas – clever ways to enhance your space
11. Overlook blooms
A bed at the immediate edge of a deck can allow you to plant flowers in the foreground of your view, as well as enjoy the vista over the length of the garden. Choose scented blooms and you can take advantage of the fragrance as well as the shape and color of the deck planting.
Take note of the eventual height of what you plant in this scenario, which will be influenced by the height of the deck above the garden beyond. The blooms should be easily visible but not grow so tall as to obscure the outlook.
12. Edge the deck with planting
Build beds into the deck's structure that can create living borders in glorious color. For small flowers a narrow channel is all that's required. A single flower choice can create a ribbon of color that makes a splash, while a pair of different colored plants is a pretty alternative.
These mini beds can be combined with other built-in planting as in this design. They're especially effective positioned alongside steps to create a direct view of the planting as you climb.
13. Match planters to the deck
Go for planters that match the color of the deck boards for an easy deck planting solution that ensures the look is pulled-together. Groups of odd numbers like the three gray planters here look best for a casual scheme, while symmetrical positioning will suit a formal entertaining area. But if the latter's the case, size up the planters chosen so they don't look lost on the expanse of the deck.
You can find more deck color ideas in our dedicated gallery of inspiring images.
14. Grow climbers between the deck and house
If the deck sits right up against your house, planting between the two can soften the boundary – and growing leafy, evergreen climbers are a clever way to add greenery without taking up floor space, ideal if you are looking for small garden decking ideas.
15. Suspend the deck above the planting
This deck planting in this Californian backyard is the focus of the entire home, with the deck itself suspended up in the tree canopy. Created by Gary Marsh Design, the whole design concept aims to make the deck blend into the planting surrounding it, with a slim railing to allowing the view to be the focal point.
You can see more deck railing ideas in our dedicated guide.
What can I plant next to my deck?
What you plant next to your deck should complement the rest of the planting in your backyard. In other words, if the space has contemporary style, you'll want to continue this theme alongside the deck, likely with sculptural foliage plants. Likewise if the back yard is full of cottage-style flowers, stick to similar choices, and so on.
Start by picking out the larger plants you want to include: shrubs or even small trees can suit if the deck is raised so there's plenty growing at eye level from the deck. Ornamental grasses are also ideal alongside a raised deck.
If you want a great show of blooms, pick some perennials to go in next to the deck. There's a world of choice, but you might go for tall bold cannas or day lilies for summer color. Want fragrance and a sea of color? A bed of lavender is hard to beat.
If there's a wall or fence near your deck make sure you put in some climbers, too. Star jasmine and Clematis montana can create a wonderful display next to a deck.
What to put under pots on a deck?
Put pot pads or risers or planter feet under pots on a deck. They'll lift the pots a little way off the deck so water doesn't collect under them. This could stain the timber and even eventually rot it, and it creates a situation in which mold and mildew thrives.
If planters are light enough, you could move them around instead. Don't keep swapping them to the same spots, though. It's worth putting smaller planters away in winter, too, if they were home to summer blooming plants.
How can I make my deck look good – with planting?
To make your deck look good consider setting the deck planting against the color of the decking. 'Decking – like Trex – has many different color combinations which makes the planting even more exciting,' advises garden designer Karl Harrison.
'Living walls are in vogue at the moment and you can create a similar effect by asking your decking designer to incorporate some stainless steel trellis cables,' Karl adds.
'If you wanted a less architectural look and a more natural effect, try wild flowers. There are many companies that supply wild flower mix, and you could also buy wild flower turf which helps to attract a whole plethora of bees, butterflies and the like.
'When it comes to container planting on a deck, an idea is to design the decking frame to accommodate the planter. Once the decking frame has been constructed simply place the container into the slot. Now you can fit the decking up to the planter.
'The cherry on the top would be to place lighting in the planters, a few uplighters or an LED strip hidden under the lip of the planter will add a romantic warm glow in the evenings. Be sure to use warm white for the best effect.'
How can I make my deck more inviting – with planting?
To make your deck more inviting with planting there are a whole host of options. 'Go for impact,' suggests garden designer Tracey Parker of Tracey Parker Landscape Design. 'Large feature planters filled with evergreen architectural foliage such as fatsia underplanted with trailing plants will create a year-round focal point.'
Evoking a vacation mood with planting can also make a deck inviting. Try just a few planters filled with large colorful flowers and tropical leaves, Tracey suggests.
See: Decking design mistakes – the common errors to avoid
Shelter around the deck can turn it into a cocooning space. 'Use deep trough planters filled with tall grasses such as Miscanthus 'Morning Light' to filter the wind and create a sense of enclosure whilst seated,' says Tracey.
A touch of hotel style could also be a winning strategy to make a deck inviting. 'Cut a hole in the deck to grow a specimen tree through; one with multi-stem trunks or interesting bark will give the feel of a luxury hotel,' Tracey advises.
Sign up to the Homes & Gardens newsletter
Decor Ideas. Project Inspiration. Expert Advice. Delivered to your inbox.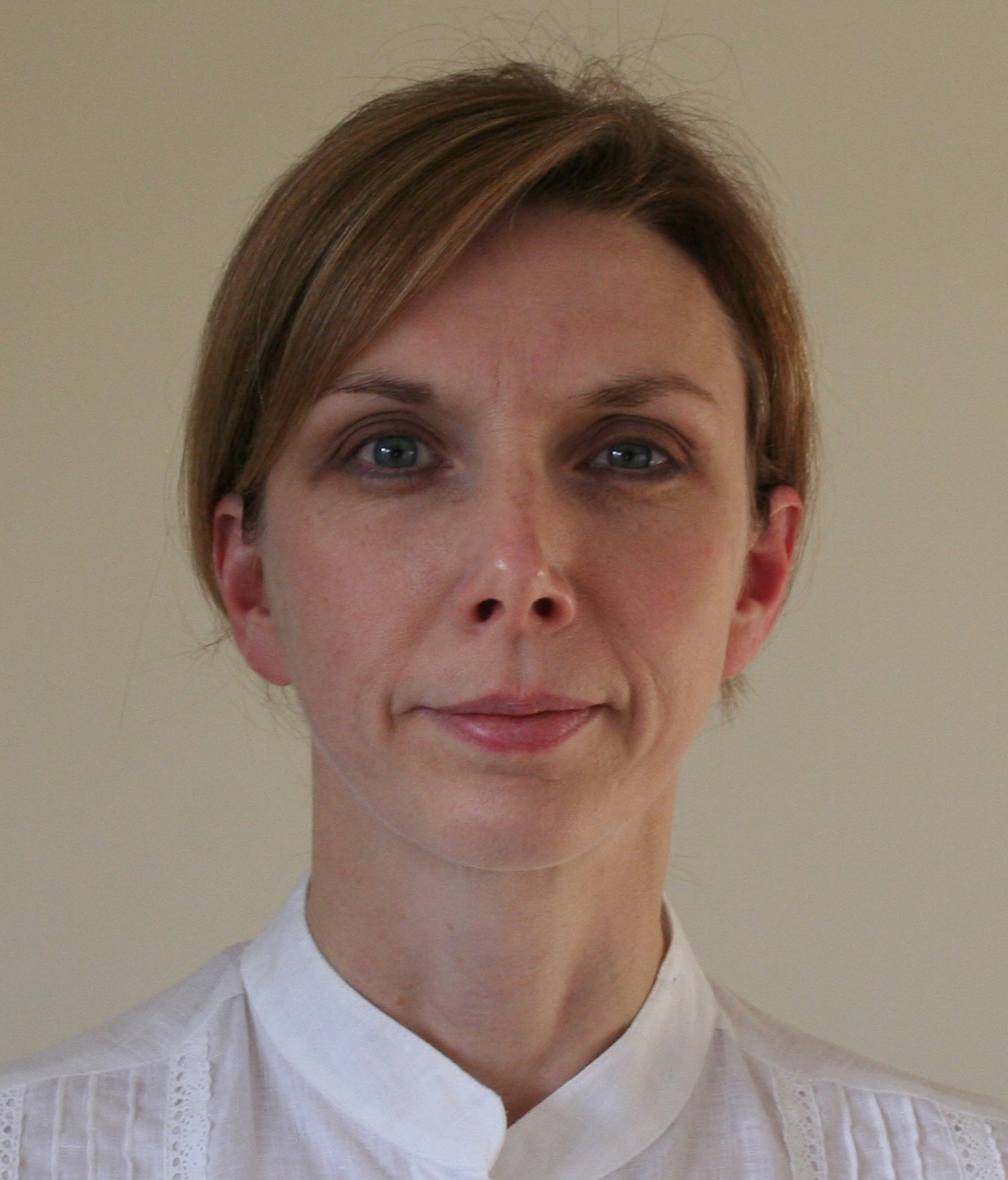 Sarah is a freelance journalist and editor. Previously executive editor of Ideal Home, she's specialized in interiors, property and gardens for over 20 years, and covers interior design, house design, gardens, and cleaning and organizing a home for H&G. She's written for websites, including Houzz, Channel 4's flagship website, 4Homes, and Future's T3; national newspapers, including The Guardian; and magazines including Future's Country Homes & Interiors, Homebuilding & Renovating, Period Living, and Style at Home, as well as House Beautiful, Good Homes, Grand Designs, Homes & Antiques, LandLove and The English Home among others. It's no big surprise that she likes to put what she writes about into practice, and is a serial house renovator.