How to clean an outdoor rug – 5 easy steps for an instant refresh
Follow this simple method to get your outdoor rug back to its best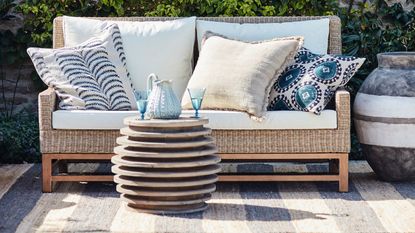 (Image credit: Oka)
Spring is the ideal time to clean your outdoor rug to make sure it's looking as good as new in your outdoor living set-up.
Although outdoor rugs are designed to be hard-wearing and can cope with a downpour every now and again, they can soon start looking a little grubby once they get covered in dirt, leaves and other garden debris. Plus, if yours has been rolled up in the garage or in your backyard storage space over winter, chances are it needs a quick refresh to get it ready to be used again all summer long.
Whether you opt to clean your outdoor rug with a pressure washer, or get rid of dirt and stains by hand with nothing more than a brush, some soapy water and some elbow grease, there are a few key things you'll need to bear in mind to ensure you get the best results.
How to clean an outdoor rug in 5 easy steps
When deciding the best method for cleaning your outdoor rug, my first tip is to look at the manufacturer's instructions. These could be included in your original packaging or printed on the label of the rug, and should give you an indication of what to do. The same advice applies when cleaning outdoor cushions too.
The material your outdoor rug is made from may also dictate the cleaning method and products you can use. Certain fibres are more hard-wearing than others so can withstand a pressure washer, for example, while others will be damaged by the force of the water.
So before you start this backyard cleaning task, make sure you know the material your rug is made from and whether there are any specific manufacturer's instructions you should be following.
1. Remove any surface dirt
The first thing you should do when cleaning your outdoor rug is to remove any loose dirt and debris. I find that the quickest and easiest way to do this with my own outdoor rug is to simply lift up the rug and shake off any dirt that might be trapped in the fibers. For a small rug it's an easy task for one person, but for larger designs you'll probably need two people, as I do with mine.
For larger designs, you can also hang the rug over a washing line and hit the surface with a broom to dislodge dirt and debris.
Alternatively, you can use a small brush or your vacuum to remove the surface dirt. Just make sure that you do this when the rug is completely dry and when there's no rain forecast.
'Vacuuming your outdoor rug regularly is the best way to remove dirt and debris that accumulates on the surface,' says Karina Toner, operations Manager at Spekless Cleaning. 'Be sure to use a vacuum with adjustable height settings to avoid damaging the fibers.'
2. Spot clean stubborn stains
Once the surface dirt is removed you can get to work on some of the more stubborn stains. As it's outdoors on your patio, this could be anything from ketchup and red wine stains from your recent backyard party, bird poo, mold and algae or simply ground-in dirt from the yard. I've discovered most of the above on my outdoor rug at one time or another!
'Treat any visible stains with a gentle, non-abrasive sponge and a mild detergent diluted in water,' says Michael Golubev, a cleaning expert at Mold Busters. 'Be sure to test the cleaning solution on a small, inconspicuous area of the rug first to ensure it doesn't cause discoloration.' Go for a corner of the rug or an area on the reverse and try the product there first. The same rules apply when cleaning a patio umbrella too.
'For tougher stains, a mixture of baking soda and water can be effective,' says Eric Lee, co-founder of property experts REI Insiders. 'The baking soda should be mixed with water until it forms a paste. This paste can then be applied to the stain and left to sit for a few minutes. After that, the paste can be removed with a soft brush.' Cleaning with baking soda can be incredibly effective, so keep this in mind for other cleaning tasks around your home, too.
Remember that you shouldn't scrub at stubborn stains as this can just make them harder to remove. Instead, make sure you are gently blotting them to try and lift the stain from the fibers rather than forcing it further into the rug.
It's also a good idea to clean your rug on a patio or hard surface rather than on your lawn as you don't want any detergents or cleaners running off onto your grass and potentially damaging it.
3. Clean the rest of the rug
With those stubborn stains taken care of you can give the entire rug a good clean with detergent. This will freshen up the colors, remove any further dirt and help to prevent the growth of mold and algae.
Penny Nicholas, a cleaning expert and founder of SparklingPenny.com, advises you make up a simple cleaning solution as follows: 'Create a mixture of warm water and mild detergent in a bucket, then dip a soft brush into the solution and gently scrub the rug in circular motions,' she advises.
Something like this soft-bristled brush from Amazon would be suitable for the task.
'Where possible opt for natural products to clean your outdoor rug as they do not contain harsh chemicals that can damage the fibers over time,' says Jamie Irwin, Landscape Designer at Windproof Gazebos. 'A safe option would be using dish soap diluted in water, as this will effectively remove most dirt without damaging the material. Alternatively, you could also try using a solution of white vinegar and warm water. This will help lift any tough stains while also killing bacteria.'
Penny is a cleaning expert and founder of cleaning advice website SparklingPenny.com. She ran a holiday cottage business for more than 10 years, and during that time learned plenty of tricks for how to get a house looking its best. She's passionate about cleaning and loves to offer tips on how to do it well and achieve great results.
4. Rinse with water
Once you've cleaned the entire rug, it's time to wash off any soap and detergent using your garden hose. Rinse the entire rug on both sides, allowing water to drain off properly. Continue the process until the water run-off is clear. You may need to repeat the process a second time to ensure it is fully clean.
Alternatively, you may prefer to use a pressure washer instead of a hose, but make sure that you don't blast the rug with your pressure jet on full power. 'Be sure to use a low-pressure setting and hold the nozzle at least 18 inches away from the rug to avoid damaging the fibers,' says Karina Toner. Using a high-pressure setting can also be a common patio cleaning mistake as you risk damaging the surface of your slabs, so do bear this in mind.
Pressure washers shouldn't be used on outdoor rugs made from natural materials such as jute and sisal as it's likely that you will permanently damage the fibers of the rug.
5. Dry your rug thoroughly
The importance of this final step shouldn't be underestimated, as putting a wet outdoor rug back down on a damp patio means you're creating the perfect environment for more mold and algae to grow on its surface.
'If you have a squeegee to help dry your outdoor rug, use it!!' says Scott Johnston of Carpet Care of the Carolinas. 'If not, use the back side of a stiff rake or brush to help flush the water out. After removing the soap solution and excess water, try to hang the rug over a railing or banister to promote fast drying.'
Hanging the rug over a fence or washing line can work just as well (although do consider the weight of the wet rug before you do this). You can also lay it out flat to dry in the sunshine, but just make sure it's in a dry spot and not on a damp lawn or patio. Depending on the weather, it may take longer than you think for your outdoor rug to dry completely, so factor this in when choosing the best time to start your rug cleaning routine.
If you are cleaning your outdoor rug at the end of the summer in preparation for storing it away for winter, Michael Golubev of Mold Busters advises you 'store it in a dry, well-ventilated area to prevent mold growth and prolong its life.'
FAQs
Can you use a pressure washer to clean an outdoor rug?
The advice from experts can be mixed on this point. While there are some cleaning experts who say cleaning an outdoor rug with a pressure washer is perfectly acceptable, there are others who advise sticking to cleaning them by hand to avoid damaging the fibers.
'Pressure washing might not be the best choice for every rug. Natural fiber rugs, such as jute or sisal, may be damaged by the high pressure of a pressure washer. On the other hand, synthetic fiber rugs, like polypropylene, are more durable and can handle pressure washing,' says Penny Nicholas, a cleaning expert and founder of SparklingPenny.com.
'If your rug is heavily soiled or has stubborn stains, pressure washing could be necessary to remove the dirt and grime. If you're comfortable using a pressure washer and can control the pressure to avoid damaging your rug, then pressure washing might be a great option. If you're not familiar with pressure washers, though, it's probably better to stick with hand washing to prevent any damage to your rug.'
---
Learning how to clean an outdoor rug correctly is worth the effort to make sure yours is free from dirt, mold and algae. Once you've given it a good clean, keep it looking its best by following a similar routine to cleaning an area rug in your home.
Wipe up any stains promptly, vacuum or sweep up any dirt or debris on a regular basis, and be prepared to use some elbow grease every now and again for a much-needed spruce up.
Sign up to the Homes & Gardens newsletter
Decor Ideas. Project Inspiration. Expert Advice. Delivered to your inbox.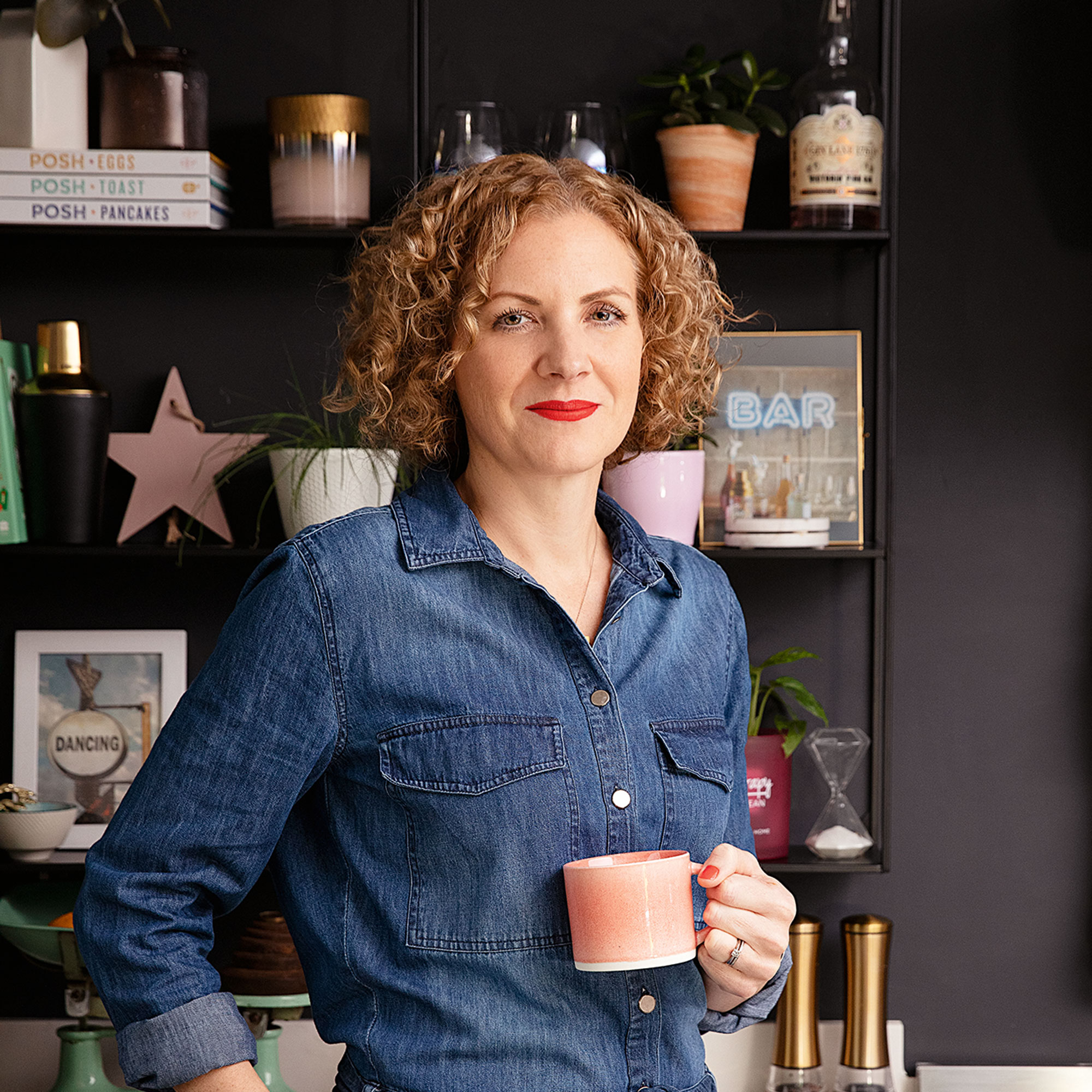 For the past 20 years, Beth has worked for and contributed to a number of leading magazines and websites in the UK, including Real Homes, Ideal Home, Period Living and Grand Designs. She was the Editor in Chief of Gardeningetc.com for nearly three years and is now the the Head of Gardens at Homes & Gardens. Beth's own garden is a really important part of her family's home, and she loves spending time tending to her veg patch or entertaining friends and family at a summer BBQ or alfresco pizza night.