How to clean outdoor cushions – so they weather the season well
Trying to decide how to clean outdoor cushions? Follow our five-step expert guide to keeping your garden lounge area beautifully clean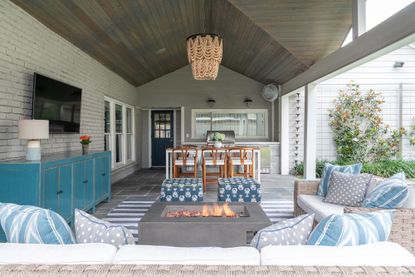 (Image credit: Kim Armstrong Interior Design/Michael Hunter)
Outdoor cushions bring indoor comfort levels into your garden, patio or terrace, making your al fresco living spaces just as cozy and comfortable as the sofas inside.
Learning how to clean outdoor cushions isn't terribly tricky but it differs a little from cleaning a couch and there are a few tips and tricks that will help keep them looking box-fresh throughout the summer.
'Whenever you buy outdoor cushions, keep a note of the cleaning instructions, as different brands and fabrics will have different recommendations. Label instructions and laundry symbols wear off with time, so note them down and keep them handy in your utility room or by the washing machine,' advises Sarah Dempsey, cleaning expert at MyJobQuote.
How to clean outdoor cushions
If you've been searching for outdoor living room ideas, it's likely outdoor cushions are a feature. There's a good chance your seating will be subject to a few spills and stains during the outdoor entertaining season, but follow our five-step guide to cleaning outdoor cushions and you'll soon be lounging in fresh, clean comfort again.
1. Remove loose dust and dirt
Just as you would regularly plump cushions indoors, outdoor cushions benefit from a regular shake out to remove loose dust and mites. Do this outdoors and downwind of your patio area to avoid spreading the dust onto furniture.
Just like when you're cleaning upholstery inside, suction out any dust in the creases and seams of any outdoor cushions and seat pads that don't have removable covers using the upholstery attachment on your vacuum; a cordless vacuum will make the job easier to do in situ.
2. Put covers in the washing machine
You can wash couch cushion covers if they're made from some fabrics and, while not all outdoor cushions are machine washable, if they come with removable covers, it's a good indicator that they are. Do look for a washing label inside the cover. 'In the absence of a wash label, you can often tell by feel. Removable covers that don't feel like they have special water repellent coating on them, can usually be machine washed. Use a low temperature and mild detergent,' says cleaning expert Sarah Dempsey.
If the cushion cover is made from a fairly stiff material, it's worth dialling down the spin speed on your washing machine to avoid excessive creasing. Around 1000rpm is perfect. Make sure your washing detergent doesn't contain bleach; a non-bio or handwash liquid is safest.
Some may be designed to go in the tumble dryer but again look for that wash label and don't risk it if you can't find one because shrinking cannot be remedied. The tumble dryer symbol you need to spot is a square with a circle inside, which may be empty or with one or two dots that indicate higher heat levels. A circle that is crossed out means you cannot tumble dry.
3. Wash cushions without removable covers
Outdoor cushions, especially those that come with garden furniture and are designed to be left out in all weathers often feature fixed covers. Don't despair, these types of outdoor cushions are also made from really resilient textiles that have usually been treated with special stain and moisture protectors. After vacuuming away dust, wipe them down with a clean, damp cloth, which should be sufficient for sorting out any light marks and minor food spills.
'Use warm water, not too hot, with a mild detergent to clean non-removable cushion covers. A soft-bristled scrubber can help ease away any stubborn dirt before cleaning with a damp cloth,' adds Laura Schwarze, Head of Luxury Rattan. Do a patch test on the back of the cushion first to check your chosen detergent and/or brush doesn't mark the fabric.
You could also consider hosing down outdoor cushions and seat pads with the garden hose at high pressure, especially if they are outsized. Don't use a pressure washer though, the power will be too much for most textiles.
4. Tackle stubborn stains
Regardless of whether your outdoor cushions have been cleaned by machine or hand, stubborn stains may well still linger. Bird poop is one of the worst offenders to deal with, we know you'll wear gloves! First scrape off the bulk of it then give it a good vacuum on the highest setting. The more you can get off before adding water, the better your chances. Next mix a drop of liquid detergent into a spray bottle of warm water and spray the spot. Blot the dirt out and repeat until gone. The trick is not to scrub, otherwise you'll risk pushing the dirt further into the fabric. If you can machine wash the cover, do so, otherwise rinse off any soap residues with the garden hose.
For tougher marks, like red wine stains, or those caused by blackcurrant and mildew, try a mix of one cup white vinegar and a gallon of warm water, again sprayed onto the area and left to soak, but not dry. On machine washable covers you can also use specialist stain-removing laundry products but avoid them on any outdoor covers that have been sprayed with upholstery protection as it can remove the sealant layer.
5. Dry outdoor cushions
By far the best way to dry any outdoor cushions is outside in the fresh air. Avoid direct sunlight to prevent bleaching out the color – although most outdoor cushions are fade-resist, few are infallible.
'Cushions will need to dry fully to prevent mildew forming. Once dried out, you may wish to coat fabric with a stain and water repelling product, so they can be wiped clean in the future,' adds Sarah Dempsey.
How can I help my outdoor cushions last longer?
It can prove a bit of a nuisance, but popping your outdoor cushions away each night will protect them from damp overnight air and help them last longer. An outdoor storage ottoman is handy for keeping cushions tucked away overnight; some outdoor furniture includes storage for this purpose inside tables or sofas.
'To prevent dirt build-up and stains on your outdoor furniture, consider using plastic cover cushions, or make sure you're treating your fabric with upholstery protectors,' adds Ash Read, interior expert at Living Cozy.
Never leave outdoor cushions outside through winter. Instead, wash them carefully, dry thoroughly and store them in an airtight bag or container in the shed or attic.
How do you clean outdoor cushions with vinegar?
If you want to clean with vinegar, it is important to make sure it is well diluted to prevent marking the fabric of your outdoor cushions. Do a spot test on the back first. Made your own solution by mixing one cup of vinegar with a gallon of warm water, and a drop of liquid detergent, and spray the mix on your cushions before rinsing off. Avoid spilling any undiluted vinegar on natural stone patio slabs, as it can damage the surface finish.
Sign up to the Homes & Gardens newsletter
Decor Ideas. Project Inspiration. Expert Advice. Delivered to your inbox.
Linda graduated from university with a First in Journalism, Film and Broadcasting. Her career began on a trade title for the kitchen and bathroom industry, and she has worked for Homes & Gardens, and sister-brands Livingetc, Country Homes & Interiors and Ideal Home, since 2006, covering interiors topics, though kitchens and bathrooms are her specialism.