How to clean white outdoor cushions – expert guidance and the damaging advice to ignore
Remove stains and whiten whites for a good as new look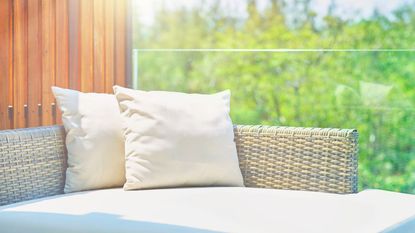 (Image credit: Getty Images)
There are some tried and tested ways to clean white outdoor cushions. Get it right and you can expect them to continue to look as good as new; get it wrong and they may gray or stain further, and you might need to find replacements quicker than you'd like.
So, if your outdoor furniture needs a spruce, whether at the beginning of the spring season when they're fresh out of storage, or before they go back into storage in fall, this is what to do, and what not to do.
How to clean white outdoor cushions
When cleaning outdoor cushions of any color, and indeed cleaning outdoor furniture frames, too, it's always important to check the manufacturer's cleaning instructions before you begin. This is particularly important with cleaning white outdoor cushions because white can so easily gray and stain over time. However, the cushions' laundry symbols will tell you whether or not, for instance, they can go in a washing machine.
You will need
1. Vacuum the cushions
Once you've checked the care label, it's time to remove debris from your white outdoor cushions. 'Before tackling any stains, make sure you have got rid of any loose debris and grime from the surface,' says Millie Hurst, H&G's Solved Editor and expert on cleaning. 'Otherwise you will just work more grime into the white fabric with your chosen method, which will, eventually, contribute to the cushions graying.'
Working outdoors, shake them and hit them gently to remove dust.
Another option if the cushions can't be removed, advises Millie Hurst, is to 'use a hand-held vacuum cleaner. A crevice tool will help you get into smaller areas around welt cords,' she says.
2. Wash with care
If your white outdoor cushions can be machine washed, remove the covers now and put in the washer at the temperature indicated on the label with a gentle laundry detergent. Follow the drying instructions carefully, too.
If the covers can't be removed, you'll need to make up a cleaning solution in a bucket. First move the cushions to the plastic sheeting, laid out in a dry, sunny spot, and always refer to the wash label for warnings against damage; if you aren't sure, always test a spot before applying anything but water to your white cushion covers.
'For cleaning up white outdoor cushions, I'd recommend a natural option, such as white vinegar,' says Millie Hurst. 'To clean with vinegar, dilute one part in a bucket or spray bottle with three parts warm water and apply the solution to the affected areas. You can add a squirt of gentle liquid soap if the cushions are really stained. Leave for 20 minutes. Then, take a soft brush, available at Amazon, to gently clean away dirt, debris and mildew.'
'Pay particular attention to any stains and repeat as necessary,' advises H&G's garden expert Sarah Wilson. 'Wait for a few minutes to let the cleaning solution thoroughly soak into the cushion.'
A vinegar solution will remove mold and mildew, too. If your outdoor white cushions have been stained with sunscreen or drips from grilled food, you'll need a good ploy for removing oil. The best approach is to act quickly: dab the oil away immediately with kitchen towel, then sprinkle it with baking soda, which will absorb the oil. After 20 minutes shake or vacuum off the baking soda, repeating as necessary.
If any stains won't budge, try sprinkling your cushions with baking soda then spray on the vinegar solution. Leave to sit for 10 minutes.
Next, you need to rinse the white cushion covers clean of all cleaning solution. The best way to do so is with a garden hose, set to medium.
'Avoid drenching the cushions,' says Millie, 'But gently hose until the water runs clear.'
Repeat on all sides.
3. Dab and air dry
Using the microfiber cloths or kitchen towel, or even an old light-colored bath towel, dab at the cushions to remove as much water from them as you can.
Then simply leave, stood on their ends, in the sunshine to air dry. Lean them against each other or a clean surface that won't transfer stains if wetted (ie, do not lean your cushions against a wooden fence as the wood will leave stains).
4. Protect white outdoor cushions
Prevention is always better than cure, and though your white outdoor cushions may be designed for purpose and protected from sun-fade and rain-drenching, it never hurts to replenish this protection.
'Renewing this coating or protecting untreated fabrics with a for-purpose fabric spray such as Scotchgard Outdoor Shield, available from Amazon is a really good way to avoid having to continuously clean white outdoor cushions, which can eventually lead to wear and graying,' says Sarah Wilson. 'Once your cushions have dried thoroughly, spray on a protective coat, following the manufacturer's instructions, and only ever spray on a protective coat straight after your cushions have been cleaned and dried, otherwise you risk sealing in dirt.'
FAQs
Can white vinegar clean white upholstery?
White vinegar can be used to clean white upholstery, say the experts at Deluxe Maid. 'For fabric upholstery, combine ¼ cup white vinegar with ½ tablespoon of natural liquid soap and ¾ cup warm water. Put the mixture in a spray bottle and give it a good shake. Mist the stained area lightly and scrub it gently with a soft cloth.'
How do you get stains out of white outdoor cushions?
To remove stains from white outdoor cushions, the best approach is to use vinegar: combine one part white vinegar with three parts warm water in a spray bottle; spray on to vacuumed cushions, leave for 20 minutes, use a soft bristle brush to work into the stains, then rinse with cold hose water and allow to air dry.
Can you use bleach on white outdoor cushions?
You will see advice that says you can use bleach on white outdoor cushions, but unless the care label says you can, we would advise avoiding doing so. Use bleach on white upholstery of any kind and you are likely to end up with reverse stains – patches that are lighter or yellower than the rest of the cushion. If you do decide to use bleach, always do a test patch on a hidden area first.
How do you white white outdoor cushion fabric?
Vacuum cushions, thorough, lay on a plastic sheet in the sun then spray with a solution of white vinegar (one part) to warm water (three parts). Allow to soak in for 20 minutes then work on any stains; rinse thoroughly with hose water and allow to air dry. If your cushion covers can go into a washer, you can use a gentle laundry whitener to whiten the fabric.
Our cleaning experts
Millie Hurst is Section Editor at Homes & Gardens, overseeing the Solved section, which provides readers with practical advice for their homes. Millie has written about and tried out countless cleaning and DIY hacks in the six years since she became a journalist, and has worked in both London and New York.
Sarah is Homes & Gardens' house plant expert. She has written about gardening for Gardeningetc.com, Livingetc, Easy Gardens and Modern Gardens magazines, and has studied introductory garden and landscape design as well as floristry. In her own garden, she is establishing a cutting garden.
---
When cleaning white outdoor cushions, be careful what you read on the internet: carpet cleaning products, for example, aren't suitable for upholstery of any kind; chlorine bleach should be avoided; and tumble drying is rarely a good idea. Instead, stick to simpler, tried and tested methods, and always do a test patch on your cushions first, just to ensure the cleaning tips you choose to follow do more good than harm.
Sign up to the Homes & Gardens newsletter
Decor Ideas. Project Inspiration. Expert Advice. Delivered to your inbox.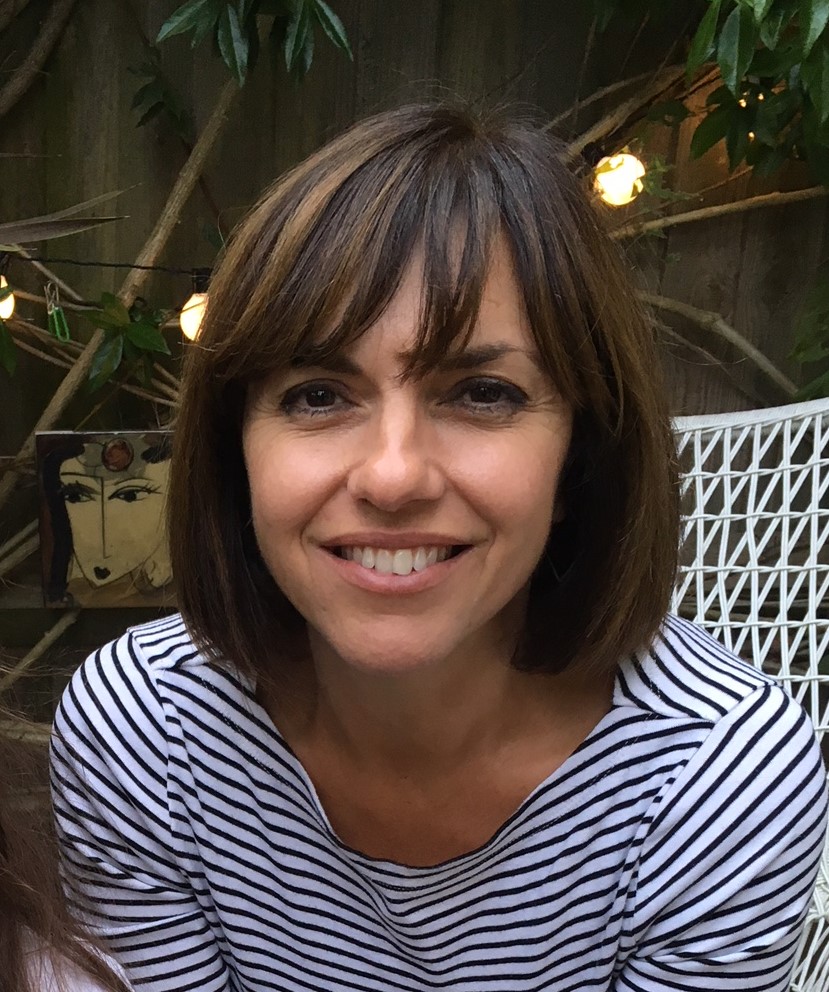 Lucy Searle has written about interiors, property and gardens since 1990, working her way around the interiors departments of women's magazines before switching to interiors-only titles in the mid-nineties. She was Associate Editor on Ideal Home, and Launch Editor of 4Homes magazine, before moving into digital in 2007, launching Channel 4's flagship website, Channel4.com/4homes. In 2018, Lucy took on the role of Global Editor in Chief for Realhomes.com, taking the site from a small magazine add-on to a global success. She was asked to repeat that success at Homes & Gardens, where she has also taken on the editorship of the magazine.