How to clean a patio umbrella – the methods professionals recommend
Is your patio umbrella looking grubby and in need of some TLC? Then revive it in a flash with these simple steps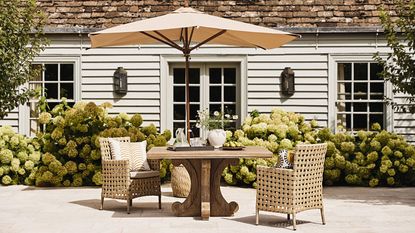 (Image credit: Oka)
Sign up to the Homes & Gardens newsletter
Decor Ideas. Project Inspiration. Expert Advice. Delivered to your inbox.
Thank you for signing up to Homes & Gardens. You will receive a verification email shortly.
There was a problem. Please refresh the page and try again.
Essential for shade and staying out of the sun's harmful rays, no backyard should be without an expansive parasol. But if yours is looking a little dull and in need of a spruce up then it's time to give it a good clean.
Whatever its shape, size, style or mix of materials it's usually a pretty simple task to remove grime, mold and mildew from a patio umbrella and restore this important piece of outdoor furniture back to its original good-looking self.
Our expert tips for cleaning a fabric-covered patio umbrella will give you professional results, so you can safely chill, dine and socialize outside in style.
How to clean a patio umbrella in 7 simple steps
Sprucing up a tired and grubby backyard patio umbrella can make a huge difference to the look and feel of your patio furniture. For just a little time and effort, most marks and stains can be removed for good leaving your garden shade looking smart and summer-ready.
You will need:
Open up the patio umbrella, secure in place and using a soft bristle brush sweep away any loose dirt and debris.
Mix up a ¼ cup mild soap per gallon of lukewarm water and fill a hand held spray bottle. Spray evenly on to the fabric canopy, being sure to cover any edges or stubborn marks thoroughly.
Work over the wet fabric with a soft bristle brush. Repeated circular motions work particularly well, helping to shift grime from the fabric's surface, ensuring that no areas are missed.
Allow the cleaning solution to soak into the fabric for around 10-20 minutes but be sure not to exceed any soaking times given by the manufacturer.
Hose the fabric shade down thoroughly, rinsing off any remaining soap solution.
For stubborn marks, repeat the cleaning process two or three times.
Once you are satisfied with the results and all soap solution has been rinsed away, leave the shade open to air dry thoroughly.
How to clean a patio umbrella with a removable cover
Many patio umbrellas are designed with a fabric cover that can easily be slipped off the frame. This is best done by carefully sliding the end of each spoke out from its corresponding pocket stitched into the shade.
While it is possible to clean these fabric covers while open on the umbrella frame, Ashley Newton, lead design consultant at ShadeScapes Americas, suggests it's best to remove them. 'If your umbrella has a removable canopy, hand washing is recommended. Remove from frame and then soak in a solution of ¼ cup mild soap per gallon of lukewarm water. Use a sponge or very soft bristle brush to lightly agitate any dirt or stains. Then rinse thoroughly to remove all soap residue, and air dry. Never be tempted to machine dry an umbrella shade as this can cause permanent damage.'
How to clean a patio umbrella frame
Whether made from wood or aluminium, or in some cases bamboo, looking after the frame of your patio umbrella is just as important as the cover. Essentially, the 'working' element of this important backyard feature, the time spent cleaning your outdoor furniture will ensure that your parasol is easy to operate. Making it a regular quarterly task will also provide the opportunity to spot any problems and replace any failing components before the umbrella fails altogether.
'Keeping the frame in good condition is the first step,' continues Ashley Newton. 'The most important thing to remember is that moisture can cause erosion and rust, and the chance of this happening increases in a marine environment. Clean the frame with a soft cloth and water and then wipe dry. If you live in a marine environment, applying a silicone spray to any moving components of the frame once a month is also a good idea.'
Be sure to use a soft, lint free cloth for cleaning a patio umbrella frame. These microfiber cloths from Amazon would be suitable for the task. Any abrasive cleaning pads or harsh cleansers can scratch the frame's surface, causing damage that will only get worse, allowing moisture and grime to penetrate.
How to remove mold and mildew from a patio umbrella
Nothing ruins the look of a patio umbrella and cantilevered shade more than a patch of mold or mildew. Unsightly to gaze upon, these areas can rapidly spread and get worse, especially when the shade is left closed when damp and unventilated. They can also lead to unwelcome damp smells developing, which are bad for health and can, in extreme cases, lead to eventual rotting of the fabric.
To remove mold or mildew, Ashley Newton has this advice. 'Prepare a solution of 1 small cup of bleach and ¼ cup mild soap per gallon of water. Spray on entire area and allow to soak into the fabric for 15 minutes. Clean the entire surface area with a sponge, clean towel or very soft bristle brush. Rinse thoroughly to remove all soap residue and air dry.'
If you're still worried about persistent mold or mildew growth, then it is possible to increase the quantities of bleach but do be very cautious when using bleach to kill mold. Ashley also says, 'It is best to clean the entire surface area of the fabric to avoid water rings and stains.'
Depending on the exact fabric used for your shade, you may need to treat the material with a waterproofing solution after cleaning with bleach. Always check your manufacturer's guidelines for additional details about what cleaning product you can and can't use on the material.
FAQs
How often should you clean a patio umbrella?
The cleaning frequency for a patio umbrella really does depend on where it is positioned in your yard and its climate. If your patio happens to be located below a deciduous or coniferous tree, chances are that it will regularly be covered in bird poop, sticky sap and even falling overripe fruit. If this is the case, and you are particularly keen to keep your parasol completely clean, this task may need to be repeated every week or two to keep the shade in tip top condition.
Planning on stashing your umbrella away for the winter? Give it a clean first. 'For off-season storage, spray down the fabric with water and clean metal components with a soft cloth and water with mild detergent,' advises Ashley Newton, lead design consultant at ShadeScapes Americas. 'Make sure everything dries well before storing. Place it in a cover bag if one was purchased and store in a cool, dry place.'
---
In addition to regularly cleaning your patio umbrella, there are also a few simple tips that can help to minimize dirt and grime building up in the first place.
Positioning the shade well away from overhanging trees and shrubs will prevent bird poop from accumulating and staining the fabric. It will also cut down on sticky tree sap and pollen adhering to the material which, in turn, attracts a build-up of organic debris, insects and grime.
Another game-changing trick is to always dry a patio umbrella in the open position. This will avoid a common outdoor furniture mistake as it ensures that any moisture evaporates quickly and avoids mold and mildew from forming in any folds or creases.
Sign up to the Homes & Gardens newsletter
Decor Ideas. Project Inspiration. Expert Advice. Delivered to your inbox.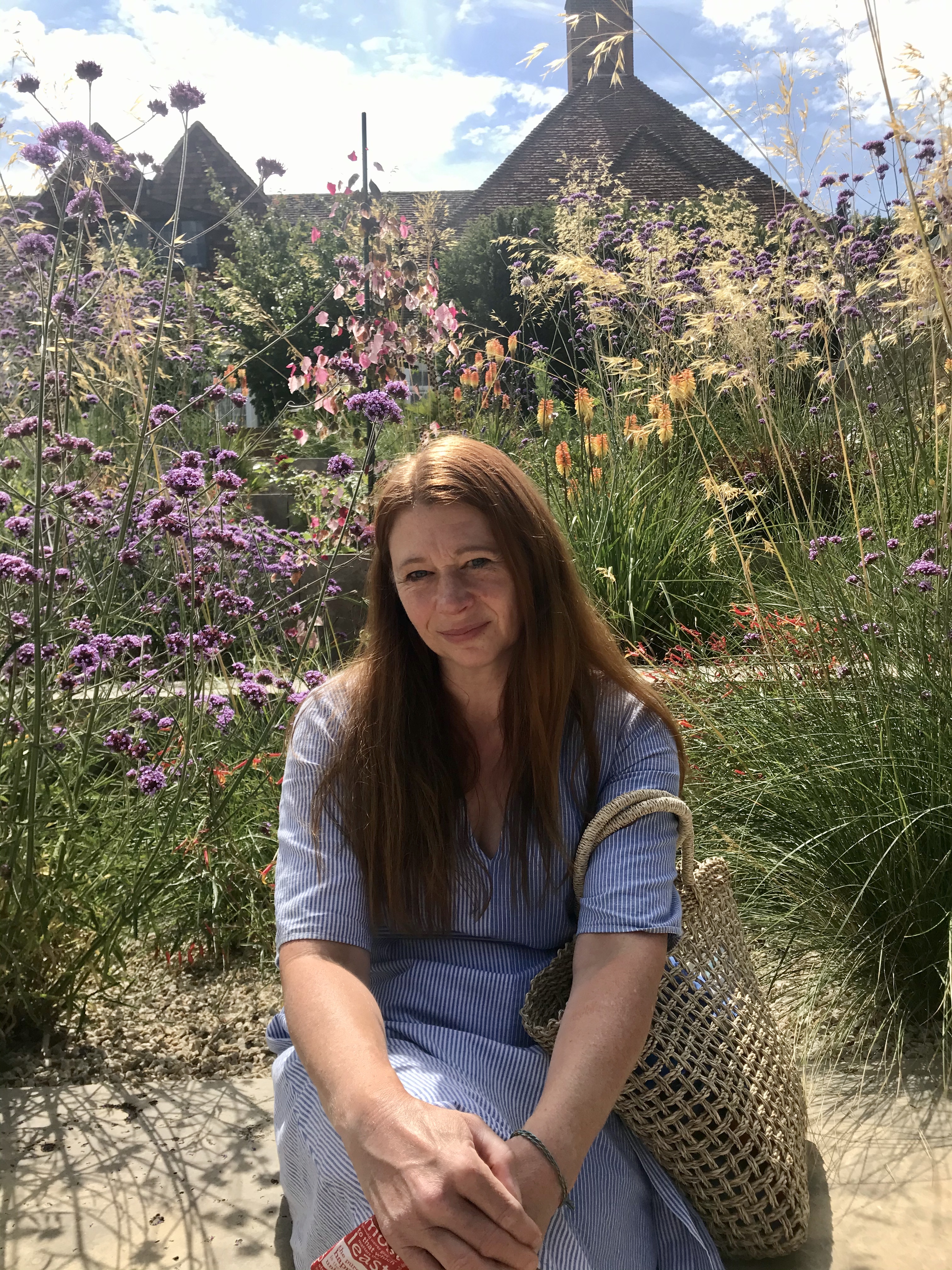 Jill Morgan has spent the last 20 years writing for Interior and Gardening magazines both in print and online. Titles she has been lucky enough to work on include House Beautiful, The English
Home, Ideal Home, Modern Gardens and Gardeningetc.com. Although much of her career has involved commissioning and writing about reader homes and home improvement projects, her
everlasting passion is for gardens and outdoor living, which is what she writes about for Homes & Gardens.