How to clean a living room – an expert guide
Find out how to clean a living room from top to bottom and enjoy quality relaxation in sparkling surroundings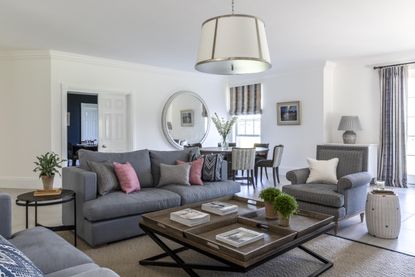 (Image credit: Sims Hilditch)
Establishing how to clean a living room in the fastest and most effective way will free up more time to enjoy it.
A beautifully clean living room will also take the stress out of impromptu entertaining, and make cozy nights on the couch with family so much more relaxing.
We've put together the cleaning tips necessary to get the task done efficiently, along with the steps to follow, plus the experts' advice.
How to clean a living room
'Cleaning your home not only leaves you with a lovely smelling and ordered environment, it also makes you feel a sense of purpose and accomplishment,' says psychologist Emma Kenny. 'Cleaning is a type of informal mindful practice that has the power to create a mental state of flow which is excellent for wellbeing,'
A pristine environment will also let living room ideas shine and this is how to clean a living room like a pro in seven easy steps.
1. Gather supplies
Getting everything you need gathered together before you start not only saves time, but it also helps get your head in the game for a serious scrubbing session. The main items required when asking how to clean a living room are:
Two or three clean microfiber cloths
Furniture polish or wax
Window cleaner or vinegar/water solution and newspaper
A feather duster and radiator duster, if available
Vacuum cleaner plus upholstery and nozzle attachments
Upholstery stain remover and carpet shampoo appliance, if available
Mop and bucket for hard floors, if required
A small stepladder or sturdy chair can also be helpful for reaching the tops of bookcases, molding and picture rails. 'Once you're ready to get to work, open windows to freshen the room and reduce the dusty air as you clean,' advises Sarah Dempsey, cleaning expert at MyJobQuote.
2. Tidy up before cleaning a living room
It may sound obvious, but your living room will be much easier to clean once couches and surfaces have been decluttered. Return all errant objects that shouldn't be in there to their rightful homes and straighten up bookshelves and coffee tables.
Gather throws and either neatly fold or put in the laundry room for washing later. Washing woollen blankets and throws in the machine can be possible, but do check the care label first. Inspect throw pillow covers to see if they can be machine washed, too.
3. Get dusting
Dry dusting with a soft cloth or feather duster is perfect for hard-to-reach areas like cornices, picture rails, curtain rods and high shelves when cleaning a living room. You can also buy special dusters for getting behind and around radiators – we like the Konex dryer vent and refrigerator coil brush, sold on Amazon, which works on radiators, too.
Always dust your living room from the top down to avoid sullying surfaces you've already done. Next switch to a damp microfiber cloth, which will remove more dust and is better on hard surfaces like baseboards, picture frames, doorframes and coffee tables.
Be particularly careful when cleaning a television screen. Use a fresh microfiber cloth and gently wipe the screen in an up and down motion, not circular. If there are some stubborn marks, very lightly moisten the cloth and go over again. Never spray water or cleaning products directly on to the screen.
Some wood furniture, particularly antique, will benefit from furniture polish or wax, which is designed to feed the timber and protect against moisture. Read the instructions on the can/tin carefully and get advice from a furniture maker or restorer if you're unsure. Always do a spot test somewhere discreet if you are using a new product for the first time.
4. Clean the windows and mirrors
Buffing up your windows and mirrors to a high shine is an important part of cleaning a living room. You can use a general glass cleaning spray, but we prefer to clean with vinegar, as it is both natural and inexpensive.
To clean windows without streaks or to clean a mirror, simply mix equal parts of white vinegar and hot water and add a splash of liquid soap to help remove any streaks. Put your mixture into an empty spray bottle with a fine spray and spritz the glass lightly all over, taking care not to overdo it. Then grab a sheet or two of old newspaper, scrunch it up and rub the glass in circular motions until it's clean and streak free.
Don't forget to include the glass in your wood stove, if applicable (leave-on foam oven cleaner is particularly effective for removing burned on grime), as well as glass picture frames, glass lampshades and any vases or coasters made from glass.
5. Tackle window treatments
'You open and close your curtains and blinds every day, so you may be surprised by how much dust has gathered. Handheld vacuums are a good way to clean curtains, rods and pelmets without having to take them down,' says window care expert Rachel Fernie of Hillarys. Any major stains or marks may require a trip to the dry cleaners.
Clean blinds according to type. A vacuum cleaner can be used first on some, then use a microfiber cloth. If they are shutters or horizontal blinds, close them first in one direction and clean from left to right; then twist or pull the cord to close them in the opposite direction and repeat. You may need to wash the cloth clean several times as you go.
6. Vacuum couches, armchairs and other seating
Next clean couches and chairs by taking off all the seat cushions and removing any large items, like pencils and spare change. Attach the nozzle to your vacuum and get right into the corners and crevices before switching to the upholstery attachment to clean upholstery of the main seat area, backs and arms of your couch.
If the covers are removable and appear grubby, it may be time to give them a clean; follow the laundry symbols on the label inside. Put the seat cushions back on the couch and give them a vacuum, too. Any light marks and dirt can often be wiped off with a damp cloth but take care not to scrub too hard, especially if your upholstery is linen or velvet, which can mark if rubbed excessively in one spot. Clean a leather sofa with care, too.
Upholstered ottomans, where the fabric is very taut, can often be cleaned with a carpet shampoo-type vacuum on a low setting. You can also get compact handheld versions for upholstery, which are also great for tackling area rugs.
7. Clean the floors
You're nearly on the home straight. The floor should always be the last chore on your list, especially if you're planning to shampoo rugs and/or carpets. 'If you have plush carpet, stay in specific lines, as if you are mowing the lawn, which will help reduce unsightly streaks in the pile,' says Kate Henderson, duty manager at Daffodil Hotel. Move any furniture you can or use the attachments to reach as far as you can underneath and behind. If you have cats or dogs and your existing vacuum isn't up to scratch, it's worth swapping to one of the best vacuums for pet hair.
Clean area rugs by taking them outside, if manageable, and beating out the dust, then give the floor below a good clean while the rugs are out of the room. If the carpet needs cleaning, put your carpet shampoo machine into action. You can also hire them from local hardware stores or get a specialist in.
Clean hardwood floors, or those made from stone or laminate, by vacuuming before wiping over with a well-wrung mop. Always allow your living room floor to dry thoroughly before replacing any rugs or letting children and pets back into the room.
Why is it important to clean your living room?
Three-quarters (76 per cent) of respondents said a clean home was important to their mental health and wellbeing and not having a clean and tidy home creates feelings of stress and unhappiness, has an impact on relationships with family and partners and affects productivity at work, according to a recent survey by homewares brand Brabantia.
A clean living room can also have physical health benefits. 'Keeping your living room clean not only makes it a nicer space to spend time in but it will also help remove dust and pollen, which may provoke allergies, and minimize other pests such as clothes moths and carpet beetles,' says Sarah Dempsey, cleaning expert at MyJobQuote.
How can I keep my living room neat and clean?
The key to keeping any room in your house neat and clean is to adopt a 'little and often' approach, and the living room is no exception. Try to train every member of your household to look behind them as they leave the room and check if there are any plates, mugs, shoes or books they could take with them. By always ensuring that the space alway is tidy, it will be easier to clean – this is essential if you want to make your living room beautiful.
Wiping away any spills as soon as they occur will help immensely, especially when it comes to removing coffee stains and removing red wine stains. Soaking out as much as you can using kitchen towel or similar before applying stain remover and then a final wash with a damp cloth is your best chance of completely eradicating stains.
You should aim to give your living room a decent clean – dust and vacuum – at least once a week, and a more thorough clean, as described in our steps above, perhaps every six to eight weeks, according to use.
Have a fire? You'll need to clean a fireplace of dust and grime from time to time. Make sure to clean walls of marks and scuffs every so often, too.
Sign up to the Homes & Gardens newsletter
Decor Ideas. Project Inspiration. Expert Advice. Delivered to your inbox.
Linda graduated from university with a First in Journalism, Film and Broadcasting. Her career began on a trade title for the kitchen and bathroom industry, and she has worked for Homes & Gardens, and sister-brands Livingetc, Country Homes & Interiors and Ideal Home, since 2006, covering interiors topics, though kitchens and bathrooms are her specialism.