How to clean a leather sofa – so that it looks as good as new
Leather sofas are a great option if you have pets or young children, as the wipe-clean covers make for an easy clear-up job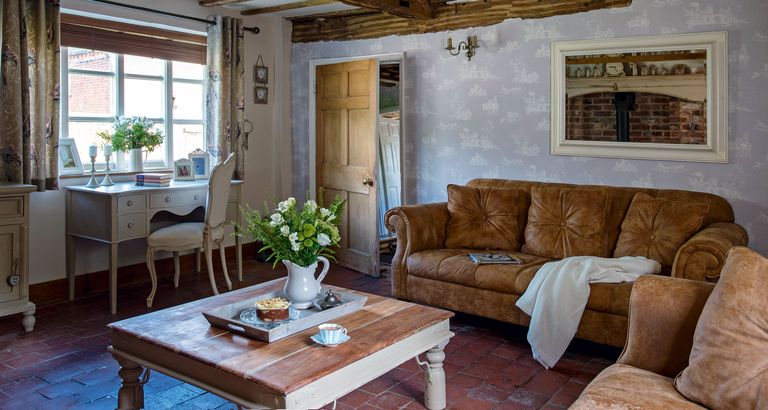 (Image credit: Future)
Want to know how to clean a leather sofa so it looks as good as new?
Leather never goes out of fashion – it's so easy to live with, ages beautifully and stands the text of time, especially if it's looked after property, making it the perfect couch for a small living room or larger space.
The same can be said for cleaning leather sofas: all in all, it is relatively easy in comparison to fabric upholstery.
1. Clean off surface dirt
Start by removing throws and cushions and checking down the sides and back for any loose change, sweetie wrappers and so on. Use the brush attachment on leather upholstery to avoid scratching it.
Slowly suck up all the crumbs and dirt that have accumulated on the surface, using a slow sweeping movement. Switch over to the crevice tool to get anything from the edges your fingers couldn't reach, as well as cleaning the seams. Repeat on the cushions.
See: Cleaning tips – our essential guide to keeping your home spotless
2. Check the label
If your upholstery still has its label or a sticker attached to the underside, check it first before using any cleaning products. W means you can only use a water-based cleaner.
S or P means it can only be cleaned with solvents (dry-clean only). SW or WS means that you can use either a water-based detergent or solvent cleaner. A steam cleaner will be fine to use, too. Finally, X means that you can't use any water or detergent on the surface – get it professionally cleaned instead.
3. Prepare your cleaning materials
The best tip for cleaning a leather sofa is to clean it using saddle soap or leather dew (a combo of soap and oil usually available from shoe repair shops and good furniture stores) once a week with a soft cloth.
4. How to clean your leather
Most sofas will be finished leather and it's fine to use a slightly damp cloth with a small amount of a gentle soap to give it a quick clean. However, make sure the cloth is only damp and not wet otherwise a water mark will be left.
5. How to clean a leather sofa – the natural way
White vinegar is a great natural stain remover for most types of upholstery. Start by blotting the stain with an equal parts water and vinegar solution, then wipe the stain away gently using a microfibre cloth (only use a new cloth or make sure it's completely clean).
Follow this up with a mixture of mild detergent and tepid water to remove any lingering vinegar smell. Leave it to dry naturally. As a rule, you should always tackle stains as soon as they happen.
6. Test it first
Always test your cleaning products first. Choose an area of the sofa that no on one can see, and wait until dry to see the results before you apply it to the target stain.
7. Treat your leather sofa to a conditioner
Once a lather has been built up, wipe it away and polish the leather with a dry cloth. Then treat it with a leather conditioner just before it completely dries.
See: How to repair a leather couch – repair rips, fading and cracking
8. Know when to call the professionals
If a stain refuses to budge, leave it and don't be tempted to scrub - you may be causing more harm than good. Instead, call in a professional upholstery cleaner.
Will you be using any of these tips to clean a leather sofa? Let us know how you get on...