How to clean a couch – and keep it looking its best
Know how to clean a couch to ensure it remains as fresh as the day you bought it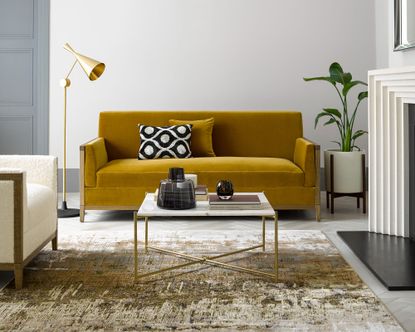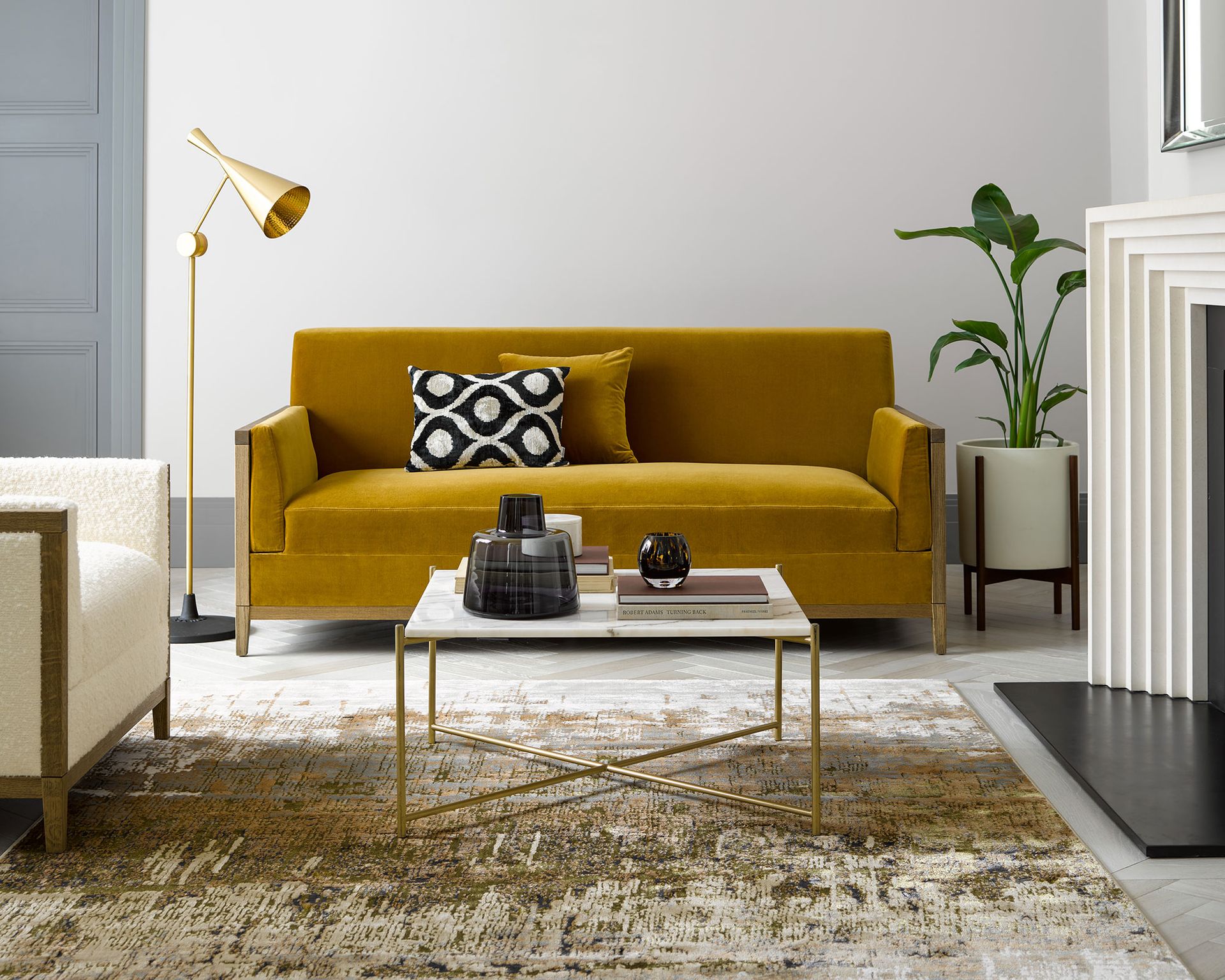 (Image credit: SS22 Chester 2.5 seat sofa in Nefertiti Cotton Matt Velvet, £1,490, Chester Armchair in Alpaca Textured Boucle, £920, Taylor Table, £590, Sofa.com)
Given how much time we spend on them, accidental spills are inevitable, so knowing how to clean a couch is useful expertise.
While cleaning a sofa may feel like a challenge, the key is to deal with stains quickly. With that in mind, it's a good idea to ensure your laundry room ideas include space to stash the right items, so you've got what you need close to hand.
'Sofas are often the bane of people's lives when it comes to cleaning. Not only does dirt and bacteria build up over time, but stains from spilt drinks, food and pets can be stubborn to remove', says Dr Susan Fermor, spokesperson for Dr Beckmann.
Whether you're tackling a specific stain or want to give your couch a whole refresh, we've put together a step-by-step guide to how to clean a couch that'll keep it looking as good as the day you bought it.
How to clean a couch
There's no one rule that fits all when it comes to how to clean a couch. Cleaning methods and products will differ depending on the material it's made from, and whether the covers are removable – the latter might dictate whether you decide to use a washing machine or not.
'If your sofa covers come off, you could pop them in the washing machine, but be sure to pay attention to the laundry symbols on the care label', says cleaning expert Lynsey, Queen of Clean.
Some experts recommend against using a washing machine regardless of what the label says when cleaning upholstery, claiming that washing couch cushion covers means they end up misshapen or difficult to replace.
If you'd rather err on the side of caution, check out our guide on how to clean a couch to ensure it remains in good shape – figuratively, and literally. Wondering about cleaning outdoor cushions on a couch instead? Some can be washed (with the same caveat as above), but otherwise the procedure is a little different.
1. Start with a surface clean
Start by removing all the couch pillows and checking down the sides for candy wrappers, loose change, small toys and so on, then give your sofa a good vacuum, ideally with an upholstery attachment if you have one.
'This will get rid of dust and debris, which is advisable before using any cleaning products', says Lynsey. 'Remove all the cushions and vacuum both sides as well as the base, back and sides', she says.
If you're a pet owner, a reusable lint remover is a quick and effective way of getting rid of stray hairs – handy if you've got guests arriving at short notice.
2. Check the label
Before you attempt a deep clean or tackle any stains, always check your couch's care label. There's a generic set of codes used by the industry that tell you clearly which cleaning method and products are safe to use.
W – means you can only use a water-based cleaner.
S or P – means no water, only solvent-based cleaning products should be used.
SW or WS – means you can either use a water based cleaner or a solvent cleaner – steam cleaners are fine, too.
X – means you shouldn't use anything (brushing and vacuuming are fine) – get it professionally cleaned instead.
Checking the label is even more important when deciding how to clean a leather couch, as there's such a wide range of different finishes. 'If you have an unprotected leather couch, the best option for cleaning would be to hire a professional cleaning company', advises Sarah Dempsey, cleaning expert at MyJobQuote.
3. Test out your couch cleaning products
To be extra safe, Sarah advises spot-testing your cleaning solutions on a hidden area before using them across the entire couch to make sure it doesn't damage or discolor the fabric.
4. Spot clean couch stains quickly
You don't need store-bought cleaners to remove stains and spills; solutions made using staple store-cupboard ingredients can be just as efficient. Cleaning with vinegar – white vinegar – is a great way to remove stains naturally for most types of upholstery, though we would always advise a test patch somewhere hidden, such as at the back of the couch, before you proceed.
Try two cups of warm water with 1 tbsp each of washing-up liquid and white vinegar, and dab, don't scrub, advises Mahira Kalim, founder of eco cleaning brand, Spruce. 'Otherwise, you'll push stains deeper into the fibers of the couch and potentially even damage it permanently. Moisten a microfiber cloth with your chosen cleaning solution and dab firmly but gently for best results.'
'As soon as a spill or stain occurs, get to cleaning it immediately,' says Mahira. Waiting too long before treating a stain – even a matter of a few minutes – can cause it to set, making it much harder to get out.'
Removing coffee stains might be achievable with water for a couch that has stain-guard protection or a dish soap solution if it doesn't. Getting rid of red wine stains, meanwhile, might need simple blotting plus an application of salt, or a specialist product.
5. Maintain a cleaning routine
Regular maintenance will keep your couch in good condition. Whether it's made from linen, velvet or microfiber, vacuuming (use the upholstery attachment if you have one) or brushing on a weekly basis will avoid a build-up of dirt dulling its color or wearing the fabric over time.
How do you clean a smelly couch?
Whether it's cooking, pets or kids that have caused them, you'll be pleased to know that removing unwanted odors from your couch doesn't necessarily require a deep clean. While it might be tempting to mask them with air fresheners, the trick to a fresh-smelling couch is to eliminate them completely. Cleaning with baking soda is ideal for this.
'Apply a sprinkling to the area with a bristle brush then leave for a few hours (or overnight if you have time) before vacuuming it up,' says Mark Osbourne, Director at Orangeries UK.
Can I use a steam cleaner on my couch?
If your sofa allows (check the care label to see if you can use water on it), steam cleaning will help to keep it looking fresh. According to Lynsey, 'bursts from a handheld steam cleaner will kill surface dust mites, lift dirt, and give it a refreshed look. Go over the entire couch and leave to air dry – it shouldn't take long at all,' she says.
Sign up to the Homes & Gardens newsletter
Decor Ideas. Project Inspiration. Expert Advice. Delivered to your inbox.
For 10 years, Tara King worked as a Content Editor in the magazine industry, before leaving to become freelance, covering interior design, wellbeing, craft and homemaking. As well as writing for Ideal Home, Style at Home, Country Homes & Interiors, Tara's keen eye for styling combined with a passion for creating a happy – and functional – family home has led to a series of organization and cleaning features for H&G.