Can you wash couch cushion covers? Expert advice to avoid fading and shrinkage
If your sofa is looking dirty, you might be wondering if you can wash couch cushion covers without damaging them. Here, laundry experts have the answers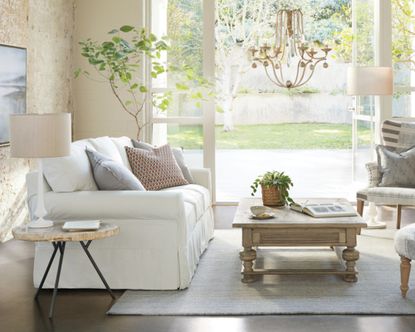 (Image credit: Arhaus)
Sign up to the Homes & Gardens newsletter
Decor Ideas. Project Inspiration. Expert Advice. Delivered to your inbox.
Thank you for signing up to Homes & Gardens. You will receive a verification email shortly.
There was a problem. Please refresh the page and try again.
Wondering whether you can wash couch cushion covers? There is no simple answer to this question since it very much depends on the upholstery fabric, whether it can be removed from the cushions and, most importantly, what the manufacturer advises.
However, since dirty couch cushions can ruin the look of a living room, it's vital to know if – and how – to wash them. And if you can't wash them, can you spot clean them? Or should you rely on professional cleaning?
So if you want to know how to clean a couch from top to bottom, this expert advice will be invaluable. Below, they share their tips on whether you can wash your couch cushion covers, safely.
Can you wash couch cushion covers?
The easiest way to discover if you can wash couch cushion covers is to unzip them and look for the manufacturer's advice on the label. On each label, you should find laundry symbols that will tell you not only whether you can wash your couch cushion covers, but how, whether by hand or, if in a washing machine, at what temperature.
If there is no label that suggests you can wash couch cushion covers, you should seek advice from a professional upholstery cleaning company.
Can I put couch cushion covers in the dryer?
The laundry symbols on the label should also tell you how the cushion covers should be dried – for example, showing the delicate setting on the tumble dryer or giving you a tumble dryer temperature guide; if this is absent it is best to air-dry couch cushion covers. Putting the covers back on the cushions when they are still slightly damp, and standing them up to air will ensure there are as few wrinkles as possible.
Why shouldn't you wash couch covers?
It is vitally important when cleaning upholstery that you follow the manufacturer's guidance. Ignore it and it's very possible that your couch cushion covers will shrink or fade.
'This is an arena fraught with danger,' say the experts at Sofas & Stuff. 'Shrinkage, fading and fraying are but a few of the horror stories we have heard. Washing machines are notoriously unreliable and the temperature you think you are washing at can easily be hotter, leading to inevitably smaller, yet clean sofa covers.
'Another risk is uneven fading. Unless you can take off all loose covers, washing just the seat and back cushions could lead to them being a lighter shade than the sofa frame.'
If you are looking to clean a leather couch, bear in mind that these cushion covers need specialist treatment and should not be washed at all.
How can I wash my couch cushion covers?
If you are determined not to seek professional help and are convinced that you can wash your couch cushion covers, perhaps you need to remove coffee stains or remove red wine stains, you must follow the care label's advice to wash your couch cushion covers.
If there's no laundry label to advise you what to do, the most sensible approach is not to wash couch cushion covers in a washing machine but to give them a cautious spot clean.
Only if this doesn't work and you are unable to get your covers to a professional cleaner should you proceed to wash couch cushion covers in the machine, setting the temperature low and spin speed to 'delicates'. Bear in mind that some fabrics, such as velvet, do not like a soaking, so if you are at all unsure, it is always better to seek professional advice.
1. Spot clean couch cushion covers
The best approach to any spill is to blot, blot, blot with kitchen paper until the stain is dry, then immediately douse it with soda water, then blot thoroughly again.
If this doesn't work, the experts at Essential Living suggest that all you need is a 'dry cloth, a mild enzyme detergent, such as dishwashing liquid, a cup of lukewarm water, a spray bottle, and a sponge or soft bristle brush,' though we would advise against using a brush on most fabrics, since it can flatten or alter the pile. Dabbing, in all cases is better than rubbing because it is gentler on the fabric.
'Brush off dirt from the cushion, then dab the stain with a dry cloth,' they say. 'Combine the cup of warm water and a quarter teaspoon of mild enzyme detergent into the spray bottle and use a few squirts on the stain. Use the sponge to clean the stained area. Make sure to not do so too hard as this may deepen the stain; instead use a light touch to blot the stain. Use a small amount of water to remove any remaining soap and blot the area to remove the moisture with a clean cloth. Allow the area to dry before judging if you need to repeat the process to further remove any stain that has persisted.'
However, and we repeat, if your couch is a precious buy (rather than a well-used family room favorite), it is always better to seek professional advice, rather than washing or cleaning it yourself; doing so can damage the upholstery, particularly more delicate fabrics, such as velvet.
2. Wash couch cushion covers following manufacturer's instructions
Follow the manufacturer's label instructions to the letter, bearing in mind that if you only wash the couch cushion covers and not the couch cover too, you will notice a difference in colors between them since, inevitably, anything washed will fade slightly each time it is submitted to warm or hot water. To guard against fading and shrinkage, set the washing machine's temperature 50℉ lower than the label suggests.
If there is no label, seek professional advice.
How often should you wash couch cushion covers?
You should wash couch cushion covers as little as possible, and only according to need and the manufacturer's advice.
'Different fabrics react in different ways to accidents,' say the experts at Sofas & Stuff. 'For example, a Harris Tweed sofa cover will have some resistance to water based spills, allowing you time to grab a cloth and try to gently mop up the mark.
'Wool is an amazing fabric choice for many reasons, one of our favorites is that it is naturally stain-resistant (note: not stain-proof!) and its hypoallergenic qualities make it the perfect choice for anyone with sensitive skin; no need for chemical treatment to keep it looking as good as new!'
Cotton velvet sofas require a certain amount of maintenance as they are vulnerable to pressure and water marks which are hard to miss and can't be wiped off by a cloth.
'Steaming your cotton velvet sofa every now and again to help remove the pressure marks. Unfortunately, a steam wont help you if you have spilt something on your velvet sofa so in this case you should call a specialist sofa cleaner. A stain-resistant velvet would be our top-tip for high traffic areas, making your new sofa wipe cleanable and able to withstand a little more of what family life can throw at it.'
Sign up to the Homes & Gardens newsletter
Decor Ideas. Project Inspiration. Expert Advice. Delivered to your inbox.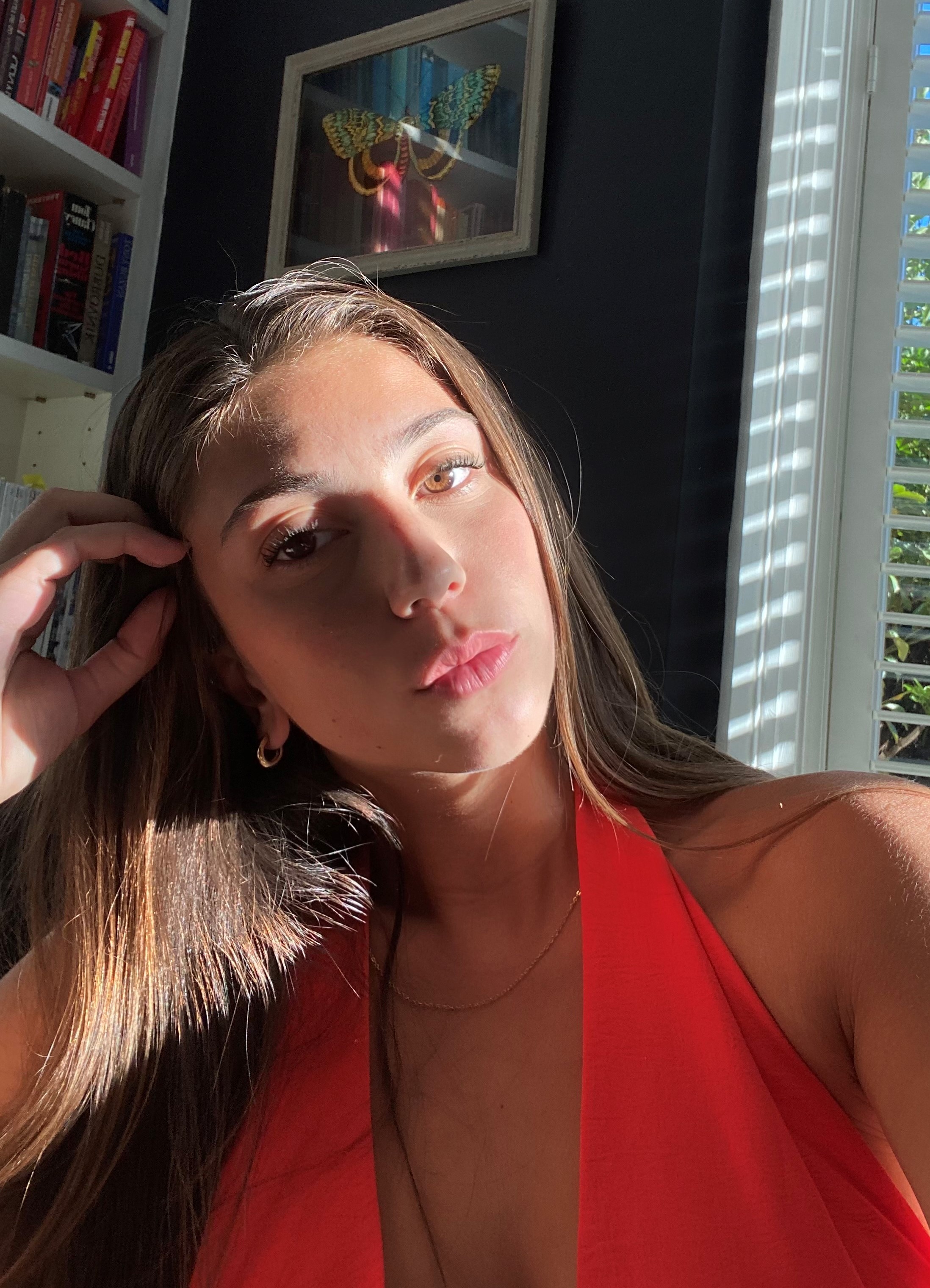 Lola Houlton is a news writer for Homes & Gardens. She has been writing content for Future PLC for the past five years, in particular Homes & Gardens, Real Homes and GardeningEtc. She writes on a broad range of subjects, including recipe articles, reviewing products, writing 'how to' and 'when to' articles. Lola now writes about everything from organization through to house plants. Lola is a graduate student, who completed her degree in Psychology at the University of Sussex. She has also spent some time working at the BBC.