Patio materials – the pros and cons explained for 8 popular options
Choose the best material for your outdoor living space with this expert advice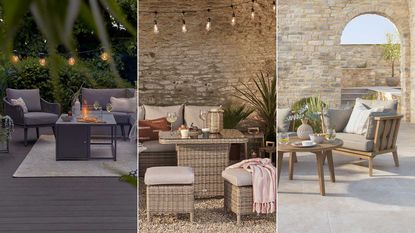 (Image credit: Danetti / Dobbies / Cox & Cox)
A patio is the central living space of any backyard – a place to relax, soak up the sun, and entertain friends. It's where the bulk of your outdoor furniture will be, and perhaps even some cooking equipment. And if you're green-fingered, it may also include a few plant-filled containers for added greenery to the zone.
All these features need a sturdy base to sit on – one that's durable, affordable, and looks fabulous, too. Choosing the right one is essential to the functionality of the space, and there are a good few options to consider.
This guide dives into the pros and cons of the most popular patio materials, to make your decision easier. Whatever your backyard scheme or the size of your space, there's a style to suit in this mix.
8 patio materials to consider for your plot
From porcelain pavers to composite decks, weighing up your backyard landscaping options will be easier with these expert insights.
1. Porcelain pavers
'Porcelain pavers create a contemporary outdoor living space with significant functionality and durability,' says Joe Raboine, Vice President of Design at Oldcastle APG, the parent company of Belgard.
They are similar to indoor porcelain tiles, only thicker and more durable, he explains. They're a popular choice for creating a sense of flow between indoors and outdoors, as many companies offer matching designs suitable for each use. They come in all kinds of designs, from ones that look just like real stone to timber-effect styles. Because of this, it's easy to create a paved backyard that matches your envisioned aesthetic.
'They are frost-resistant, skid-resistant, stain-resistant and easy to clean,' Joe continues. 'Combined with incredibly high breakage loads (up to 2,000 pounds), porcelain pavers are the perfect solution for high-traffic outdoor areas like patios. They can also be dry-laid onto grass, gravel, dirt and sand without grout, adhesives or specialized workers, making them easy to install.'
The drawback? The price. Porcelain pavers are one of the most expensive patio materials out there, but as they're so long-lasting, they're worth the investment if you can afford them.
Another drawback to bear in mind is their lack of drainage, especially if they're installed in a seamless fashion. If you live somewhere that gets a lot of rain, you'll need to lay them on a slight gradient or add drainage channels to prevent puddling.
Joe Raboine is the Vice President of Design at Oldcastle APG, the parent company of Belgard. He collaborates with both sales and marketing to ensure that Belgard's contractors and dealers are receiving best-in-class service, products and experiences. To that end, he often hosts webinars, assists with training events and trade shows, and presents at Belgard Universities and other industry events on current topics such as design trends, product innovations and industry best practices. As part of his role, he also oversees the Belgard Design Studio team. Joe strives to promote the idea that outdoor living is not only a good investment for homeowners but can also fundamentally change lives for the better by bringing people together.
2. Natural stone
'Natural stone, such as flagstone, slate, or limestone, creates a beautiful, organic look for your patio,' says Brad Smith, Interior Designer and Co-Founder of Omni Home Ideas.
Each type offers different qualities. Granite, for instance, is incredibly hardwearing, offers a natural grip underfoot, and typically has a speckled, grayish tone. Limestone is pale and smooth, while sandstone offers honey-like tones (although it's generally softer than the former, and has a tendency to scratch). Slate, in its dark and moody hue, is perfect for a modern backyard, but if laid in wet areas, it can flake.
As well as the more specific drawbacks of each type of stone, there are a couple of more general things to bear in mind when considering this patio material. 'Stone is highly durable and long-lasting but can be more expensive and challenging to install compared to other materials,' says Brad. 'Additionally, natural stone may require regular sealing to prevent staining and weathering.'
3. Concrete
Concrete pavers come in a wide variety of styles, so you can choose one that will fit the overall aesthetic of the home, says Joe. Designs can range from contemporary modular pavers and traditional cobble and brick pavers to those that mimic the look and texture of natural stone, he adds.
'These pavers offer multiple laying patterns, providing homeowners the flexibility to create unique outdoor living spaces,' Joe continues. The affordable price is another selling point.
You can also buy concrete permeable pavers to reduce the risk of your yard flooding. 'With permeable concrete pavers, any rain that falls on the patio seeps into the ground, reducing the burden on storm drains,' explains Joe. A permeable pavers system can be designed to harvest and recycle rainwater, he adds – a great option for more sustainable gardens.
As an alternative to pavers, concrete can simply be poured to create a patio – an even more budget-friendly option.
'Concrete is a fantastic substance to use to construct a specifically shaped patio because it starts out as a paste and then hardens,' says Jason Farr, Interior Designer and Founder of Aviara Pavers. Its aesthetic can be elevated with stamps. 'Stamped concrete can be almost any color, imitate the texture of stone or brick, or even include amusing designs like animal footprints or geometric patterns. It is made by pressing flexible polyurethane stamps into newly poured concrete,' he explains.
'Concrete patios should typically be installed by a contractor rather than being a do-it-yourself job,' Jason says. 'If these patios are not installed correctly, they may also have poor drainage problems.'
In terms of maintenance, Jason advises giving your concrete patio a clean at least once a year. 'Depending on the color, poured concrete can stain readily, and stains must be removed using a hard-bristled brush.'
'Though it is durable, concrete will eventually crack,' warns Joe. Some might say it also lacks the rustic, more organic charm of other materials.
Jason Farr is the Founder and CEO of Aviara Pavers, a San Diego paver installation company that specializes in outdoor living designs. Their designers, installers, and paver specialists offer multi-phase solutions for paver construction. He founded Aviara Pavers Inc. back in 2017. Combining his experience in the outdoor living area and passion for home remodeling, Jason addresses paver concerns with creative and low-cost solutions.
4. Wooden decking
Building a wooden deck for your outdoor living space is a popular option that can truly elevate the look of a yard. Opt for pressure-treated or naturally rot-resistant materials, recommends Brad Smith, which will extend its longevity. Ensure the timber you choose has been sourced sustainably, too.
One of the drawbacks of wooden decks is that they require regular maintenance, such as staining or sealing, to prevent rot and weathering, Brad explains. 'Wood can also be slippery when wet and may attract insects.'
Installing a deck can also be challenging, as decking boards should be laid on a constructed base. It's generally best to hire a professional for the job.
5. Composite decking
'Composite decking is a low-maintenance alternative to wood that mimics its appearance,' says Brad Smith.
'It's made from a combination of wood fibers and recycled plastics, making it an eco-friendly option.' What's more, it won't rot over time as timber does, it's less likely to warp, and it's often designed to be non-slip underfoot. Plus, it's resistant to insect damage.
However, it's usually more expensive than traditional wood, says Brad, and it may become hot underfoot in direct sunlight.
6. Gravel
Gravel – a mix of tiny stones – comes in all sorts of sizes and colors and is inexpensive and easy to install by yourself. It's also great for drainage, and popular for drought-tolerant gardens, plus you can plant straight into it.
Another benefit of gravel that's often overlooked is its noise when walked on, which is useful for upping the sense of security in your plot.
The downsides? It can distribute itself around the rest of your yard, which can be a particular pain if you have a lawn. Adding garden edging around your patio and gravel pathways will reduce this problem, though. It can also wear down over time, so will need topping up now and again.
7. Bricks
'The appearance of brick patios is timeless,' says Jason. It's a classic choice for more rustic-styled plots, including cottage garden schemes.
'Brick can be arranged in a variety of designs to produce a distinctive appearance, despite its limited color variation and inability to be dyed,' Jason continues.
'Brick patios typically cost between $14 and $20 per square foot, but recycled brick can be bought for less as a greener alternative,' he says. He also notes how it provides effective draining due to its porous nature, which allows water to pass through the clay with ease.
In terms of cons, bricks can break or crack under pressure or in cold conditions, despite the fact that they don't easily erode, Jason says. 'Nevertheless, bricks are simple to replace separately, and since this patio material doesn't fade, a replaced block won't be noticeable.'
Another factor to consider: 'Because the mortar does not rest flush with the brick's surface, a brick patio will not be completely smooth, which could cause patio furniture to wobble.'
8. Bark chippings
Bark chippings – often used for mulching flower beds – can be used to create an informal patio. They're probably not the way forward if you're looking for a sleek and chic finish, but their natural, woodland aesthetic can suit some spaces beautifully. Plus they can be extremely affordable.
They're super easy to lay. It's a good idea to install landscaping fabric (available from Amazon), first, which will suppress weeds from cropping up all over your patio.
Bear in mind that, like gravel, bark chippings will need topping up to maintain their fresh appearance. And, also like gravel, installing an edge around it will be beneficial to prevent it from encroaching on your lawn.
FAQs
Which is the most budget-friendly patio material?
The most affordable patio material is usually bark chippings, followed by gravel. However, remember you may need to factor in the cost of garden edging, too.
For a step up in price, opt for poured concrete or concrete pavers, although it's likely you will need to pay for installation.
Which is the most durable patio material?
Porcelain pavers are renowned for their excellent durability. For a more natural approach, granite stone is also incredibly hardwearing. It's also non-porous, meaning it's less likely to crack in freezing conditions.
---
Choosing the best patio material isn't a decision to be rushed, as it can really make or break your outdoor living space. All aspects need to work for your individual needs – from the aesthetics and its durability to how easy it is to clean.
Once you've settled on the perfect base, it can set a precedent for the rest of the zone. Use it to help navigate further decorating and landscaping decisions for a cohesive scheme, from the color of a new pergola to the materials for any nearby garden walls.
Sign up to the Homes & Gardens newsletter
Decor Ideas. Project Inspiration. Expert Advice. Delivered to your inbox.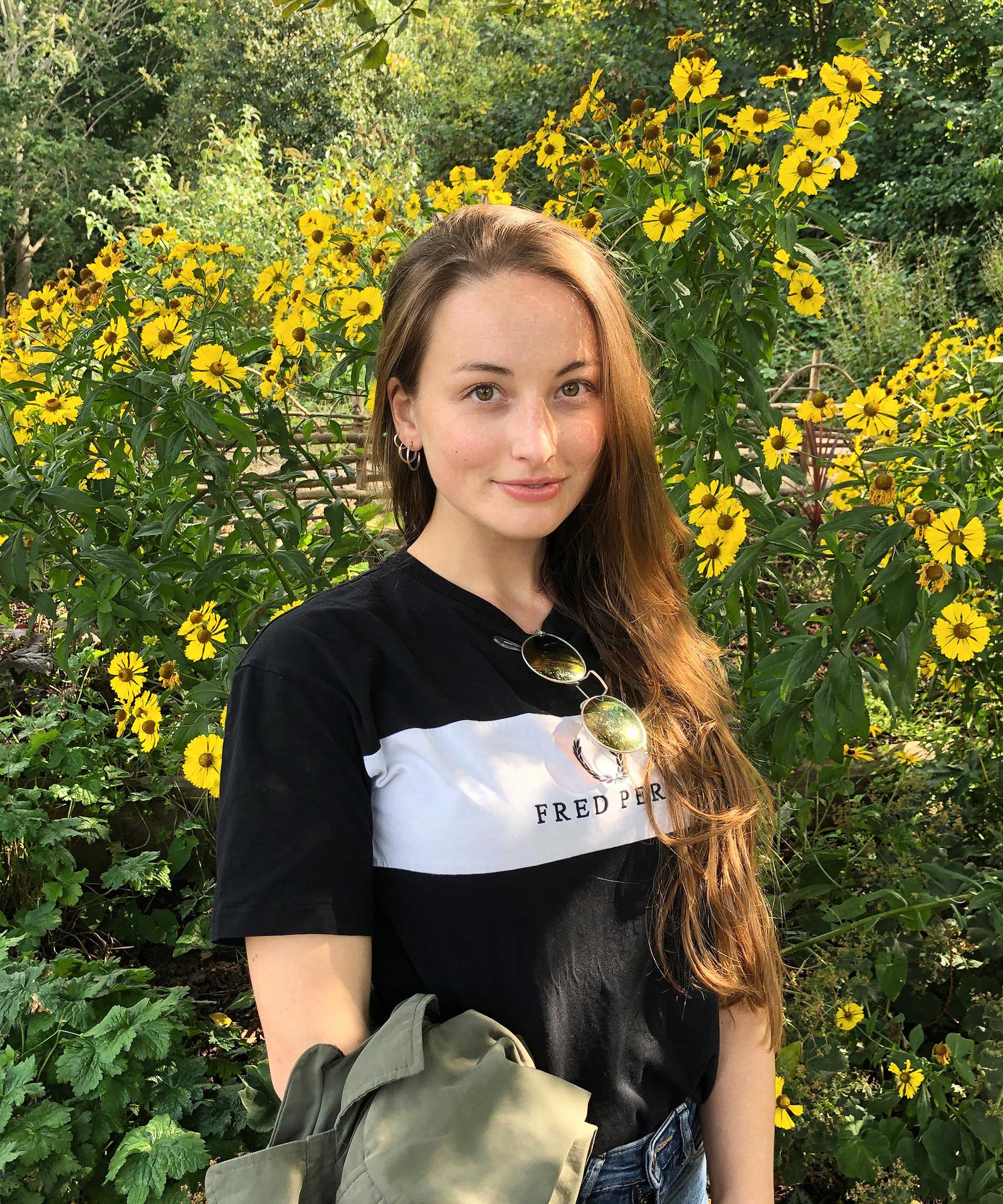 Freelance Gardening Writer
The garden was always a big part of Holly's life growing up, as was the surrounding New Forest where she lived. Her appreciation for the great outdoors has only grown since then; over the years, she's been an allotment keeper, a professional gardener, and a botanical illustrator. Having worked for Gardeningetc.com for two years, Holly now regularly writes about plants and outdoor living for Homes & Gardens.