Painted patio ideas – 11 colorful and creative ways to update your outdoor living space
From the paving to the walls, give your patio a makeover with these inspirational and budget-friendly looks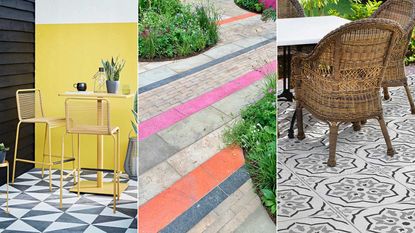 (Image credit: (From left to right) Holly Crossley / Future – Holly Crossley / Future – The Stencil Studio)
The power of paint is often overlooked when planning a patio update – but it shouldn't be. Nowadays, durable formulas that are suited for outdoor use come in a wide range of gorgeous shades; so whether you're after bold monochromes, soft pastels, or vibrant splashes of jewel-like shades, it's easy to choose a hue that suits your scheme.
Paint can be used to transform lackluster patio pavers or poured concrete, making them look much more stylish and expensive, without having to splash out on new hardscaping. And as this roundup of looks demonstrates, it can be used for other patio features, too.
11 ways to transform your patio with paint
Whether you're painting a concrete patio, staining a patio deck, or updating the surrounding walls and outdoor furniture, it's a fun way to totally transform a space.
1. Mix a geometric pattern with bold hues for a modern look
This triangular, geometric design is fun, fresh, and perfect for modern backyards. Use black and white for a timeless look, or, for something softer, combine a pale tone with terracotta, green, or blue – whatever suits your garden color scheme best.
For a crisp and consistent look across your paving slabs, a stencil can come in handy, or you could use masking tape instead. Remember to protect nearby walls from paint splashes, too.
A bold yellow wall complements the flooring in this compact space beautifully, giving it bags of personality and style. Outdoor furniture in a matching hue ties the zone together.
2. Add decorative detail to paving with a stencil
More elaborate stencils, such as this Stencilit stencil from Amazon, can be used to create decorative designs on your patio. It's a great way to transform boring, concrete slabs into something truly special.
This mix of gray and black against a crisp white backdrop will never go out of style. But, you could use an ocean-blue for the pattern instead – perfect for adding a touch of Mediterranean-garden charm to a courtyard.
If you don't want to make your flooring the key focal point, use a lighter color palette, instead. Jason Farr, CEO of Aviara Pavers, recommends beige, cream, taupe, or white, which will allow nearby greenery to shine. Moreover, light colors brighten a patio and create the illusion of a larger space, he adds.
Jason Farr is the Founder and CEO of Aviara Pavers, a San Diego paver installation company that specializes in outdoor living designs. Their designers, installers, and paver specialists offer multi-phase solutions for paver construction. Combining his experience in the outdoor living area and passion for home remodeling, Jason addresses paver concerns with creative and low-cost solutions.
3. Elevate your balcony floor with a splash of sunny yellow
With compact spaces, such as balconies, every inch of space counts. So why not transform the floor into a stylish feature with a vibrant splash of color, as demonstrated in this design by William Murray?
It's a simple approach – just a bold stripe across the space – but it certainly makes an impact. What's more, it ties the seating and vertical garden storage solution together to create a harmonious aesthetic.
Pairing it with black walls and a black-and-white terrazzo-style countertop keeps the look contemporary and urban, and allows the potted plants to stand out.
4. Create impact with a block color
Paint isn't reserved for patio floors and walls – it can be used to give outdoor furniture and containers a new lease of life, too.
This attention-grabbing, aqua-blue tone looks fantastic against large planters painted in a charcoal tone, while architectural foliage plants add naturalistic structure and form.
Brad Smith, the CEO of Omni Home Ideas, explains that a patio should be cleaned, any damage repaired, and a primer applied before it's painted. 'Additionally, applying a sealant after the paint has dried can help protect it from the elements and extend its life,' he says. These tips generally apply when painting garden walls, fences, and furniture, too.
Brad Smith is a professional outdoor living space designer with over 10 years of experience in creating and maintaining decks, patios, and other outdoor spaces. He holds a degree in Master of Fine Arts (MFA) in Interior Design and has a passion for helping homeowners transform their outdoor living areas into functional, beautiful spaces that can be enjoyed year-round. Brad is dedicated to providing expert advice on outdoor design, maintenance, and sustainability.
5. Design a mural for a fabulous focal point
If you fancy getting a bit more creative with your painted patio ideas, perhaps a hand-painted mural is the garden feature your space needs. It brings tons of personality to a space and adds a unique touch.
It's always a good idea to draw out your design on paper, first. If you already have an outdoor projector, you could use this and a pencil to map out the outlines of your design before you start painting.
Commenting on the setup above, Brad notes how the eye-catching pattern adds a pop of color to the outdoor space, making it an instant focal point. 'A cozy seating area with a modern outdoor sofa, colorful cushions, and a fire pit completes the look, creating a perfect spot for relaxation and entertainment.'
6. Bring paving to life with hot-hued stripes
This garden, designed by Cityscapes (Darryl Moore and Adolfo Harrison) for the RHS Chelsea Flower Show, used reclaimed and recycled hardscaping materials that were transformed with bright stripes of pink and orange. Combined with the different patterns and sizes of paver used, the overall effect looks like a work of art – and is much more interesting than a series of plain, matching pavers.
The vivid stripes were also used for the surrounding painted garden fence, as well as large planters dotted throughout the scene. Meanwhile, rounded flowerbeds brimming with textural foliage and wildflowers softened the scheme, and welcomed visiting wildlife, too.
7. Tie your scheme together with soothing blue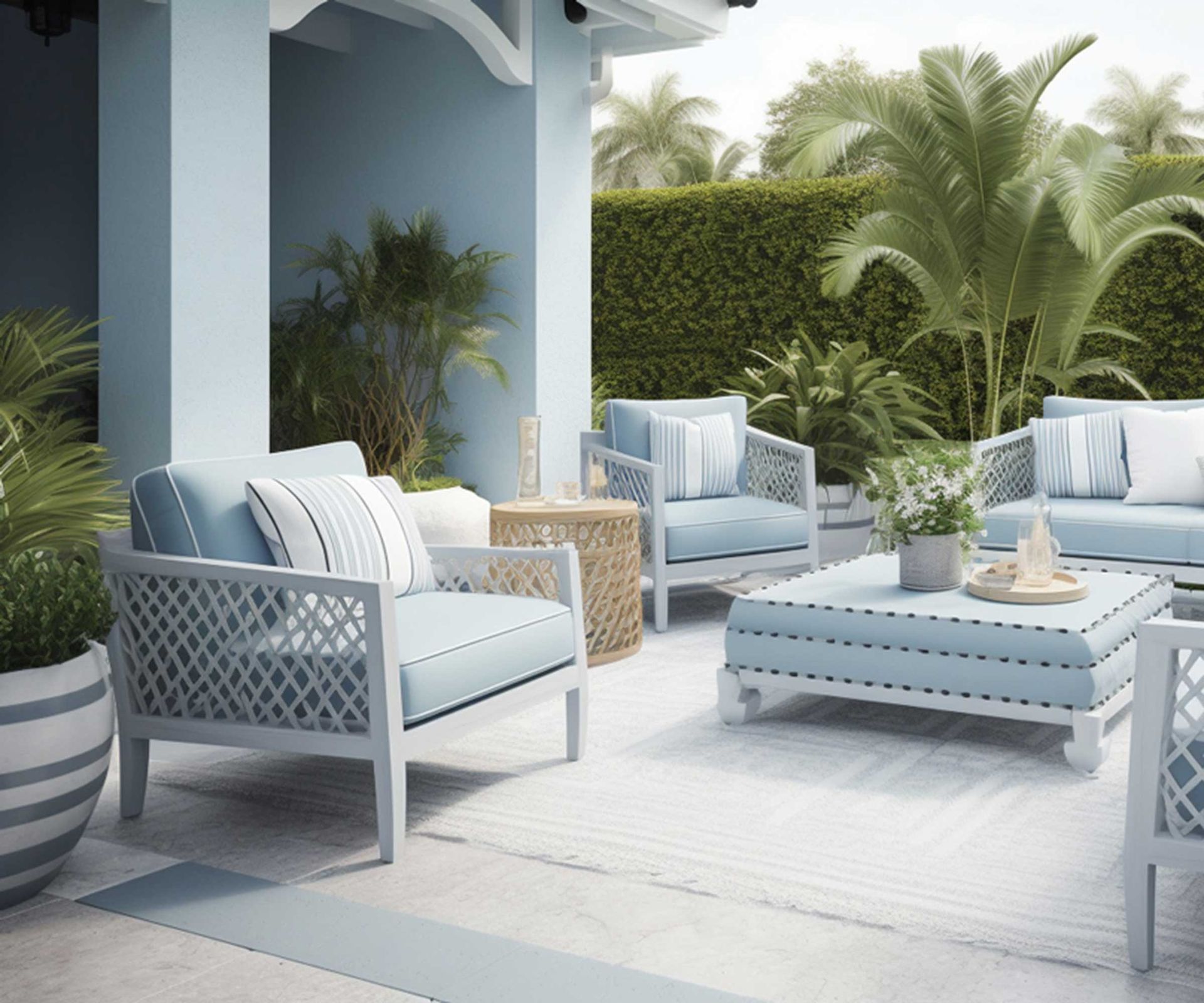 Just a subtle accent added to your patio paving can be all it takes to elevate a space – as demonstrated here with two elongated pavers, end-to-end, painted in white and pale blue. 'The soft blue and white color palette complements the natural surroundings and adds a touch of coastal charm to the patio,' says Brad.
The beach-side theme is enhanced by a container garden of lush, tropical plants and relaxed, rattan materials.
And while an outdoor rug is useful for zoning a space, you could always recreate the effect with paint as a different idea – whether that's with a patterned design or a block color.
8. Add character with a colorful leaf design
If a full-sized wall mural seems a bit ambitious for your patio, consider painting smaller areas of hardscaping, instead, such as raised garden beds or the risers of patio steps.
Designer Emma Tipping, for instance, transformed this concrete bench with a colorful leaf design that tied into the fun and lively theme of the space. Lime green and white provide the backdrop, alongside limestone pavers, while vibrant planting and a water feature add soothing sensory elements.
9. Give an outdoor bar extra personality with a duo-tone effect
Using a tape measure, spirit level, and a bleed-free painter's tape such as Frogtape from Amazon, you can recreate this show-stopping look for an accent wall on your patio. It works beautifully for this outdoor bar scene, where other features are kept minimal for a clean and fuss-free look. In fact, we love it so much, we're tempted to try it indoors, too!
Soft neutral shades that gently contrast work best for this look, to avoid overwhelming the space. To keep the line crisp, overlap the tape with your paint, then remove it before it's fully dry.
10. Transform a side-porch patio with neutral tones
Blogger Jenny Komendo transformed her side-porch patio by painting the exterior walls black and white, as well as the window frames and door. It provides a beautiful backdrop for the vertical herb garden in terracotta pots.
And, although this flooring is actually created using tiles, we think it would be relatively simple to recreate the look on a concrete patio by using exterior paint. Incorporating the steps into the design creates a seamless finish.
11. Use a dark and moody stain for a decked patio
Decking is another popular patio material, but if you opt for wooden boards, they will need protecting from the elements. Applying a stain not only makes them more durable in rainy weather, but if you choose a tinted one, it can also give the space a boost in style points, too.
This black deck makes a striking contrast against the white building exterior, and – as a bonus – marks and grime won't show up as obviously as on lighter boards. Paired with painted chairs and potted plants, it provides a chic base for an outdoor dining zone.
---
Introducing paint to your patio is a simple way to give it a makeover. Just remember to check the weather forecast before you get started, as you won't want a sudden downpour to spoil your hard work.
And once you've finished the transformation, maintaining the space will keep it looking its best and extend its lifespan, as advises Miguel Palma, a professional gardener and Owner of JardinTienda. 'Sweep or hose it down regularly to remove dirt and debris, and avoid dragging heavy furniture or sharp objects across the surface.'
Sign up to the Homes & Gardens newsletter
Decor Ideas. Project Inspiration. Expert Advice. Delivered to your inbox.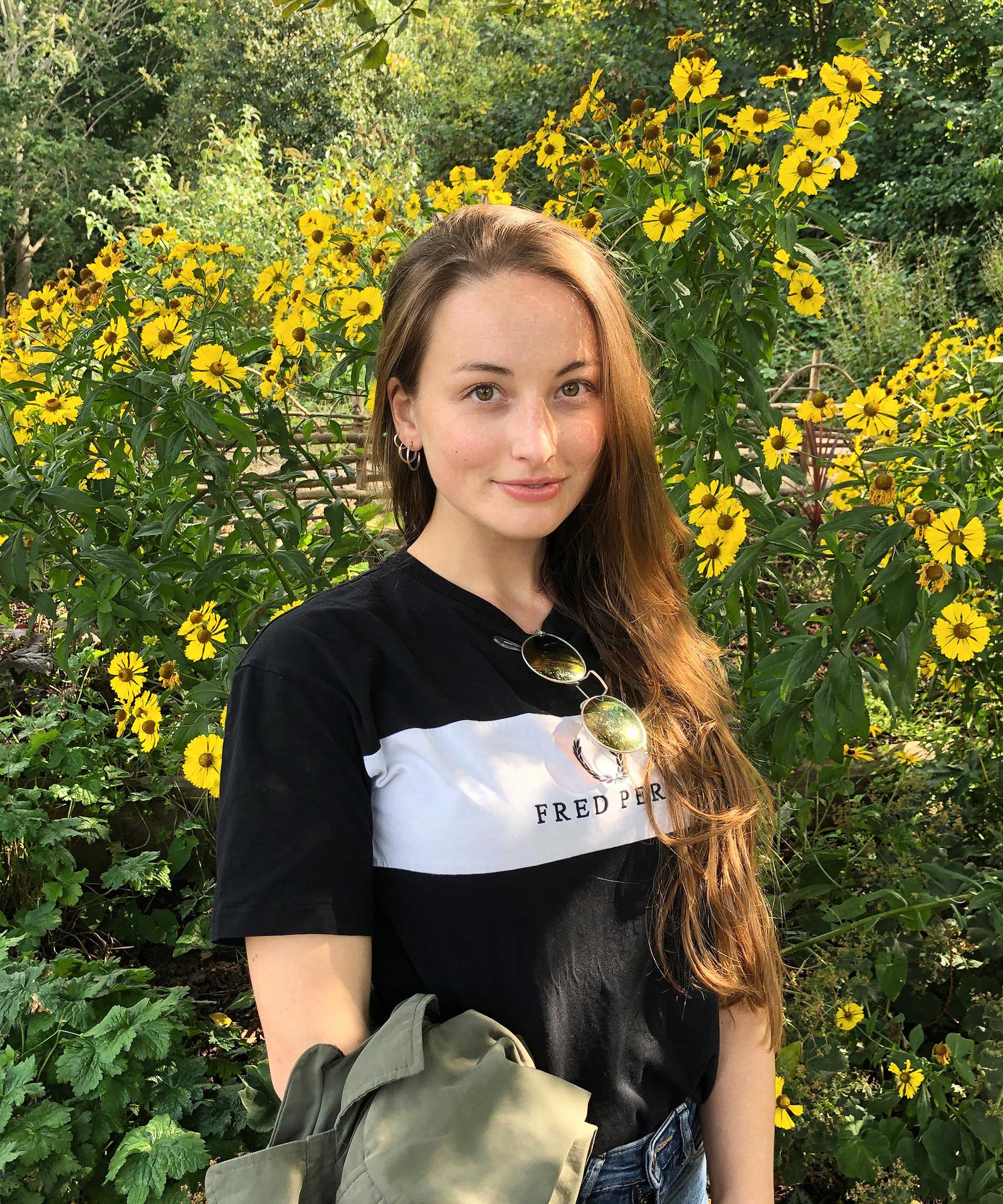 Freelance Gardening Writer
The garden was always a big part of Holly's life growing up, as was the surrounding New Forest where she lived. Her appreciation for the great outdoors has only grown since then; over the years, she's been an allotment keeper, a professional gardener, and a botanical illustrator. Having worked for Gardeningetc.com for two years, Holly now regularly writes about plants and outdoor living for Homes & Gardens.