How to paint a concrete patio – 6 easy steps for a perfect finish
Get your concrete patio looking its best again with these easy-to-follow painting tips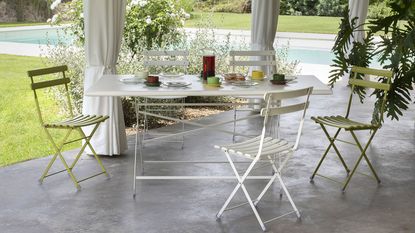 (Image credit: Go Modern Furniture)
Over time, concrete patios can begin to look a little worse for wear. Whether they are stained from that accident at your last BBQ party or cracked and chipped after years of entertaining outdoors, these issues can take away from the overall look of your outdoor space.
One of the best ways to give your concrete patio a facelift is to paint it. Even if your patio is not in need of a makeover, painting it can be useful to better suit the colors of your home or blend with the rest of your garden.
To ensure you create a professional, long-lasting finish, however, there are some key pointers you need to follow.
Expert tips for how to paint a concrete patio
If you want to tackle this DIY project, Zak Fleming, owner of Express Handyman, has some expert tips on the six steps you need to follow to get the best results for your backyard.
A qualified electrician, Zak has more than 20 years experience of all aspects of the construction industry. At the age of 23 Zak founded Fleming Construction, which later became Remodeling Contractors. Express Handyman is a division of Remodeling Contractors, and the company offers a wide range of services, catering for everything from simple repair jobs to building decks as well as bigger remodeling projects.
1. Clean the surface
As with any DIY project, correct preparation is key. Chores are certainly not the most exciting part of DIY, but they can prevent problems down the line and help the finished product last much longer. It's far worse to skip an essential step and have to start again than just getting it over and done with from the beginning.
Zak Fleming advises using a power washer, but you can clean patio pavers without a pressure washer using just a stiff-bristled brush and cleaning solution to freshen up the surface.
'Start by thoroughly cleaning the patio to remove dirt, debris, and any existing paint or stains,' he says. 'A clean slate will help the paint better adhere to the surface.'
2. Repair cracks and damage
Now that the surface is clean, take a closer look to inspect for any structural damage. Fixing cracks and damage provides an even surface for painting, stopping the issues from showing up again after the project is done. It also limits problems with sealing the surface, which can lessen the longevity of the paint.
'Inspect the patio for any cracks or damages and repair them using a concrete patching compound,' advises Zak. 'Allow the repairs to dry completely before proceeding.'
3. Choose the right paint
As concrete patios are exposed to the elements and wear and tear, it's important to use long-lasting and durable paint designed for outdoor use. Your chosen paint also needs to be suitable for application on concrete surfaces too.
Zak Fleming recommends epoxy-based paint or masonry paint for concrete surfaces. 'Epoxy based or masonry paint is the most suitable choice for a concrete patio, as they are durable and resistant to wear, weather, and moisture.' A product like this Rust-oleum 225359 Epoxy Shield paint in gray from Amazon would be suitable.
4. Prime the surface
Before you whip out your paintbrush, you'll need to prime the patio first. 'Priming the surface helps the paint adhere better, provides a uniform finish, and ensures the paint's longevity,' says Zak.
The right primer will depend on the paint you have chosen. Fleming recommends a concrete or masonry primer for the best results. Make sure this primer is applied evenly over the entire surface.
The KILZ Klear Primer from Amazon is suitable for interior and exterior use and on concrete.
5. Apply the paint
Now comes the most important step – applying the paint. The best application method will depend on whether you have a big or small patio, but you can also use whatever you have on hand.
For larger patios, Zak recommends using both a brush and a roller. 'Start by using a brush to cut in around the edges of the patio, then use a roller to cover the larger areas. Apply multiple thin coats, allowing each coat to dry according to the manufacturer's instructions before applying the next.'
Chris Harvey, an interiors expert from Stelrad, emphasizes the importance of waiting for the coat of paint to dry completely before applying the next layer.
'Don't forget, no matter how you apply your paint, you'll want to make sure you let it dry for a day or two between coats (and you'll want to do two or three coats),' says Chris. 'So if you are planning on painting your patio, check the weather forecast and hope that the weather stays clear to let it dry in time.'
Waiting for a good spell of weather is also key when painting a fence too.
6. Seal the surface
Once you've finished painting and the surface is completely dry, the final step in the process is to seal the patio. Although it can be tempting to skip this step after several rounds of painting, sealing is crucial to a long-lasting finish, and is the best way to make a patio look more expensive.
'After the paint has dried completely, seal the patio with a concrete sealer to protect the paint and extend its lifespan,' says Zak.
'Painting a concrete patio can be a rewarding DIY project if done right, and following these steps will ensure a beautiful and long-lasting finish,' adds Zak.
---
Whether you have a poured concrete patio or concrete pavers for your patio flooring, adding a coat or two of paint can be an inexpensive way to give your outdoor space a makeover.
Although neutral colors such as gray and off-white are the most popular paint choices, there's no reason why you can't get a little more creative with your painted patio and introduce some bolder splashes of color with everything from a terrazzo-inspired pattern to a geometric design with multiple colors.
Contributing Editor, Gardens
Madison is a garden writer and editor, covering all things outdoors and lifestyle. After completing a BA in History and Political Science, she transformed her years-long passion for plants into a career writing for both digital and print publications. As garden editor of several print titles, Madison focuses on trends and developments in the continuously expanding gardening industry. When not typing away at her desk, she tends to her ever-growing houseplant collection and travels frequently, photographing and reporting on gardens around the world.