Patio flooring ideas – 10 smart looks to transform a paved outdoor space
From decorative details to clever ways to mix and match materials, there are plenty of patio flooring options to choose from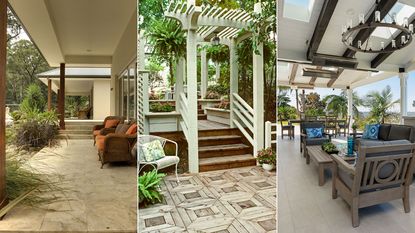 (Image credit: Getty Images; Alamy Stock Photo; Robbie Interiors)
If you're considering new patio flooring as part of an outdoor refurb, first think carefully about what you want to achieve. Do you want a contemporary or classic look, a smooth or textured finish, or a neutral or colored option? Next perhaps factor in whether you want to include more environmentally friendly considerations such as opting for a permeable surface or using eco-friendly local materials.
The texture and color of the materials you select are an integral part of your patio design. Different materials add shape and color that will determine where the eye is drawn.
It's also important to choose patio materials that are sympathetic to the rest of the house, factoring in how well your patio flooring ideas work when you consider the view from inside the house looking out.
Transform your space with these patio flooring ideas
'The key to selecting the right look for your patio flooring is to identify your priorities and create a look that will not go out of style,' says Jonathan Faccone, interior designer and the founder of Halo Homebuyer, based in New Jersey and Eastern PA. 'Do you prioritize durability, design, maintenance or how much the patio costs? Once you've decided, this will help you narrow down your choices and create the perfect flooring for your patio space.'
Jonathan Faccone is a full-time real estate investor and developer. He is the managing member of Halo Homebuyers, a real estate home-buying company based in Bridgewater, New Jersey, and doing business throughout New Jersey and Eastern Pennsylvania.

1. Include a decorative detail in your patio flooring
Rather than a large stretch of continuous hardscaping that can look a little industrial, consider instead softening the overall design of the patio flooring by incorporating alternative materials to pick out details.
Pockets of pebbles, gravel, sand, crushed shells or turf can be used to punctuate large areas of paving, introducing a decorative element that adds texture and color to your hardscaping choices.
Picking up the same design and repeating it elsewhere such as for garden paths or around water features helps to create continuity between different areas of the yard.
One of the most versatile materials around, pebbles are the perfect accompaniment to pavers, creating an interesting surface that will add character to your hardscaping choices.
2. Choose cool and classic marble
There has been a major rise in marble as a statement piece in interior design this year and the trend looks set to get even bigger. Now we see the love for marble heading outdoors too, where it's being picked up for pool patio ideas especially.
By introducing marble to your paved backyard you will give your design an opulent note. A go-to anyway if you live in a sunny climate (nothing beats walking barefoot on cool marble on a hot day), marble is a sophisticated landscaping material with a lustrous quality that will take your patio design up a level.
Marble is tougher than other stone too, so it can withstand a lot of everyday use, making it an ideal choice for patio renos.
3. Go for a naturalistic flooring design
Gravel or crushed stone is one of the easiest and most affordable patio flooring ideas for a backyard fire pit design. 'Stone is an excellent choice around fire pits,' says Dan Morris of Fire and Saw. 'It's heat-resistant, durable, and provides a natural look that complements outdoor environments. It won't be spoiled by sparks either.'
Concrete is also popular as it's durable, low maintenance, and can withstand high temperatures. Pavers are a versatile and durable option that's safe to use with fire pits, while brick is also heat-resistant and can handle high temperatures, sparks, and ash.
'On the flip side, there are also many patio flooring ideas that are bad for fire pits, low BBQs, grills, and other heating/cooking appliances,' says Dan. 'This includes vinyl, artificial turf, carpet/rugs, rubber flooring, and low-quality wood.'
4. Opt for a greener choice
Sustainability is a growing priority that more and more of us are thinking about when it comes to our backyard landscaping choices. 'Interest in outdoor living is at an all-time high,' says Joe Raboine, vice president of design at Belgard Outdoor Living.
'Homeowners are investing in permeable pavers and recycled products that will last for generations rather than alternatives with a shorter lifespan. We now want a balanced, healthy lifestyle and a diverse outdoor space to meet our needs while at the sometime being environmentally friendly.'
Another sustainable garden idea is composite decking, widely considered an environmentally friendly alternative to some other decking materials because it's made from reused plastics like polyethylene film and wood-waste materials.
'Through my experience, I've found that the best patio flooring option is composite decking,' says Chauncey Jones, patio specialist at Ethereal Company. 'Not only is it strong and durable, but it also lasts for years. If you want a long-lasting patio, I recommend choosing composite decking from a reputable retailer such as Trex and using salt-treated ground contact wood during construction.'
5. Soften concrete pavers with a grass trim
There is so much to love about this beautiful Mid-century backyard transformation in Oakland, CA. The indoor-outdoor courtyard design contrasts colors, textures, and lines, such as the smooth concrete pavers edged with a trim of real turf. It's a great option for a small patio to show how the paving in a compact space can be transformed.
One of the most popular materials used for patio flooring is concrete. 'Not only is it affordable, but it's also highly durable and long-lasting,' says Becky Decker of Gardeninghood.com. 'It's available in a variety of colors, textures, and finishes, making it an ideal choice for a variety of design aesthetics. Additionally, it's easy to clean and maintain, making it an ideal option for high-traffic areas.'
The vintage Malm Fireplace that forms the centerpiece in this outdoor living room design is from Urban Americana in Long Beach, California. This Sunnydaze chiminea fire pit from Amazon has a similar shape to it.
6. Choose earthy hues for a classic patio scheme
Check out the online portfolio of any high-end designer and notice the common trend for 'natural materials'. If you like to use natural elements inside your home why not take it outside too?
Bluestone is an ancient type of sandstone that comes from the Catskills. The name is derived from the blue color of the sandstone found in New York, but it also comes in hues of grays, greens, and browns.
'It's a natural stone that is extremely strong,' says home decor specialist Stefana Silber. 'No need to worry about moving your patio furniture around or being paranoid about dropping things. If you're worried about stains from spills, applying a sealant early on is the way to go.'
Born and raised in Bulgaria, when Stefana was 18 she moved with her family to the US. She lived in New York City for six years and also went to college there. She moved to Maryland (45 minutes from Baltimore) when she met her husband and has been living there since. As her kids grew older she discovered blogging as a creative outlet for passions such as home decor, DIY, and her love of beautiful things and places. Her real passion is sharing her knowledge from years of projects and renovations.
7. Link different zones by using the same patio flooring
The best patios are enticing because they zone the available space to include plenty of options for seating with different areas for lounging. Creating co-ordinated zones means you can pull outdoor living room ideas together for a luxe space. This is where good patio flooring ideas are key.
If you have a covered patio that extends into an open one the best way to create a uniform space is by extending the flooring to create a seamless link. By co-ordinating zones this means you can pull the whole look together for a luxe outdoor experience whatever the size of your yard.
If you're looking for something with a luxurious and sophisticated finish, opt for natural stone pavers in shades of gray, taupe or sand.
8. Adapt an interior-led look for outside
Wood is a popular option for patio flooring and deck ideas. 'It provides a classic and timeless look, and can be stained or treated to match any existing décor. It's also very durable and is an excellent choice for high-traffic areas,' says Becky Decker.
Wood is also a very versatile material. You can lay it in a different direction or pattern to add variety, to create a customized look that's unique to your space.
'You may also consider using interlocking wood parts for a modular floor design,' says Joel Comino, founder and CEO of Next Modular. 'What's great with this is that it's easy to install and you can also stain or paint your wood, or combine wood with other materials to create contrast and texture.'
9. Mix and match patio flooring for a unique space
If you want a look for your patio flooring that's understated, elegant and timeless, consider installing clay pavers. 'They have a classic look that's really appealing,' says patio construction expert Alex Federo, co-owner of FTW Concrete Contractors in Fort Worth, TX. 'Another plus is they're both durable and easy to maintain.' They look good as part of a modern backyard too.
The hand-thrown nature of clay pavers results in a beautifully soft effect with subtle shade differences. They can be laid in a variety of patterns, and are a good option if you want to mix things up with your design too.
'Exploring color and texture is just getting started in outdoor design,' says Joe Raboine. 'Rather than choosing one surface to cover the majority of an outdoor area, homeowners are mixing materials to elevate the look and feel of the space.'
10. Keep things sleek with porcelain pavers
Porcelain pavers tick all the boxes for patio flooring. They are hardwearing, water-resistant, scratch proof, and non-porous, making them a good choice for high footfall areas such as patios. There are also porcelain designs available that look like natural stone, yet require much less maintenance.
'Porcelain tiles look best and are the most elegant for patio flooring but are also the most expensive,' says Robbie Maynard, owner at Robbie Maynard Interiors. 'There are many options to choose from. On this patio in Carlsbad, CA, I used 2' x 1' gray porcelain plank tiles for a sleek and stylish look.'
An award-winning interior designer, Robbie Maynard is principal of Robbie Interiors. She has over 25 years experience and has earned a reputation as one of Southern California's top interior designers. Specializing in both residential and commercial interiors, Robbie's work has been featured nationally on HGTV's Designer Challenge. She is also NCIDQ and CCIDC certified, and holds a Bachelor of Arts Degree in Interior Design from San Diego State University.
---
The right patio flooring idea can really make an outdoor room. Get it right and you will create a look that can be enjoyed for years, but make the wrong design choice and you could be left with a costly patio mistake that can be difficult to resolve.
Hardscaping always takes up a large percentage of any landscaping budget, so take the time to speak to professionals to make sure you are choosing the right material, layout and design for your patio flooring to achieve the best possible results for your space and budget.
Sign up to the Homes & Gardens newsletter
Decor Ideas. Project Inspiration. Expert Advice. Delivered to your inbox.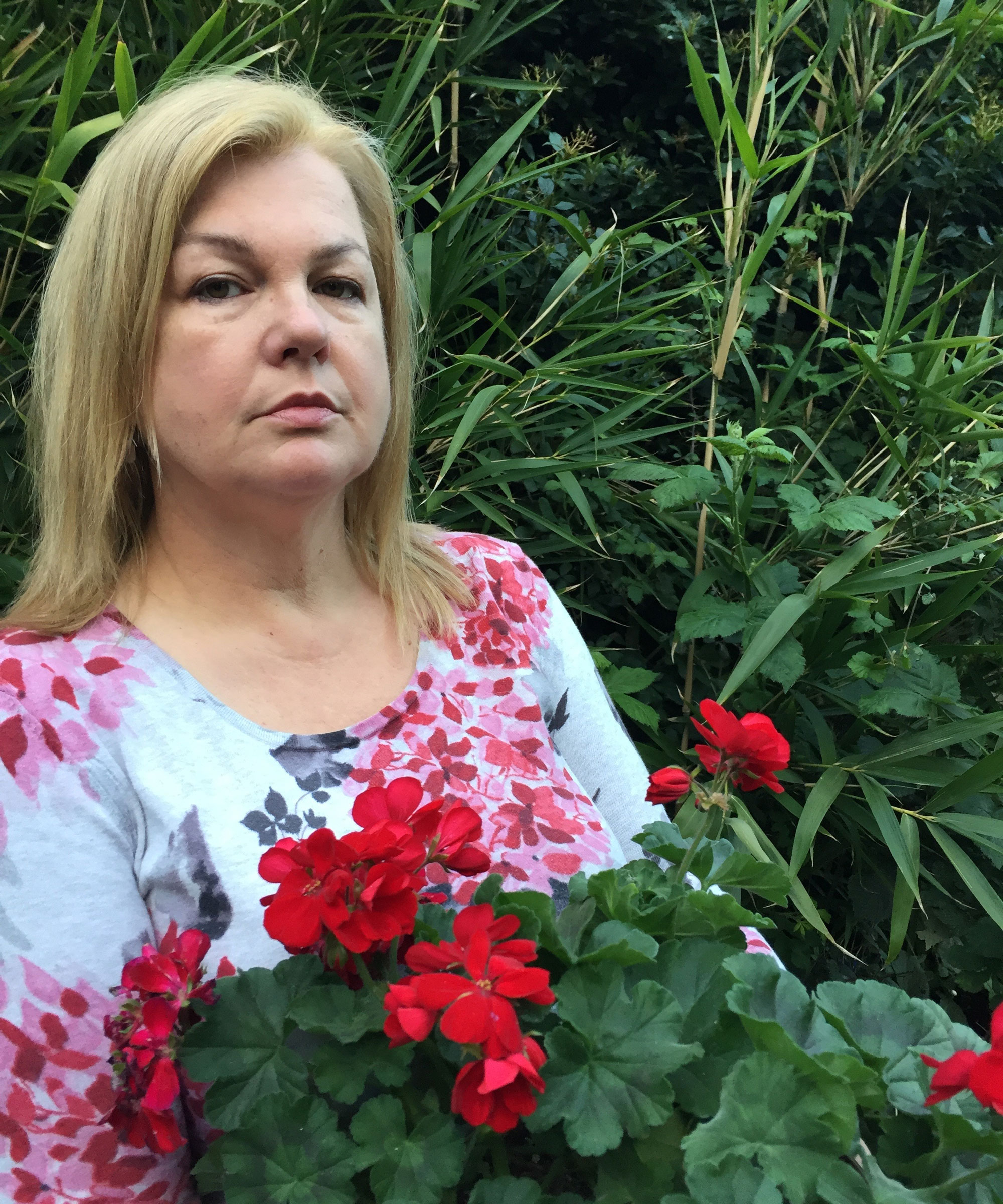 Lifestyle journalist Sarah Wilson has been writing about flowers, plants, and garden design and trends since 2015. Having already studied introductory garden and landscape design as well as a course in floristry she is currently adding to her list of qualifications with an RHS Level 2 course in the Principles of Plant Growth and Development. In addition to homesandgardens.com and livingetc.com she's written for gardeningetc.com, Modern Gardens and Country Homes & Interiors magazines.