Country curtain ideas for living rooms – window dressings for rural settings
Ensure your living room has true country style with temptingly tactile treatments to suit any style of window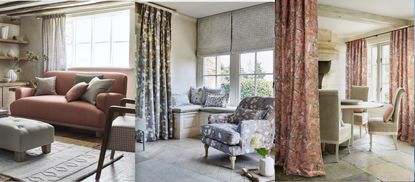 (Image credit: Nordic House / Prestigious Textiles / GP&J Baker)
Calm and considered interiors are at the core of a country home, where a restful scheme will soothe and invite you to relax and enjoy the charms of your rural setting. In the living room, curtains can enhance that feeling.
Framing your windows correctly in country living rooms will allow you to enjoy any rustic views you may have been blessed with, while offering privacy when you need it and creating a warm and welcoming atmosphere inside.
Country curtain ideas for living rooms – where to start
Every country property is very different – from quirky cottages with small windows and hickledy-pickledy walls to more grandiose properties boasting beautiful bay windows, which means you curtain ideas may need to cater for different variations, heights and aspects.
Living room curtains, in particular, are where you want to create a real impact, both with your the print you choose and the fabric, so that you can enjoy them year round.
1. Understand how light enters your home
The amount of light coming through your windows will change at different times of the day, as well as the time of year – and it's important to take that into account when planning your country curtain ideas.
'Spend time in each room at different times of the day and evening to understand how the light moves around your space,' explains Amy Wilson, interior designer for 247 Curtains. 'This will help with lighting choices and layout, as well as deciding on which window coverings will best suit the space.'
Don't feel you have to use only one type of window treatment in a room. Here, both roller blinds and curtains have been chosen to create the best effect on the windows and French doors.
2. Use curtains to create height
Floor-to-ceiling window treatments can create an optical illusion, helping a ceiling appear higher than it is. This is a perfect for country curtain ideas, especially if your rustic home is more cosy cottage than rural manor house.
Position the curtain rail at the top of the wall, directly below the ceiling, and extend the curtains to the floor.
This trick can work with blinds, too – simply hang Roman blinds outside the frame and flush beside each other to give the illusion of height and width. Choosing a small repeat design in a neutral shade will help the space appear larger.
Curtains and blinds, Prestigious Textiles.
3. Use curtains to tone down pattern
This beautiful design used across wallpaper and blind fabric brings the countryside to life in this modern rustic living room. The plain curtains, in contrast, provide a pause amongst all the pattern – just as a pond would create a calm space in a garden overflowing with flowers.
'This room is flooded with natural light and outdoor elements to reflect the style of the Glasshouse print,' explains Amy Bant, Soft Furnishings and Interiors Expert at Graham & Brown. 'The Wallace Mist curtains frame the windows and complement the patterned wallpaper and blinds.'
4. Divide a room with drapes
'Curtains are a smart and decorative way to zone open-plan rooms or make smaller spaces work harder,' explains Ann Grafton, Managing and Creative Director at GP&J Baker.
'You can add some much-needed colour and texture to your interior, too. Create a calm room by using a pretty print or embroidery as curtains to screen off storage or a workspace. Small scale block prints make fabulous gathered skirts for dressing tables and sinks, for a timeless country house look.'
5. Keep it sheer in a small room
'If you have small windows then keep dressings to a minimum to allow maximum light into your room. You should also opt for colors that extend your décor, avoiding breaks or lines that emphasise smaller spaces,' says interior designer Amy Wilson, from 247 Curtains.
'Roller blinds have minimal impact on a window when rolled fully up. You could also choose a wooden blind to give total control over the light using the tilt feature, encouraging the illusion of a larger space.'
6. Conceal a fireplace with a curtain
'I love this quirky country curtain idea; it's a great solution to the problem of an empty grate in the summertime,' says Andréa Childs, Editor of Country Homes & Interiors magazine. 'You could fill the fireplace with logs or a flower display, but that can still leave a large "hole" on one wall of your room.'
'Putting up a curtain that extends the width of the chimney breast will cover the fireplace and create a feature wall. For seasonal interest, swap out the curtain for a different fabric in spring, summer and fall.' This curtain is in Atrium Pine fabric from Iliv.
7. Frame a feature window
A stylish curtain set-up can turn a simple window into a feature in its own right. Here, the elegant stripe fabric frames the casement, and echoes the black wood spindle-back seat.
Placing a trailing houseplant in front of the glazing draws the eye to the window, and pulls each element together for a stylish finish.
8. Go bold with curtain color and style
Country curtain ideas can follow the trend for maximalist style, pairing large-scale prints, dramatic color and characterful design ideas.
'The bold dark colour of this room shows an eclectic taste that suits a bold, modern country aesthetic,' says Amy Bant from Graham & Brown. 'We color-drenched the room with Nightshade paint and coordinating Opulence Mulberry curtains to show off rich tones but also act as a plain backdrop for the dramatic Allure curtains.'
The result transforms typical country colours into a bold new direction, yet the curtains are still the heart of the scheme.
9. Balance out beams
With some careful planning, you can give low ceilings and beamed rooms the illusion of being taller than they are by using the wall above your windows.
'Traditional country homes can often have smaller room dimensions, however, with a clever window dressing it is possible to make a room feel larger than it is,' says Debbie Leigh, design manager at ILIV.
'For example, hanging panels higher than the window will add to the sense of height in a room. Measure from the top of the window (plus the added inches of height where the curtains will hang from) to the floor.'
Curtains in Pure Honeysuckle and Tulip embroidery, Morris & Co at Style Library.
10. Mix curtains with blinds
If you're looking for blind ideas, consider pairing them with curtains – it can provide the perfect balance of style and function, with the blind enabling you to control any bright light from the sun and the curtains creating a layered effect that adds a softness and warmth to your room.
If in doubt when it comes to fabric choice, opt for patterns that complement each other, with the bolder print reserved for the curtains to really let them shine.
Curtains in Callista and blind in Alys, Colefax and Fowler.
11. Show off a bay
Curtains for bay windows can be tricky, but if you use a curtain track instead of a rail it will allow the material to glide around each corner smoothly, without the material getting caught. 'Choosing the right length of material for your bay window curtains is also key,' says Laura O'Connell, product designer at Thomas Sanderson.
'If your bay has a window seat or radiator below it, make the curtain length above or just below the sill to ensure the material doesn't gather or block any heat. On the other hand, if the bay area continues to the floor, choose a full-length curtain drop. This helps the curtain to beautifully frame the window throughout the day with luxurious effect.'
Curtains in Abstraction Ember, from Thomas Sanderson
12. Ward off draughts
It's not only windows that can benefit from curtains – country homes can often be draughty, so use a single panel to separate a hallway or interlinking room. Pull the curtain across at night to keep your space cosy and draw back in the day to open up the space.
Lining your curtains will also help add an extra draught excluder for colder months. 'Fully lined curtains can help to prevent heat from escaping through windows but, for added cosiness, consider a thermal lining,' says Yvonne Keal, senior product manager at Hillarys.
Curtains in Lismore, Sanderson at Style Library
13. Keep it short
If you have a radiator sitting directly underneath your window that you'd prefer not to cover, opt for a shorter length curtain and include tie-backs to keep your radiator free during the day and let heat circulate.
This check-style design works perfectly in a rustic living room, and while adding some colour to the scheme it also allows the windows and view to be the main focus.
Lighting from David Hunt Lighting.
14. Go for grandeur
For a more sophisticated feel, a covered lathe is a good option and if you want to make life easier when closing them, choose to have them on a corded track.
'Using a pelmet or covered lathe is ideal if there is a lot of wall between the bottom of the cornice and the top of the window architrave,' says Janie Money, associate director for Sibyl Colefax & John Fowler.
When it comes to the fabric, you could opt for the same design as your curtains, as shown in this Eloise design from Colefax and Fowler, or perhaps a plain neutral or stripes to compliment a more busy pattern.
15. Consider the details
If you have period fittings in your home, such as cornices, it would be a shame to hide them, so factor this in when deciding on the type of heading you want for your curtains, where they are to hang and also the curtain pole that you choose.
Here, a triple pleat design hangs from large hoops and a pole, both of which are in a matt neutral shade to match the ornate coving around the room.
Curtains in Duchess fabric by Robert Kime for Chelsea Textiles.
16. Match soft furnishings
The beauty of tailor-made curtains is that you can choose to have other living room pieces in the same fabric – or one from the same collection – to keep your scheme feeling cohesive.
'Matching curtains with other soft furnishings, such as cushions or upholstery, is a good way to bring fabric into the room,' says Janie Money, associate director for Sibyl Colefax & John Fowler.
Benches, armchairs, cushions, window seats and footstools can all tie in with your curtains if you wish, creating a truly personal setting, as shown here, with this Oleander fabric, Colefax and Fowler.
17. Choose modern country
While traditional prints are perfectly fitting with country interiors, adding a modern pattern – one that's not necessarily deemed 'country' – into the mix is a good way to combine different styles.
Here, a Terrazzo Pure print from Hillarys is shown in a neutral colour that blends beautifully with the wood and brown tones from natural elements in the room.
'Earthy hues and natural textures won't be disappearing any time soon,' says Yvonne Keal from Hillarys. 'Linens, heavy weaves and silks create a sophisticated and classic feel.'
18. Add a trim
If you're concerned that curtains in a bold pattern or colour may overpower your room, try using incorporating it with a border or trim instead.
This Le Soir Ikat border in Sky by Samuel & Sons, livens up an otherwise plain grey fabric – while a similar border has been used beyond, to line a window seat and tie the fabrics together for a cohesive scheme.
19. Experiment with headings
From pencil pleat to eyelet or sheer, there are lots of different types of curtains. Your choice of curtains can create different styles, from fabulously feminine, to more tailored and structured.
'I love cottage pleat heading for curtains,' says Vanessa Arbuthnott of her Flora & Fauna design, shown here. 'They create a soft and pretty feel, rather than formally pleated curtain headings.'
20. Match your curtains with your wallpaper
Although interior designers often play with changes in scale, color and pattern in a room, sometimes the biggest impact comes from going for a matching look.
In this case, make sure your curtain fabric meets the wallpaper, to create a continuous flow around the room. A midscale pattern will work well for a look that's balanced and beautiful – just right for a country setting.
What are the classic ways to dress country living room windows?
When it comes to country window dressings, there are no hard and fast rules. However, if you would like a traditional country look, curtains that sit slightly 'puddled' on the floor are common, so you may want to consider adding an extra two or three inches to the curtain length to enable them to pool beautifully.
Another common factor is to have your curtains hanging from a pole, rather than a track. As many older-style country homes feature wonky ceilings and beams, using a pole means you can easily control how your curtains line up.
Of course, there are other decisions to be made – do you want your curtains lined, should you use tiebacks, how about using them alongside a blind, and what of the heading? For the latter, you may want to look at what's called a 'cottage' pleat curtain, which features a slightly more frilled top – ideal for adding some femininity to an old rustic property.
What patterns are on trend for country living room curtains?
Country-style curtains often feature timeless patterns, with stripes, checks, florals and nature-inspired or watercolour prints all order of the day.
'Florals are still a popular choice and have taken a moodier turn of late, with dark blooms creating an air of faded grandeur,' says Laura O'Connell, product designer at Thomas Sanderson. 'Bold, dramatic, large-scale florals are perfect for those looking to make a statement and work particularly well on floor-to-ceiling windows.
If patterns aren't for you, Vanessa Arbuthnott recommends keeping things simple. 'I think for a country home, a linen fabric with a one- or two-colour print creates a Scandinavian simplicity and beautiful country feel,' she says.
It's also worth considering whether your living room gets a lot of light – if so, then brighter colours are likely to fade a lot faster than neutral shades.
'For smaller windows, it's best to stick to smaller scale floral designs or plains for the window and use cushions to introduce a feature pattern,' says Debbie Leigh, design manager at ILIV. 'Checks are often a great way to introduce a simple pattern and create a cosy country feel for a more minimalistic style.'
How do I choose curtains for my window?
It's not only windows that can benefit from curtains – country homes can often be draughty, so use a single panel to separate a hallway or interlinking room. Pull the curtain across at night to keep your space cosy and draw back in the day to open up the space.
Lining your curtains will also help add an extra draught excluder for colder months. 'Fully lined curtains can help to prevent heat from escaping through windows but, for added cosiness, consider a thermal lining,' says Yvonne Keal, senior product manager at Hillarys.
Curtains in Lismore, £62 per m, Sanderson at Style Library
Sign up to the Homes & Gardens newsletter
Decor Ideas. Project Inspiration. Expert Advice. Delivered to your inbox.
Andrea has been immersed in the world of homes, interiors and lifestyle since her first job in journalism, on Ideal Home. She went from women's magazine Options to Frank. From there it was on to the launch of Red magazine, where she stayed for 10 years and became Assistant Editor. She then shifted into freelancing, and spent 14 years writing for everyone from The Telegraph to The Sunday Times, Livingetc, Stylist and Woman & Home. She was then offered the job as Editor on Country Homes & Interiors, and now combines that role with writing for sister title homesandgardens.com.