Kitchen bay window ideas – 10 versatile designs for your window space
Explore how to enhance this beautiful architectural feature with our creative kitchen bay window ideas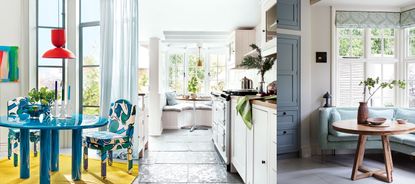 (Image credit: Future | Mary Wadsworth)
Our kitchen bay window ideas explore how these architectural details can not only make your kitchen feel lighter and brighter, but can be styled and enhanced with a range of creative design ideas, making a beautiful feature in your kitchen space.
From stylish kitchen window ideas and window treatments, to cozy seating and dining areas, there is so much you can do with the space that a bay window provides for your kitchen ideas.
A window that projects outwardly from a building, a bay window is usually constructed from a collection of angled glass frames, creating a projected design that creates more space and lets more light into a room. Bay windows are usually found on more traditional properties, but of course, there are many bay window ideas that can be integrated into modern newbuilds and refurbishments.
Kitchen bay window ideas
In this piece we will take you through some beautiful kitchen bay window ideas, and show you how this area of the home can be transformed into much more than just a window.
1. Create a cozy and informal seating area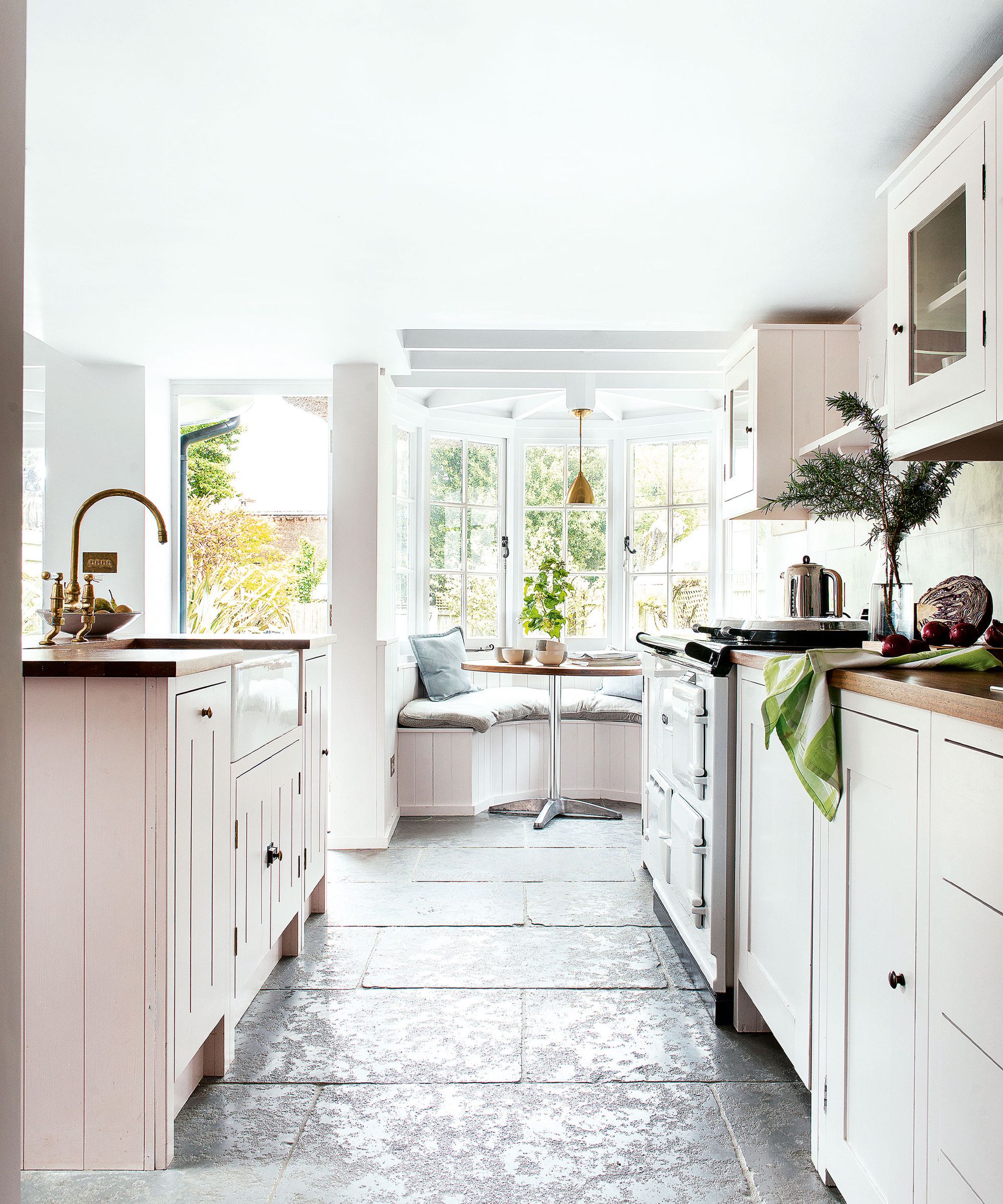 For many of us, a modern kitchen needs fulfill an extensive list of requirements. A functional workspace is often at the top of the list, but creating an inviting, heart of the home that can be used for relaxation as well as entertainment is also a priority.
From kitchen islands with seating, to open plan kitchen designs that have a large seat space or snug, having a cozy, relaxed seating area can help to create a more inviting and sociable kitchen.
A bay window provides the perfect area to create an informal area to sit and relax. As shown in this bright white kitchen, the window has been fitted with bespoke bench seating and a small café table, creating a cozy area where you can eat and drink, as well as a calming space, slightly separated from the main kitchen area, where you can sit back in comfort and appreciate the uplifting natural light that floods into the room.
2. Dress your bay window with beautiful drapes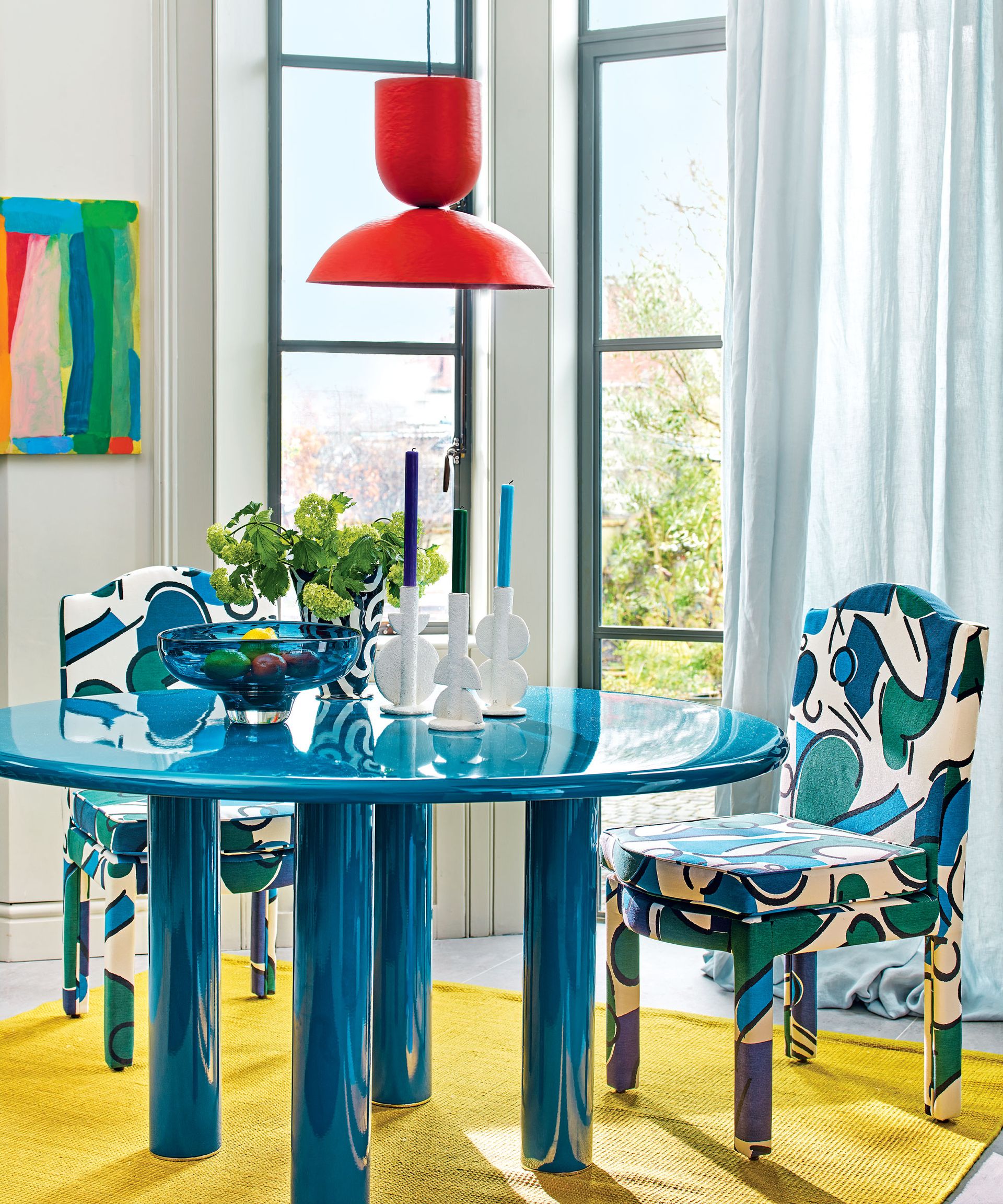 'Bay window's are often much larger than standard flat windows, so enhancing their size and height with drapes and curtains can not only bring in tactile texture, color and pattern to a room, but can create a sense of drama,' says Jennifer Ebert, Homes & Gardens' digital editor.
Many of us don't think to embrace kitchen curtain ideas in a fear that the use of fabric in this space can be impractical, however, if you have a bay window, this area is often slightly set back from the rest of the room, so can be the perfect way to get creative with fabric and add an inviting element of softness to the kitchen.
As shown in this colorful kitchen, defined by a striking, primary color palette, a dining area has been established in the large bay window, with the long blue drapes working with the furniture, lighting and accessories to create a colorful, unified look rich with texture and visual interest.
3. Make the most out of the space a bay window provides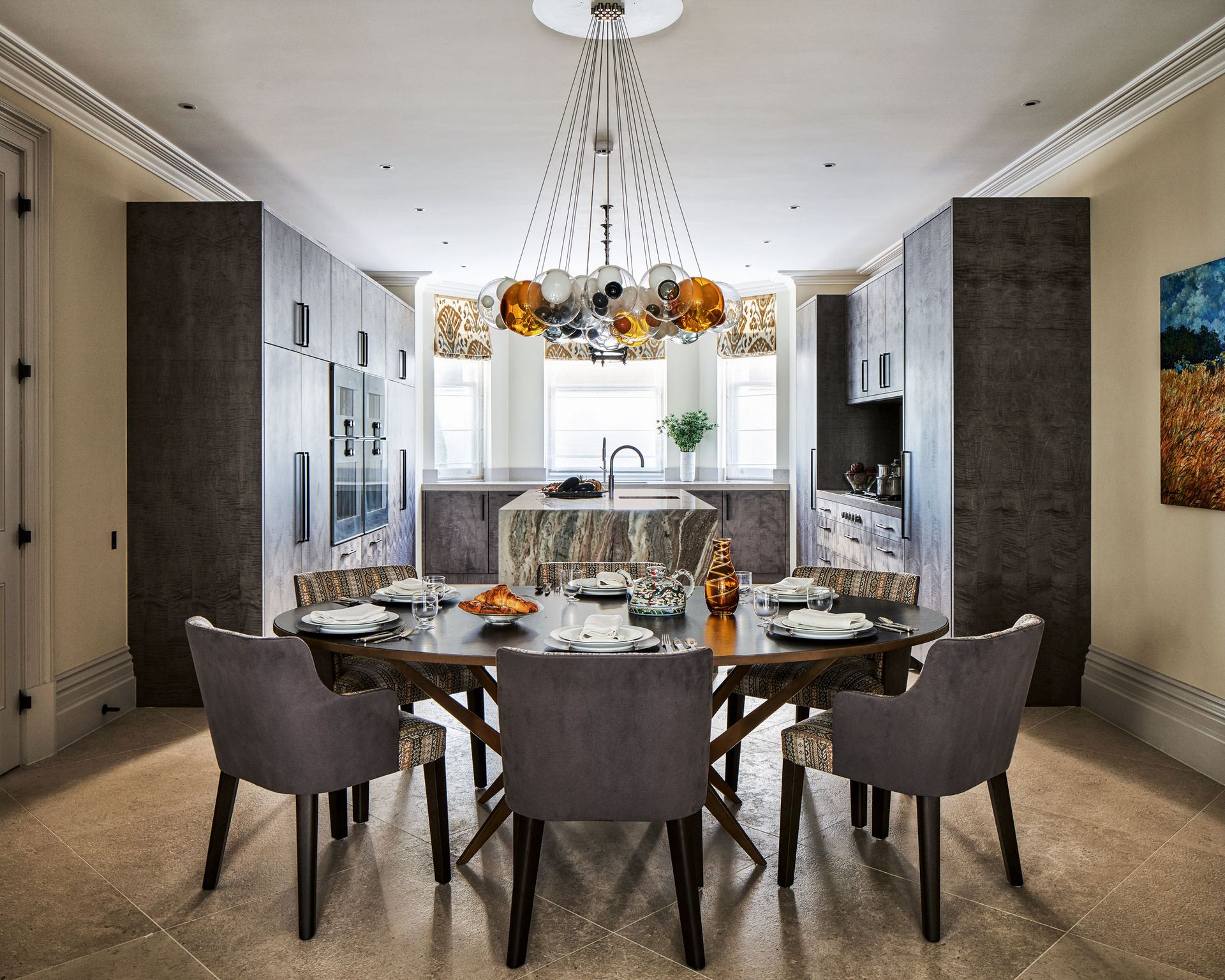 As we have discussed, a bay window can create more space in a room, so if you are exploring kitchen layout ideas, arranging your cabinetry and countertops so they fit into this area can help to maximize storage and workspace - and provide you with a pretty view.
Many kitchen's that have bay windows use the space to place a dining table, however in this kitchen design, the kitchen workspace has been fitted around the bay window, with the dining table at the opposite end.
Creating a practical countertop area filled with natural light, this layout is ideal for a bay window area in a small kitchen.
4. Create a counter area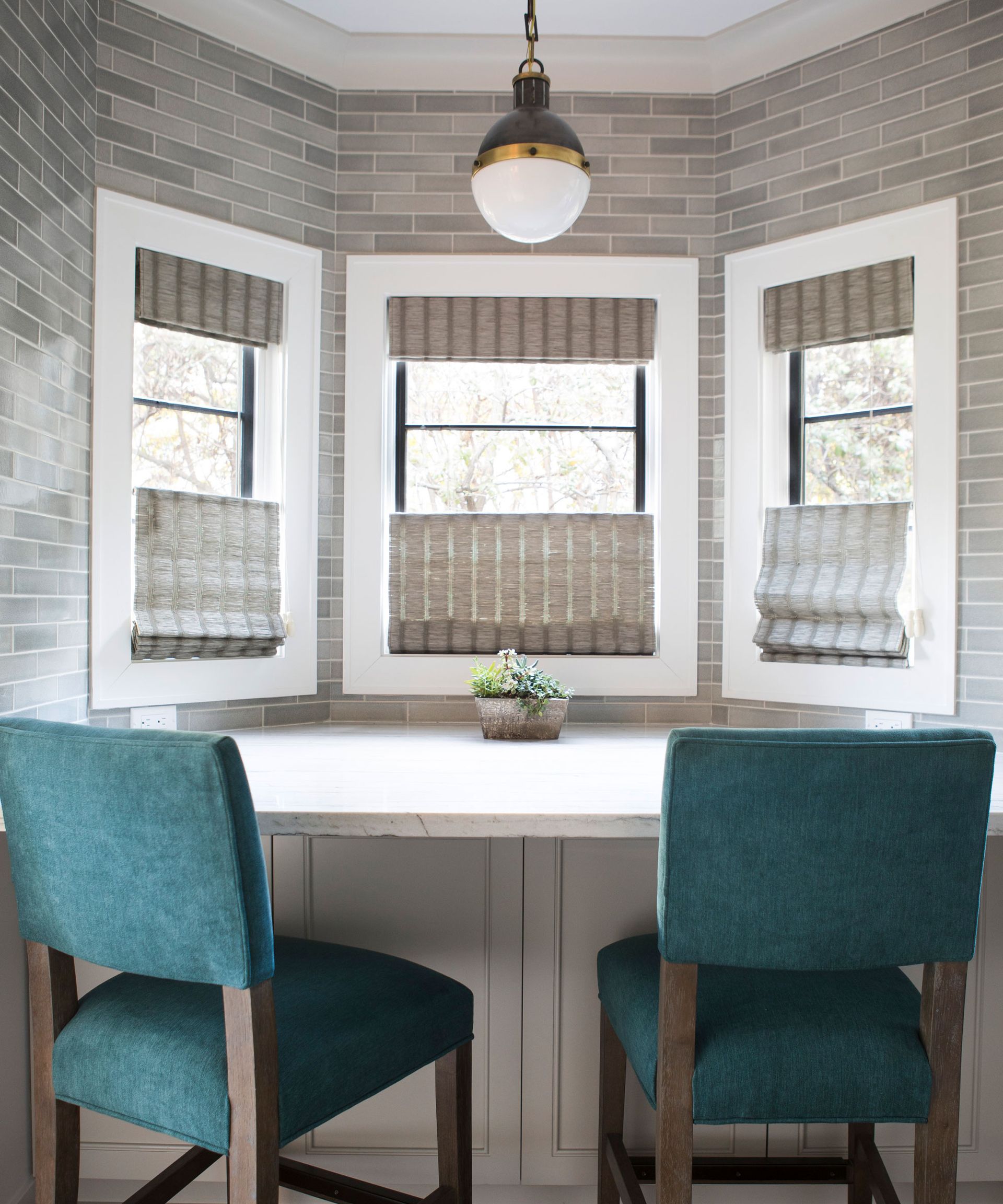 If you have a bay window and are exploring kitchen seating ideas, one way to create extra seating is to create a breakfast bar or counter area in the window.
Not only a space saving seating solution, but a clever way to make your bay window feel fully integrated into your kitchen design, designing a countertop area with seating, much like kitchen island seating ideas, can create an inviting and relaxed area to sit in the space.
As shown in this kitchen, designed by Fiorella Design, the bay window has been transformed into a stylish seat space. Mary Jo Fiorella states of the design, 'when redesigning the kitchen, we opened the space more to the dining room, but the room wasn't wide enough for an island, so instead, we created a dining counter which overlooks the side yard, and is where the husband often works - we even hid a printer in the cabinet below the countertop.'
This bay window design shows not only an innovative use of space, but completely changes the functionality of the kitchen into a hybrid working area - one to remember for home office desk ideas.
5. Establish a stand out dining space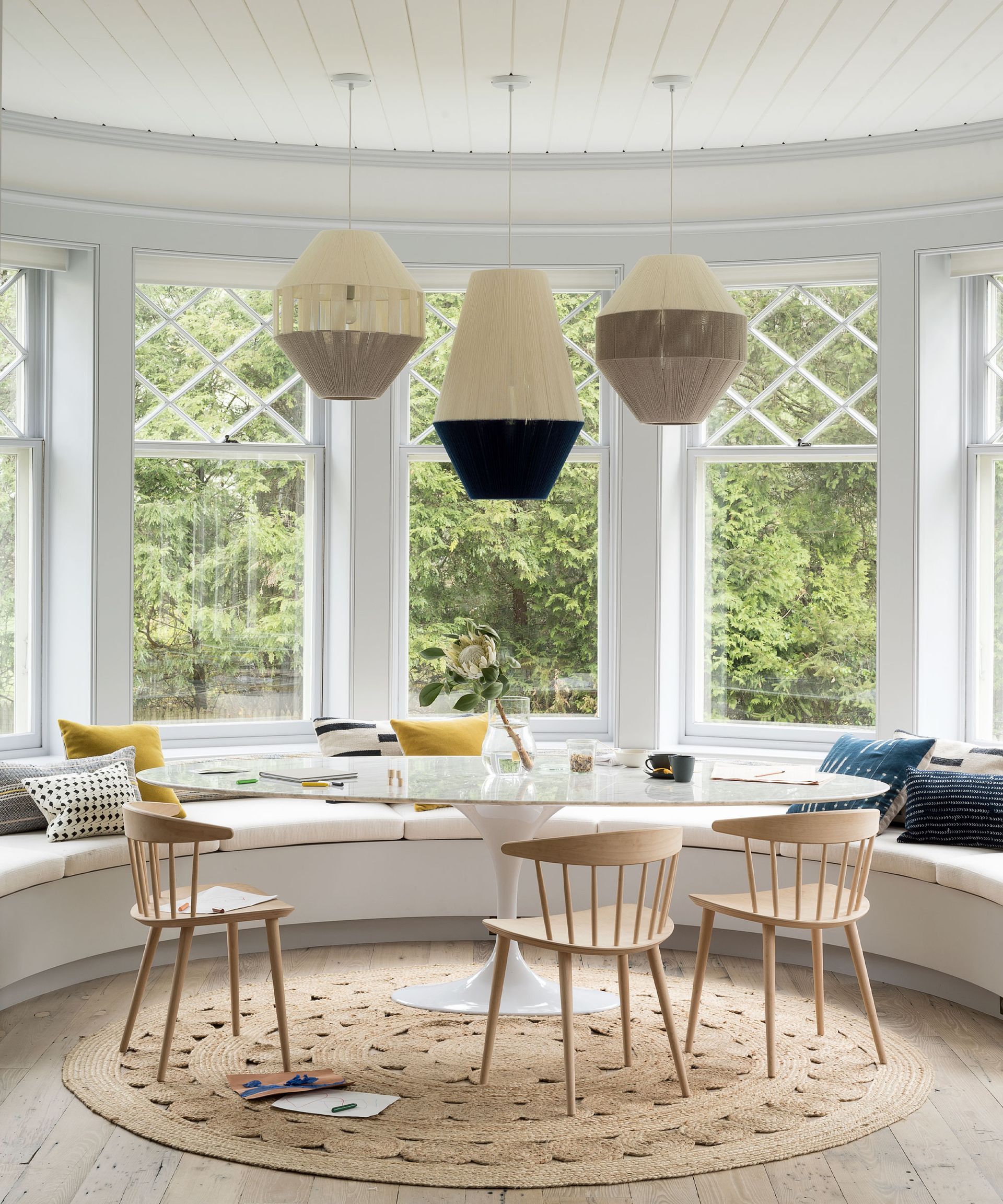 A bay window is often the perfect place to position a dining table, creating a sociable, open kitchen-diner environment - ideal if you do not have the space for a separate dining room.
The large, curved bay window in this kitchen has been beautifully enhanced by the rounded, bespoke bench seating and luxurious tulip dining table, creating an inviting seat space defined by elegant, soft curves and shapes and natural textures.
The dining area in the bay window has been further zoned by the cluster of woven pendant lights and rounded rug, creating a stylish and comforting area to dine, socialize and relax with friends and family.
6. Add a modern touch with blinds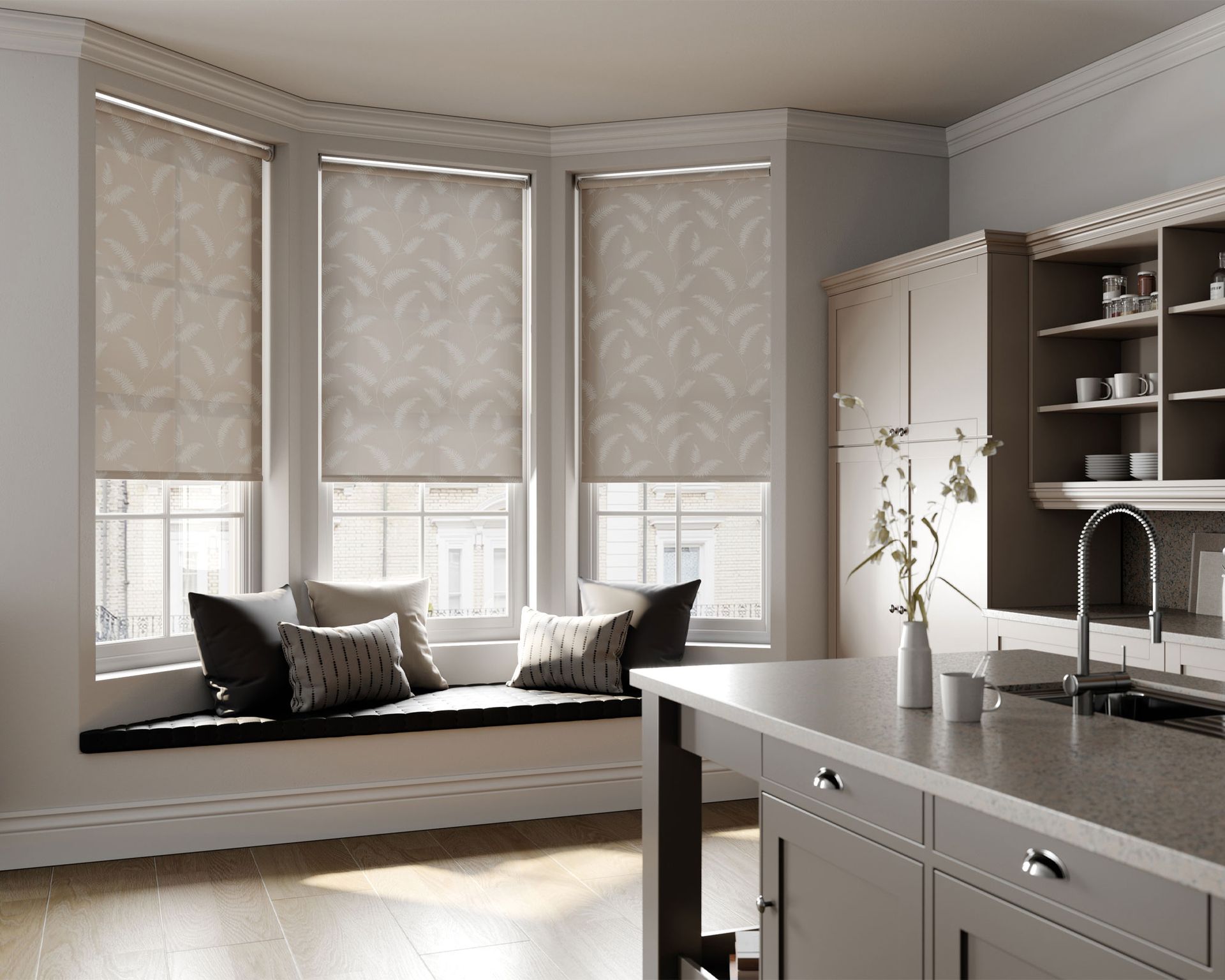 'Window blind ideas are often a popular choice for kitchen window ideas. Incredibly practical, they can also bring in beautiful color and pattern to a space, and when it comes to choosing the right design for your bay window, a modern blind design can create a stylish union of the old and the new,' says Lucy Searle, Homes & Gardens' editor in chief.
As shown in this contemporary gray kitchen, the sleek gray roller blinds by English blinds, are defined by a delicate fern print, adding a subtle, organic feel to the space. Elegantly framing the large bay window, the blinds work with the bench seating area to create an inviting zone full of soft texture and style.
7. Create an inviting bench seat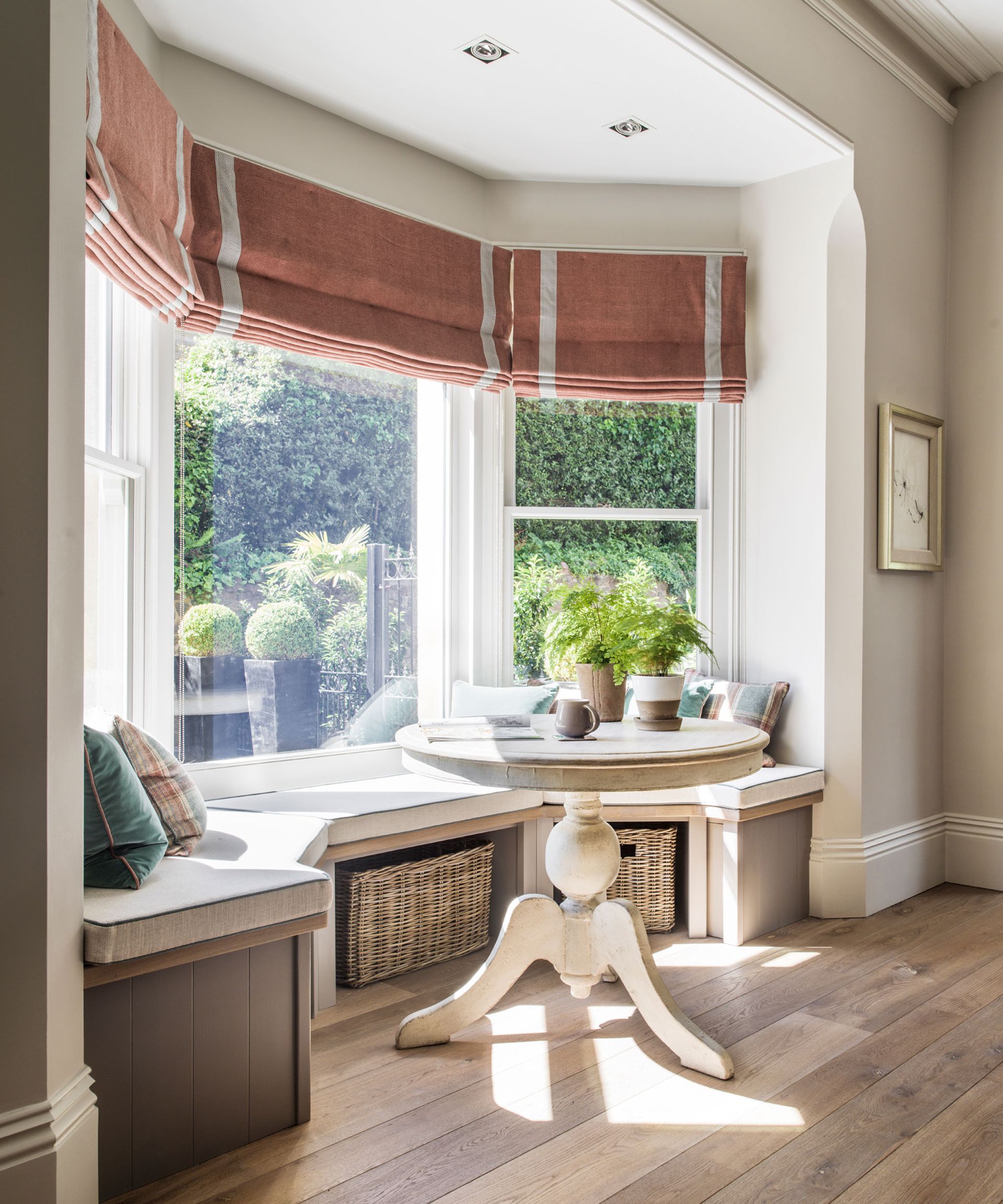 One of the most popular ways to enhance a bay window in the home is to design a cozy bench seat in the space, a great option for window seat ideas.
Ideal for creating an extra, comforting area of seating in a kitchen, perfect for reading nook ideas, a bench seat can also create handy extra storage.
As shown in this kitchen, the bench seat in the bay window has been designed so storage baskets can fit neatly underneath, creating an inviting seat space that both looks good and provides practical storage - one to remember for kitchen storage ideas.
8. Establish a cohesive look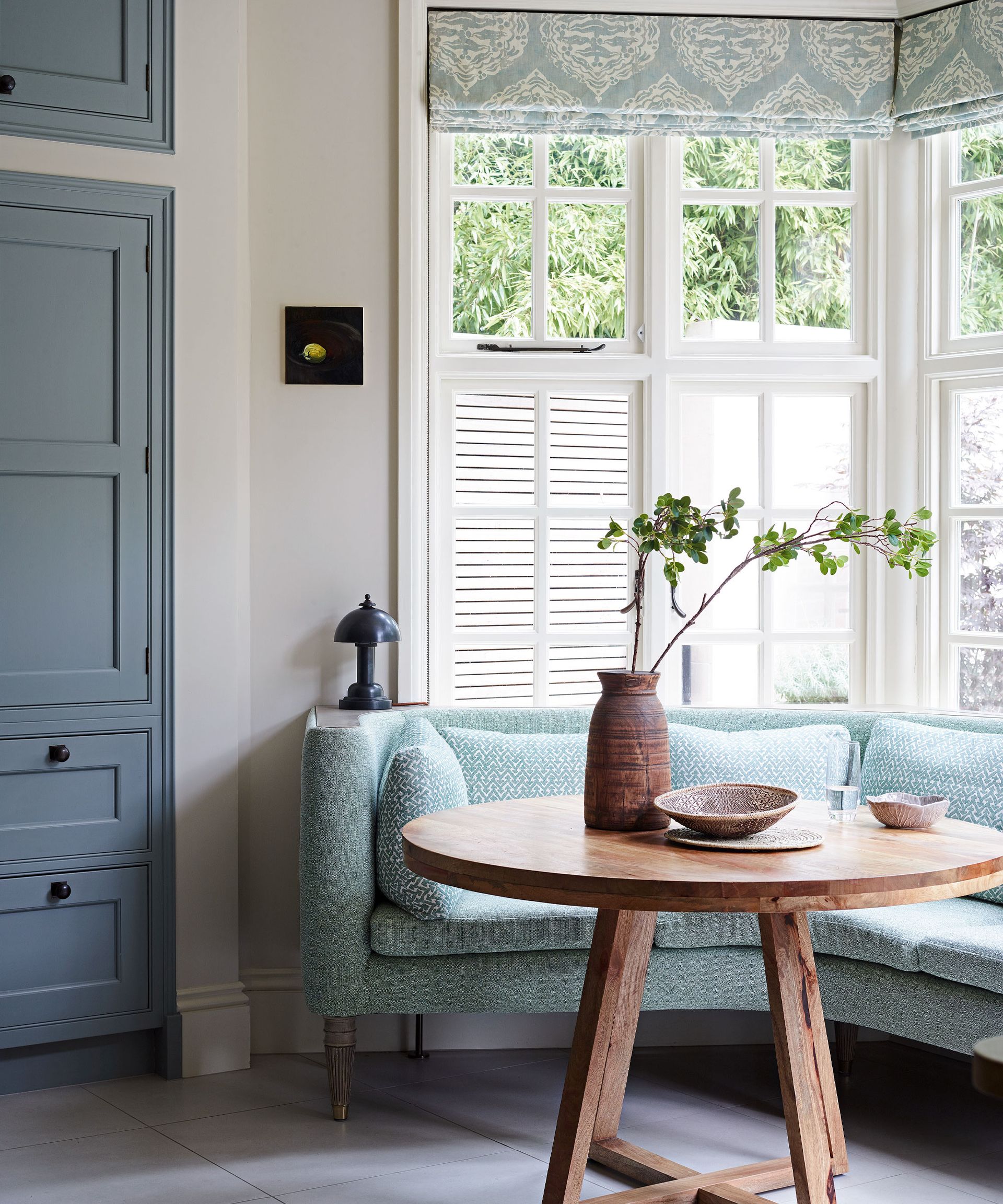 In this Edwardian townhouse, the goal of the design for this family home renovation was to create a calming yet colorful design inspired by the countryside.
Designed by Nicky Mudie of Violet & George, the kitchen bay window has been dressed in beautiful blue, patterned Roman blinds, with the painted cabinetry and cozy angled sofa working to create a stylish and cohesive design - a great look for blue kitchen ideas. The rustic, warming wooden table adds an organic touch, and creates a charming element of contrast with the blue designs.
Whether you coordinate your bay window treatments with your cabinetry, or think cleverly with accent colors, there are many creative ways you can make you bay window space feel united in your kitchen scheme.
9. Don't be afraid to go big and bold with your bay window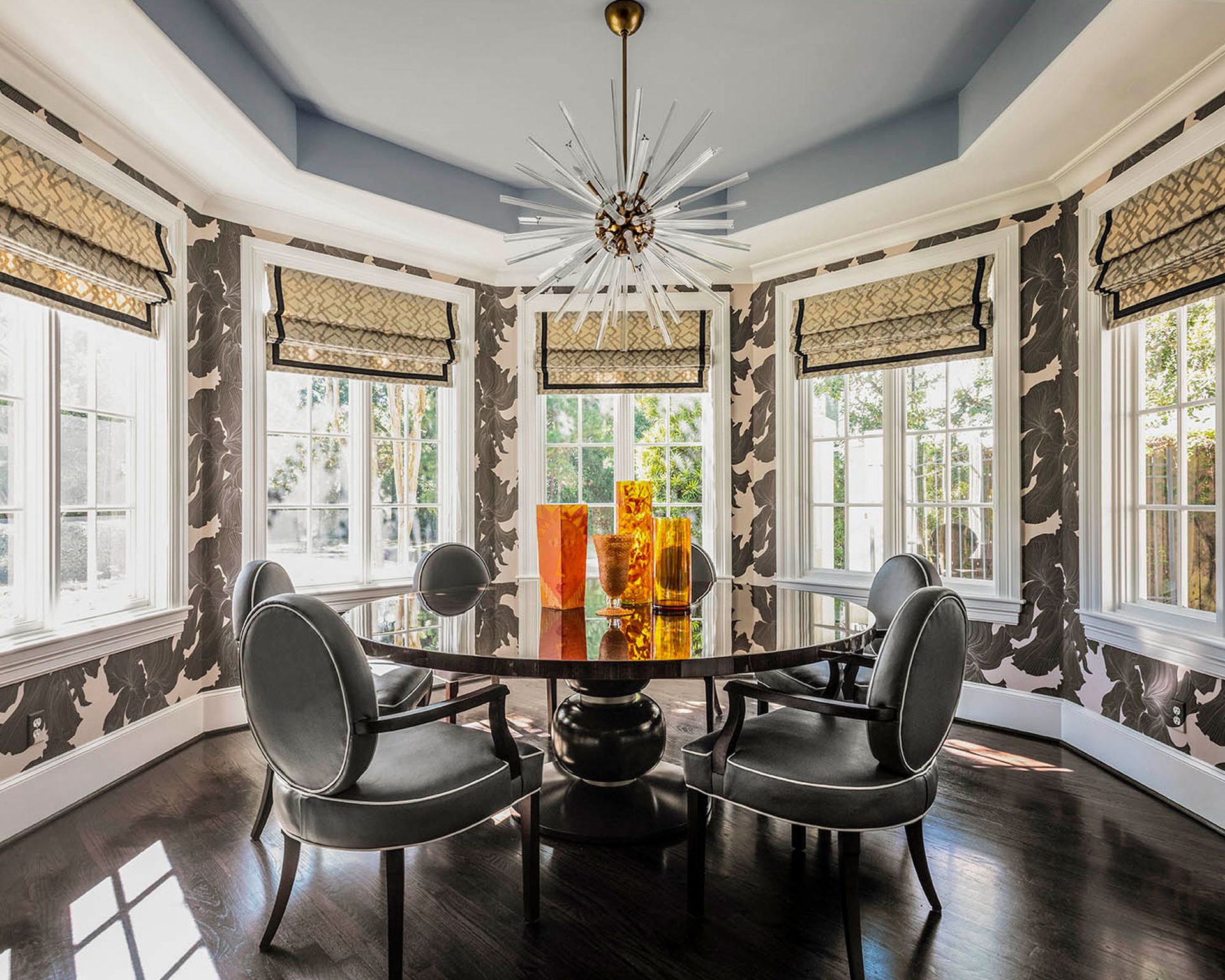 A bay window is often slightly separated from the rest of the room, so it can provide the perfect opportunity to be more adventurous with your design choices.
Similar to how many designers approach decorating small rooms, being bold with color and pattern when decorating your bay window space can make for an interesting and eye-catching focal point and design feature in a room.
As shown in this dramatic design by Lucinda Loya Interiors, the large bay window area, transformed into a separate dining space, has been decorated with a large scale printed wallpaper, matching blinds and a stand out painted ceiling with a glistening modern chandelier. Finished with a large, round dining table and upholstered dining chairs, this bay window space is a celebration of contrasting colors, materials and textures.
10. Embrace a classic style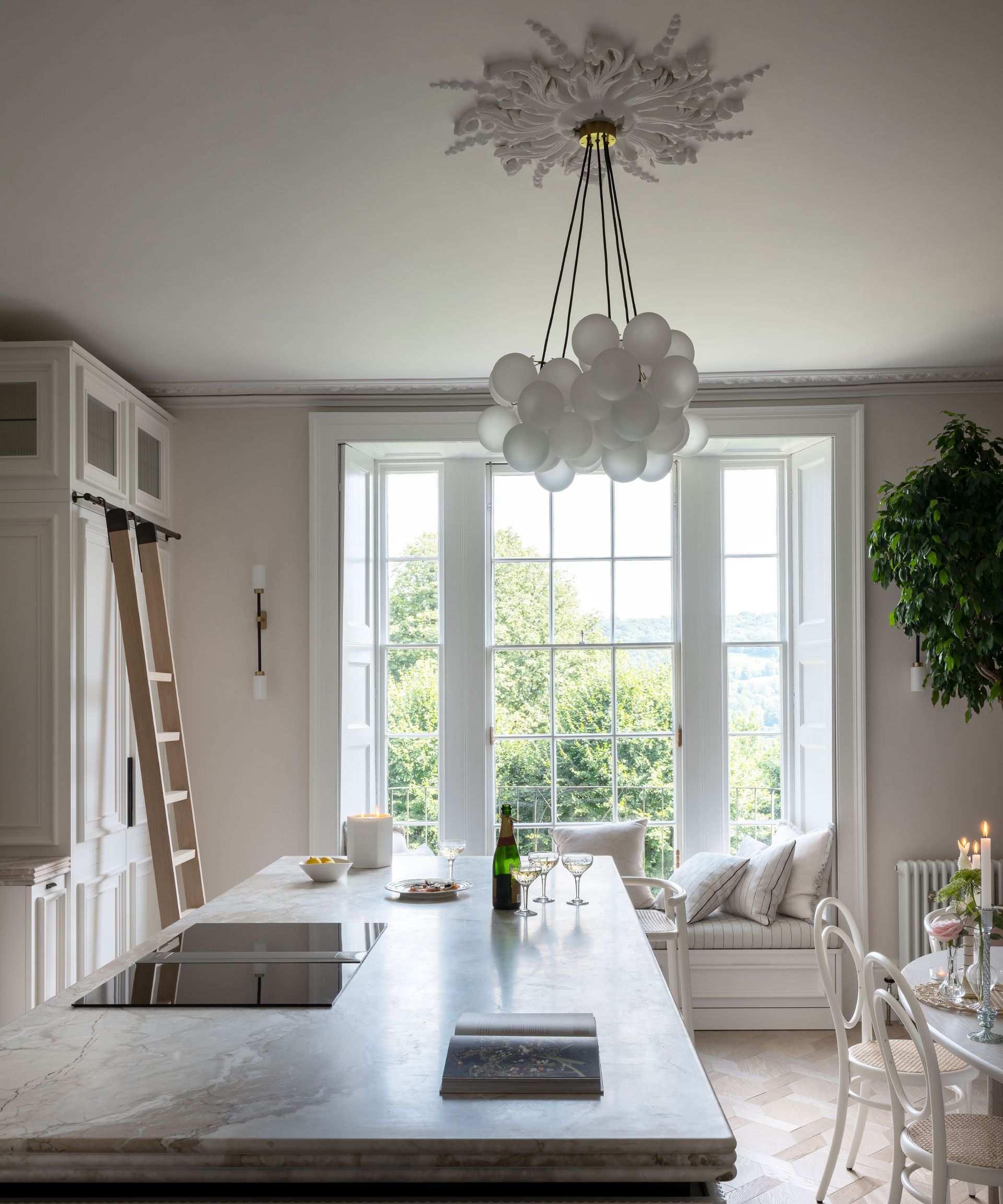 In this elegant kitchen by Laura Butler Madden , the space is defined by a calming and comforting, serene white design. Traditional features are paired with more modern touches, and the bright bay window has been styled with sleek white shutters and a comforting bench seat.
'Shutter ideas can not only protect your bay window and block out the light when required, but they can add a classic, characterful touch to your windows, with original shutters highlighting the beautiful bones and architectural history of a property,' says Country Homes & Interiors' editor in chief, Andrea Childs.
The soft, neutral color palette of the fabrics used on the bench seat and the shutters painted a timeless bright white in this kitchen, allow for the bay window to both stand out and retain a sense of it's original, Georgian design.
Can you put a bay window in a kitchen?
You can most definitely put a bay window in a kitchen. Bay windows are usually found in living rooms on the ground floor, but there are many period properties and new-builds that utilize this design feature across the home.
Whether your kitchen is large or a small, a bay window can create a feeling of enhanced space and light, and allow for you to create extra seating zones, and a more unique kitchen layout.
How do I dress up a bay window?
From soft curtains, to sleek blinds and traditional shutters, there are many ways you can dress up a bay window; adding beautiful texture, color and pattern to the window space.
Once you have decided on your window treatments, work out how you then want to fill the space, from seating and countertops, to dining and café tables, or if preferred, simple left as it is, and appreciated for its simple architectural beauty.
Sign up to the Homes & Gardens newsletter
Decor Ideas. Project Inspiration. Expert Advice. Delivered to your inbox.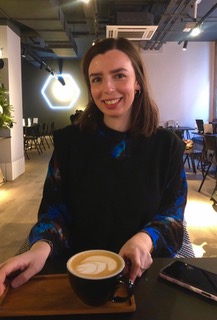 Zara joined Homes & Gardens in February 2022 as a Content Editor. After studying English Literature at University, she worked as an Ecommerce Website Editor, Content Writer and Buying Intern at multiple independent businesses within the luxury retail and lifestyle sectors. Her role at Homes & Gardens unites her love, experience and passion for the world of design and desire to create inspiring written content. She enjoys nothing more than discovering new trends, brands and products, whether that be in fashion, interior design or lifestyle.