How to create a country kitchen – the key features from cabinets to taps to handles
Get the look of your country kitchen just right with the quintessential appliances, materials and finishing touches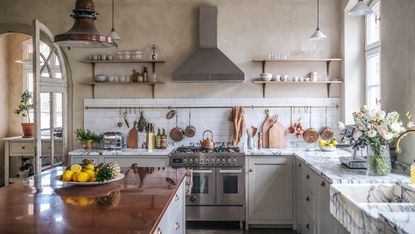 (Image credit: Our Food Stories/deVOL)
Sign up to the Homes & Gardens newsletter
Decor Ideas. Project Inspiration. Expert Advice. Delivered to your inbox.
Thank you for signing up to Homes & Gardens. You will receive a verification email shortly.
There was a problem. Please refresh the page and try again.
When you picture how to create a country kitchen what comes to mind? Beautifully crafted Shaker painted or wood cabinetry is a clear winner and a good start for both a more modern and period style design.
But what are the other elements that combine to make a room quintessentially country in both look and feel? Lots of warming timber – think beams, a big country table and original oak flooring – will help to provide a base on which to build.
Whether you want something that reflects life in a smaller country property, or you're more interested in a smarter country manor house atmosphere, it's the fixtures and finishes that are so important to achieving a look that's both stylish and rustic.
Take a look at our country kitchen ideas for more looks and inspiration.
Invest in a range cooker
Placing a traditional range cooker at the heart of a kitchen will instantly provide a country feel.
'Whether you go for a modern country look with pared back neutrals or opt to have a cooker that offers a pop of color, a range is the perfect focal point,' agrees Laura James, Aga brand ambassador.
If you're concerned about energy costs, these days a cast-iron range doesn't have to be on all the time either, as models now come in a wide array of formats and newer ranges even include fan ovens and state of the art induction hobs.
Serve up a butler's sink
You can't really picture a country kitchen without seeing a large white ceramic butler or apron sink topped with a swan-neck or pillar taps. Opt for a simple, plain-fronted model for a simpler profile or go all-out with a ribbed design then surround with timber worktops and top with traditional pillar or swan-neck taps.
For a luxe upgrade on traditional country style, a marble sink will become a statement in its own right.
Add stone flooring underfoot
The advent of underfloor heating has ensured that previously cold stone floors are now a warming addition when you're creating your ideal country kitchen.
'Purchasing a stone is an investment that takes careful consideration,' explains Isabel Fernandez, Director at Quorn Stone. 'Our advice is to choose a stone in a neutral colour for your kitchen, and instead inject color through paint colours and accessories. A lick of paint is far easier to change in years to come than a different floor.'
In a country kitchen, the main choice is between a more rustic, tumbled stone finish that suggests an aged floor laid for many years, or a sleeker more contemporary look that brings a touch of modernity to your country kitchen setting.
'Natural stone flooring can be one of the most forgiving floor coverings if the right stone and finish are chosen,' says Fernandez. 'A tumbled finish with its worn edges, textured surface and natural markings makes it extremely forgiving with day-to-day crumbs and dirt.'
Stone flooring is a key element in French country style kitchens too; take a look at our gallery to find out more.
Choose vintage-look taps
While stainless-steel and chrome have long been the go-to finishes for kitchen taps, country styles are better served by softer hues. The return of brushed gold and brass designs is good news when you want a vintage-look tap without the issues of ancient plumbing fixtures. And those authentic looks now even come with up-to-the-minute features.
'Our Traditional instant hot tap, especially in Aged Brass or English Bronze finish, is perfect when for country or Shaker style kitchens,' suggests Jonathan Britton, Brand Manager at Perrin & Rowe.
'You might specify a monobloc tap with instant hot water, alongside a separate rinse. Or you may want a kitchen tap with an in-built rinse, and a separate instant hot tap. At Perrin & Rowe we offer both these combinations.
This is the Perrin & Rowe 4172 Ionian Mixer with Side Rinse and 1307 Parthian Mini Instant Hot Tap, both in Aged Brass.
Lay down natural stone counters
'Natural stone lends itself perfectly to country kitchen settings thanks to the intricate and unique detailing of the stone,' explains Hege Lundh, Marketing Director, Lundhs Real Stone. 'The crystals and glints of varied color in the stone will add character and charm to a space.'
In addition to being an excellent surface choice for practicality, natural stone offers a rustic essence, pairing beautifully with other natural materials often found in country kitchens such as reclaimed wood, panelling or other stone accessories.
Work in vintage-style wall lights
On walls, vintage style-lights are a good alternative to modern spots and downlighters.
'To enhance a relaxed, country-style atmosphere, we prefer to use wall sconces in the kitchen in lieu of less flattering overhead light,' says Torre Lisi at Bespoke Only. 'This softens the light quality and creates an ambient glow perfect for slow, country living.'
While fixed lighting is ideal for illuminating a table, wall lights that can be angled are best for work areas such as sinks and countertops.
Get creative with colorful wall tiles
Tiled backsplashes are one of the key areas to bring color and pattern to a country kitchen, with looks ranging from classic patchwork-style designs to modern-country herringbone and more contemporary shapes and motifs.
'This hand-cut glass mosaic tile backsplash incorporates blues, grays, and hints of white – classic country colors interpreted in a new and exciting way,' says Nicola Fuscia from Philadelphia-based Glenna Stone Interior Design.
For a bold color pop, use a single shade to create a statement. This works particularly well when framed within architectural features, above a range cooker, or as a stripe of color between countertops and wall cabinets.
Maximize space with a larder cupboard
A key element to any country kitchen was the cold larder, which helped to keep dairy and meat cool so it didn't go off too quickly. The advent of fridges saw the need for these diminish but now both freestanding and fitted larders and dressers are reappearing as key component of a modern country kitchen.
Perfect as storage for dry goods, table linens and even as breakfast stations they are fast becoming a must-have for a country design.
See: Pantry ideas – versatile storage that's equally suited to modern life
Hang up a brass rail
Take your cue from traditional farmsteads, where kitchens would have kept meat from the farm and the implements to butcher it. Today, a brass rail complete with hooks for hanging cookware and utensils nods to the past while interpreting it in a modern, relaxed way.
Add interest with handles, drawer pulls and knobs
The simplest cabinetry can be given a touch of rustic flair with an interesting handle. Look for vintage-style designs such as drawer pulls, and don't be afraid to mix handle types – such as knobs with vertical bar handles – to provide visual interest.
Country kitchens don't tend to feature high-shine materials such as chrome and polished brass. Instead, when you're creating your country kitchen design, opt for naturally aged metals such as brushed brass, or even choose wood and leather handles for a rustic look.
If you do choose a metal with more of a gleam, keep the size small. That way it work as an accent, rather than overwhelm.
Introduce an element of rustic charm
When you're creating your country kitchen, finding a space to gather around is key. A rustic wooden table is the quintessential furniture piece, and will act as both work surface, dining table and catch-up coffee spot.
Look for an antique piece and don't worry too much about dints and scratches; it's all part of the charm.
For more ways to incorporate cooking and eating, our country kitchen diner ideas will have you covered.
How do I create a country kitchen look?
Equally at home in a modern house or a barn conversion, country kitchens are very much the sum of their parts. That's the same whether you're looking to create a classic, rustic scheme or a more country house look. Key elements for both are a cast-iron range or range-style cooker, unfussy cabinetry and warming timber elements.
A freestanding larder or pantry cupboard painted in a contrasting colour to the rest of the cabinetry can also provide an unfitted, unstructured feel. If you must have them, keep modern built-in appliances to a minimum and hide them behind cupboard doors where at all possible for an authentic feel.
'Old-fashioned ceiling racks are a fabulous way of maximizing your space and look lovely with a cluster of pots and pans hanging from them,' says Karen Read, kitchen designer at Neptune Weybridge. 'This works particularly well if you've been blessed with high ceilings.'
What materials are on trend for country kitchens?
Country kitchens are all about honest, natural materials and simple finishes – think wavy-edged or rough-textured timbers and flagstone or terraccotta floors. Beams help to add atmosphere if you're looking to recreate traditional rustic appeal but in modern interpretations, they can detract from simple Shaker cabinetry topped with elegant granite or stone composite.
Tiling for a backsplash is seeing a welcome return and there is a whole host of period-style patterns and shapes in modern, easy-to-clean materials that will add a splash of color and interest behind a sink or range.
What colors are on trend for country kitchens?
While dark shades are still dominating kitchens at the moment, paler shades often work better as a base for a country design, helping to create a soft and comforting background.
'When imagining a country kitchen, warm, atmospheric colors come to mind, often with their roots in nature,' says Karen Livesey at John Lewis of Hungerford. 'Neutral color schemes are best to support such bolder colors, and off-white is the classic choice for country kitchen cabinetry.'
'Although grays can often be seen as clinical and ultra-contemporary, they can be incorporated into a rustic scheme by choosing the undertone carefully, so a warmer green-gray is perfect. This cozy base scheme can then be accented with brighter yellows and sharp greens, well-suited to larders or dressers to energize a neutral space.'
Wood tones are slightly darker, particularly for flooring, with oak taking on a more conkerish hue although anything with too rich a red shade should be avoided.
Sign up to the Homes & Gardens newsletter
Decor Ideas. Project Inspiration. Expert Advice. Delivered to your inbox.
Andrea has been immersed in the world of homes, interiors and lifestyle since her first job in journalism, on Ideal Home. She went from women's magazine Options to Frank. From there it was on to the launch of Red magazine, where she stayed for 10 years and became Assistant Editor. She then shifted into freelancing, and spent 14 years writing for everyone from The Telegraph to The Sunday Times, Livingetc, Stylist and Woman & Home. She was then offered the job as Editor on Country Homes & Interiors, and now combines that role with writing for sister title homesandgardens.com.