How to create a country kitchen – the key features from cabinets to taps to handles
Get the look just right with the quintessential appliances, materials and finishing touches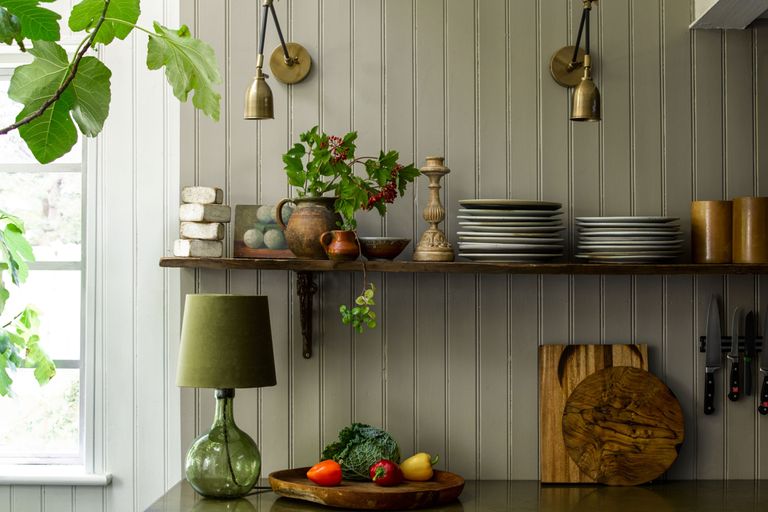 (Image credit: Pooky)
When you picture a country kitchen what comes to mind? Beautifully crafted Shaker painted or wood cabinetry is a clear winner and a good start for both a more modern and period style design. 
But what are all the other elements that combine to make a room quintessentially country in booth look and feel? Lots of warming timber – think beams, big farmhouse table, and original oak flooring – will help to provide a base on which to build. 
Whether you want something that reflects life in a country cottage, or you're more interested in a smarter country manor house atmosphere it's the fixtures and finishes that are so important to achieving a look that's both stylish and rustic.
1. Range cooker
Placing a traditional range cooker at the heart of a kitchen will instantly provide a country feel. "Whether you go for a modern country look with pared back neutrals or opt to have a cooker that offers a pop of colour, a range is the perfect focal point," agrees Laura James, Aga brand ambassador. 
If you're concerned about energy costs, these days a cast-iron range doesn't have to be on all the time either, as AGA cookers now come in a wide array of formats and newer models even include fan ovens and state of the art induction hobs.
Photography / Tim James
2. Serve up a butler sink
You can't really picture a farmhouse kitchen without seeing a large white ceramic butler or Belfast sink topped with a swan-neck or pillar taps. Opt for a simple, plain-fronted model for a simpler profile or go all-out with a ribbed design then surround with timber worktops and top with traditional pillar or swan-neck taps. 
Henley kitchen in Sage, Neptune
3. Add stone underfoot 
The advent of underfloor heating has ensured that previously cold stone floors are now a warming addition to a farmhouse style kitchen. 
Fired Earth's Belgian Bleu Limestone, £175 per sq m, has a tumbled finish and pillow edge and area available in random sizes for an authentically rustic finish that's perfect for country kitchens.
4. Vintage-look taps
While stainless-steel and chrome have long been the go-to finishes for kitchen taps, country styles are better served by softer hues. So the recent embracing by tap manufacturers of gold and brass designs is good news for those after an authentic vintage look tap without the issues of ancient plumbing fixtures. 
Callisto 4886 Mixer with Lever Handles in Aged Brass, £722.40, Perrin & Rowe.
Photography / Chris Snook Photography
5. Natural stone tiles
Topping a pot-board-ended country island with a statement stone can elevate it from beautifully simple to simply beautiful. 
While natural stone isn't for everyone because of maintenance issues, as a central feature the patterns and swirling textures of the Terra Bianca Satinato Indian Marble create a stand-out focus point in this kitchen. Priced from £550 per sq m, Cullifords 
6. Industrial pendants
While pendants are an important addition over a kitchen table, for walls a good alternative to modern spots and downlighters are vintage style wall lights that can be angled to illuminate tasks on a prep surface. 
Added to a farmhouse-style paneling these Pooky Pick wall lights, £99, add some industrial-age chic.
7. Colourful wall tiles
Combining the trend for jeweled green shades and herringbone patterns, these Colour Pop tiles from Ca'Pietra have been laid in a design we're more familiar with on our floors. 
Adding a certain pizzazz to plain metro tiles, this formation and colour combination will elevate any splashback.  
8. A larder cupboard
A key element to any country kitchen was the cold larder, which helped to keep dairy and meat cool so it didn't go off too quickly. The advent of fridges saw paid to many of those but now both freestanding and fitted larders and dressers are reappearing as key component of a modern country kitchen. 
Perfect as storage for dry goods, table linens and even as breakfast stations they are fast becoming a must-have for a country design. 
Leckford Collection Pantry, John Lewis & Partners.
How do I create a country kitchen look?
Equally at home in a modern house as a barn conversion, country kitchens are very much the sum of their parts. That's the same whether you're looking to create a classic, rustic scheme or a more country house look. Key elements for both are a cast-iron range or range-style cooker, unfussy cabinetry and warming timber elements. 
A freestanding larder or pantry cupboard painted in a contrasting colour to the rest of the cabinetry can also provide an unfitted, unstructured feel. If you must have them, keep modern built-in appliances to a minimum and hide them behind cupboard doors where at all possible for an authentic feel. 
'Old-fashioned ceiling racks are a fabulous way of maximising your space and look lovely with a cluster of pots and pans hanging from them,' says Karen Read, kitchen designer at Neptune Weybridge. 'This works particularly well if you've been blessed with high ceilings.'
What materials are on trend for country kitchens? 
Country kitchens are all about honest, natural materials and simple finishes – think waney-edged or rough textured timbers and flagstone or teraccotta floors. Beams help to add atmosphere if you're looking to recreate a more farmhouse appeal but in modern interpretations, they can detract from simple Shaker cabinetry topped with elegant granite or stone composite. 
Tiling for splashbacks is seeing a welcome return and there are a whole host of period style patterns and shapes in modern, easy-to-clean materials that will add a splash of colour and interest behind a sink or range. 
What colors are on trend for country kitchens?
While darks shades are still domineering kitchens at the moment, paler shades often work better as a base for a country design, helping to create a soft and comforting background. 
'When imagining a country kitchen, warm, atmospheric colours come to mind, often with their roots in nature,' says Karen Livesey at John Lewis of Hungerford. 'Neutral colour schemes are best to support such bolder colours, and off-white is the classic choice for country kitchen cabinetry.'  
'Although greys can often be seen as clinical and ultra-contemporary, they can be incorporated into a rustic scheme by choosing the undertone carefully, so a warmer green-grey is perfect. This cosy base scheme can then be accented with brighter yellows and sharp greens, well-suited to larders or dressers to energise a neutral space.' 
The overall positive reaction to Dulux's Colour of the Year for 2021, Brave Ground, is sure to help the new neutrals take a firm hold on our cabinetry colour choices going forward. Wood tones are slightly darker, particularly for flooring, with oak taking on a more conkerish hue although anything with too rich a red shade should be avoided.