How to make a kitchen look more luxurious – 5 simple switches you can do right now
Luxurious doesn't need to be timely or expensive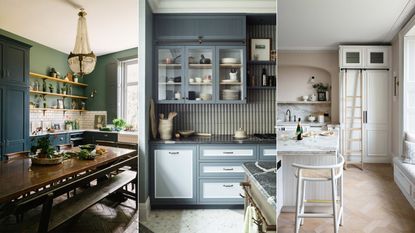 (Image credit: deVOL/Gunter & Co./Future)
Making a kitchen look more luxurious is more straightforward than it sounds. There are plenty of simple ways that you can elevate this very practical space using colors, textures, prints, and decor to add a rich, sophisticated feel to the space (without having to totally remodel).
A kitchen is somewhere you don't often think as being particularly luxurious. It's a hardworking space, that needs to get that balance between form and function spot on in order for it to work efficiently. However, luxury needn't get in the way of productivity. Kitchens can be as sophisticated as the softer more lived-in rooms in your home. In fact, so many kitchen trends are leaning towards kitchen designs that are, well, less kitchen-y.
So we asked designers how they make kitchens look and feel more luxurious. What relatively small and inexpensive tweaks can you make to ensure the space is elegant and chic, as well as efficient?
How to make a kitchen more luxurious
Of course, there are plenty of big changes you can make to create a luxury kitchen, but what about the smaller, more instant things you can do to make your space feel more luxurious? With hosting season upon us, we are looking for ways to give our kitchens a boost without having to totally remodel, making them look more chic by focusing on smaller pieces of decor, or easy switches we can do to change the feel of the space.
'Luxury can mean many things but for me it means something made beautifully that will last, age well, and be endlessly practical while also being beautiful to look at. Beautiful can mean simple, natural, and just really well made,' explains Helen Parker, Creative Director at deVOL Kitchens.
'I was once told that the ultimate luxury was space, I never understood this sentiment when I was young but now I do. Space gives you room to breathe and room to move about freely and easily, this, in turn, makes daily chores less challenging and whatever your perspective is on life, this is a luxury in my book.'
Space comes with decluttering and even reconfiguring your kitchen and how you use it. So before going straight in with the aesthetics and decor, the first step to making your kitchen more luxurious is to have a clean and a declutter. Then you can get into the fun stuff.
1. Bringing in textiles
There's a huge kitchen trend right now that's all about making kitchens feel less like a kitchen. Kitchens as homely, cozy spaces that feel more like a living room than a kitchen. And a bring part of that is bringing in textiles. Kitchens are sure practical spaces and by nature they tend to be filled with hard surfaces and clean lines, so an easy way to lean into this trend and make a kitchen look more luxurious is to soften the space with tactile fabrics.
'An easy step to making your kitchen feel more luxurious is quite simple, add textiles to the windows, chairs, and tabletop. It's amazing how a really beautiful fabric, or mixture of fabrics, can transform a room and make it feel richer and more sumptuous.' suggests Helen.
Helen is the Creative Director at deVOL, a leading kitchen design company that mixes classic and contemporary. Helen has been creative director at the company since 2011, passionate about the signature understated approach deVOL takes to designing kitchens.
2. Layer lighting (and don't just go with classic kitchen fixtures)
Again, this softer approach to kitchen lighting is linked with the trend of making kitchens more lived-in spaces. Switching up your lighting is a really simple way to make a space feel more luxurious, and it needn't mean pulling out what you currently have and going with totally new fixtures. You can change the lighting in your kitchen with candles, side lamps, fairy lights even.
'Beautiful vintage candlesticks and elegant scented candles can transform your kitchen atmosphere instantly. Then introduce little side lights dotted about, they have an amazing way of adding a special kind of atmosphere,' explains Helen.
'Then, if you need to, you can move onto the main lighting. Spend your money wisely here, a vintage glass shade or chandelier from a flea market can be just the understated luxury that will transform your room, keep an eye on the electrics, and if it needs refurbishing, in my opinion, it's well worth the effort and money, as nothing is more impressive than a unique and quirky light. Never ever fit a chandelier or any other lights without a dimmer, the atmosphere is all created when you turn the lights down low.'
The deVOL Kitchen: Designing and Styling the Most Important Room in Your Home
If you are looking for kitchen tips, whether you are starting from scratch or want to update your current space, this book is filled with gorgeous projects and ideas to help.
3. Display your chicest kitchenware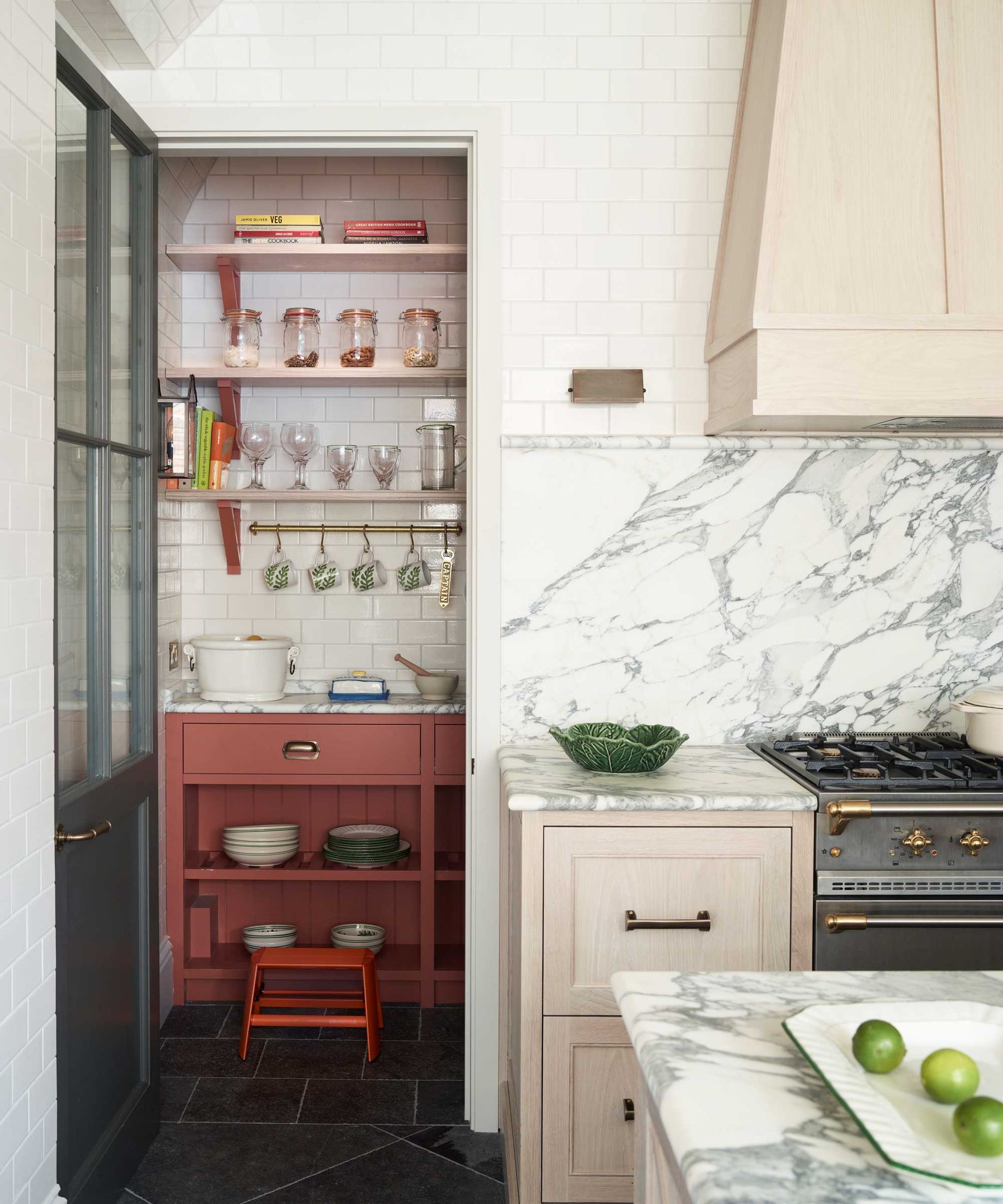 'My favorite way to add a touch of luxury into any kitchen is to invest in high-quality kitchenware pieces and display them in artful ways,' suggests designer Kathy Kuo. 'A luxe cocotte pot from Staub or Le Creuset makes a gorgeous design statement but is also oh-so-practical. The same goes for rustic-chic cutting boards and cheese boards, premium knife blocks (Forge Laguiole is my personal favorite knife brand), and copper pots and pans.'
Get those kitchenware pieces you keep 'for best' out and on display. Creating vignettes within your kitchen with pieces you already have (think glasses, crockery, serveware) is a way to instantly make the space feel more luxurious, plus a nice way to get a kitchen ready for hosting too as everything is more accessible both for you and your guests.
Kathy Kuo is a celebrated interior designer and international guru within the home and lifestyle space. She has 20+ years of experience in the design industry.
4. Restyle your kitchen shelving
And if you have kitchen shelving or glass-fronted cabinetry, give your kitchen a luxurious update by changing around your decor.
'Styling your kitchen shelves is a simple yet effective way to add a touch of luxury to your kitchen,' explains designer Irene Gunter. 'You can achieve this by incorporating plants, showcasing stylish dinnerware and glassware, and including decorative accessories. By getting creative and styling your shelves, you can transform your kitchen into a visually appealing and luxurious haven!'
'Whether it's an investment piece or a sketch you bought on holiday, art makes a house feel like a home. So if you have open shelves in your kitchen, they provide the perfect opportunity to showcase your favorite art pieces. Play with different heights and materials for the frames to add depth and dimension to the display.' she adds.
Irene Gunter founded London-based interior design firm, Gunter & Co, in 2014, with previous experience working at a whole host of London's top interior design studios, and has completed projects everywhere from the English countryside to the Côte d'Azur.
5. Switch out the hardware
Simple, yet so effective, switching up your hardware can instantly elevate a kitchen and make it feel more luxurious.
'Finishing touches such as door handles make a big difference to the overall look of a kitchen, so simply swapping out the handles will give it an instant lift. Choose a quality design that will feel good to the touch as well as look the part.' explains Charlie Smallbone, founder of Ledbury Studio.
Irene agrees that 'Making a kitchen more luxurious doesn't always require major renovations. Small changes can have a big impact. One simple yet effective way to elevate the overall look and feel of your kitchen is by swapping out the cabinet handles. By choosing handles that enhance aesthetics, reflect your style, and improve functionality, you can transform your kitchen into a luxurious space that you'll enjoy spending time in.'
'Invest in custom-made handles for cabinets and drawers, adding a unique and personalized touch to the kitchen. Consider high-end materials such as brushed nickel, brass, or even leather-wrapped handles for a sophisticated look.' adds HØLTE's Design Manager Merilin Kook.
---
Making a kitchen feel more luxurious can be as simple as working with what you already have. In fact, that's a great starting point, shop your own home for pieces of furniture and decor that you can bring in from other rooms - lighting, artwork, seating. Luxury isn't always about swish finishes and expensive appliances, luxury can mean a kitchen that feels elegant but also comforting and lived in, especially at this time of year.
'The conventional notions of opulence characterized by visual abundance and sumptuousness are undergoing a transformative shift. A new definition of luxury is emerging—one that is intertwined with the intangible aspects of experience, time, sustainability, and wellness.' explains Merilin.
'These elements, encompassing mindfulness and spatial considerations, are pivotal when aiming to infuse luxury into our living spaces. This mindset is particularly pertinent when applied to the heart of the home, the kitchen, where the true magic of luxury lies not merely in high-end appliances, expansive stone islands, or opulent materials, although these undoubtedly contribute.'
'In essence, the pursuit of luxury in a kitchen lies not solely in extravagant materials or appliances but in the thoughtful consideration of design, functionality, and the strategic allocation of resources to key elements that contribute to a luxurious and enjoyable culinary experience.'
Sign up to the Homes & Gardens newsletter
Decor Ideas. Project Inspiration. Expert Advice. Delivered to your inbox.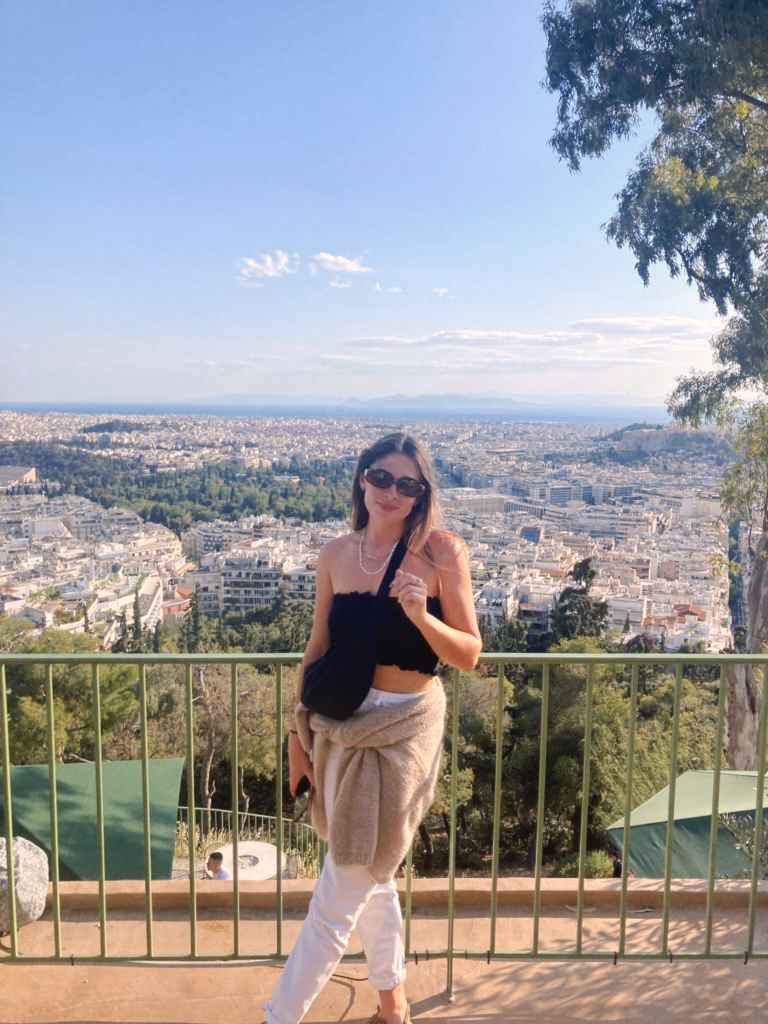 I am the Head of Interiors at Homes & Gardens. I started off in the world of journalism in fashion and luxury travel and then landed my first interiors role at Real Homes and have been in the world of interior design ever since. Prior to my role at H&G I was the digital editor at Livingetc, from which I took a sabbatical to travel in my self-converted van (not as glamorous as decorating a home, but very satisfying). A year later, and with lots of technical DIY lessons learnt I am back to writing and editing, sometimes even from the comfort of my home on wheels.