How to get a kitchen ready for hosting – 7 easy-to-copy interior designer tips
From aesthetics to practicalities, this is how designers say you should prep your kitchen for guests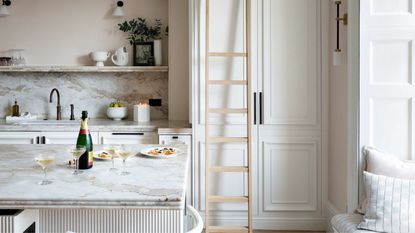 (Image credit: Future)
I love hosting at this time of year, as I am sure most of us do. In the summer I love to be out of the house to socialize and eat and drink, however, fall is the time for saying in and having friends and family over. Of course, you have those big hosting dates, Halloween, Thanksgiving, and then into Christmas, but I find in between all of those, most weekends I have some kind of gathering, even if it's really small and intimate. And I like to make these occasions too.
I am just getting into the full swing of hosting season, finding what works in my kitchen, and pulling out all the pieces that make prepping and cooking easier. And there are bits of decor I like to do too, the kitchen is a sociable space for me. Guests are always in there while I am cooking so I want it to feel festive as well as functional. I always think of Martha Stewart's and Ina Garten's various kitchens, those relaxed but gorgeous spaces are my aim.
I've asked interior designers for their tips on how to get a kitchen ready for hosting, to help create rooms that feel warm and welcoming but are practical too and make the job as easy and as seamless as possible.
How to get your kitchen ready for hosting season
As I mentioned, I do a lot of hosting within the kitchen itself. Usually, the time before dinner is spent with most guests in the kitchen while I prep and faff, so it's really important that the space works hard to make my life as easy as possible, but it also has an effortless flow about the room too so I am never in the way of guests and they are never in the way of me. Now this 'effortless' flow is something I very much curate, usually through the clever placement of drinks and nibbles, but more on that later.
1. Have a deep clean and a declutter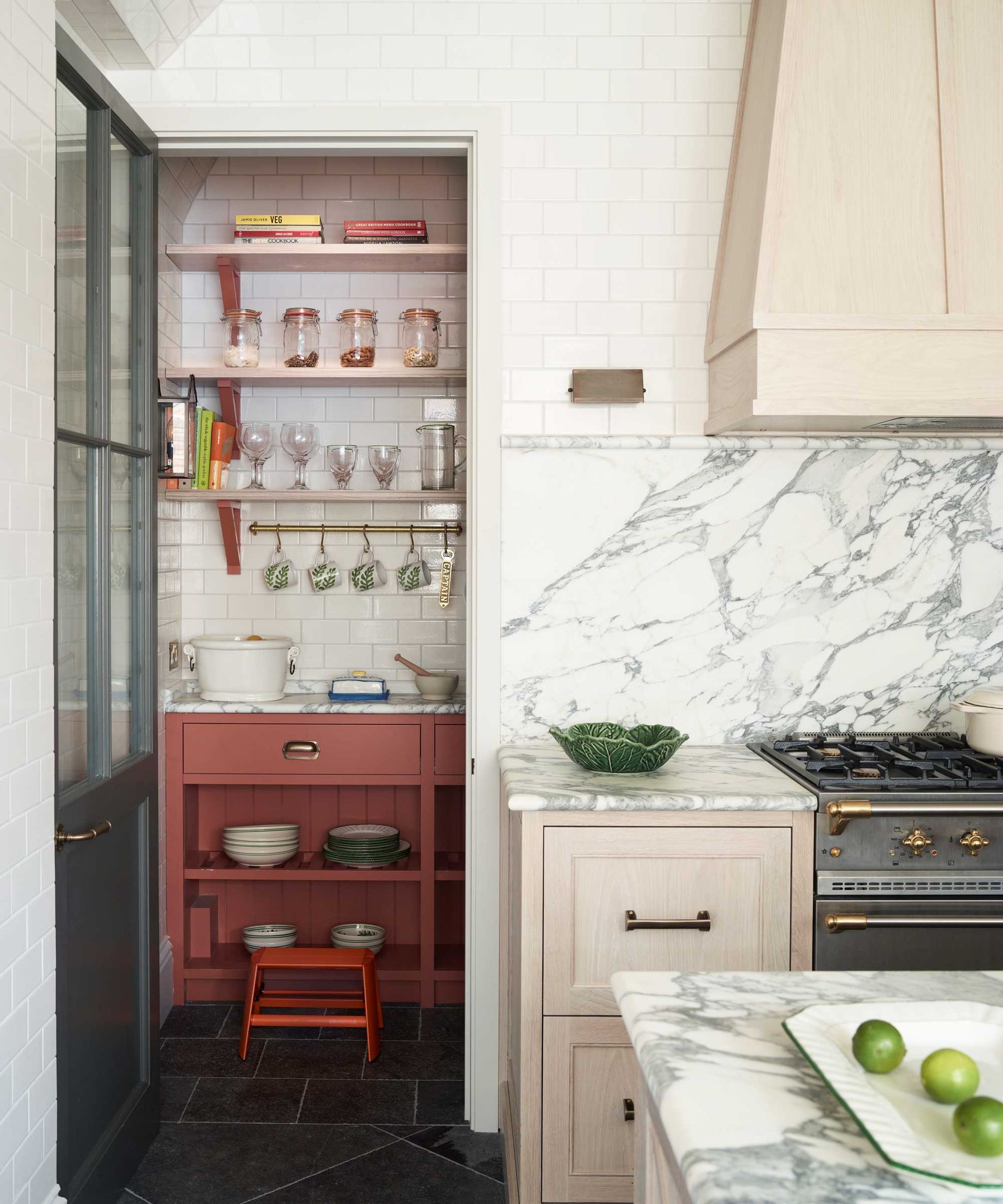 It's the least fun part of getting a kitchen ready for hosting, but decluttering the kitchen is something you'll hopefully only have to do once a season.
'It's a given that no matter how much time you spend tidying up your living room, the party will end up in the kitchen. To get it party-ready, the first step is a good tidying up and deep clean - no guest wants to see your breakfast dishes in the sink or last night's marinara sauce splattered across your cooktop,' says Bethany Adams.
'As I get ready to entertain, I start by thoroughly cleaning and decluttering my space. A well-prepped kitchen not only makes hosting more manageable but also enhances the overall ambiance, ensuring that my guests feel welcomed and comfortable,' agrees designer Jennifer Davis.
I used this fall declutter as a way to rediscover all the accessories, bakeware, and serveware I have that have been ignored over the summer, but I love using it when hosting season starts. If I have time I will take everything out and organize kitchen cabinets based on what I am going to need over the coming months. I also take stock of my pantry cupboard since I know that's going to slowly get busier over the holidays, chucking out anything past its sell-by date or items I know won't get used.
Then it's time for a really deep clean so everything feels super fresh and I'll just have to do smaller regular cleans to keep it looking lovely.
2. Make sure you have enough of everything
'A well-stocked armory of essentials, easily accessible, can transform hosting from a daunting task to a gracious art.' is how Artem Kropovinsky so eloquently puts it. And I very much agree. The last thing you want to be doing when hosting is washing up, so ensure you have enough pots, pans, utensils, etc. to make everything as easy and as seamless as possible.
The same goes for crockery. Think about the maximum amount of people you usually host and ensure you have enough plates, bowls, glasses, cups, cutlery, and so on. If you find you are lacking in something, the Black Friday sales are ideally timed for picking up new kitchen bits.
3. Think about how you use the space and plan accordingly
This will slightly depend on your kitchen layout, but you want to ensure you can move as easily as possible around the space while guests are in the kitchen. I have the classic golden triangle layout, so it's fairly simple to keep walkways free.
'Carving out clear zones for the culinary dance of prepping, cooking, and cleaning can compose a harmonious rhythm,' says designer Artem. 'Generous seating and surface realms beckon guests to alight, mingle, and partake in the culinary narrative.'
This has been my trick too. Tempt guests to certain areas that you know will be out of the way but feel like they are part of the action. And don't just stick to one space, then you'll get this crowding in one part of the kitchen which could feel a bit awkward. Have a bar set up in one section of the kitchen, and dot food around the rest.
And while the kitchen island may feel like the perfect space to have guests gather, still create another option elsewhere in the kitchen if you can.
4. Go soft and warm with the lighting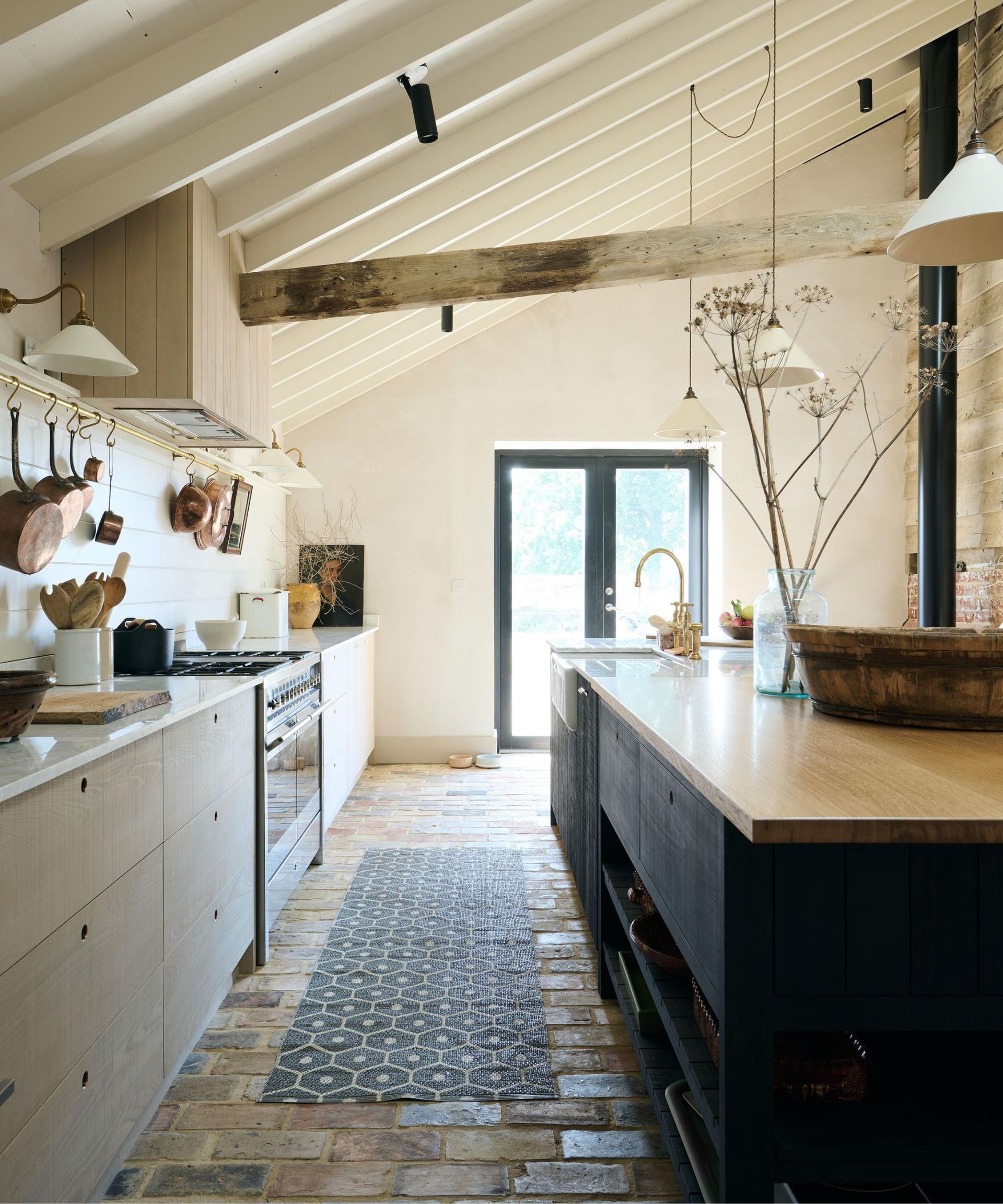 Kitchen lighting is usually designed to be very practical, which in turn usually means it's quite bright and harsh. However, when hosting you want the light to be soft and warm and welcoming.
'Lighting plays a pivotal role in setting the mood, so I adjust it accordingly with ambient lighting for a warm and inviting atmosphere,' says Jennifer. And Artem agrees that 'Lighting, the quiet custodian, holds sway in the realms of preparation and serving.'
If you don't have any obvious ambient lighting, I'd suggest bringing in some lamps from elsewhere in your home. Floor lamps and table lamps add that less intense light that's far more suitable for a sociable space.
5. Choose serveware that will double as decor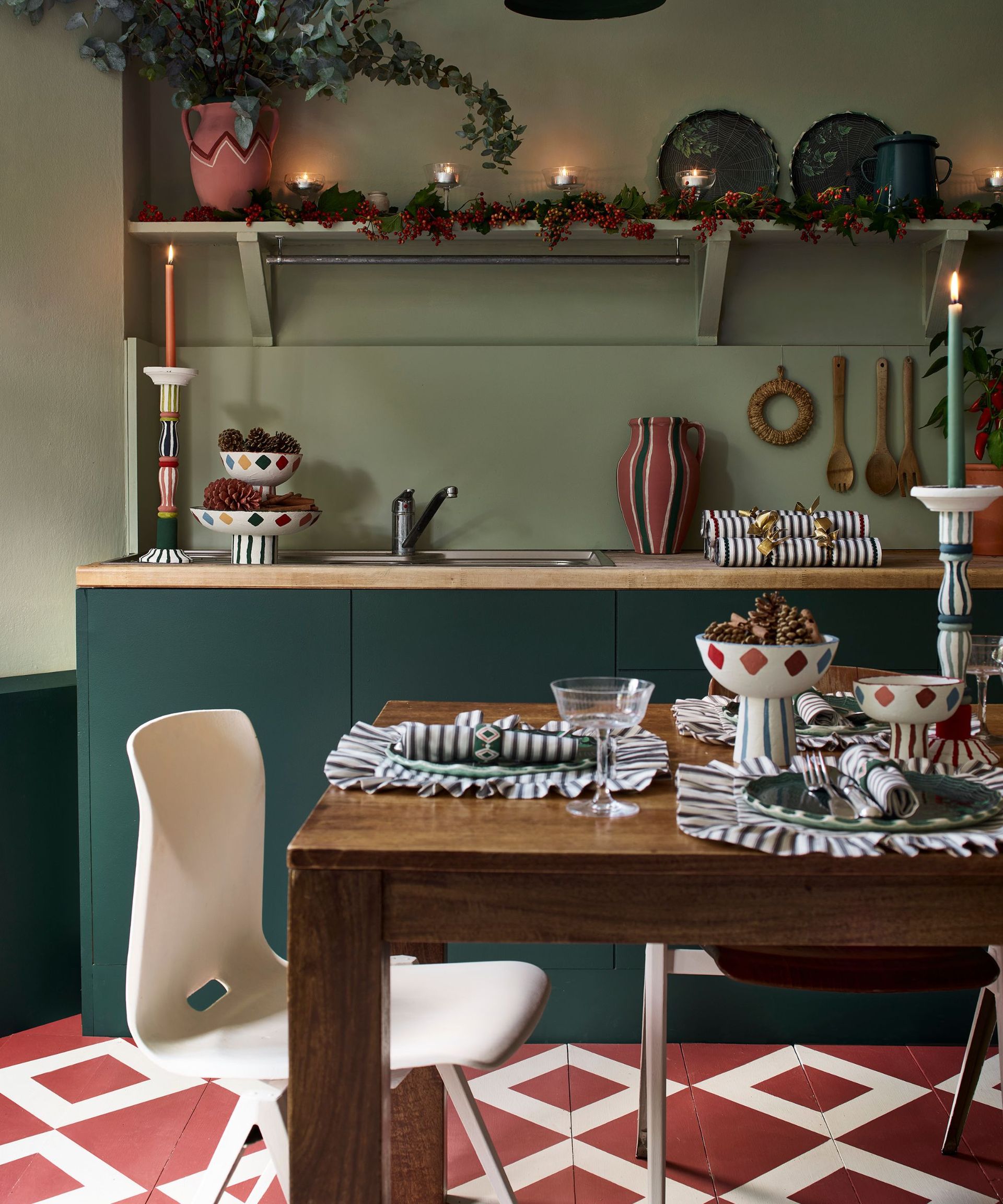 'When preparing to host for the holiday season, I like to first make sure my kitchen is stocked up on rustic wooden serving boards, glassware, decanters and barware, and plenty of scented candles. I also like to place a large stone or ceramic vase of seasonal greenery or foliage on my countertop to add an air of festivity,' advises designer Kathy Kuo.
Having serveware that does the job and looks lovely is something I also rely on when getting my kitchen ready for hosting. Aesthetically pleasing platters, boards, and glasses can do so much of the work for you. Plus, as Kathy suggests you can make them part of a display that will instantly give your kitchen a relaxed, festive feel.
6. Set up a bar area
'A great tip is to set up a small home bar, so everyone can help themselves to drinks rather than being permanently on duty! Mulled wine is a great choice for the holidays too, I cheat and buy it, but by adding fresh orange slices and cinnamon sticks when we heat it up, it almost looks home-made!' suggests Chrissie Rucker, founder of, The White Company.
A home bar, whether it's a permanent setup you have all year round, or something you create on a sideboard for occasions, will mean you don't always have to refresh drinks and you can guide where you want your guests to gather.
'I like to use my island to set out a drinks station, including glassware and a cutting board with a sharp knife and lemons. Do not make your guests guess what they're supposed to be using to make their martinis, lay it all out for them in advance.' suggests Bethany.
7. Add in touches of festive decor
How you approach this will depend on the holiday, but always add in some sense of occasion and festivity. That could be a couple of pumpkins around the bar, a jar of autumnal leaves on the island, fairy lights in the windows, or evergreen displays as we get closer to the holiday season. Consider what will work with your kitchen style too.
'On windowsills, I add large silver stars with fairy lights which look gorgeous as it gets dark, and do miniature trees. I also love lots of very simply arranged white flowers and greenery: ranunculus, hyacinths, white roses, flowering eucalyptus, snowberries, and fresh rosemary are all favorites,' suggests Chrissie.
---
Getting your kitchen ready for hosting is as much about making it look wonderful as is it about making sure it works for you as the host. The key is to make it a warm, welcoming stress-free environment in which guests feel like they are part of the key part of the evening. Rely on doing as much 'help yourself' drinks and nibbles from the start and just ensure you have all the essentials to make prepping and cooking as easy as possible.
Sign up to the Homes & Gardens newsletter
Decor Ideas. Project Inspiration. Expert Advice. Delivered to your inbox.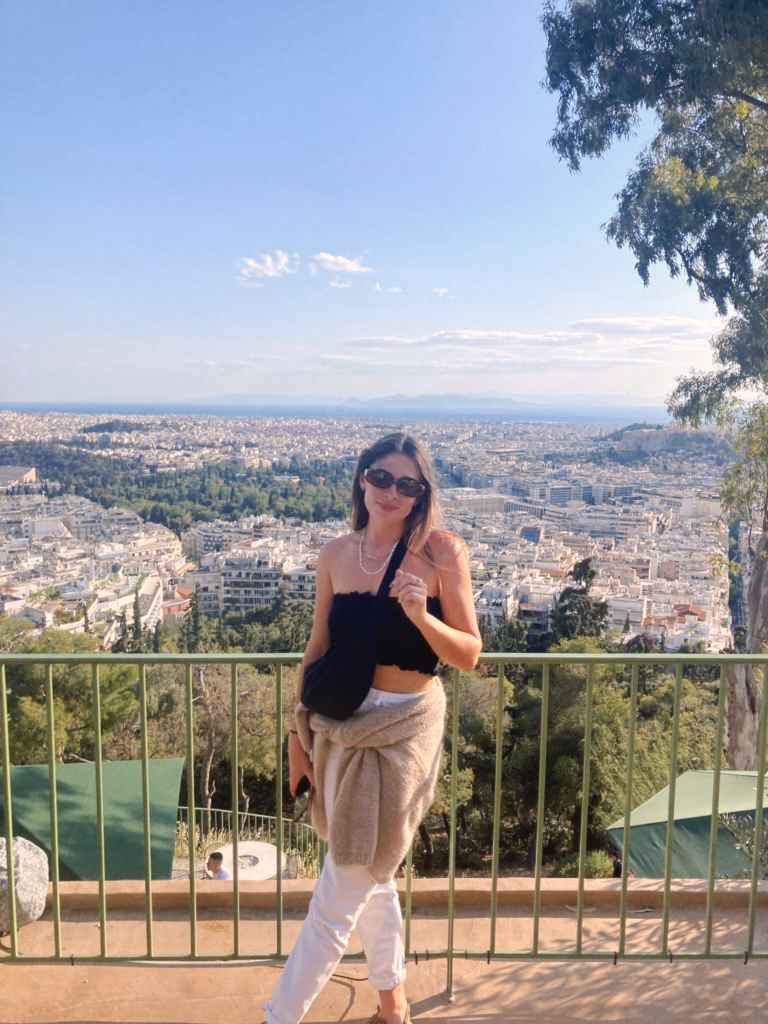 I am the Head of Interiors at Homes & Gardens. I started off in the world of journalism in fashion and luxury travel and then landed my first interiors role at Real Homes and have been in the world of interior design ever since. Prior to my role at H&G I was the digital editor at Livingetc, from which I took a sabbatical to travel in my self-converted van (not as glamorous as decorating a home, but very satisfying). A year later, and with lots of technical DIY lessons learnt I am back to writing and editing, sometimes even from the comfort of my home on wheels.