Grey and white bedroom ideas – 10 neutral color schemes to inspire
These grey and white bedroom ideas will inspire you to decorate with this most elegant of neutral color combinations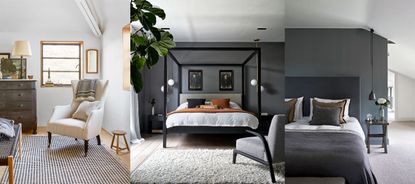 (Image credit: Future)
Grey and white bedroom ideas are a versatile interior design choice – cool and contemporary, but just as happy in a traditional space as they are in a modern home.
Choosing a color palette for your bedroom ideas is a big decision, but pairing grey and white is one of the most popular selections you can make, whatever your bedroom style. A neutral duo that is right on trend, its tonality means it works well on its own with minimal interruptions, or as an excellent base for additional color choices.
Grey and white bedroom ideas
Grey and white color combination for rooms represent purity, stillness, and new beginnings, as well as cleanliness and clarity. It can be used everywhere in the home but is very successful in the bedroom and any room where you want to create order and with little distraction. It is also an ideal foil for a well-curated room of art and furniture.
From serene sanctuaries to beautiful minimalist bedroom schemes, we found some inspiring grey and white bedroom ideas, and asked the experts to share their tips for a neutral sleep space.
1. Invest in the best lighting for a grey and white bedroom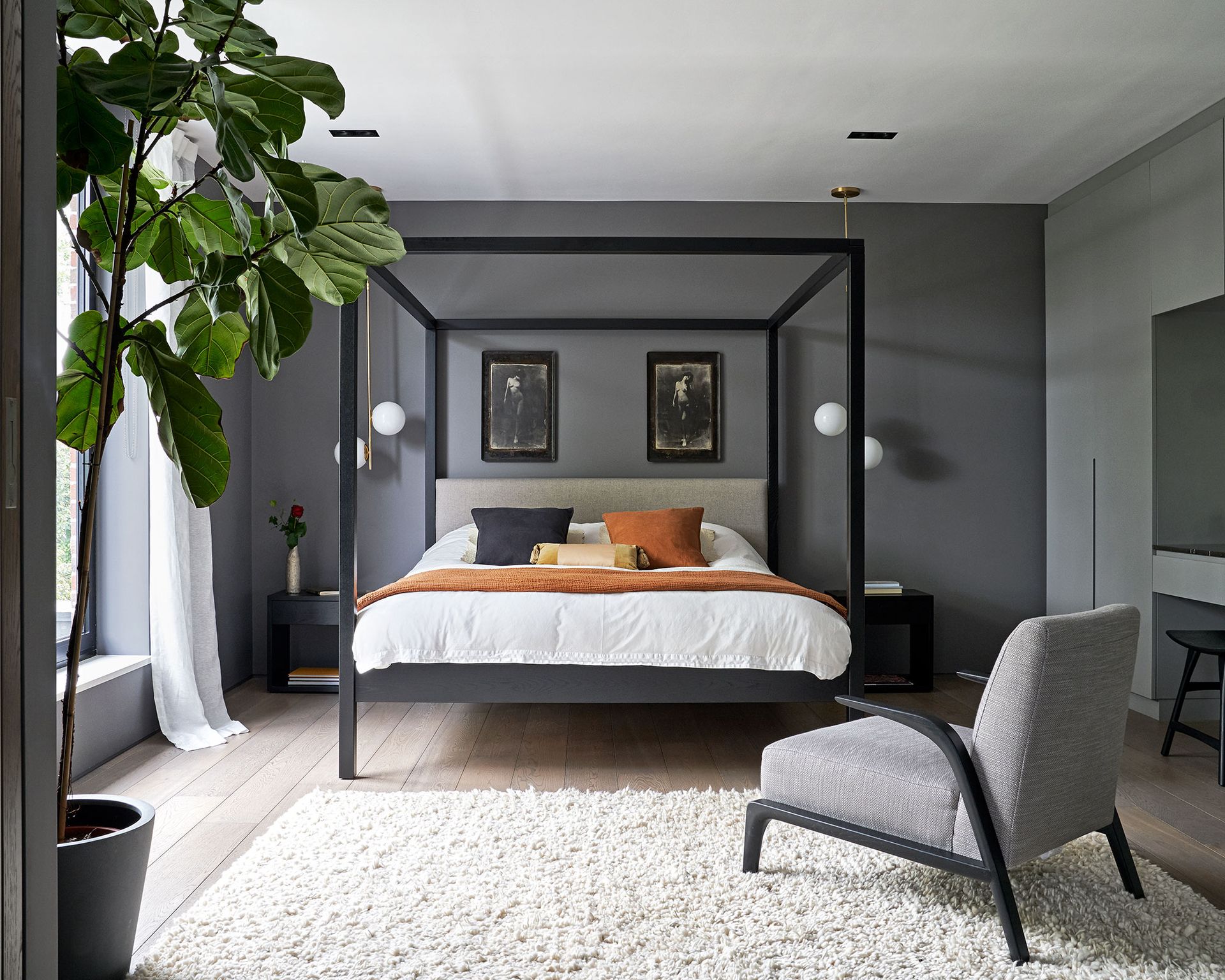 Due to its versatility, most colors go with grey and white bedroom ideas – it is a neutral color combination after all, which means it acts like a blank canvas on which you can put your mark. However, before you consider a color scheme with grey as a base, it's worth considering the best bedroom lighting ideas and options available, especially if you have a north-facing room.
'The way lighting is controlled is key in a predominantly dark grey and white bedroom,' says Sally Storey, creative director of John Cullen Lighting: 'Dimmers are essential to change the mood from day to night. Make sure each light is controlled individually and with accessible switches, so you can eliminate glare easily when you're in bed.'
2. Combine a serene color palette with texture
'Our clients wanted their main bedroom to feel as calming as possible,' says Antonia Winkler von Stiernhielm, Director of Studio Anton. 'By using a palette of soft gentle white and grey bedroom ideas, combined with an abundant mix of textures, we kept the space light and ethereal creating the perfect retreat to clear one's mind at the end of a busy day.'
3. Hang wallpaper behind the bed
Paint ideas are not the only way to add interest to your space. A bedroom wallpaper makeover could be just what your space needs for a simple yet striking grey and white transformation.
'This beautiful wall covering really sets the scene in this grey and white bedroom, the subtle two toned check creates a sumptuous texture that's contemporary yet soothing,' says Lucy Searle, Global Editor in Chief, Homes & Gardens. 'Add in the white headboard, lamp and walls with a variety of wood, and you have a very restful bedroom scheme.'
4. Use a dark grey for a restful bedroom
'Decorating with grey and white still has universal appeal as due to its timeless nature it makes a perfect backdrop – but like white, grey colors have differing undertones, so should be considered carefully,' says Ruth Mottershead, Creative Director at Little Greene.
'I recommend a soft, neutral grey like 'French Grey', it's not too cold or too warm but somewhere in the middle, so it offers great versatility. Or, if you are looking to create a soothing sanctuary for sleep, opt for layers of tonal natural colors, and deep soporific hues such as deep grey 'Scree' or strong rich 'Vulcan' grey.'
5. Paint the perfect backdrop for a patterned headboard
If you are struggling to work out the best bedroom colors for your room, then grey and white is the perfect blank canvas to introduce headboard ideas that are completely unique and daring.
'Greys, whites, and similar neutrals make a fantastic base because they're enduring, natural and elegant, and they work well with pretty much everything,' says Dominic Myland, Director of Mylands. 'Painting your walls in your choice shade of grey or white provides a stylish and versatile backdrop for the rest of your room and decor and allows you to introduce color elsewhere without it becoming overwhelming.'
6. Opt for a pretty grey-based floral wall covering
Your grey and white bedroom should be a place to unwind and relax after a busy day or, in the case of guest bedrooms, a space to make visitors feel welcome, so selecting the right wall decor ideas is vital in dictating the mood you want to create.
'The owner's preference for calm colors prevails in this room,' says Henriette von Stockhausen, Creative Director at VSP Interiors. 'Lewis & Wood's 'Indienne' wallpaper in china blue creates an elegant backdrop. While the Farnham Antique Carpets rug is complemented by antiques and gentle colors to achieve the relaxed feeling my client desired.'
7. Introduce an element of bold color
'We would usually lean towards quieter palette combinations in the bedroom, but darker or moodier shades can work really well within small bedroom ideas,' says James Thurstan Waterworth, founder, Thurstan. 'They create a perception of depth and lend a warm, cocoon-like feel – welcome in every cozy bedroom. For the walls, we suggest a mid-toned grey for an industrial feel, then lift this by layering careful accents of color, perhaps an apple green or a similar earth-toned hue – ochre, terracotta or a softer peach.'
8. Keep it simple in a grey and white space
Grey and white bedroom ideas do not have to be stark and sterile. A bedroom should be a place of sanctuary, a space to enjoy away from the pace of everyday life, and one that should evoke warmth and comfort.
Here, the combination of the unique natural wood relief within the 'Timber' design, reminiscent of the serenity of nature, is combined with this 'Frost White' colorway; a gentle shade of grey which evokes a crisp, calm morning at first light. It is pure escapism – and the perfect finish for a restful bedroom.
'A neutral color palette can have a huge impact on the overall design,' says Simon Tcherniak, Senior Designer at Neville Johnson. 'A minimalist combination of neutral, muted tones and rich wood finishes will display simplicity that will remain timeless, even as the style of the space evolves.'
9. Experiment with the color block technique
'You should never feel that using neutrals, whites and greys is unadventurous, in fact, working with the architectural 'families' and their subtle color variations can create a clever and sophisticated scheme,' says Andy Greenall, Head of Design, Paint & Paper Library. 'Color blocking within a monochrome color palette is a wonderful way to add playful design detail to a bedroom scheme.'
10. Layer different shades of grey to create a harmonious space
This white and grey guest bedroom is a neutral lover's dream,' says Lindye Galloway, Founder and Chief Creative Officer of Lindye Galloway Studio & Shop. 'Layers of texture are what give a room that thoughtful and comfortable feel. Add throw pillows to highlight your bed, art for a focal point, decor for character, and a detailed rug to ground the room. All of these elements make grey bedroom ideas feel more approachable.'
What colors go with white and grey in a bedroom?
The most wonderful thing about a grey and white bedroom color scheme is that it will go with just about any other color.
'A lovely way to bring out the undertone in a grey and white color scheme is to partner it with the same, or similar color. For example, a grey with a green undertone and decorated with green bedroom ideas will make the undertone more dominant, and a grey with a pink undertone will partner beautifully with lilac or even red bedroom ideas.'
'A flat grey carries no positive physiological benefits,' says Natasha Bradley, Home Interior Expert at Lick. 'It can actually generate a dull and lifeless emotional response, which is why I always recommend that my clients choose a grey with a colored undertone.'
Sophie has been an interior stylist and journalist for over 20 years and has worked for many of the main interior magazines during that time, both in-house and as a freelancer. On the side, as well as being the News Editor for indie magazine, 91, she trained to be a florist in 2019 and launched The Prettiest Posy where she curates beautiful flowers for modern weddings and events. For H&G, she writes features about interior design – and is known for having an eye for a beautiful room.