Grey flooring living room ideas – 10 timeless choices
Give interiors a versatile foundation with these grey flooring living room ideas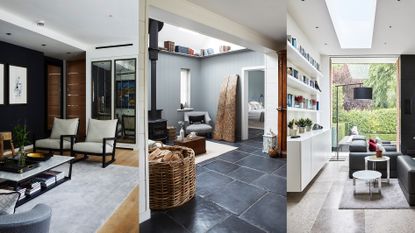 (Image credit: Future)
Grey flooring living room ideas provide a neutral and versatile backdrop for creating characterful interior schemes.
Whether you're looking for practical hard flooring such as stone, wood or floor tiles or wanting to warm-up a scheme with a rug or a carpet, opting for grey living room flooring is a timeless choice as the color will complement any style and palette.
To help get you inspired we've rounded up an array of practical and stylish living room flooring ideas from across the grey spectrum, including a host of different materials and advice on their pros and cons.
Grey flooring living room ideas – 10 practical and stylish looks
The key to choosing grey flooring living room ideas is to balance style with practicality, whether you are looking for grey living room ideas or simply flooring in this timeless shade.
The living room is one of the busiest, and often the largest rooms in the house so choosing the right flooring is a big decision. Once the flooring is down it's also hard to change – opting for a grey flooring idea is a safe choice as it will endure across the decades providing a neutral base which can work with the room even if decor evolves over time.
As areas of high footfall choosing durability is key when it comes to living room flooring. With this in mind, material is probably going to be the driving factor behind what of flooring you choose rather than color, but luckily, if you're planning on decorating with grey you're after there's plenty of scope no matter what type of material you choose.
'A neutral color palette is best suited to rooms you spend a lot of time in, such as a bedroom or living room, where relaxing tones are key to creating a happy space. Neutrals such as grey are versatile with the ability to provide a platform and set the scene,' says Jodie Hatton, residential design manager at Brintons.
1. Add warmth underfoot with carpet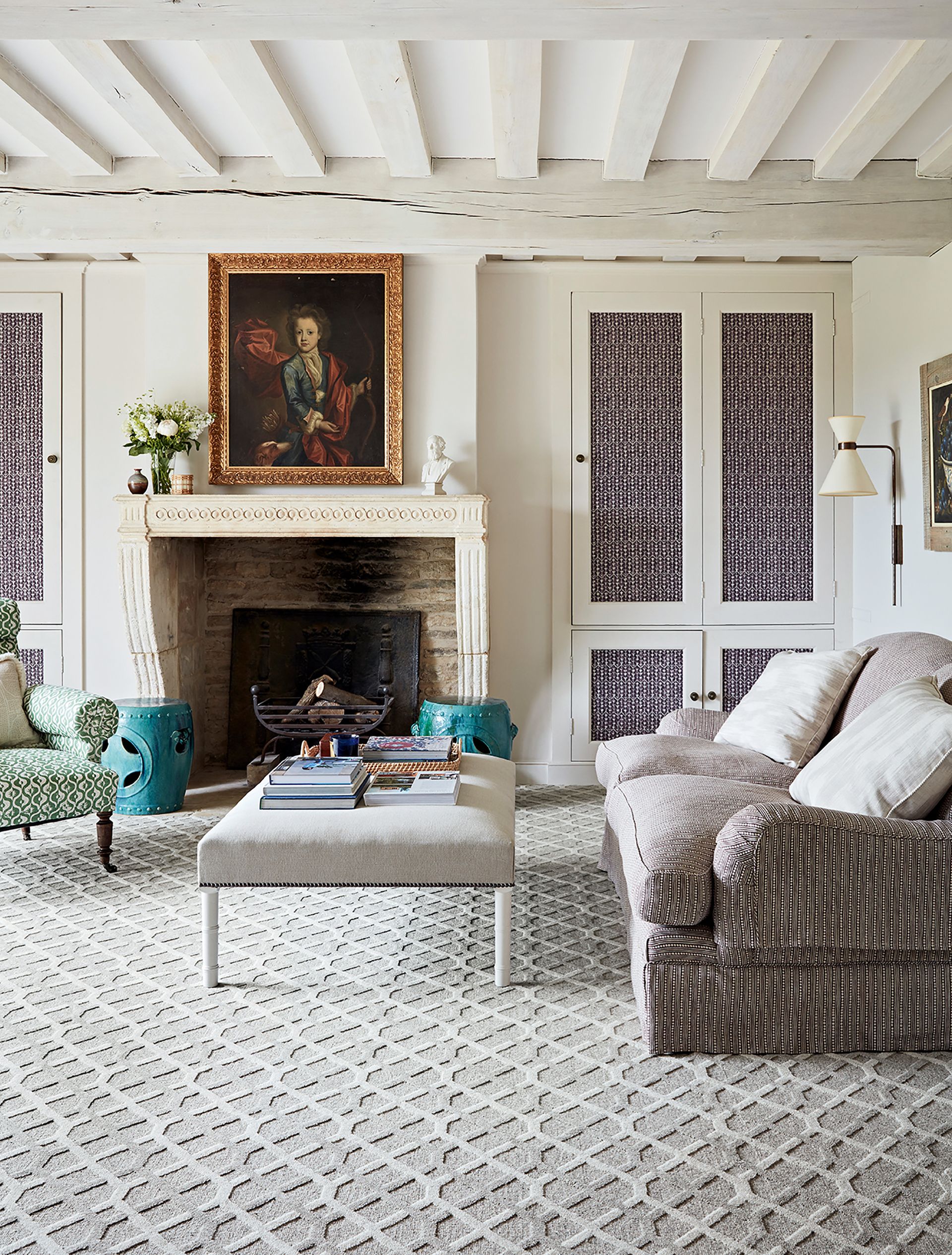 Creating a warm and cozy atmosphere, carpet is a popular choice for living room flooring, and opting for grey is both a stylish and practical option.
'Grey is perfect for living room carpet ideas, it creates a calming backdrop and works seamlessly with our colors, adding texture and introducing natural, tactile materials to a scheme. Alternatively, the addition of a fabulous pattern can make more of a design statement,' says Jodie Hatton, residential design manager at Brintons.
As well as bringing subtle decorative element a grey carpet with a gentle repeat design can also have practical benefits, too, as it can help disguise stains and wear and tear.
When it comes to matters of material, wool is a brilliant fibre to choose says Jodie Hatton. 'Wool-rich carpets are known for their quality because they are highly durable, which helps maintain their appearance. Wool provides luxury underfoot and helps to insulate your home for warmth and comfort. It absorbs sound to give a sense of calm and tranquillity. It is naturally fire resistant and fall-friendly for little ones.'
2. Introduce a luxury look with solid stone
Natural solid stone flooring is perfect if you're looking for hard living room flooring which is both beautiful and will stand the test of time, and, with such a wide array of grey stone flooring types available, from polished marble and granite to aged limestone there are designs to suit all schemes and tastes.
In this luxury living room, polished, large grey stone floor tiles bring beautiful subtle texture whilst adding to the sleek and modern feel. Natural stone tiles work well over underfloor heating making it a good flooring choice for open plan living rooms.
Natural stone tiles will require sealing to keep them looking their best and each stone type and finish will have different sealing requirements, alternatively, stone-effect porcelain tiles offers the look of natural stone without the maintenance requirements.
3. Maximize the light
The key to many successful modern and minimalist living room schemes is their abundance of light – opting for polished floor tiles in a light grey finish is a wonderful way to help achieve this.
In this space, a large skylight and floor-to-ceiling windows flood the room with daylight while the polished solid stone floor tiles reflect it back into the room. With it's strong black and white elements this room could run the risk of feeling stark and cold, but the combination of grey floor tiles and a deep-pile grey rug help to soften and warm-up the scheme.
4. Embrace texture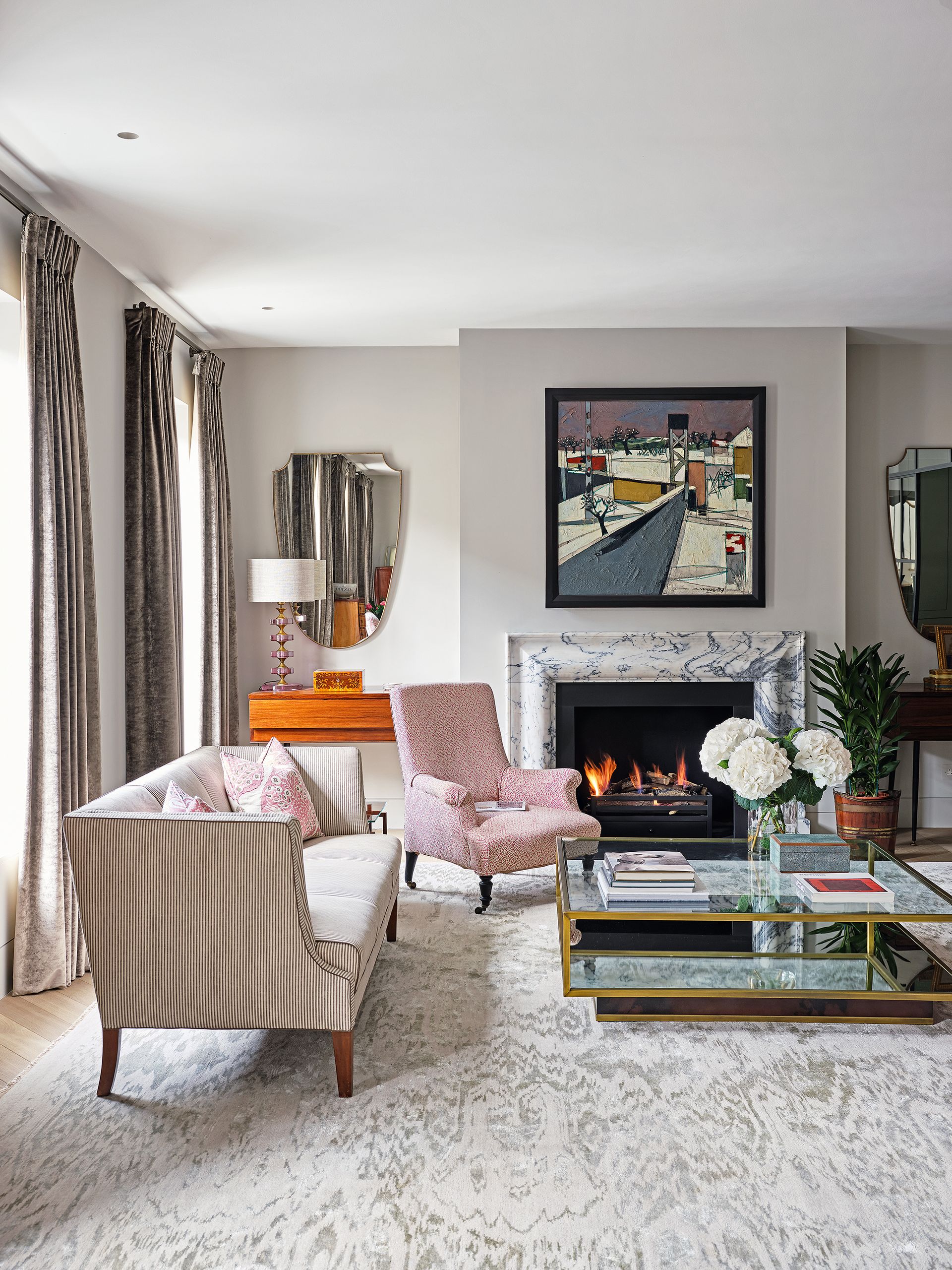 If you're planning on al all-grey living room then, like with any monochrome scheme, it's important to factor in plenty of texture as without it the space can run the risk of feeling flat and lifeless.
In this scheme the large grey rug works with a beautiful textural design helps soften the monochrome scheme but also cleverly reflects the beautiful veining in the marble fireplace.
To further warm-up this cool grey room idea, the designer has introduced accents of blush pink and metallics along with living room mirrors that help brighten the space.
5. Cozy-up a hard floor with a rug
If you have a hard floor in your living room, then a rug is a wonderful way for bringing warmth and and softness without concealing the flooring.
A grey rug is a good choice for a black and white living room or for monochrome schemes as it will help calm the high-contrast tones. Being a versatile shade, the rug can easily be taken with you if you move house or moved to a different room if your living space evolves.
6. Blur the boundaries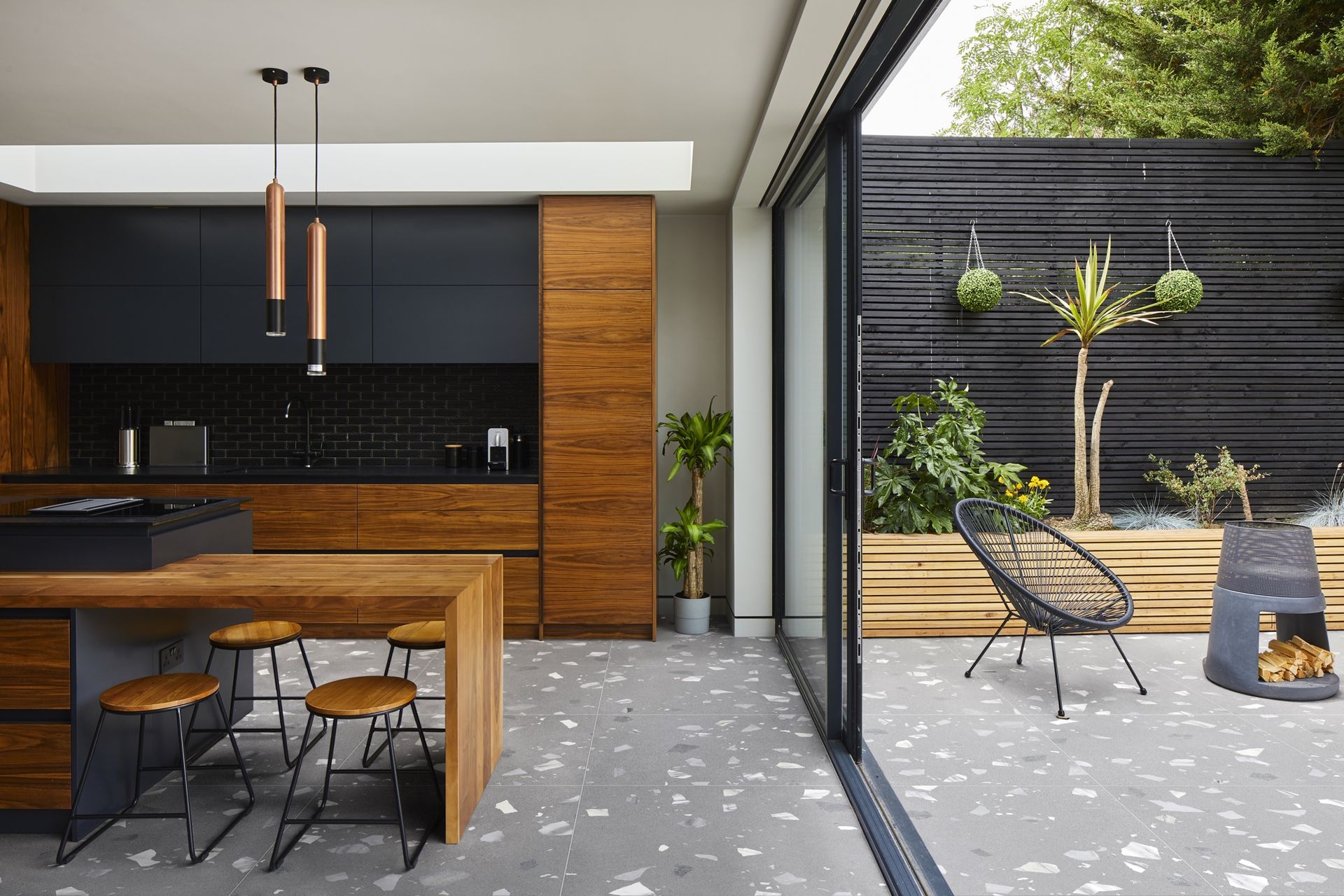 Choosing living room flooring that can also be used outside is a brilliant idea if you are thinking of embracing outdoor living and extending your living area outdoors onto a patio.
By opting for hardwearing, weather-resistant flooring such as these grey porcelain terrazzo floor tiles you can create a seamless link between an indoor and an outdoor living room but also bring texture and decorative interest, too.
'Whether you're creating an industrial look, or an open plan living space, terrazzo can complement pretty much any style, including outdoor spaces,' say the team at Ca'Pietra. 'If you want to pop them in a bathroom or outdoors, make sure you find out the slip-rating and ensure that they can withstand frost when you lay them in the great outdoors.'
7. Bring texture with wood
Featuring beautiful natural graining and myriad different tones, wood flooring for a living room is a brilliant way to bring texture and character to the space, plus there's a huge array of styles and colors to choose from, from warm sandy and rich chestnut tones to silvery grey.
Engineered wood flooring is a good option if you are thinking of installing underfloor heating and is available in a host of natural brownish-grey tones and decorative laying patterns. Alternatively, luxury vinyl flooring or wood-effect porcelain tiles capture the effect of natural wood while offering additional benefits of being easy to lay and clean, plus as the designs are digitally printed, they often come in a wider array of grey designs that may not be achievable with a natural finish.
8. Transform your floor with paint
Paint is a quick and easy way to transform wood flooring. If you have a dark living room which receives little light then opting for a light grey painted floor can instantly make it feel brighter.
When painting a living room floor be sure to use the correct paint finish such as a washable and durable paint specifically formulated for floors and interior woodwork, plus, don't forget to prime and prepare the floor beforehand. Some floor paints are suitable for use on concrete and metal floors, too.
9. Create an modern look with polished concrete
If you're looking for grey flooring for a modern living room then polished concrete can be beautifully effective as demonstrated in this scheme by Barker & Stonehouse. Being extremely hardwearing and low maintenance, it is a practical choice for high traffic areas, plus is great for use with underfloor heating. Concrete can also look fantastic, too, as there are an array of textures and colors available plus it has beautiful texture when polished.
10. Create a rustic look with a tumbled flagstones
Flagstone flooring is a classic farmhouse living room idea and a great way to bring rustic character to traditional and contemporary spaces. If you're looking for an aged and textured look opt for a tumbled finish..
'Natural stone flooring can be one of the most forgiving floor coverings if the right stone and finish are chosen. Naturally some stones will be denser than others which provides more durability, however all natural stone will be subject to a little wear and tear over the years,' says Isabel Fernandez, director at natural stone company Quorn Stone.
'A tumbled finish provides an aged look, its worn edges, textured surface and natural markings makes it extremely forgiving with day to day crumbs and dirt. On the other hand, stone effect porcelain has come a long way in recent years and the designs produced in Italy and Spain are second to none and extremely uncanny to a stone! A porcelain tile is non-porous and will therefore provide a stain proof option which can be preferable with young children,' explains Fernandez.
What decor goes with grey floors?
Grey floors are a wonderful neutral base for all sorts of decor schemes whether you're looking to create a traditional decor ideas of more contemporary look. What material you choose and the tone of the grey will have a big impact on the look and feel of the space.
'The paler the tone, the more it will reflect the available light, the darker the tone, the more light it will absorb. At the extremes, white will make a room look more spacious, and black bring the walls visually inwards,' says Justyna Korczynska, senior designer at Crown. 'This rule applies to all colors. So a pale grey would be good if you wanted to make a room look larger, a deep charcoal would make it appear smaller. Having said that, a dark color used in a small room can be really effective and dramatic.'
What colors go with grey floors?
Being a neutral color grey works well with black and white as well with most shades on the color wheel, making grey floors a great foundation for decorating.
'Grey is a wonderful, sophisticated color, constructed of various shades and undertones. Not only is it a wonderful companion to other neutral shades, but it also has the power to balance out bold accent colors,' Jodie Hatton, residential design manager at Brintons.
'To create a balanced color scheme, it's important to consider the composition of colors within the palette, rather than addressing colors individually. For a dramatic look, pair grey with layers of dark, moody tones like aubergine or midnight blue. If you'd like to incorporate a fresh look, infuse the palette with a lighter, softer shade that glows, like golden yellow or bright green,' adds Jodie Hatton.
Sign up to the Homes & Gardens newsletter
Decor Ideas. Project Inspiration. Expert Advice. Delivered to your inbox.
Pippa is Content Editor on Homes & Gardens online contributing to Period Living and Country Homes & Interiors print issues. A graduate of Art History and formerly Style Editor at Period Living, she is passionate about architecture, creating decorating content, interior styling and writing about craft and historic homes. She enjoys searching out beautiful images and the latest trends to share with the Homes & Gardens audience. A keen gardener, when she's not writing you'll find her growing flowers on her village allotment for styling projects.