Tiny bathroom ideas – 10 rules for decorating and designing a bijou space
Our favorite tiny bathroom ideas will help you to make the most of this bijou space with instant decor inspiration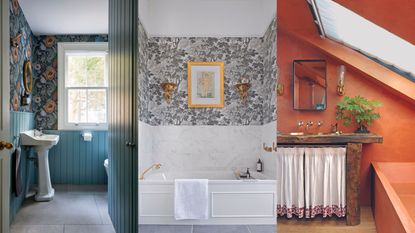 (Image credit: Knight Frank Interiors / C.P. Hart / Beata Heuman)
The best tiny bathroom ideas combine charm and practicality. These bijou bathrooms are designed to make a compact space feel not just bigger and well-functioning, but super-stylish too.
When it comes to tiny bathroom design, clever planning – which includes everything from layout, to fitting choices, to smart storage options – is key to ensuring that even a tiny bathroom can still feel spacious.
Up to recently, small bathroom ideas always required a compromise – often with the bathtub becoming the first victim in the battle for space – not to mention issues arising from lack of storage. But the latest modern fixtures and fittings can still create a luxurious bathroom from minimal square footage. Shower baths remain a popular option in compact rooms, mini bathtubs are growing in popularity and the choices in scaled-down fixtures are greater than ever – there is a plethora of bathroom ideas for tiny spaces to choose from.
Tiny bathroom ideas
Whether you opt for a sleek streamlined look, or traditional detailing, there are plenty of ways to pack a decorative punch in a tiny bathroom.
1. Invest in custom cupboards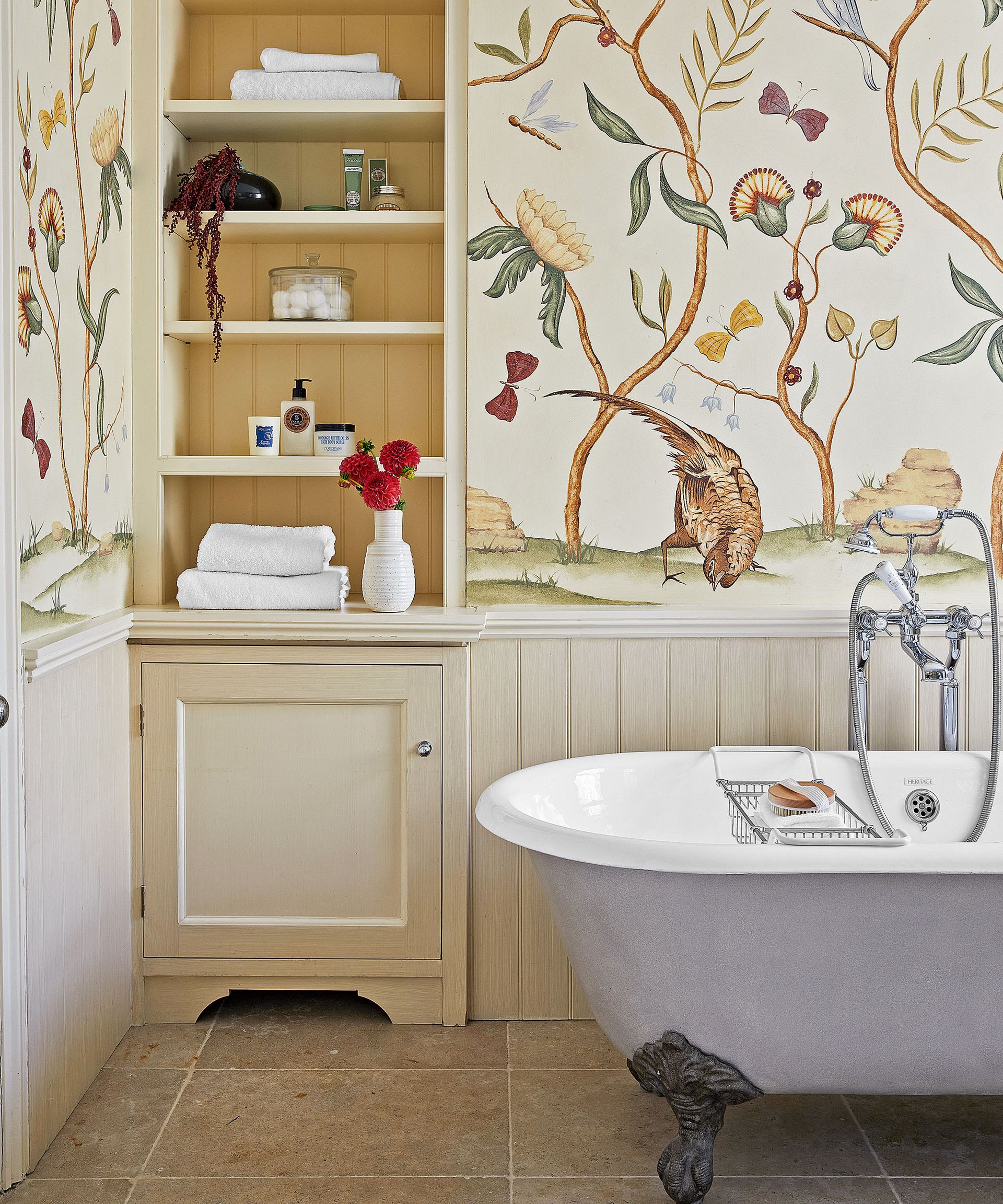 Built-in storage is streets ahead of free-standing when it comes to making the most of every inch. Commissioning made-to-measure storage is especially worthwhile if you have wonky walls or unusual angles that simply will not accommodate the standard sizes of off-the-shelf furniture. Built-in small bathroom storage can also improve the shape of a tiny bathroom; straightening out awkward corners to create a cleaner, more linear space.
Here, Knight Frank Interiors has utilized the narrowest niche for built-in storage that's designed for both display and hiding away. Adding cornicing and an open plinth mimics the style of a freestanding piece, which can feel more relaxed and authentic in a traditional setting.
2. Find a niche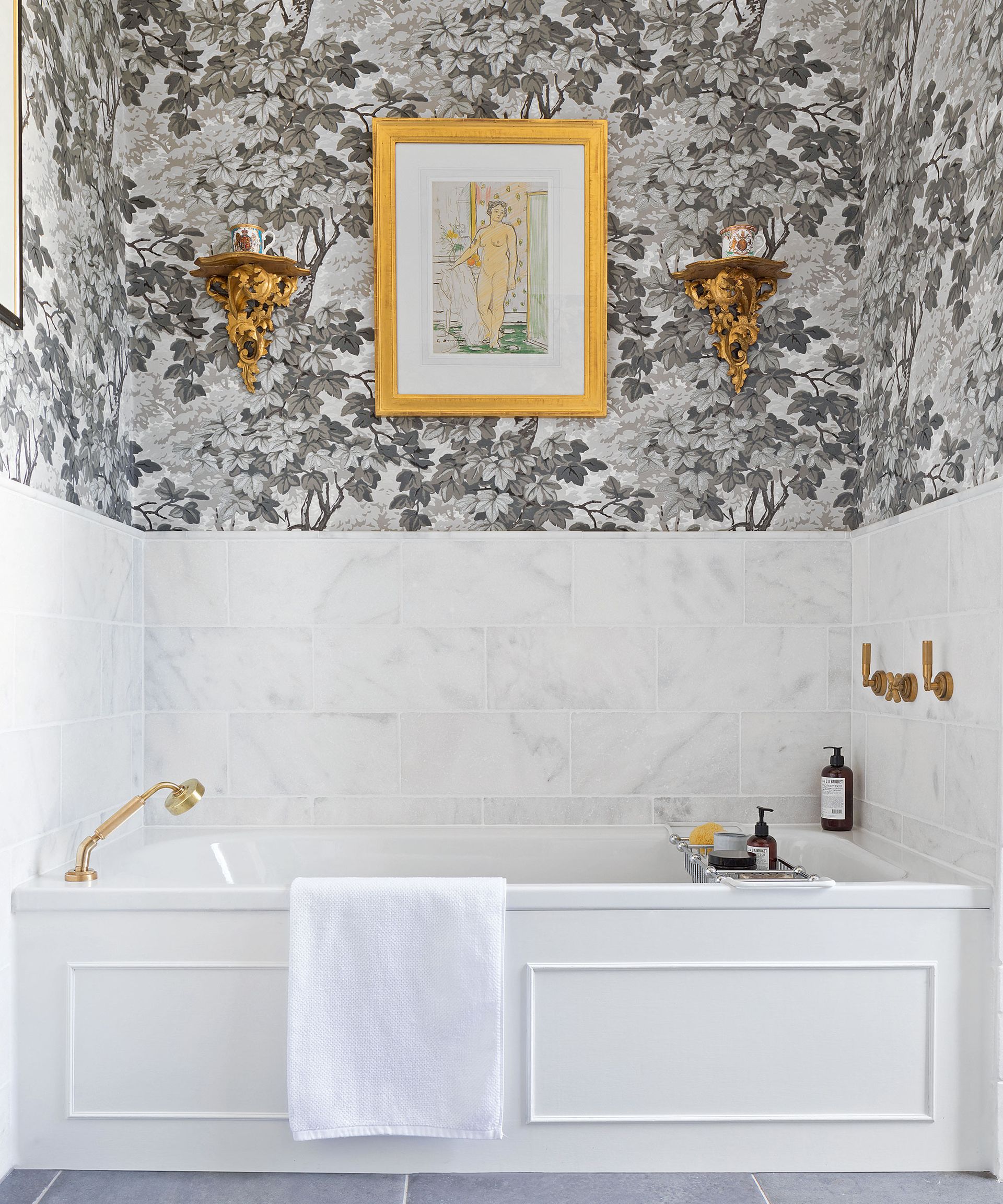 For tiny bathrooms with existing alcove spaces or redundant airing cupboards, built-in baths and recessed shower areas are a great solution as they utilize all the available space and can free up the floor area elsewhere,' says Emma Scott, director of design, C.P. Hart.
Wall-mounted taps will provide a neat aesthetic and allow perfect positioning for easy access. 'Alcoves either side of chimney breasts also work well for his and her basin units as the depth is generally shallower. For smaller, awkward areas of dead space, consider built-in niches or shelving for extra bathroom storage,' adds Emma.
3. Frame the view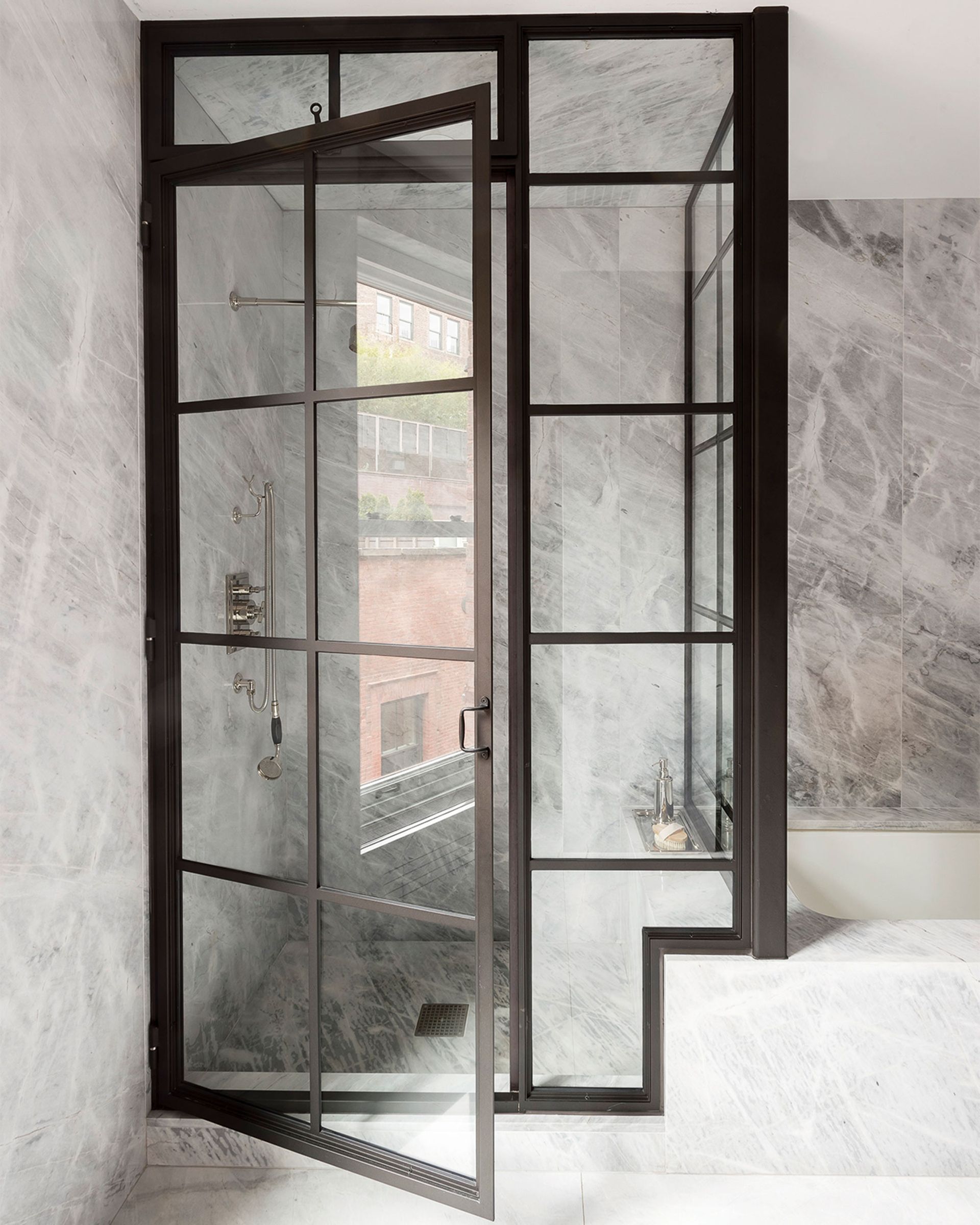 Elevate a tiny bathroom with luxurious natural stone punctuated by the strong lines of steel framing, which can ramp up design impact in the tightest of spaces.
This tiny bathroom, in the Manhattan home of property developer Elias Kefalidis, features a custom-built metal framed shower enclosure in order to achieve the largest showering area possible, as well as a compact bath. Extending the bath surround inside the shower provides a handy shelf for shampoo and toiletries, without reducing the width of the shower at shoulder level.
4. Blur the lines with color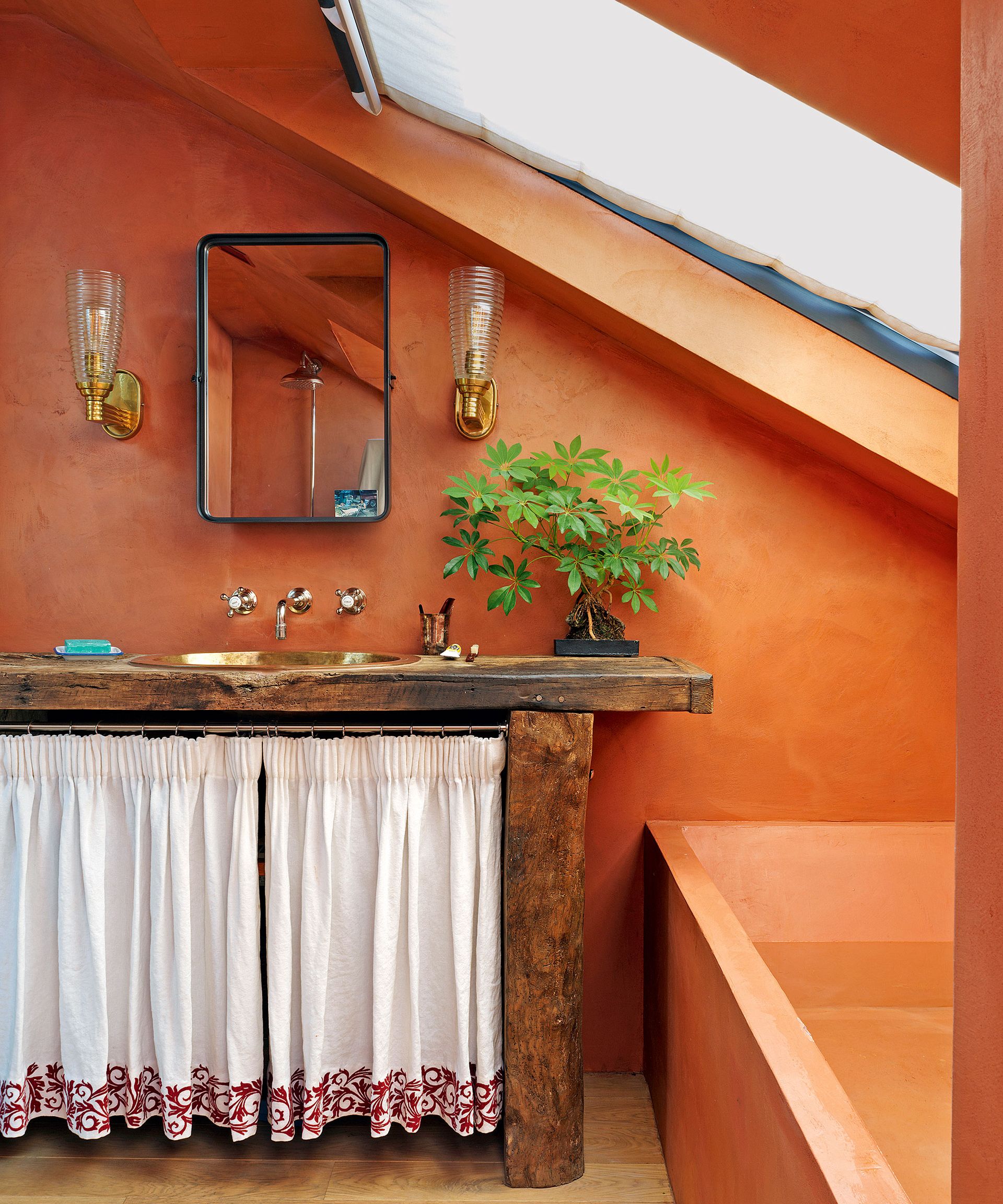 In this main ensuite by interior designer Beata Heuman, carrying the same bathroom color tones over multiple surfaces helps to blur out awkward angles and sloped ceiling lines. 'All the walls and the bath are clad in Béton Ciré, which is a micro concrete paste and totally waterproof,' explains Beata.
'The idea here was to make the space feel warm and earthy, unlike most tiny bathrooms. The wooden floor continues in from the bedroom, which connects the suite of rooms and also makes it feel more spacious.' The characterful vanity, made from a rustic antique table, cuts a strong silhouette against the plastered walls.
5. Use mirrors to boost a tiny bathroom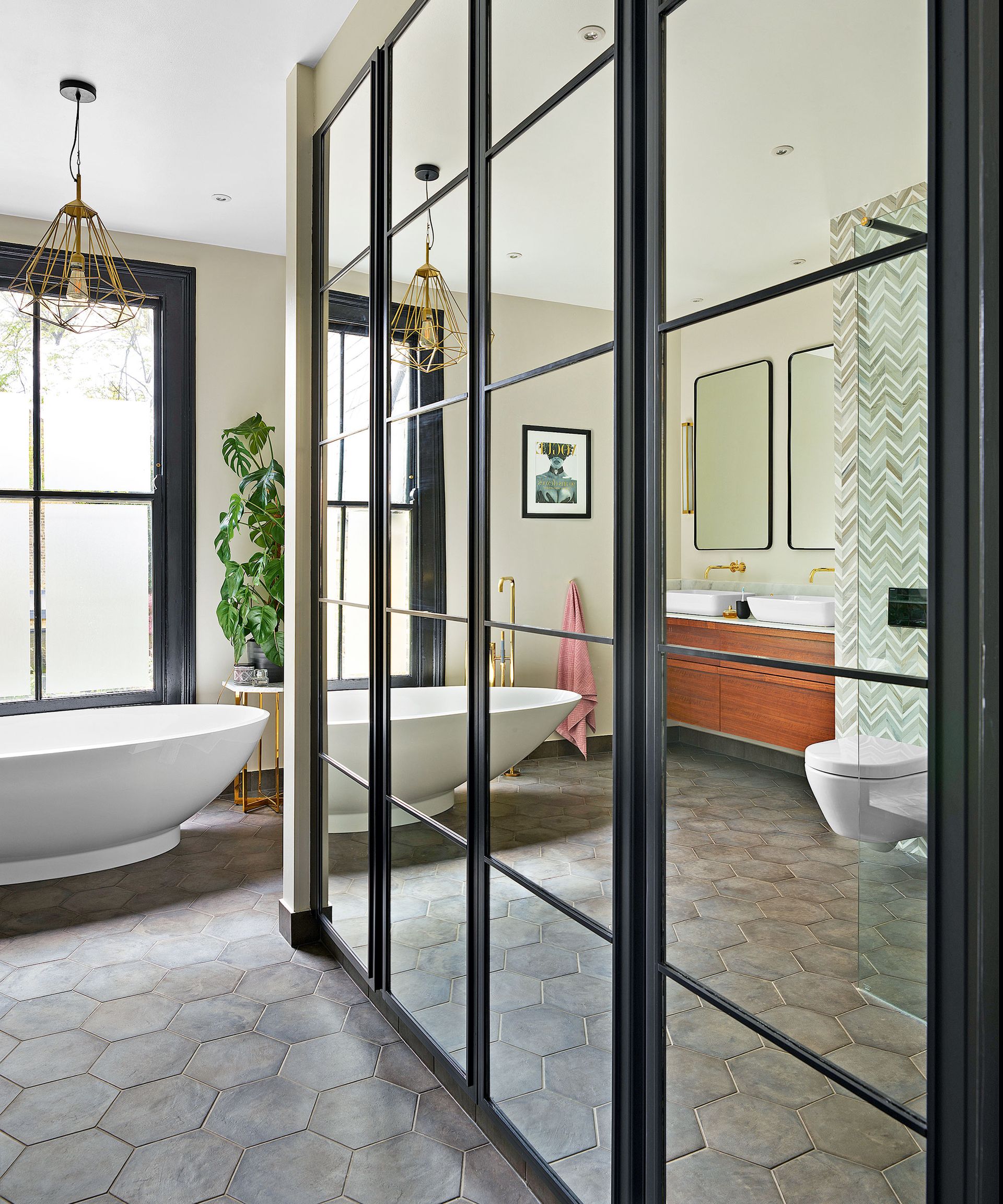 The space-boosting powers of mirrored glass are well established, and the first rule is the bigger the mirror, the more space it will appear to create.
'Think about what you are trying to achieve. Tall mirrors can enhance the proportions of a bathroom, making the ceiling feel higher. Likewise, in a narrow space we can trick the eye into thinking the space is wider,' says Ali Johnson, director, Otta Design. 'Position a mirror opposite or next to a window to amplify the natural light or place it in the darkest corner of a tiny bathroom, behind a light source, to encourage the light's reach through the space.'
6. Make the most of a walk-in shower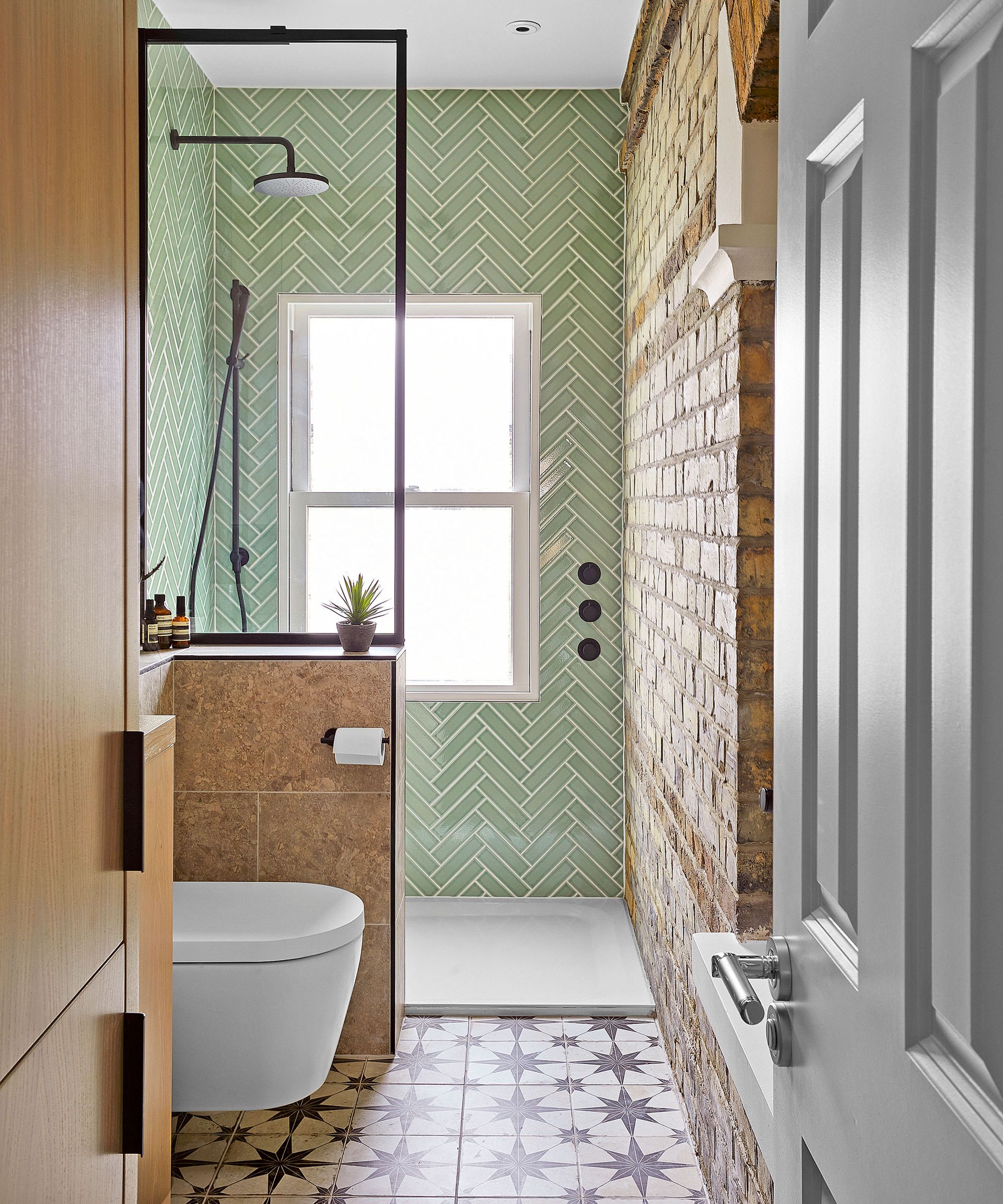 'Walk-in showers are an excellent way to give the illusion of more space – they are far less dominant visually than a full enclosure and can also provide a light and airy feel in use,' says Eamonn Agha, director, Huntsmore.
In this tiny bathroom, the shower screen was built on top of a dwarf wall to allow in maximum light from the window beyond, while keeping shower spray safely contained and the toilet seat dry. 'Going for a wall-hung WC leaves more of the floor tiles on show, which also helps make the room appear more generous,' adds Eamonn.
7. Think about playful additions that maximize space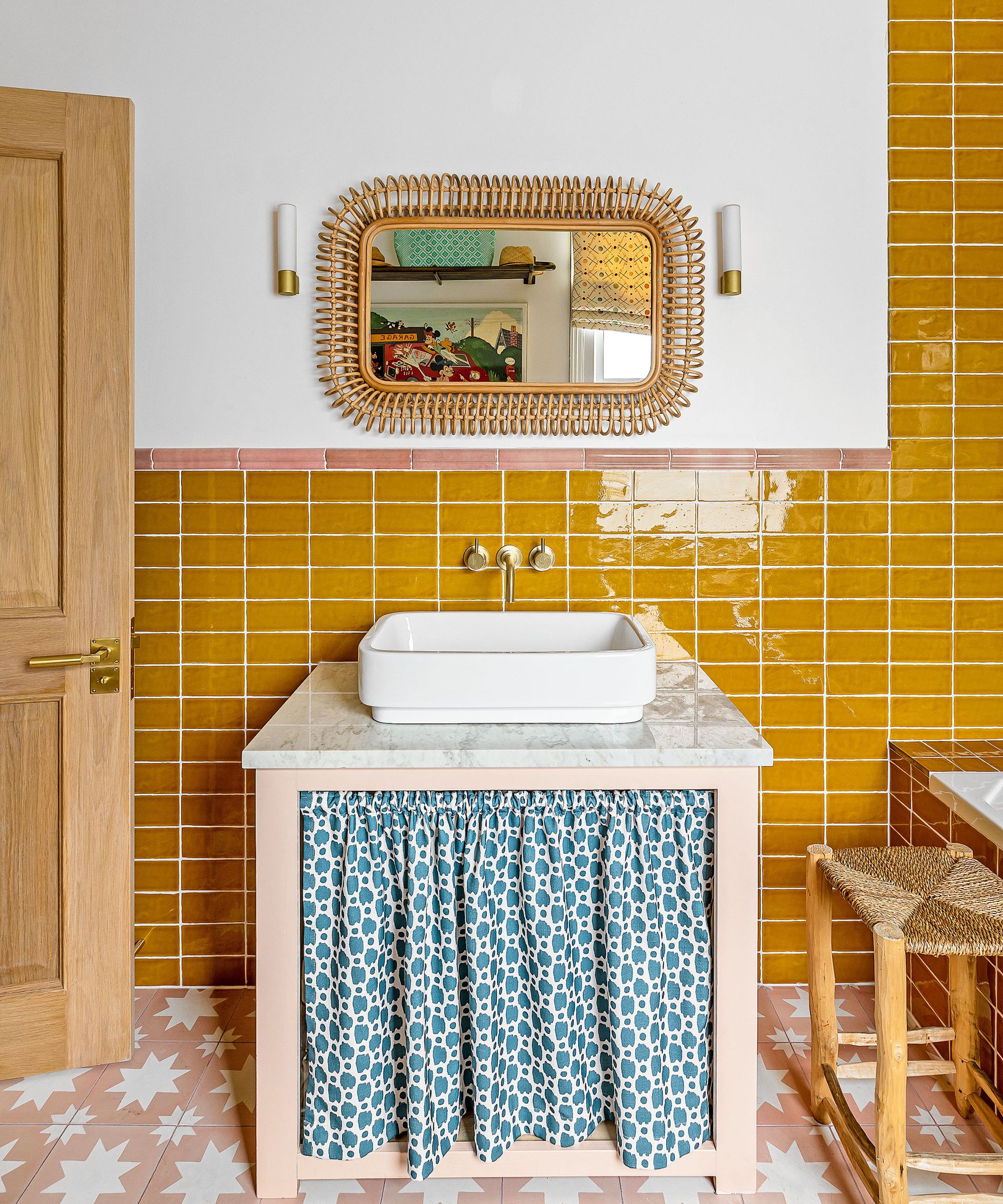 Sink skirts are a joyful trend revival, and an easy way to bring pattern and softness to your bathroom. From a space-saving point, any vanity unit with 'doors' that slide sideways, rather than opening into the room, will increase and improve the layout options in a compact bathroom. In this colorful scheme, Barlow & Barlow used an upholstery fabric graded for outdoor use to keep toiletries and essentials neatly out of sight beneath the basin. Made from durable polyester, it is a practical choice in humid conditions and easy to clean.
8. Raise the roof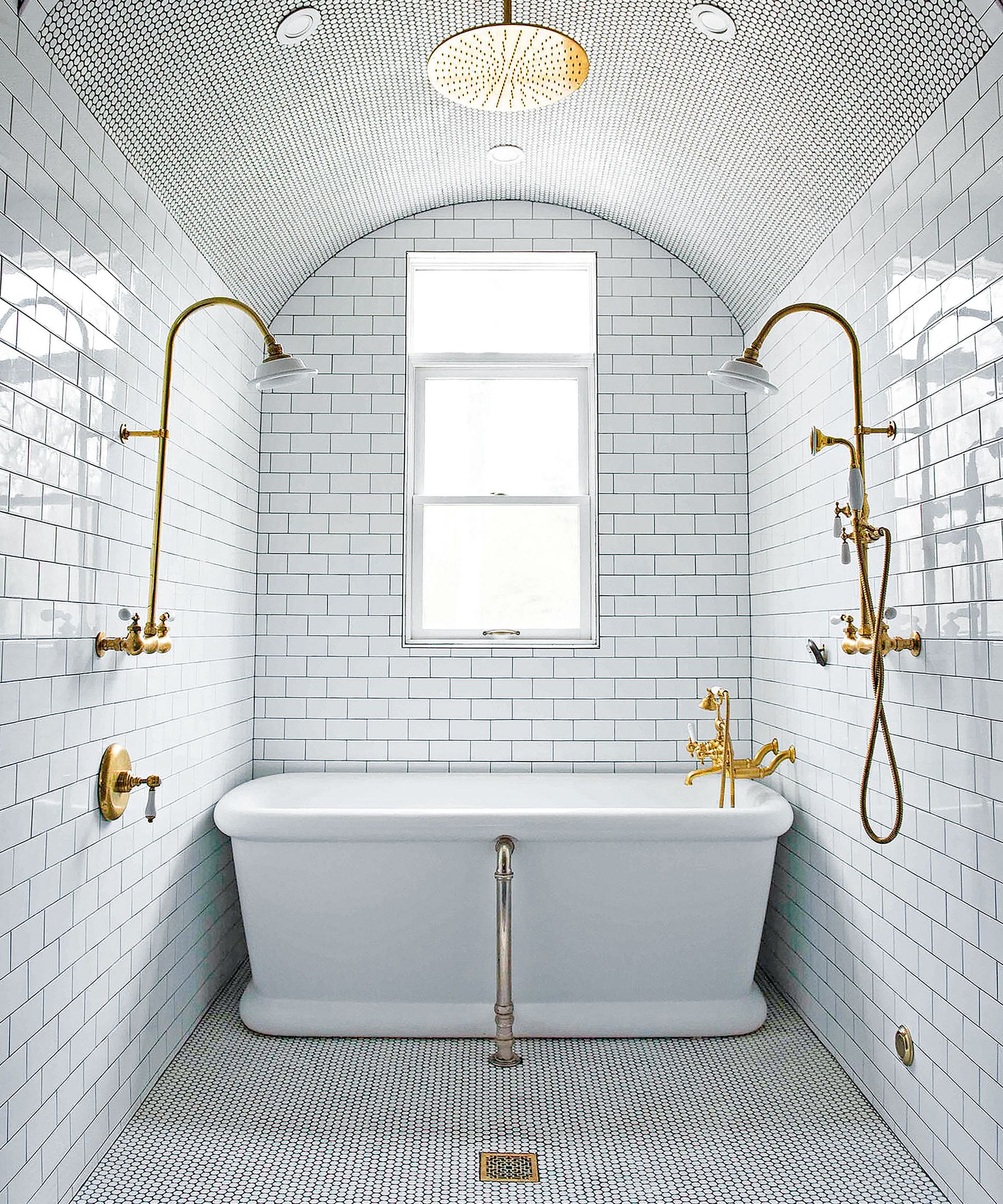 If you can't physically increase the footprint of your tiny bathroom, consider going upwards. Raising the ceiling is easiest if you have an empty loft space above – the height you can achieve will depend on the position of existing structural beams and supports. It's wise to consult a structural engineer in the first instance.
In this narrow but tall wet room by Leanne Ford Interiors, gentle curves provide a softer aesthetic compared to a pitched or vaulted ceiling, while allowing maximum height for an overhead shower rose. Increasing the window height with a clerestory panel and installing bright glossy tiles maximizes spaciousness.
9. Visually expand a narrow bathroom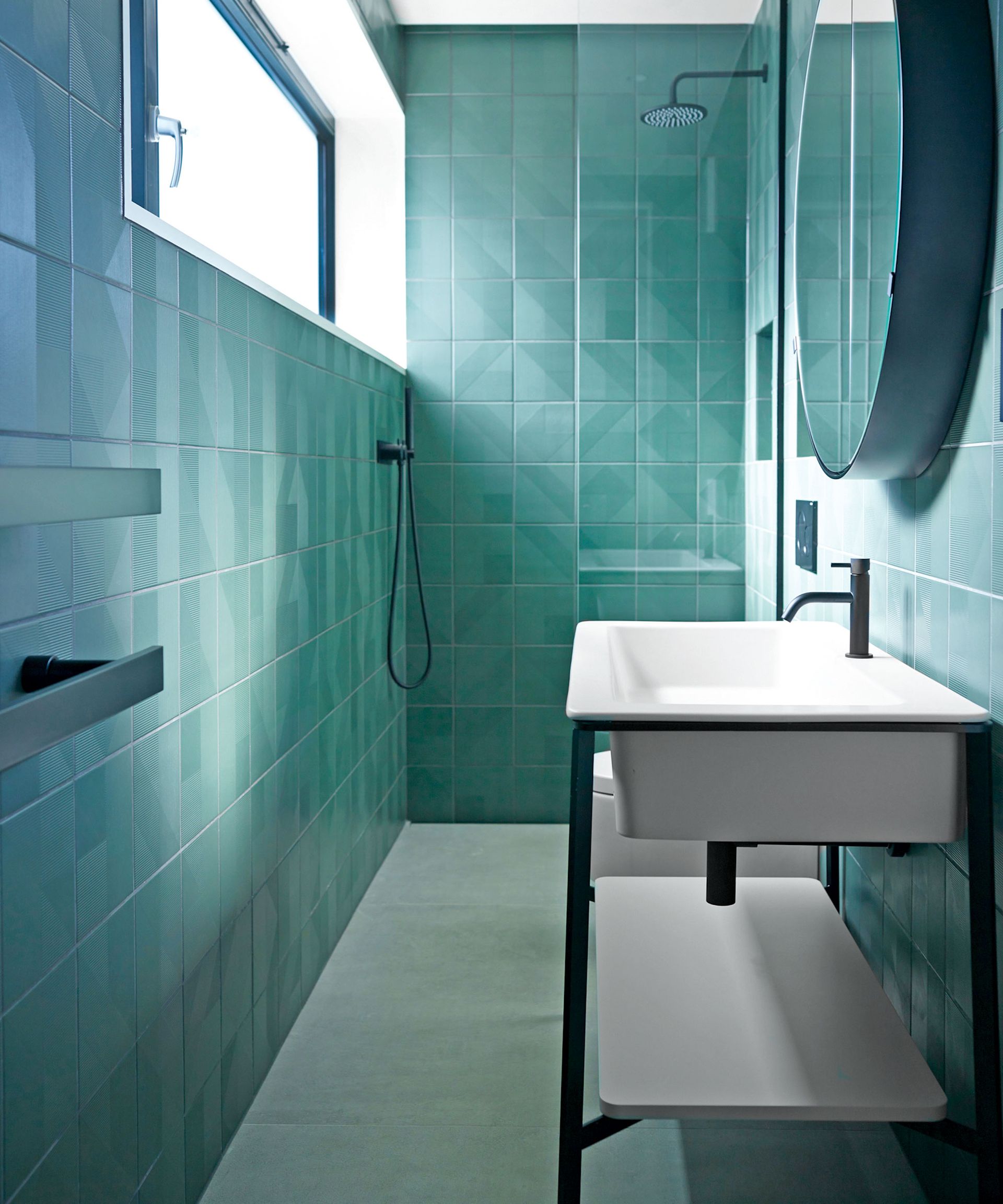 In a seriously tiny bathroom, it's worth utilizing every space-boosting trick in the book. Here, a continuous stretch of flooring reaches right to the furthest wall to enhance length, while a slender vanity with slim feet emphasizes width.
'Creating more visible floor space opens up the space; we tiled over a wet room tray to achieve level entry. Fitting large format tiles and a minimalist shower screen is visually calmer so also makes it feel bigger,' explains Irene Gunter, founder of Gunter & Co. 'Finally, using white paint around the window reveal draws attention to the space outside and reflects the light back in.
10. Introduce playful pattern in a powder room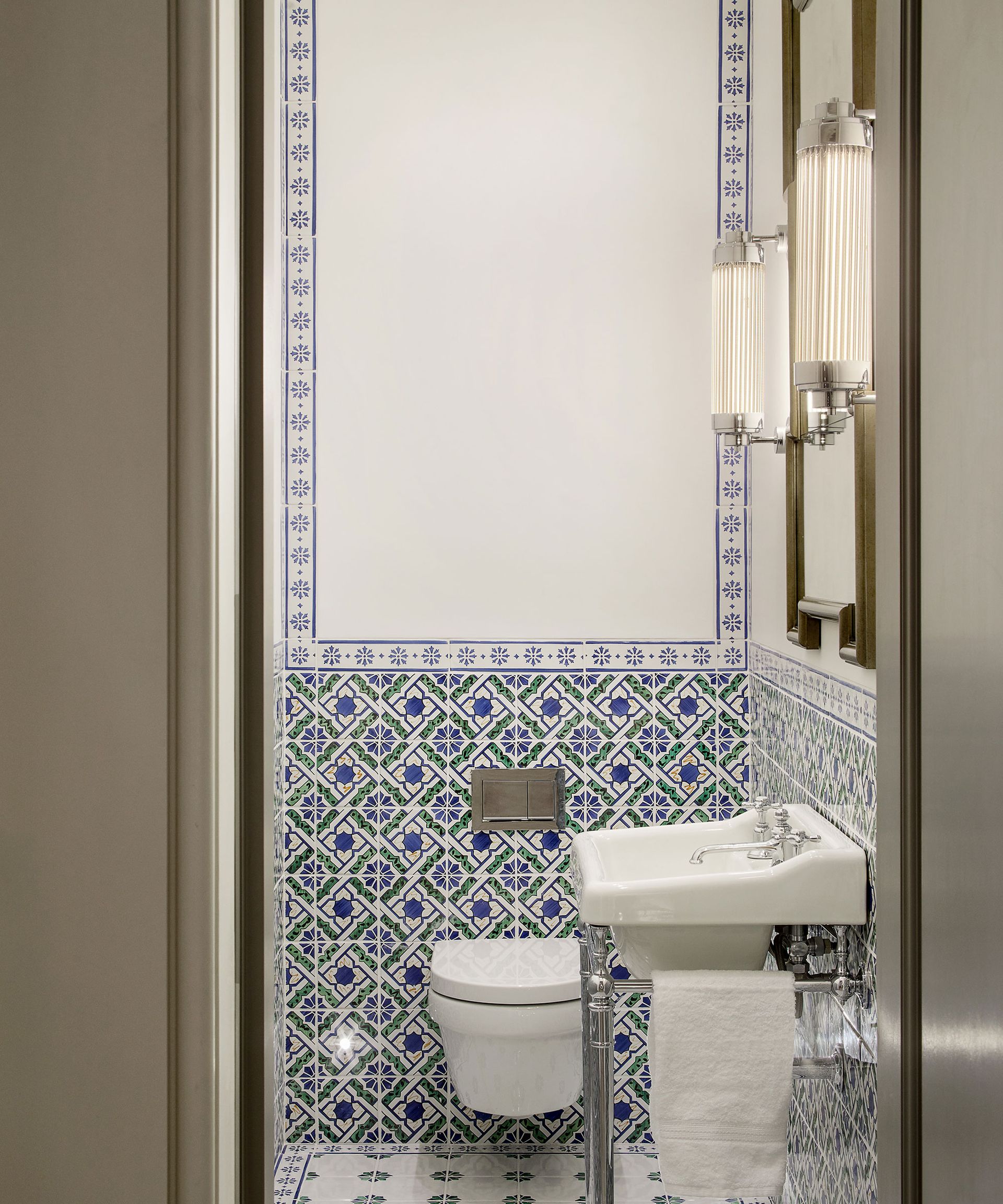 Tiny bathrooms are rife for decorative opportunity, so do consider introducing playful additions that will add an element of surprise and unexpected intrigue.
'Of course bathrooms are practical and functional spaces but they don't need to be utilitarian,' says Mike Fisher, creative director and founder, Studio Indigo. 'Be adventurous and give the space personality. A bold scheme will provide a conversation piece with guests and friends, particularly in a powder room. Pattern can be introduced through wallpaper, fabric or tiles. Complement your patterns with good light – in a powder room it can be atmospheric but in tiny bathrooms you need light and plenty of it.'
Here the border tiles in this Studio Indigo space bring attention to the bathroom's height, and it is a great way to make a small bathroom look bigger.
How do you make a tiny bathroom work?
There are many beautiful ways to make a tiny bathroom work for your home, no matter the shape of size.
Antique sinks make a beautiful addition to a tiny bathroom because you get such a variety and they have a character all of their own – from shell-shaped marble ones to antique troughs, and they always look unique,' says Designer Charlotte Rey, of Campbell-Rey. 'Adding a fabric skirt underneath the sink can look sweet, too.'
Another way is through use of color and pattern. 'Lots of people can be apprehensive about going bold in a large space, but in a tiny space, you really can push the boat out. Even if you're not a maximalist in the rest of the house, it's fun to opt for a more daring wallpaper, or have a fun, bold color and finish like a chocolate lacquer.'
What is the smallest size of a bathroom?
The smallest size of a bathroom is usually around 15 square feet. An average sized bathroom is anywhere between 36-40 square feet for an apartment or tiny home. This size should allow space for a half bathroom, which includes a sink and WC.
Linda graduated from university with a First in Journalism, Film and Broadcasting. Her career began on a trade title for the kitchen and bathroom industry, and she has worked for Homes & Gardens, and sister-brands Livingetc, Country Homes & Interiors and Ideal Home, since 2006, covering interiors topics, though kitchens and bathrooms are her specialism.