Half bathroom ideas – 10 inspirational looks for transforming a small space
If you're looking for half bath ideas, these clever ways with decor, fittings and bold color are an excellent starting point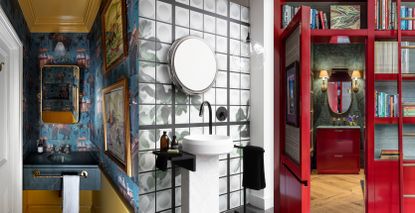 (Image credit: Future)
Sign up to the Homes & Gardens newsletter
Decor Ideas. Project Inspiration. Expert Advice. Delivered to your inbox.
Thank you for signing up to Homes & Gardens. You will receive a verification email shortly.
There was a problem. Please refresh the page and try again.
Half bathrooms can be made to pack a punch, whatever their size.
'In most homes, it will be a small room, tucked off an entrance hall or perhaps under the stairs,' says Louise Ashdown, head of design at West One Bathrooms. 'But it will also be one of the areas seen most often by guests, so why not use it as an opportunity to introduce some impact and show-stopping style?'
While the essential ingredients will always be a basin, faucet, mirror and toilet, there are plenty of ways to decorate with style and enhance the sense of space. For your half bathroom ideas, choose from a host of compact fittings, introduce bold color or playful wallpaper or layer up the textures, and enjoy the chance to experiment with bathroom ideas and options you might be a little scared to try elsewhere.
Half bathroom ideas
As small rooms, these half bathroom ideas are unlikely to be a disaster in terms of time or money – and a successful outcome may encourage you to follow your decorative instincts elsewhere.
1. Choose striking fittings for your half bath
By their very nature, most half baths are small – so make every element count with eye-catching fittings, just as you would when researching powder room ideas.
Here, interior designer Amy Meier of Amy Meier Design has selected a beautiful stone basin and paired it with an unusual mirror with a sculptural surround. The elegant design is completed with hand-painted Silk Tree wall covering on a gilded ground from de Gournay.
2. Opt for space-saving, wall-mounted fittings
Just as when you're considering small bathroom ideas, it's worth looking at wall-hung fittings, which will free up floor area and boost the sense of space in a half bathroom.
Here, a compact Bourne sink from Drummonds is hung on a wall decorated with half-height color, used to create subtle interest. The antique brass of the sink fittings has been echoed in the choice of finish for the faucet, towel ring and wall mirror, adding to the gentle warmth and classic elegance of the scheme. A coordinated approach like this is one of the most important of half bathroom ideas – it will help make this tiny space feel more cohesive.
3. Build the basin into a corner to maximize space
'Corner sinks are a clever solution for cloakroom ideas, such as when you carve out a compact space under the stairs,' says interior designer Sarah Fox of Fox Interior Design – and this space-saving idea can be adapted for half bathrooms. 'Here, we have used a classic design and added an element of surprise with the bold toile wallpaper.'
The Art Deco-inspired sink is from C.P. Hart and the Jardin du Luxembourg wallpaper is by Manuel Canovas, its beautiful design, based on 18th century French-style toile de jouy, protected by a simple glass backsplash above the sink.
4. Choose durable surfaces for half baths
One of the most vital of half bathroom ideas? Durable surfaces that will stay looking good.
'When designing half baths, we want to ensure that they are a welcome surprise in terms of fun design, but also incredibly robust and hardworking spaces, as they will be used a lot, especially in family homes,' says interior designer Irene Gunter of Gunter & Co.
'Consider waterproof walls, easy-to-use taps, sensible storage for additional rolls of toilet paper and cleaning products, as well as good extraction and doors with high acoustic qualities.'
Here, a textured wallcovering enhances the feeling of space in a compact room tucked under the stairs, an effect enhanced by directional spotlights. A quirky wall mirror, wall-mounted faucet and slender sink from Day True complete Gunter & Co's design.
5. Maximize the width of your half bath
If you're looking for half bathroom ideas that are truly practical for a busy home, consulting a list of small bathroom storage ideas is a wise move. Our top tip? Go built-in to make the most of a tiny space.
'Custom-made furniture can be used to make the very most of every inch,' says Louisa Eggleston, creative director of Humphrey Munson. 'Here, we designed and made the washstand to perfectly fit the width of the room and create a sense of elegance in a slender space.'
A slatted oak shelf provides storage, while the marble counter affords space for soap and pretty displays. Notice, too, how the large mirror reflects maximum light and increases the sense of space, while wall lights have been hung on adjacent walls to cast an even light across the face when checking make up or tidying hair.
6. Add panels for texture and practicality
For half bath decor ideas, turn to this design by Jute Home, which uses horizontal shiplap panels to boost the sense of width in the room, whilst also adding interest and texture.
This type of powder room wall decor also serves a practical purpose by protecting the wall from splashes and knocks. Fox in the Snow wallpaper by Lake August adds a decorative touch – its midnight blue background providing rich contrast against the fresh white scheme - while a cast iron sink from Kohler is another durable and stylish feature.
7. Introduce the joy of color to half baths
For smaller half bathroom decor ideas, color can be used to add impact and a sense of fun. The ceiling is often overlooked, but here the gloss yellow finish draws the eye upwards and makes this compact cloakroom by K&H Design feel larger.
The Procession wallpaper by Mind The Gap from Jane Clayton & Co was selected to complement the client's collection of Indian art, and teamed with punchy India Yellow paint by Farrow & Ball in Full Gloss.
8. Create surprising half bathroom ideas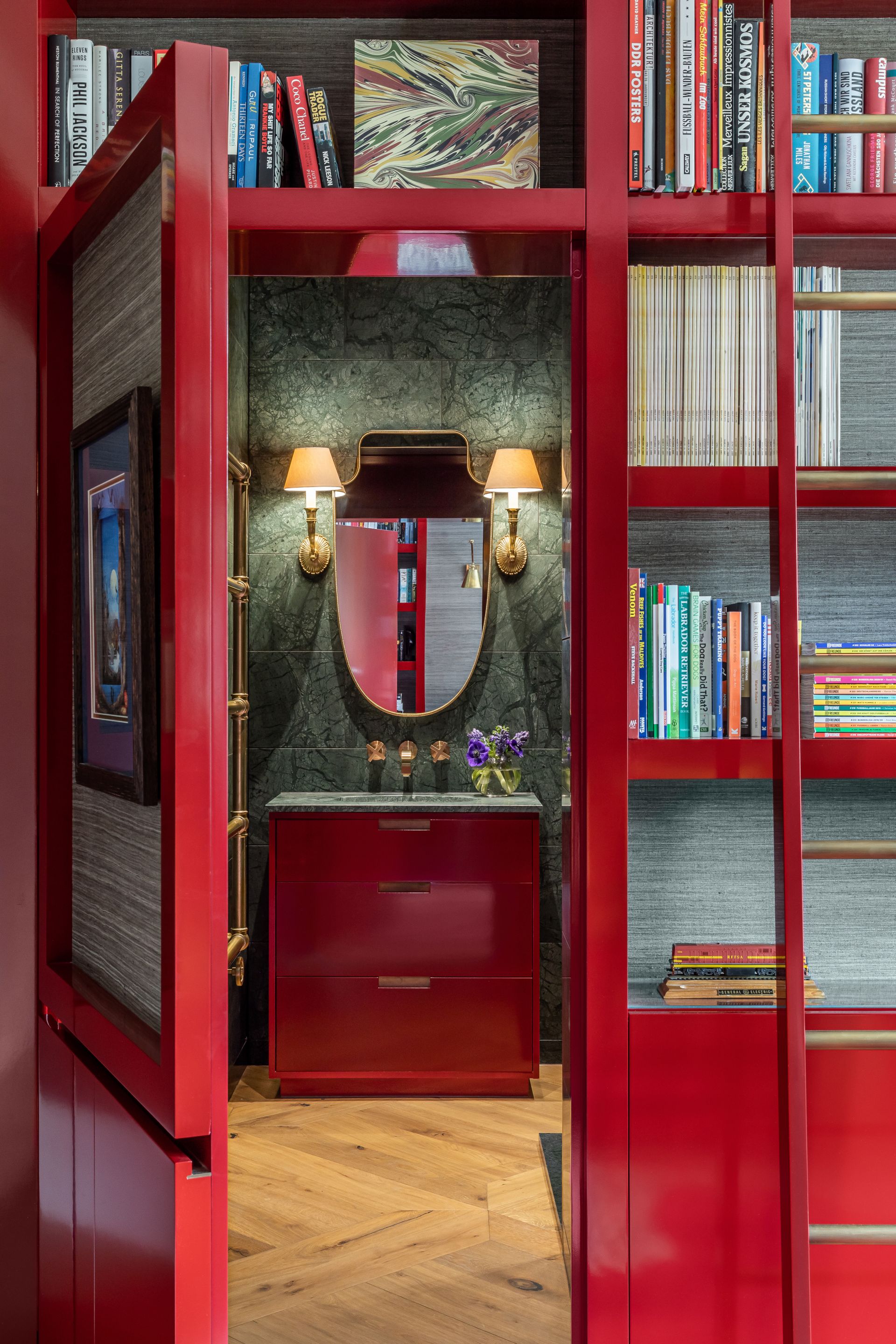 Samantha Todhunter of Samantha Todhunter Design has cleverly created a fun element of surprise by concealing this half bathoom behind joinery. The red lacquer finish and brass detailing continues inside, while walls clad in green marble ramp up the sense of luxury and impact.
9. Make your half bathroom dark and moody
Proving that it pays to be bold with half bathroom ideas – and in the knowledge that even the lightest hues won't transform a windowless room - interior designers Turner Pocock have opted for a dramatically deep color scheme in this half bath.
Inky blue-back walls are topped with a ceiling clad in bottle green subway tiles to create a cocooning feel, the dark richness of the palette enhanced by glamorous brass details and a chic, bright mirror.
10. Make the most of wallpaper
Wallpaper can add instant color and pattern to a half bathroom, but if you are concerned that splashes might damage its surface, you could consider applying a protective varnish (consult your wallpaper supplier for advice) or use a waterproof design, such as this one from Wall & Deco, available from West One Bathrooms.
The impact of the wall grid is accentuated by the choice of black spout and accessories, while the linear and curved shapes of the Agape Lariana basin, also from West One Bathrooms, echo those of the wallpaper.
What should a half bath contain?
In addition to the essentials – a hand rinse basin, faucet, mirror and toilet – you can boost the sense of welcome in a half bathroom with some pretty accessories. A small vase of flowers, a fragrant bar or bottle of soap, some hand lotion, a box of tissues and basket of additional toilet paper rolls, a scented candle and neat pile of clean hand towels will ensure your room is guest-ready.
How small can a half bath be?
A half bath must be at least big enough to accommodate a basin and toilet, with sufficient space to move between the two, and enough room to open the entrance door. Many manufacturers now offer compact designs for both sinks and toilets which may help maximize the room you have available, while wall-hung models free up the floor area and help boost the feeling of space. Choose a wall-mounted faucet to reduce the amount of space required for sink- or vanity-mounted design.
Sign up to the Homes & Gardens newsletter
Decor Ideas. Project Inspiration. Expert Advice. Delivered to your inbox.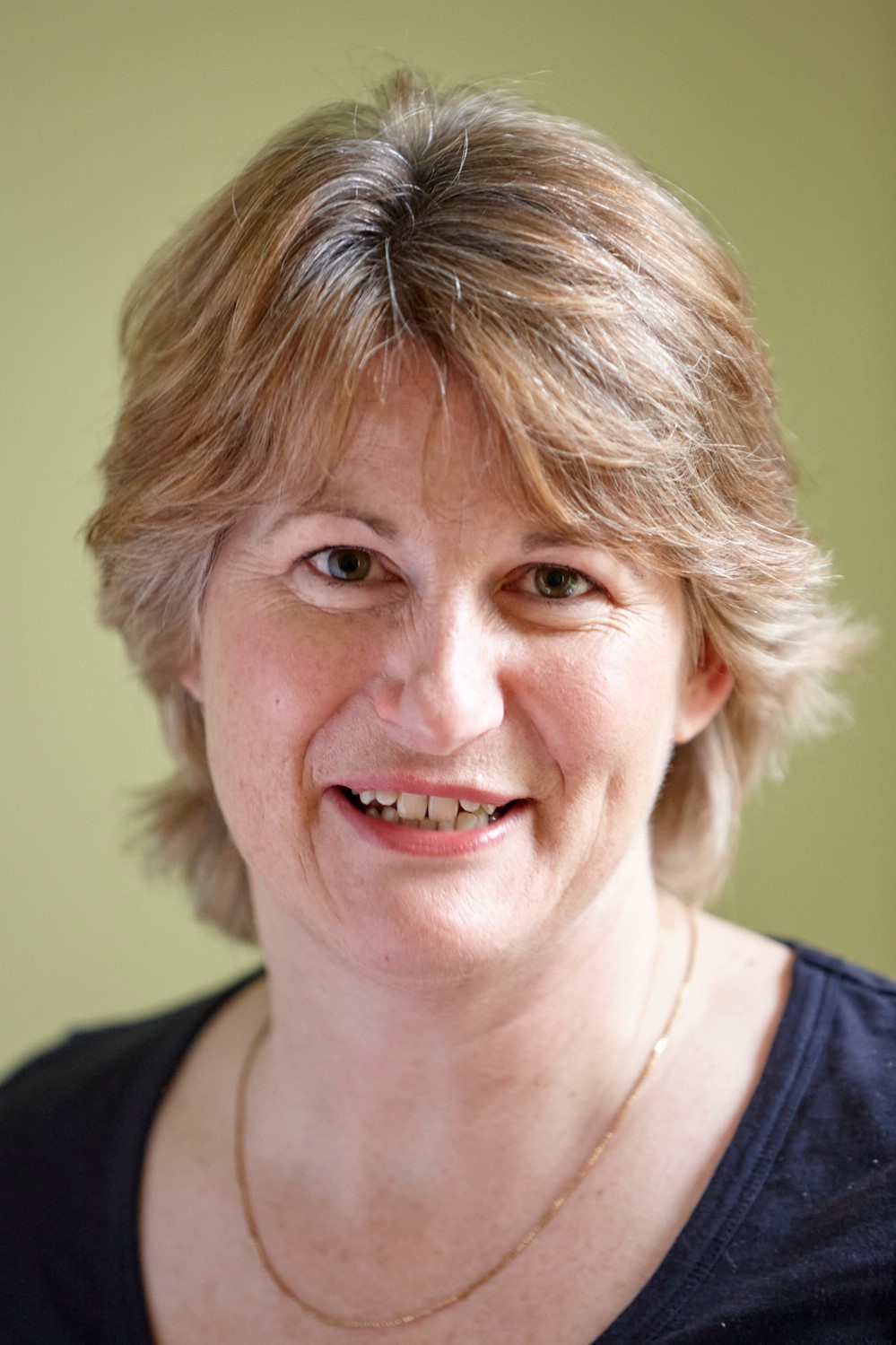 Amelia Thorpe is a specialist interiors and design journalist, covering every topic to do with homes from fabrics, furniture and lighting to surfaces, kitchens and bathrooms.
As the daughter of an antique dealer and a lifelong collector of old cookery books and vintage graphics herself, she also has a particular expertise in antiques, mid-century and decorative arts of all kinds.
Drawn to homes because of their importance in the happiness of our lives and the enjoyment they can bring, Amelia has been writing about the topic for more than fifteen years. She has interviewed some of the most influential designers of our time, from Piero Lissoni, Antonio Citterio, Jaime Hayon and Arik Levy to Nina Campbell and Robert Kime.