PlushBeds Botanical Bliss Organic Latex mattress review: an organic latex mattress made to your specifications
The PlushBeds Botanical Bliss Organic Latex mattress is at the top of the tier when it comes to organic mattresses.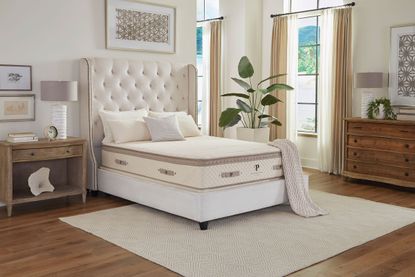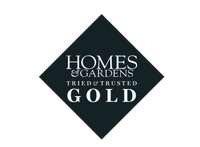 (Image credit: Plushbeds)
If you want more say in how your mattress is designed, go with the PlushBeds Botanical Bliss Organic Latex mattress. Everything from height to size and firmness rating can be customized. Built with natural latex, this mattress is supportive and reduces joint and muscle pain. Sure, it's a bit pricey, but the mattress is free of toxins and chemicals, ensuring a healthier night of sleep.
Reasons to buy
+

Limited lifetime warranty

+

Handcrafted organic mattress

+

100-night comfort guarantee

+

Can split the firmness of the mattress

+

Free of chemicals, toxins, and odors

+

Made-to-order in terms of firmness, height, and size
Reasons to avoid
-

Pricey

-

Does take longer to handmake and deliver than other mattresses

-

Larger sizes require you to add a latex layer to the mattress during setup
You can trust Homes & Gardens. Our expert reviewers spend hours testing and comparing the latest products, helping you choose the best for you. Find out more about how we test.
Sign up to the Homes & Gardens newsletter
Decor Ideas. Project Inspiration. Expert Advice. Delivered to your inbox.
Thank you for signing up to Homes & Gardens. You will receive a verification email shortly.
There was a problem. Please refresh the page and try again.
I believe that the more we are able to customize our home to our specifications and needs happier we will be. And that should include our mattresses, too!
PlushBeds Botanical Bliss At A Glance
- Firmness: Medium, Medium-Firm, or Dual Firmness
- Type: Latex
- Construction materials: 100% GOLS certified organic latex, GOTX certified organic cotton, and GOTS certified organic wool
- Sizes: Twin, Twin XL, Full, Queen, Split Queen, King, Split King, Cal King, Split Cal King
- Depth: 9, 10, and 12 inches
- MSRP: $2,799-$4,598
When I first looked into the PlushBeds Botanical Bliss Organic Latex mattress, beyond being one of the best organic mattress options I was struck by how customized it could be among even the best mattresses. PlushBeds allows buyers to make the most important decisions about their mattresses. For one, they offered three different mattress heights. Most importantly, PlushBeds provided two different firmness ratings and allowed me the opportunity to split the mattress firmness in two!
So it was with great excitement that I had a chance to design my own mattress when testing the PlushBeds Botanical Bliss Organic Latex mattress. Read on to learn about my experience with this mattress and why giving buyers the power of choice is better for everyone in the end.
WHO WILL THE PLUSHBEDS BOTANICAL BLISS ORGANIC LATEX MATTRESS SUIT?
Those who like options: You decide on the height, the size, and the firmness level.
Couples who prefer different mattress firmness ratings: Neither you nor your partner should have to suffer a firmer or softer mattress. PlushBeds can split the firmness level of a mattress for each side of the bed, on Queen and King mattresses, so each person gets what they want.
Sustainable, organic, and environmentally-friendly buyers: This mattress is incredibly eco-friendly. Not only is it GREENGUARD Gold certified (which means the mattress isn't emitting chemicals in your home), but PlushBeds uses GOLS certified organic latex, GOTS certified organic cotton, and GOTS certified organic wool. Plus, it's equipped with a chemical-free fire barrier. You don't have to worry about toxins, fillers, dyes, or adhesives either.
Any bed owner: You don't have to buy a new frame to support this mattress as it works with all bed frame types.
PLUSHBEDS BOTANICAL BLISS ORGANIC LATEX MATTRESS: CONSTRUCTION
I've tested many mattresses, so I can say it's quite unique for a mattress to have six to seven layers. The top layer of the Botanical Bliss Organic Latex mattress is the GOTS-certified organic cotton cover that has a circular knit fabric design that's supposed to provide hip and shoulder relief.
Beneath that is a layer of 100% British organic wool. Most people don't know that wool has moisture-wicking and cooling properties, and it also acts as a natural fire barrier. PlushBeds added a GOTS-certified organic cotton panel beneath the wool to prevent it from bunching or shifting.
Layers 4-6 are perhaps the most important layers because they contain the latex which makes up the bulk and support of the mattress. A 100 percent natural Talalay latex comfort layer comprises the fourth layer. Talalay latex is known to be a high-quality latex that absorbs stress, improves circulation, and offers pressure relief, all of which is supposed to provide a deeper, restful sleep.
Beneath the Talalay latex layer is either one or two layers of ARPICO organic latex (Twelve-inch tall mattresses will have two layers of this while others will have only one layer.). The ARPICO organic latex support core is the thickest layer and the most expensive part of this mattress.
At six inches, this Sri Lankan botanical latex is designed as an ultra-dense organic mattress base that offers support against body impressions and sagging. Not only does this layer offer back support, but it's also mold and mildew proof. Allergens, bacteria, and dust mites do not thrive on ARPICO organic latex, which is one less thing to worry about.
Plushbeds Botanical Bliss Customization Options
PlushBeds offers several options to customers when it comes to choosing the firmness of their mattress. The easiest path is to choose between their medium or medium firm rating for the entire mattress. If you think the medium is too soft or the medium firm is too firm, PlushBeds will send you a replacement layer that will either make the mattress more firm or soft.
The Botanical Bliss mattress is also offered as a Split Queen, Split King, or Split Cal King. If you and your partner require different firmness levels in a mattress, you can go this route and PlushBeds will send you two separate mattresses built with separate firmness ratings. When pushed together on a bed frame, they make a queen- or king-sized bed. If you have a split adjustable bed frame or don't mind the small space between the beds, this could be a perfect option for you and your partner.
Lastly, you may consider purchasing a PlushBeds topper for additional comfort, support, or pressure relief. PlushBeds sells natural latex, handmade wool, down alternative, and memory foam toppers. You could get a single topper for the entire bed or a smaller-sized topper to use on one side of the bed per your or your partner's needs.
Plushbeds Botanical Bliss delivery and set up
My PlushBeds Botanical Bliss Organic Latex mattress took nearly a month to arrive at my doorstep. But that's because PlushBeds are handcrafted in the United States upon order. These beds are not sitting around waiting to be bought but are only made once you hit the order button.
The mattress arrived in two very large boxes. One box was much lighter than the other, but thankfully I was home when FedEx arrived, and the delivery driver helped to bring the heavier box into my home. Getting the two boxes to my bedroom was a bit difficult, especially by myself. I would highly recommend that there be two people to set up the mattress, especially if you order a king size as I did.
I opened the heavier box first as it was the main part of the mattress. Once I got the rolled-up mattress on my platform bed, I cut the plastic away and it unfurled. The first thing I noticed was that the cover looked too big. If you've ever unfurled a rolled-up mattress, you know that it takes a while for the mattress to fully expand but this is not exactly the case with the PlushBeds Botanical Bliss.
The second box holds another latex layer that I had to insert into my 10-inch-tall mattress before zipping it up. (If you order a 12-inch mattress, the second box will have two latex layers.) At first, I thought that this was a bit troublesome for a buyer to do, but PlushBeds included a paper in the packaging that explains that organic latex is extremely dense, meaning it's very heavy, so to ship the mattress with all the layers would have made the mattress far too heavy for customers and delivery drivers.
I can absolutely accept this reasoning because I was huffing and puffing just putting the mattress (without the additional layer!) on the bed. If the latex layer had been inside the mattress, I don't know if I could have done it. As PlushBeds wrote: "We hope you will agree that lasting comfort and support are more important than the one-time convenience of receiving your bed in a single box." Once I had the additional latex layer zipped inside the mattress, the cover completely filled out.
Before I get into how it felt to sleep on this mattress, I want to point out a few things. Firstly, the mattress does have handles which will make it easy to move the mattress around with a partner. I also loved how soft the organic cover was. If I ever need to remove the cover to wash it, I can do so, and it shouldn't be too much trouble to replace all the inner materials. This is a nice option to have. Also, I didn't notice any smells associated with this mattress. This makes sense because it's designed without chemicals or toxins of any kind.
WHAT IS THE PLUSHBEDS BOTANICAL BLISS ORGANIC LATEX MATTRESS LIKE TO SLEEP ON?
As for the actual sleep experience on this mattress, I must say, it was wonderful. I ordered a medium-firm mattress (you can order it in a medium too) because I do prefer a firmer bed to better support my back and hips. PlushBeds rates medium-firm as 7-9 on a firmness scale of 10, but I would have to say that it's more of a 7 than an 8 or a 9.
Because this mattress uses natural latex, this mattress doesn't feel 'hard' like some of the hybrid or foam layer mattresses. For instance, I've tested a Tuft & Needle which is made with adaptive foam. In my review, I rated that as a 7 but now that I've slept on the PlushBeds Botanical Bliss mattress, I can see a major difference between a firmness rating of 7 for a latex mattress and a 7 for an adaptive foam mattress. In a comparison of the two mattresses, I would argue that the Tuft & Needle feels more like an 8, maybe even an 8.5, on the firmness scale.
I slept as wonderful on the Tuft & Needle as I did on the PlushBeds mattress, but I do want to point out that they feel different. Latex is very supportive, but it doesn't feel as solid or 'hard' as adaptive foam. I say all this to showcase that the firmness scale may differ when considering different types of mattress materials.
My body did not require any adjustment to the PlushBeds Botanical Bliss Organic Latex mattress. I fell into a deep, hard sleep and didn't move much each night that I tested the mattress.
I've also tested this mattress with a natural wool topper that PlushBeds offers for an additional price. The topper creates a plush and cloud-like experience, while the Botanical Bliss mattress maintains the support necessary for an overall wonderful sleep experience.
Pressure Relief and Support
PlushBeds advertises that their mattress is great for hip, joint, and muscle stress or pain, and I must agree. I haven't had any lower back pain or tightness in my hips (which I usually have) since using it.
Breathability and Cooling
This mattress is made with Talalay latex which is known to provide better airflow and temperature regulation compared to other latexes. It seemed to have quality breathability. My temperature remained even throughout the night.
Motion Isolation
While testing this mattress, I had a lot of family and friends staying over at my house one night, so I was able to test the motion isolation. My sister had to share a bed with me that night, and even though she moves a lot in her sleep, I barely noticed. She didn't even wake up when I got up in the middle of the night for a bathroom run. In my opinion, motion isolation is a top-tier aspect of this mattress.
Edge Support
Edge support is very minimal with the Botanical Bliss. When I sit on the edge, it dips down to my bed frame. A lack of edge support makes sense for this mattress considering that the company is focused on limiting the number of materials in their mattress to what is necessary and the most eco-friendly and organic. I would think that reinforcing the edge of their most organic mattress would add additional elements to the mattress that would make it less eco-friendly.
Ordering, Trial and Warranty
If you need a mattress right at this moment and don't want to wait, the PlushBeds Botanic Bliss Organic Latex mattress might not be for you. But if you can wait for it to be handcrafted upon hitting the 'order' button, it is well worth it. At least shipping is free!
It took nearly a month for my PlushBeds Botanical Bliss Organic Latex mattress to arrive by FedEx. According to the PlushBeds website, the mattress will be handcrafted and ready to ship out of the factory within 7-9 business days of your order date. It is around then that you'll receive your tracking number. Split mattresses or mattresses made in special sizes, may take 7 more business days of shipping time.
PlushBeds has a '100-night comfort guarantee' policy. If you don't like the firmness of the mattress that you ordered, call PlushBeds and they'll send you a firmer or softer layer of latex. You'll exchange the old layer for the new one and return the original layer via the box that it arrived in. This service is technically free, but you'll have to put a small deposit down which is then refunded in full when PlushBeds receives the original layer from you.
Additionally, PlushBeds has a '100-night Money Back Guarantee.' This means that PlushBeds will provide customers a full refund on mattress returns within 100 nights. However, they do ask customers to take 30 days to test the mattress before returning it.
The mattress comes with a limited lifetime warranty that covers fault workmanship or structural issues. This warranty is not transferable between owners and does have limitations. For example, if defects occur ten years after purchasing, PlushBeds will repair the mattress or replace it – but for a small charge.
HOW DOES THE PLUSHBEDS BOTANICAL BLISS ORGANIC LATEX MATTRESS RATE ONLINE?
On the PlushBeds website, the Botanical Bliss Organic Latex mattress has a 4.9 rating from 4,300 reviews. Of those 4,300 reviews, only three were three-star ratings and none were two or one-star ratings.
Customers raved over the service that PlushBeds offered and the quality of the mattress. The only drawbacks that customers noted was the high price.
IS THE PLUSHBEDS BOTANICAL BLISS ORGANIC LATEX MATTRESS WORTH IT?
If you have the financial means and the patience to wait for your handmade mattress to arrive, you'll be incredibly satisfied with the PlushBeds Botanical Bliss Organic Latex mattress.
PlushBeds offers customers the chance to customize their Botanical Bliss mattress to fit their needs. And if you don't like the firmness level that you originally chose, they'll send you a firmer or softer replacement layer. The mattress is made with organic and eco-friendly materials, which means you don't breathe in harmful toxins as you sleep.
But most of all, this mattress is super comfortable to sleep on and relieves your body of aches and pain. And that's what we all want in our mattress, no?
Where to buy
ABOUT THIS REVIEW AND THE REVIEWER
Alex Temblador is one of Homes & Gardens' mattress experts — which is a good role for someone who needs over 8.5-hours of sleep each night. The Dallas-based freelance writer has covered home, design, architecture, and art in publications like Real Homes, Dwell, Architectural Digest, Artsy, Neighborhoods.com, Culture Trip, among many others.
When she's not sitting on her porch with a cup of tea and her laptop, you'll find the Mixed Latinx writer scrounging through estate sales and vintage shops looking for unique objects to bring 'The Starlight House' to life.
As with all our reviews, the PlushBeds Botanical Bliss Organic Latex mattress has been tested first-hand in our home, using it just as you would so you know exactly what you are buying. The products are given to us free of charge and we test them for as long as possible before sending them back to the brand unless we are able to keep it as we are with this mattress. This means that we can continue to use the product which gives us the opportunity to return to our reviews for updating, so you can keep up-to-date with how it's fared over a period of time.
Sign up to the Homes & Gardens newsletter
Decor Ideas. Project Inspiration. Expert Advice. Delivered to your inbox.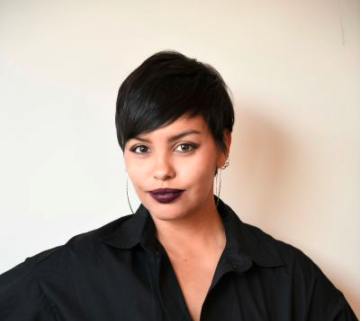 Alex Temblador is a Mixed Latinx award-winning author and freelance writer based in Dallas, Texas. Her work in the home space has appeared in outlets like Real Homes, Dwell, Architectural Digest, Culture Trip, and Neighborhoods.com, among many others. She writes on a wide variety of topics for H&G, and has tested everything from vacuum cleaners to fitness equipment and pizza ovens in the name of product research.