Best mattress topper 2023 – tried and tested to upgrade your bed
If you can't afford to invest in a new mattress, or just want to soften an old bed, the best mattress topper will transform your sleep surface.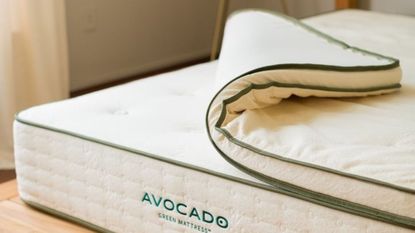 (Image credit: Avocado mattress)
Quick menu
Buying a brand new bed isn't always in the budget, but that doesn't mean you should miss out on getting a good night's sleep. Adding one of the best mattress toppers to your sleep set up is an affordable alternative that will transform your sleep.
A mattress topper is the ideal sleep solution for when you're not ready for a big ticket purchase, or if a mattress you otherwise love just needs a little adjustment. Choose the right one and you can add extra cushioning, make your bed feel firmer for support, or even stop yourself from overheating at night.
As H&G's sleep editor, I and a group of expert reviewers have tested the best mattress toppers on the market. We weren't just sleeping on the job; we've evaluated a range of different types of mattress toppers, assessing them for firmness, motion isolation, breathability, and edge support. These are the bed accessories guaranteed to make your mattress more comfortable.
There are memory foam mattress toppers, latex, featherbed, and gel types to choose from – suiting all sleep styles, budgets, and bedrooms. However, if your mattress is showing serious signs of wear, you should consider investing in one of the best mattresses instead. If you're overheating in the night, sometimes the solution is as simple as switching to the best bed sheets, too.
Best mattress topper deals
To get the fairest price on the best bedding, I recommend reading the whole article. But if you're tight on time and money, you should take advantage of these deep discounts on the best mattress toppers around.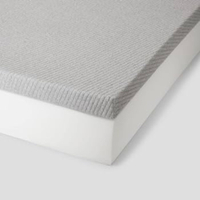 Casper Comfy Mattress Topper | Was $199.00 -$339.00, now $179.10-$305.10 at Nordstrom
This deal just dropped by $50 overnight. Everyone deserves a good night's sleep. But we don't all have a few thousand dollars to drop on a brand new mattress. Enter the Casper Mattress Topper, which offers plush comfort for a fraction of the price. This memory foam topper is perforated with thousands of precision-drilled holes to promote airflow, keeping you cool and dry all night long.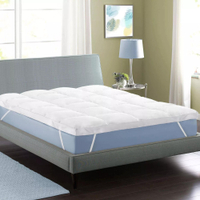 Superior Down Alternative Mattress Topper | Was $101.81, now $72.00 at QVC
You could save $30 on this queen-sized topper when you shop at QVC. It fits like a snug sheet over deep mattresses, thanks to its stretchy corner straps. The Superior Mattress Topper is filled with down alternative that flexes beneath your body to offer the perfect balance of comfort and support.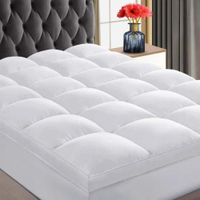 INGALIK Mattress Topper | Was $99.99, now $48.88 at Walmart
This queen-sized topper is on sale for less than half-price. Sure, it isn't as high-tech as the best mattress topper – there's no thermo-regulating technology or cooling cover, here − but it gets the job done. The INGALIK Topper is filled with Spiral Fiber Padding, which cushions your neck and shoulders to alleviate aches and pains. It's ideal for side sleepers.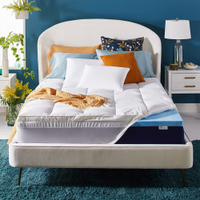 The quick list
Best overall
Best overall
The best topper we've ever tested.
Best luxury
Best luxury
This luxuriously soft mattress topper works for a range of sleep styles.
Best firm
Best firm
An affordable topper that's great for adding support to a too-soft bed.
Best for couples
Best for couples
If your partner turning over wakes you up every night, we think this could be the smartest choice - but it will cost you.
Affordable latex topper
Best affordable latex topper
We weren't convinced by their mattress, but Earthfoam's topper brings the environmental and health benefits of latex at a reasonable price.
Luxury latex
Best luxury latex
We loved this topper on test, bringing luxurious, high-quality organic latex to any bed. However, it's expensive.
Load the next 3 products ↴
Best cooling
7. ViscoSoft Active Cooling
Best cooling topper
If you overheat in the night, this topper will help you keep cool.
Best memory foam
Best memory foam
A soft, responsive memory foam mattress topper.
Best budget
Best budget
Full disclosure: we're yet to test this, but with tens of thousands of five-star reviews on Amazon, we feel confident it's worth your money. It's hundreds less than others on the market.
Best mattress toppers in 2023
You can trust Homes & Gardens. Our expert reviewers spend hours testing and comparing the latest products, helping you choose the best for you. Find out more about how we test.
If you need more detail, here's the lowdown on the best toppers after testing them for months.
Best mattress topper overall
Best mattress topper overall
Specifications
Type: High-Density Foam
Firmness : Medium-firm
Thickness: 3"
Sizes: Twin, Twin XL, Full, Queen, King, Cal King
Reasons to buy
+
Evenly distributes weight for pressure relief
+
Body contouring
+
Cooling
+
180-night trial period
Reasons to avoid
-
Short warranty
-
More expensive
Buy it if
✅ You want a comfortable bed: this is the most comfortable topper we've tested.
✅ You sleep hot: it's surprisingly cool for a memory foam topper.
✅ Long trial period: you'll have half a yeah to decide if this topper works for you.
Don't buy it if:
❌ You're on a budget: though price is subject to change, it's among the most expensive toppers on our list.
❌ You want a longer warranty: the warranty is only a year; pretty short when you consider that some Saatva mattresses have a lifetime guarantee.

❌ You don't like creases: it's not something we noticed on test, but a few online reviews mentioned creases forming on this topper.
The bottom line
🔎 Saatva Graphite As good a topper as you can buy, but it's pretty expensive.
The Saatva Graphite topper offers everything you need to transform your current mattress. Its 3" medium-firm design appeals to all sleep types, offering body-contouring support. If you suffer from joint pain, this one is a great pressure reliever too.

It evenly distributes weight, relieving pressure on your shoulders and hips if you sleep on your side. Though the inner isn't organic, the cover is, offering excellent breathability. What's more, the graphite in this mattress absorbs body heat, so it's great if you run a little hot too — our reviewer and homes expert Kaitlin found that it kept her cool even in a hot July without air conditioning. We especially love the long 180-night in-home trial period. If you don't love the mattress topper after six months, you can return it for a full refund.

While Kaitlin loves this topper's performance, you should bear in mind that the warranty is only a year long. It's also not as versatile as the Tempur-Pedic topper. While Kaitlin found that it suited her perfectly, those who prefer a plush mattress might find it a little firm. If 3" is too thick for you, Saatva also offer 1.5" latex or high-density foam versions without the graphite layer.
Our Saatva Graphite Mattress Topper review has more details.
Swipe to scroll horizontally
Test results

| Attributes | Notes | Rating |
| --- | --- | --- |
| Comfort | The most comfortable we've tested | ★★★★★ |
| Cooling | Sleeps very cool | ★★★★★ |
| Warranty | Only a year | ★★★ |
| Price | A little expensive | ★★★ |