Best mattress topper 2023: transform your bed with these tried and tested toppers
These best mattress toppers are an affordable alternative to buying a new bed – get better sleep, for less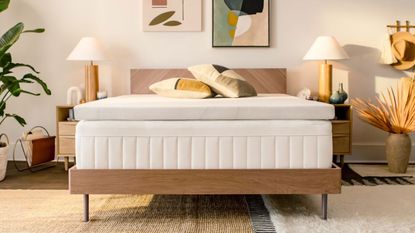 (Image credit: Tempur-Pedic)
A comfortable bed is essential to getting a good night's sleep, but replacing your mattress is expensive. If your current mattress is quite old, or it simply doesn't suit your sleep needs, and you're not ready to invest, then a mattress topper is the answer. An affordable alternative to buying a new mattress, add the right topper and you've transformed your bed in an instant.
Whether you're needing extra cushioning, a firmer sleep surface for support, or a cooling topper to stop you from overheating at night, our expert team has tried and tested, and recommended the best mattress toppers, so you can get your best sleep yet. There are memory foam mattress toppers, latex, featherbed, and gel types to choose from – suiting all sleep styles, budgets, and bedrooms.
But if your mattress is showing major signs of wear, you should consider one of the best mattresses instead. Because if there's one thing worth investing in, it's sleep.
Best mattress toppers 2023
You can trust Homes & Gardens. Our expert reviewers spend hours testing and comparing the latest products, helping you choose the best for you. Find out more about how we test.
The best mattress toppers
Best mattress topper overall
Best mattress topper overall
Specifications
Type: Tempur-material
Firmness : Medium-firm
Thickness: 3"
Sizes: Twin, Twin XL, Full, Queen, King, Cal King
Reasons to buy
+
Get Tempur-Pedic support without having to buy a full mattress
+
Removable and washable moisture-wicking cover
+
Hypoallergenic and breathable
+
Great price
Reasons to avoid
-
Not returnable when purchased directly from Tempur-Pedic
Why you should buy it:
This topper gave ultimate comfort and pressure support. The proprietary Tempur material uniquely responds to your weight, shape, and temperature, adapting to your body for truly personalized support.
Why we love it:
This topper gave ultimate comfort and pressure support. It's also hypoallergenic, breathable, and offers minimal motion transfer, so you won't wake up your partner if you roll over in the night. Our tests found that the medium-firmness is comfortable for all sleepers, making it excellent for couples with different sleeping styles. It's a great investment — it's just like a traditional Tempur-Pedic mattress, but with a smaller thickness and lower price.
Good to know:
We can't fault the performance of this mattress topper, but there's a significant caveat: you can't return it. Because it's Tempur, we think it's very likely that it fits every body type and sleep style, but if it doesn't, you could be left holding the bag.
Editor's note: We've tested and reviewed the Tempur-Topper Supreme, a predecessor to the Tempur-Topper Adapt. The new upgrades include straps, (something we criticized in the original topper) and a new breathable, moisture-wicking cover. Other than that, all specs remain the same. If you get hot at night, it's also worth considering the Tempur-Adapt + Cooling topper, which has all the features of the Adapt as well as a high-performance cool-to-the-touch casing.
Best mattress topper for back pain
Best mattress topper for back pain
Specifications
Type: High-Density Foam
Firmness : Medium-firm
Thickness: 3"
Sizes: Twin, Twin XL, Full, Queen, King, Cal King
Reasons to buy
+
Evenly distributes weight for pressure relief
+
Body contouring
+
Cooling
+
180-night trial period
Reasons to avoid
-
Short warranty
-
May not suit all sleepers
Why you should buy it:
This 3" medium-firm design appeals to all sleep types, offering body-contouring support. If you suffer from joint pain, this one is the perfect pressure reliever.
Why we love it:
It evenly distributes weight, relieving pressure on your shoulders and hips if you sleep on your side. Though the inner isn't organic, the GOTS-certified cover is and offers excellent breathability. What's more, the graphite in this mattress absorbs body heat, so it's great if you run a little hot too — our reviewer and homes expert Kaitlin found that it kept her cool even in a hot July without air conditioning. We especially love the long 180-night in-home trial period. If you don't love the mattress topper after six months, you can return it for a full refund.
Good to know:
While Kaitlin loves this topper's performance, you should bear in mind that the warranty is only a year long. It's also not as versatile as the Tempur-Pedic topper above. While Kaitlin found that it suited her perfectly, those who prefer a plush mattress might find it a little firm. If 3" is too thick for you, Saatva also offer 1.5" latex or high-density foam versions without the graphite layer.
Our Saatva Graphite Mattress Topper review has more details.
Best cooling mattress topper
Best cooling mattress topper
Specifications
Best for: sleeping cool
Type: Memory Foam
Thickness: 4"
Sizes: Twin, Twin XL, Full, Queen, King, Cal King
Reasons to buy
+
Uses copper, which is known for cooling and anti-microbial properties
+
Washable cover
Reasons to avoid
-
Straps struggle over thick mattresses
Why you should buy it:
If you get hot at night, this is the mattress topper for you. A 2" layer of clever copper-infused memory foam wicks heat away from your body to keep you cool. This is coupled with another 2" layer of ventilated memory foam to increase breathability and provide support.
Why we love it:
Our reviewer, Lauren Allain, says that it offers pressure-point relief when sleeping on your side, but it's also firm enough for sleeping on your stomach. This memory foam is great at isolating motion, so you won't be woken by your partner turning in the night, either. The cover is washable, and the topper utilizes a breathable mesh anti-slip backing and elastic straps that conveniently connect it to the bed.
Good to know:
Though Lauren didn't have a problem with this, online reviews noted that they've struggled with the straps on already thick mattresses, or that the bands snapped. at 4 inches, this is one of the thicker toppers on the list, so it might not suit thick mattresses.
Our ViscoSoft Active Cooling Memory Foam Mattress Topper review has more details.
Best organic mattress topper
Best organic mattress topper
Specifications
Type: Latex
Firmness : Plush or firm
Thickness: 2.75"
Sizes: Twin, Twin XL, Full, Queen, King, Cal King
Reasons to buy
+
Breathable wool cover
+
Canvas bottom reduces slipping
+
Meets several environmental certifications including GOTS, GOLS, Made Safe
+
Carbon Negative Production & Shipping
Reasons to avoid
-
No straps to secure to the bed
-
Slightly smaller than mattress
Note from editor: A lawsuit has been filed claiming that Avocado Mattress LLC has mis-sold its products as organic. Avocado Mattress LLC will contest the claim. For now, we will keep this mattress topper in our guide until we know more. If you know you want an organic mattress topper, Birch Plush Organic Mattress Topper below is the next-best option.
Why you should buy it:
Avocado's Organic Latex Mattress Topper is a good choice for those with sensitive skin. If you need to avoid memory foams, latex blends, and chemical adhesives, this topper is made with USDA-approved organic latex, wool, and cotton, so you can rest easy.
Why we love it:
One of our favorite features is that Avocado offers both plush and firm versions of this topper, so you can choose exactly what you need. We tested the plush version, and our reviewer Antonia found that while her mattress still felt firm, the topper adds extra cushioning that relieved her pressure points. Avocado also offers the same remarkable one-year trial period on its toppers as its mattresses as well as a fantastic 10-year warranty.
Good to know
This topper doesn't have any straps to secure itself to your mattress. Instead, there is an organic cotton canvas on the bottom of the topper that will keep the mattress from slipping. While our tester Antonia found that it was secure, this might not work for every mattress.
If you're vegan, this is the topper for you, because Avocado also has a Vegan Mattress Topper with the same specifications, but with cotton rather than a wool cover.
Our Avocado Organic Latex Mattress Topper review has more details.
Best mattress topper for side sleepers
Best mattress topper for side sleepers
Specifications
Type: Latex
Firmness : Medium
Thickness: 3"
Sizes: Twin, Full, Queen, King, Cal King
Reasons to buy
+
All-natural, organic, eco-friendly materials
+
Plush, but supportive
+
High-quality construction
+
Great price
Reasons to avoid
-
No way to secure the topper to the mattress
Why you should buy it:
We've found that this mattress topper bridges the gap between being plush and firm, suiting side sleepers best.
Why we love it:
It's soft and luxurious but without that sinking feeling, and firm and supportive but not rigid. Our tester Kaitlin dubbed this 'the Goldilocks experience' — not too hard, not too soft. Its simple but effective materials include an organic cotton cover, a hypoallergenic wool layer, and a Talalay latex base layer. These work in tandem to wick away moisture and cushion your shoulders and hips. It's a good choice for sleeping in summer, as Talalay is one of the most breathable kinds of latex.
It comes with a good 10-year warranty and a 101-night sleep trial, so if it isn't feeling right after a couple of months it's easy to return.
Good to know:
Our tester Kaitlin mentioned that this topper doesn't have straps to tie it down to your mattress. While Kaitlin found that it didn't move, this may not be the case with every mattress
Our Birch Plush Organic Mattress Topper review has more details.
Best memory foam mattress topper
6. Coop retreat mattress topper
Best memory foam mattress topper
Specifications
Type : Memory foam
Thickness : 5 inches
Firmness : Medium
Sizes : Queen-king
Reasons to buy
+
Organic
+
Plush and supportive
+
Great for pressure relief
+
Breathable
Reasons to avoid
-
On the expensive side
-
Will need deep-fitted sheets
Why you should buy it
If you know you already love memory foam, then this plush shredded foam topper is a dream.
Why we love it
Thick, plush, and super cushioning, Coop's memory foam topper takes sleeping on a cloud literally. With 5 inches of thickness, this pillow-top topper is perfect if you need to transform your current mattress into something more comfortable. The adaptive foam molds to your body as you sleep. Our tester noted she hardly switched positions throughout the night, as the topper held her joints in all the right places. Coop products are also free from chemicals, and meet many rigorous product safety standards – which is rare for foam under $500.
Good to know
From the maker of the much-loved memory foam pillow, if you're unsure whether it invest just yet, it might be worth considering getting one of their renowned pillows to see if you like the shredded foam effect as much as we and everyone else do.
Best pillowtop mattress topper
7. Sleep Innovations Ultra Soft Support Gel Memory Foam Dual Layer Mattress Topper
Best pillowtop mattress topper
Specifications
Type: Gel-memory foam, and a quilted-plush cover
Firmness : Soft
Thickness: 4"
Sizes: Twin, Full, Queen, King, Cal King
Reasons to buy
+
Washable Quilted topper secures entire topper by stretching to fit bed like a fitted sheet
+
Contouring comfort
+
CertiPUR-US certified foam
+
Affordable
Reasons to avoid
-
Not recommended for those who sleep hot
Why you should buy it:
If you've recently bought a new mattress, and are simply finding it too firm for your liking, then this soft pillowtop topper will majorly up comfort levels, without you having to overspend.
What customers love:
This topper offers four inches of plush, contouring support for the softest bed you can get. The Ultra-Soft design employs a three-inch cooling gel memory foam layer with a one-inch washable quilted topper that stretches over the memory foam and mattress to secure itself to the bed like a fitted sheet. The soft topper contours to your body with just the right amount of sink.
Good to know:
Those who have tried this mattress topper found it extremely comfortable but very warm despite the cooling gel layer, so it may not suit you if you struggle with overheating and like to be kept cool at night.
Best firm mattress topper
8. PlushBeds Extra Firm Natural Latex Topper
Best firm mattress topper
Specifications
Type: Talalay Latex
Firmness : Extra firm
Thickness: 2" or 3"
Sizes: Twin, Twin XL, Full, Queen, King, Cal King
Reasons to buy
+
Great support
+
Odor-free, hypo-allergenic, anti-microbial, dust mite resistant, and mildew resistant
+
Customizable thickness and firmness options
Reasons to avoid
-
Extra-firm is not as forgiving to your shoulders, hips, and knees
-
Cotton cover extra
Why should you buy it:
Is your mattress sagging? Adding a firm topper could completely save your bed, and help you feel more supported as you sleep.
What customers like:
It might be surprising that PlushBeds makes a firm topper, but this is one of the firmest, most supportive latex toppers on the market. PlushBed's all-natural Talalay latex topper offers superior support and pressure point relief for increased comfort through the night. The latex also has an open-cell airflow design that offers heat distribution to keep you cool. The extra firm is recommended for those who enjoy hard surfaces, like stomach or back sleepers, and those over 250 lbs.
Good to know:
PlushBeds warns that the extra-firm design might put a little pressure on your shoulders, hips, and knees. While this topper provides excellent support, we suggest trying the medium-firm topper if these are problem areas – these toppers come in from four different firmness levels, as well as two and three-inch depths. You can set your firmness and depth exactly as you like it, and make sure your topper precisely fits your bed.
---
How to choose a mattress topper
Getting a mattress topper is a quick fix for your sleep situation, but with many different mattress toppers on the market, choosing the right one for you may not be an easy decision. Follow our 6 rules for buying a mattress topper, and you're sure to find the best sleep surface for you.
FAQs
Why use a mattress topper?
Mattress toppers are perfect for personalized comfort. They can alter the firmness, add support where you need it and give any old mattress a new lease on life. Not just for at-home use, mattress toppers are ideal for upgrading college dorm rooms, or upping comfort levels in a vacation rental.
Your preferences in terms of what you want from a mattress may change over time, and instead of buying an all-new mattress, a topper is an economical and practical way to tailor your bed to what you need right now.
Mattress toppers are also beneficial if you're looking to try the feeling of memory foam or latex if you've spent most of your life on an innerspring mattress.
Which type of mattress topper is best?
The majority of mattress toppers fall into the following categories, and typically come down to personal preference:
Memory foam mattress toppers
Back and side sleepers typically love the cushioning and contouring effects of memory foam, which is a byproduct of polyurethane. Memory foam does tend to run warmer, but new technologies featuring gel foam, or infusions of materials like copper or graphite help with increased airflow and wicking away moisture. Overall, memory foam offers exceptional pressure relief for aches and pains and a soft, cradling comfort feel.
Latex mattress toppers
Latex offers responsive support, with common buzzwords describing them as resilient and buoyant. Compared to memory foam, they are more cooling and firm, but both offer great pressure relief and motion isolation. Unless you have a latex allergy, latex is also antimicrobial and non-allergenic, making it a good choice for those with allergy sensitivities. Perhaps of even more interest, all-natural latex is better for the environment and uses fewer chemicals and harmful substances in production.
Featherbeds
Featherbeds emulate a classic pillowtop experience. They're typically plush and available in down or alternative down fabrications, it simply depends on your personal preference. These tend to be the most breathable and cooling but offer less pressure relief and support.
Wool
Comparable to featherbeds, wool toppers offer an all-natural, allergen-free sleep surface, with increased temperature regulating and moisture-wicking properties for year-round comfort. They offer a bit of padding but are not nearly as thick as most memory foam or latex options. They're usually harder to find, and the most expensive.
---
How we test the best mattress toppers
The Homes & Gardens' mattress review process is editorially independent and not influenced by any third parties. Our expert mattress testers sleep on each rated mattress topper for at least two weeks. All our reviews are based on the real-life experience of using these products at home. The products are given to us free of charge. Often times we are able to keep our mattress, which gives us the opportunity to return to our reviews for updating, so you can keep up-to-date with how it's fared over a period of time.
All of the mattress toppers on this best list with rankings have been personally reviewed by members of our team, who take into account value for the money, construction, comfort, support, and accuracy of any special features. We also understand mattress topper firmness is subjective, so each reviewer is transparent about their sleep habits as well as getting second opinions from others.
If the mattress topper is unranked, we're still working to get our hands on a sample, or may even be in the midst of testing it out. For these instances, we've researched and, perused through hundreds of reviews, and deep-dived into their construction, special qualities, and who they may suit best.
For more insight into our hands-on review process, refer to our Homes & Gardens review guidelines.
Our testing team includes:
Jaclyn is H&G's eCommerce editor and oversees all things shopping. She's also a bonafide sleep expert, and previously managed all sleep content on Homes & Gardens and sister magazine Real Homes – in fact, she has passed our five-step certification process to become a verified customer advisor on mattresses.
Kaitlin is a writer and editor covering all things home. Her work has appeared in Real Homes, Architectural Digest, Martha Stewart Living, Refinery29, Modern Luxury Interiors, Wayfair, The Design Network, and lots more. She graduated from Northeastern University with a degree in journalism and currently lives in Connecticut with her husband, three kids, and black lab.
Alexandra is a contributor to Homes & Gardens where she reviews household products to make your life easier at home, whether it's cooking, cleaning, or sleeping.
Lauren is a freelance journalist based in the Pacific Northwest. She often covers topics and products related to sleep or home appliances. She's serious about getting eight hours of sleep each night and will nap every day if time allows. Besides sleeping and writing, Lauren enjoys rock climbing and traveling to places no one has ever heard of.
---
Louise is your eCommerce Editor and sleep specialist to help you wind down well. A connoisseur of the mattress world, Louise previously covered sleep and wellness (as well as the occasional organizational buy) at Real Homes, and has tried, tested, and reviewed some of the buys for your bedroom. With an MA in International Journalism and PR experience, Louise brings bags of bedding expertise and enjoys nothing more than helping readers find solutions and products that best suit their sleep needs.