Viscosoft Active Cooling Copper Mattress Topper review
Does the Viscosoft Active Cooling Copper Topper live up to its refreshing name? We're sharing our thoughts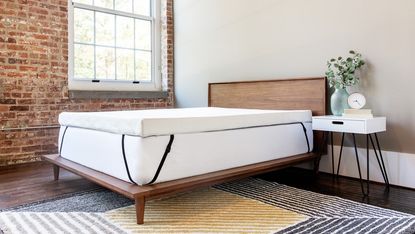 (Image credit: ViscoSoft)
A high-quality, sustainable pick for a Goldilocks bed
Reasons to buy
+

4 inches of pressure-relieving foam

+

Copper-infused upper layer to encourage sleeping cool

+

Adjustable corner straps

+

Removable and machine-washable cover
Reasons to avoid
-

Adds significant height to your mattress that may require deep pocket sheets

-

May not solve temperature discomfort for those who excessively overheat
You can trust Homes & Gardens. Our expert reviewers spend hours testing and comparing the latest products, helping you choose the best for you. Find out more about how we test.
Sign up to the Homes & Gardens newsletter
Decor Ideas. Project Inspiration. Expert Advice. Delivered to your inbox.
Thank you for signing up to Homes & Gardens. You will receive a verification email shortly.
There was a problem. Please refresh the page and try again.
Viscosoft Active Cooling Copper Topper At A Glance
Firmness: Medium
Type: Foam
Construction materials: CertiPUR-US Copper-infused foam, phase change cooling cover
Sizes: Twin, Twin XL, Full, Queen, King, Cal King
Height: 4"
MSRP: $305-$535
If your mattress is falling short, you might be wondering if one of the best mattress toppers can help rescue you from an uncomfortable sleep. The Viscosoft Active Copper Cooling Topper is constructed to add four inches of pressure-relieving foam to your existing mattress while offering the cooling element of a copper infusion.
I spent just over a month sleeping on the Viscosoft Copper Cooling Topper and can report that it was a dream to add to my current hybridmattress setup and it saved me while sleeping on a notoriously uncomfortable pull-out couch. I even took it on a camping trip and used it instead of a sleeping pad.
Who will the Viscosoft Active Cooling Copper Topper suit?
Hot sleepers: With both a cooling, phase-change material cover and copper-infused foam, the Viscosoft Active Cooling Topper is designed to sleep cool and move heat away from the body.
Couples: The Viscocoft adds four inches of foam that helps absorb motion rather than allowing it to move across the mattress.
Those looking for pressure relief: Four inches of body-contouring foam translated to deep pressure relief to any type of mattress. Side sleepers who find their mattress to be too firm could find pressure-point relief in the hips and shoulders thanks to the topper.
People who want a higher-profile bed: Shop around and you'll notice most toppers are two or three inches tall, but the cooling Viscosoft topper is four inches, so your mattress setup is about to get a significant boost. Anyone who likes a higher-profile mattress could be excited to add a topper to their bed, though you may need to look into adding deep pocket sheets
Situations that can't accommodate a standard mattress: Viscosoft mentions this topper can be used on a mattress, the couch, the floor, in a tree house, or on a futon. I put this to the test by using it on an uncomfortable pull-out couch and while camping. It significantly improved both situations, although it took up half of my small SUV to take it on these adventures. If you have a guest bed, futon, or couch that people often sleep on, adding the Viscosoft cooling topper could spell a much more comfortable sleeping situation.
Setting up the Viscosoft Active Cooling Copper Topper
Unboxing the Viscosoft topper was simple and straightforward, but I had the help of my partner. While it would have been possible alone, I think two people are probably better suited for the job of unboxing, especially a queen size or larger.
The quality of the packaging felt high-quality. The topper comes compressed, wrapped in plastic and in a sturdy cardboard box. I carefully unwrapped the non-recyclable plastic and kept it around to loosely cover the topper when I was transporting it in my car.
I left the topper outside draped over two patio chairs to help with off gassing. Viscosoft recommends letting the topper air out for 24 to 48 hours before sleeping on it. I was too excited to try it out and only let it off gas for about six hours before putting the washable cover on. While it did have a faint smell, it wasn't off-putting and completely vanished within two days.
My only complaint is the topper didn't come with any instructions about which layer of foam was the top and which was the bottom. I assumed the top was the side with the flecked foam, which has the CertiPUR-US copper-infusion, and should be closest to the sleeper for the cooling effects, which was confirmed by referencing product imagery.
What's the Viscosoft Active Cooling Copper Topper like to sleep on?
I often fall asleep on my stomach but end up rolling onto my side at some point in the night. This is a tricky sleeping combination because stomach sleepers usually need a firmer mattress to keep the hips from sinking into the mattress, which can cause a problematic "U" shape of the spine. But side sleepers often want plush pressure relief to help in the shoulder and hips areas.
Miraculously, the Viscosoft Cooling Copper Topper worked well for both of my sleeping positions. I got great pressure-point relief while on my side but never sank too deep while on my stomach. I never felt stuck on the topper and found it easy to move around to change positions.
Overall comfort and firmness
The topper has a medium level of firmness. It offered pressure-point relief when sleeping on my side, while not sucking me into the foam when sleeping on my stomach. Moving between the two positions was easy.
Support and Pressure Relief
I experienced a comfortable level of sinkage when sleeping on the Viscosoft cooling topper and felt well-supported with extra pressure relief. Since the topper is all-foam it doesn't offer any extra edge support and is the same density throughout with no reinforced perimeter.
Breathability and cooling
I often overheat while sleeping, so my expectations were high. I typically sleep on a hybrid mattress with bamboo sheets and it's normal for me to overheat, even on cold winter nights. I was most excited about the copper-infused foam which is designed to absorb excess heat and move it away from the body.
While testing the topper, I woke up hot on a few nights, but I attribute that to warmer-than-average temps without adjusting to cooler bedding, rather than the topper itself being the culprit. It stayed at a comfortable temperature while I slept on it on the pull-out couch and while camping. I wouldn't say the topper trapped heat, or if it did it quickly dissipated once I moved around, but it did feel warm underneath me when I myself was too warm for comfort.
I also want to note, that my partner, who doesn't typically overheat, didn't notice any change in temperature when sleeping with the topper versus without.
Motion Isolation
At four inches thick, the Viscosoft cooling topper adds superb motion isolation, especially when used on innerspring mattresses. I'm easily disturbed by my partner moving and slept exceptionally better thanks to the motion isolation offered from the topper.
Viscosoft Active Cooling Copper Topper design and construction
The Viscosoft topper features two inches of copper-infused foam atop two inches of firmer support foam. The "cooling" element of this topper can be found in the copper infusion of the upper layer which is designed to absorb excess heat and pull it away from the body. Copper is also regarded for its antimicrobial and antibacterial properties.
The topper comes with a removable cover made with phase change fabric that can also deflect moisture. The cover easily zips off and can be machine washed and tumble dried on a low heat setting. As is the case with most toppers, Viscosoft recommends spot cleaning the foam topper with warm water and dish detergent.
On the underside of the cover, there is a slip-resistant mesh layer that comes with four elastic, adjustable straps (one in each corner) to help the topper stay properly secured to your mattress. I never had an issue with the topper moving around thanks to these straps.
Since the topper is four inches thick, it's possible you'll need a deep-pocket fitted sheet to cover the topper as well as your mattress.
Ordering and delivery
We ordered directly through Viscosoft which offers free shipping on all orders. Viscosoft products are also sold at third-party retailers including Amazon. The queen-size topper shipped out on Monday afternoon and arrived via UPS on my doorstep on Friday afternoon. Viscosoft emailed me on Friday at 5:30 a.m. letting me know the topper was out for delivery and I also received an email once the package had been delivered which made delivery extra convenient.
While the box looked a bit haggard, the compressed mattress topper was securely wrapped in plastic.
I audibly remarked on how heavy the box was as I lugged it inside and up one set of stairs. While I managed to do it alone, it would be ideal to have two people around to help get the topper inside.
Viscosoft warranty and trial period
Viscosoft accepts returns within 90 days of the purchase date for a full refund when purchased directly, or 60 days when purchased from Amazon. They will issue a prepaid shipping label once you initiate the return with customer service. The company recommends using a box twice the size of the original to send the topper back to Viscosoft. Alternatively, you can arrange for the topper to be donated to a local charity and send Viscosoft proof of donation for a refund.
All Viscosoft mattress toppers come with a five-year limited warranty, but once you register your product with Viscosoft, you'll be entitled to two more years of coverage for free.
How does the Viscosoft Active Cooling Copper Topper rate online?
Out of just over 120 online reviews on the manufacturer's website, the Active Cooling Copper Topper gets a 4.5 out of 5 rating on the Viscosoft website. Many reviewers mention how their previously sore backs or hips appreciated the extra cushion and support from the topper.
A handful of reviewers mentioned they didn't sleep any cooler on the topper but say they did find it cooling. Temperature is subjective and it heavily depends on each sleeper's preferences as well as the rest of the bedding setup.
On Amazon, the topper rates slightly lower, at 4.1 out of 5 stars, with just over 200 ratings. Some mentioned the straps were not placed in a way that kept them on the bed easily, and that the cover was a bit slippery under the sheets, though that was not our experience. Some mentioned that inserting the topper into the cover was a bit of a hassle, especially in larger bed sizes, but the cover does unzip on three sides to make "stuffing it in" as streamlined as possible.
Is the Viscosoft Active Copper Cooling Topper worth it?
Adding the Viscosoft Copper topper to my mattress has been a great experience. The motion isolation has helped me find significantly better quality sleep and it single-handedly saved me while sleeping on a pull-out couch.
Sleepers looking for extra pressure relief or to add a motion-isolating element to their mattress could be a great fit for the Viscosoft Cooling topper. But especially hot sleepers could find it doesn't do enough to cool off the sleeping experience. I found my hybrid mattress without the topper slept cooler, but my partner felt no difference in temperature. The topper did, however, sleep cooler than many all-foam mattresses I've experienced.
Though not the most affordable mattress topper out there, the Viscosoft Active Copper Cooling offers tons of value, with high-quality elements, the bonus of a washable cover and a generous 5-year warranty. All of the company's products are also made in the US.
Where to buy
About our reviewer and this review
Lauren's Sleep Stats
Sleep position: Stomach and side
Insomnia? None
Sleep problems: Light sleeper who often overheats
Average sleep time: 8-9 hours
Lauren is a freelance journalist based in the Pacific Northwest. She often covers topics and products related to sleep or home appliances. She's serious about getting eight hours of sleep each night and will nap everyday if time allows. Besides sleeping and writing, Lauren enjoys rock climbing and traveling to places no one has ever heard of.
All of our product testing is based on real-life experiences. Lauren slept on (and traveled with) the Viscosoft Active Cooling Copper Topper for a month, testing it out in several settings, before beginning her review. Most products we review are given to us free of charge for testing after which we either return the product to the company or keep it for long-term durability testing and to update this review, as is the case with this mattress topper.
Sign up to the Homes & Gardens newsletter
Decor Ideas. Project Inspiration. Expert Advice. Delivered to your inbox.
Lauren is a freelance journalist based in the Pacific Northwest. She often covers topics and products related to sleep or home appliances. Beyond writing, Lauren enjoys rock climbing and traveling to places no one has ever heard of.