Tempur-Pedic Tempur-Topper Supreme mattress topper review
Revolutionize your existing sleep set up with Tempur-Pedic's award-winning sleep technology in topper form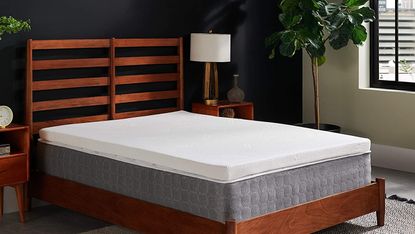 (Image credit: Tempur-Pedic)
Whether it's better support or comfort, temperature regulating material, or increased motion isolation, the TEMPUR-Topper Supreme has got you covered. The topper adjusts perfectly around your weight and shape and the removable cover makes it easy to clean.
Reasons to buy
+

Tempur-Pedic quality materials without buying a new mattress

+

Easy to clean with its removable and washable cover

+

Perfect for a couple due to its motion isolation technology

+

10+ year warranty
Reasons to avoid
-

No trial period: strict no-return policy if bought on Tempur-Pedic website

-

No straps to keep topper in place
You can trust Homes & Gardens. Our expert reviewers spend hours testing and comparing the latest products, helping you choose the best for you. Find out more about how we test.
Sign up to the Homes & Gardens newsletter
Decor Ideas. Project Inspiration. Expert Advice. Delivered to your inbox.
Thank you for signing up to Homes & Gardens. You will receive a verification email shortly.
There was a problem. Please refresh the page and try again.
Making sure you're comfortable and supported in bed is essential to your quality of life and the TEMPUR-Topper Supreme is the ideal sleep accessory for finding better sleep. Whether your mattress isn't up to par or you are just looking to upgrade your sleeping experience, we've found that the Tempur-Topper Supreme is one of the best mattress toppers to do the job.
TEMPUR-Topper Supreme mattress topper At A Glance
Firmness: Medium
Type: TEMPUR® Material (similar to memory foam)
Sizes: Twin, Twin XL, Full, Queen, King, Cal King
Height: 3"
MSRP: $319-$469
The Tempur-Pedic TEMPUR-Topper Supreme utilizes the same famous TEMPUR technology used in its mattresses. Tempur is known for adapting to a person's shape, weight, and temperature for ultimate support and pressure relief.
Beyond the excellent cushioning, another true standout feature of this topper is its excellent motion isolation. I share a bed with my partner and adjust my sleeping positions quite often at night. Ever since we started sleeping on the TEMPUR-Topper Supreme, my partner reports not feeling my movements at all.
Keep reading to see the full picture of our experience as to how this Tempur-Pedic mattress topper transformed my bed for the better.
Who will the TEMPUR-Topper Supreme suit?
Couples: Anyone who shares a bed with another person will find this topper to be an excellent compromise. The TEMPUR Material is designed to adjust to your unique body and this topper provides medium firmness to satisfy a wide range of sleeping position preferences and comfort levels.
Those looking for extra comfort: From pampering overnight guests or turning a camping trip into a Glamping experience, the TEMPUR-Topper Supreme can help provide extra comfort. It instantly upgrades sofa cushions and pull-out beds and will also suit college students in dorms forced to sleep on the usual standard-issue mattress.
Those looking to change the feel of their mattress: Mattress toppers enable you upgrade your mattress without buying a new one. The TEMPUR-Topper Supreme does this magnificently, providing you with the famous Tempur-Pedic sleep technology without having to commit to a whole new bed.
Setting up the TEMPUR-Topper Supreme
The box is not light but one person can handle moving it alone if needed. Inside the box, the TEMPUR-Topper Supreme is compressed and wrapped in protective plastic. I suggest placing the topper on the mattress before removing the plastic so that when it expands, you can easily adjust it on the bed.
The outer box denotes the size of the mattress, in my case I received a Queen so it was labeled "QN" and the inner box will state the inches (3 inches) and firmness level (Medium). Double-check before you open the boxes and remove the protective plastic. Due to Tempur-Pedic strict no- return policy, returning an incorrect product is possible but may involve a long process on the phone with customer service.
What's the TEMPUR-Topper Supreme like to sleep on?
Overall comfort and support
As soon as you lay down, the topper contours your body but at the same time provides support so you don't feel like you are sinking into it. If you are a back sleeper, the topper offers a perfect balance between feeling supported and snuggled.
As a side sleeper, I immediately noticed the difference between the TEMPUR-Topper Supreme and other memory foam toppers I slept on in the past. Instead of sinking into a massive crater that would get worse as the night progressed, Tempur-Pedic's topper prevents this and molds around your body in any position you choose to sleep.
Breathability and cooling
If I were to rate the TEMPUR-Topper Supreme based solely on comfort and support, I would give it 5 stars. I am a cool sleeper so the topper suits me quite nicely. But based on my partner and other hot sleepers' opinions on Reddit and review sites, the topper does not appear to regulate temperature as well as the company claims. If this sounds like you, you may want to spend an extra $60 on the COOL-TO-TOUCH cover. This addition cannot be purchased separately so you have to add it to your cart as you're buying the topper.
Motion Isolation
Do you sleep next to someone who moves an annoying amount throughout the night? Unfortunately, that's what my partner deals with since I tend to shift positions quite frequently. The topper's motion isolation technology prevents the other person in bed from feeling your movements. On my end, I am completely oblivious when my partner wakes up earlier than me to go to work.
Measurements
I found that the TEMPUR-Topper Supreme measurements are slightly off by half an inch (for the Queen size) but once the sheets are on, you barely notice it. I do recommend purchasing deeper pocket sheets to account for the extra 3 inches the topper adds to the mattress. Since the topper does not come with straps, over time, the topper moves. It will need to be adjusted every once and a while but this can be done whenever you change your sheets.
TEMPUR-Topper Supreme: design and construction
The topper is available in sizes from twin to California King, and also features the convenience of a washable allergen-resistant cover. For hot sleepers, you can upgrade to the COOL-TO-TOUCH cover, also known as the TEMPUR-Adapt.
The TEMPUR-Topper Supreme is made from three inches of TEMPUR® Material from which every single one of the company's mattresses are made. The net weight of the filling materials is 19 lbs.
TEMPUR Material was specially engineered to precisely adapt to your weight, shape and temperature. Similar to polyurethane foam, your body heat causes the material to soften allowing it to continuously and rapidly adjust as you move around at night. Tempur-Pedic claims that it helps prevent tossing and turning and motion transfer. TEMPUR Material also tends to be more durable than ordinary memory foam.
The removable cover on the topper is washable and Tempur-Pedic suggests you wash it in cold water and then air dry or dry on a cool setting. Avoid chlorine products or harsh stain removers to preserve the cover longer. The topper itself should never be washed or dry cleaned.
Ordering and delivery
The TEMPUR-Topper Supreme is available directly from the Tempur-Pedic website which would allow you to take advantage of the frequent promotions the company provides. Tempur-Pedic offers free shipping and the topper will be delivered in about two business days.
The topper is also available from other retailers, such as Amazon, Bed, Bath, & Beyond, and Mattress Firm.
Tempur-Pedic warranty and trial period
When purchased directly from Tempur-Pedic, returns are not allowed on toppers due to their personal nature. Unless the topper was damaged during delivery or there is a product defect, you won't be able to return it based on whether it works for you or not. If you purchase the topper directly from the Tempur-Pedic website and the company delivers the wrong product or size, you can exchange it for the right one. This information is not included in their return policy online but I confirmed it after speaking with a customer service representative.
If you would like to avoid Tempur-Pedic's strict no-return policy, I advise taking a look at other retailers who may not be subject to it.
The TEMPUR-Topper Supreme does have a 10-year limited warranty that covers product defects. The purchaser is required to cover handling costs, but Tempur-Pedic will either replace or repair the topper.
Is the TEMPUR-Topper Supreme worth it?
If you are looking for a top-of-the-line mattress topper, the TEMPUR-Topper Supreme is for you. The topper adjusts perfectly to different sleeping positions and firmness preferences, making it a valuable purchase for those sharing a bed.
While the TEMPUR-Topper Supreme is expensive compared to its competitors, what you are paying for is Tempur-Pedic's famous TEMPUR® Material sleep technology. Purchasing a Tempur-Pedic mattress, such as the Tempur-Pedic ProAdapt, costs significantly more, so the mattress topper is a great alternative for accessing Tempur-Pedic design without investing in an entirely new mattress.
Ever since I've slept on the TEMPUR-Topper Supreme, I have tossed and turned less and find myself waking up less often at night. My partner reports that he barely feels my movements thanks to the motion isolation technology. It was the exact update our bed needed to make a generic bed, work for us, not the other way around.
Where to buy
About our reviewer and this review
Alexandra's Sleep Stats
Sleep position: I tend to fall asleep on my side but will change positions throughout the night frequently (but will never sleep on my stomach)
Insomnia? None
Sleep problems: If I end up in an uncomfortable position while moving in the middle of the night, I sometimes won't adjust and wake up with pain in my back, arms, or head.
Average sleep time: Between 7 and 8 hours
Alexandra is a contributor to Homes & Gardens where she reviews household products to make your life easier at home, whether it's cooking, cleaning or sleeping.
All our reviews, as in the case of the TEMPUR-Topper Supreme, are based on the real-life experience of using these products at home. Alexandra slept on this mattress topper for one months before compiling this review. The products are given to us free of charge and for this particular topper, we have been invited to keep it. This means that we can continue to use the product which gives us the opportunity to return to our reviews for updating, so you can keep up-to-date with how it's fared over a period of time. In this instance, the topper is now a resident in our home so we'll continue to test it and update this review should there be anything worth noting.
Sign up to the Homes & Gardens newsletter
Decor Ideas. Project Inspiration. Expert Advice. Delivered to your inbox.
Alexandra is a freelance writer and former journalist with a shopping addiction that rivals Carrie Bradshaw's. But while Carrie mainly deals in clothes, Alexandra battles with an obsession with how to efficiently keep a home clean and organized. Impossible to remove stains in the bathtub? Nothing a good product and a vigorous amount of elbow grease won't solve. Best way to organize a closet? She's tried out all the hacks.
In her downtime, Alexandra enjoys long walks in Central Park and watching competitive cooking competitions. But cuddling with her cat Dish brings her the most joy.