Best affordable mattress: tested beds to suit your budget
Upgrade your bed for less with one of the best affordable mattresses – you don't have to splurge for a good nights sleep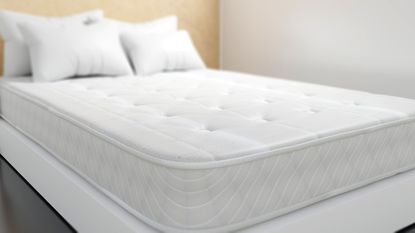 (Image credit: Credit:Getty / Rawf8 Creative #: 1386819139)
Most mattresses cost more than $1000, but you don't have to splurge to get a great night's sleep. Whether you want a mattress for your guest room, are in need of a quick replacement bed, or are simply working with a tight budget, there are lots of affordable mattresses on the market that offer superb comfort, for a low cost.
A lot of cheap mattresses won't suffice when it comes to getting a great night's sleep, and they sure won't last longer than a few years. However, big name brands like Nectar, Dreamcloud, and Emma have introduced budget-friendly options alongside their more expensive models that can rival luxury beds for comfort. Since these direct brand-to-consumer retailers often have year-round sales, including sleep trials and free returns with every purchase, you can likely spend even less than expected.
Along with a dedicated team of mattress testers, I've been reviewing the best mattresses to find you the affordable beds that give expensive mattresses a run for their money. For under $500 for a queen size, these mattresses offer the same quality of materials, impressive performance, and high-spec construction.
Best affordable mattress
You can trust Homes & Gardens. Our expert reviewers spend hours testing and comparing the latest products, helping you choose the best for you. Find out more about how we test.
Best affordable mattress overall
Best affordable mattress overall
Specifications
Sizes: twin, twin XL, full, queen, king, California king, Split King
Depth: 12"
Type: Memory foam
Comfort: Medium-firm to firm
Sleep trial: 1 year
Warranty: Lifetime
RRP: $499-$1,338
Reasons to buy
+
Comfortable and supportiv
+
Proven to help with back pain
+
Affordable
+
Lifetime guarantee + 365-day trial period
+
A breathable outer layer keeps it cool
Reasons to avoid
-
Edge support could be better
-
Easily forms impressions
Why you should buy it
This Nectar mattress is proven to be comfortable, and supportive, thanks to its firm but cushioning surface, all for a great price.
Why we love it
Far from basic, the Nectar mattress is soft and supportive, and if you suffer from back pain, it won't cost much to help relieve the pain. In our best mattress guide, it's ranked as the best mattress for back pain (which is impressive given its affordable price). Our reviewer Casey found it alleviated some of the pain from her fibromyalgia.
Good to know
This mattress has some of the infamous off-gassing odor that comes with memory foam mattresses, but it faded after a couple of days. If you stay in one place at night, you may also notice over time your body forms impressions.
Casey's Nectar Memory foam mattress review goes into more detail.
Best mattress under $500
Best mattress under $500
Specifications
Sizes: Twin, twin XL, full, queen, king, Cal king
Depth : 10"
Type : Memory foam
Comfort : Medium
Sleep trial : 180 nights
Warranty :
RRP: :
Reasons to buy
+
Super affordable
+
Fuss-free for good sleep
+
Great for all kinds of sleepers
+
Great motion isolation
Reasons to avoid
-
Not the best edge support
Why you should buy it
Memory foam mattresses are typically the cheapest type of mattress you can buy. But the Siena goes even further, ticking all the boxes for only $499 (full-price, for a queen).
Why we love it
This mattress stands out in terms of value. It technically retails at $699 but we've rarely seen it at this price. It's almost always on sale, so if you're on a super-tight budget and need something uber convenient the Siena is for you. It's new to the mattress market and takes out all the technical fuss to bring you a bed that offers everything you need, for a small price. There are five layers of foam that make it comfortable and supportive. Our reviewer commented that the bed had all the features required for satisfactory sleep and that motion isolation was actually quite good considering – which is also it an area most other mattresses struggle in.
Good to know
If you're wanting a super firm bed or something to help with back pain, this mattress is probably too soft. Edge support isn't the best either, but that is quite common for memory foam mattresses, especially at this price point.
Best affordable firm mattress
Best affordable firm mattress
Specifications
Sizes: Twin, Twin XL, Full, Queen, King, Cal King
Depth: 10"
Type: Memory foam
Comfort: Medium-firm
Sleep Trial: 100 nights
Warranty: 10 years
RRP: $699–$1,599
Reasons to buy
+
Comes in a convenient delivery box
+
Great price
+
Suitable for multiple sleep positions
+
Firm and supportive to help with back pain
Reasons to avoid
-
Maybe a bit warm for hot sleepers
Why you should buy it
Memory foam mattresses are usually pretty soft, which makes firm mattresses more expensive as you'd need a hybrid or innerspring for the hardest sleep surface. The Emma mattress is both firm and one of the best box mattresses, making it a fair price.
Why we love it
Considering the price, this mattress 'instantly impressed' our tester Chiana, with medium-firm comfort which cushioned her even when sat down. Without the sinking feeling of most cheap memory foam mattresses, the Emma is springy and responsive, bouncing back and leaving no impressions after sleeping. It was firm enough to help with her joint pain too. Though it retails for $1399 for a queen bed, we've found that the Emma mattress is usually on sale for around $699. Combined with a 100-night sleep trial and a 10-year warranty, it's excellent value.
Good to know
Being at a low price point means it may come with some disadvantages. Our tester did find the bed to sleep quite hot. We'll update this review in summer when we know how it sleeps in hotter months.
Chiana's full Emma Original Mattress review has all the detail.
Best affordable hybrid mattress
Best affordable hybrid mattress
Specifications
Size: Twin, Twin XL, Full, Queen, King, Cal King
Depth: 14"
Type: Hybrid
Comfort: Medium (6.5)
Sleep Trial: 1 year
Warranty: Lifetime
RRP: $599-$1,299
Reasons to buy
+
Memory foam cradles the body
+
Coils provide support and airflow
+
Superior edge support
Reasons to avoid
-
Motion isolation could be better
-
Don't expect a super plush mattress, despite the depth
Why you should buy it
For their high-tech designs, hybrid mattresses can get expensive, this Dreamcloud comes in at a more than reasonable price.
Why we love it
With premium features and a more than plush feel, the Dreamcloud has a lot to offer. With a high 14 inches of height and five layers, consisting of quilted memory foam, gel foam and individually wrapped coils for customized support, our tester Camryn loved how it cushioned the shape of her body while keeping her cooler than other mattresses. She found it was mostly well-suited to both her and her husband, who have drastically different sleeping preferences. All this for less than $800 for a queen, and backed by a lifetime warranty.
Good to know
Despite the depth, this isn't the softest mattress.; our reviewer actually felt it to be quite firm. If you still want good value, but a plusher feel, you could try the DreamCloud Premier, which has extra pressure relief and a decadent pillowtop.
Camryn's DreamCloud Luxury Hybrid Review goes into more detail.
Best affordable cooling mattress
Best affordable cooling mattress
Specifications
Sizes: Twin, twin XL, full, queen, king
Depth: 6", 8", 10" or 12"
Type: Foam
Comfort : Medium
Sleep Trial : 100 nights
Warranty : 2 year
RRP: $369-$729
Reasons to buy
+
Cooling gel is effective for hot sleepers
+
4 different depth options ranging from 6" to 12"
+
Supportive for back and side sleepers
+
Under $500
Reasons to avoid
-
Weak edge support
-
May be too soft for front sleepers
Why you should buy it
For under $500, the Zinus Cooling Gel Memory foam mattress is great for those who overheat at night.
Why we love it
Lots of beds with temperature-regulating properties (like the Casper Wave mattress) will cost much more. The Zinus is one of the cheapest mattresses we've seen that will actively keep your body cool at night. Our tester Camryn is a hot sleeper and found this mattress to be great at regulating her and her partner's temperature regulated. Included in the price is a cool-to-the-touch cover that you can remove and wash.
Good to know
This cooling mattress is available on Amazon, making the buying process even more convenient as you can order online and have it delivered to your door. If you're a Prime member you may be entitled to discounts or free delivery making it even cheaper too.
There's extra detail in our full Zinus Cooling Gel Memory Foam Mattress review.
How we test affordable mattresses
While we will follow our general guidelines on how we test mattresses, when it comes to more affordable mattress types, we will pay attention to how they might compare to more expensive models. Do they achieve the same comfortability, tackle sleep needs and offer an overall sound sleep experience? All of the mattresses on this list have been personally reviewed by members of our team, who take into account value for the money, construction, comfort, and support, with various tests to consider factors like edge support, motion transfer, and spinal alignment.
Our mattress reviews are based on the first-hand experience of using these products at home. Testers sleep on each featured mattress for at least a month and will often return to their reviews months later to keep you up-to-date with how a mattress fares in the long term.
For more general insight into our hands-on review process, refer to our how we test review guidelines. You can meet our team of expert testers below:
Tested by
Our former sleep ecommerce editor, Jaclyn frequently tests out and stays up to date on all things mattresses and bedding. She's not willing to sacrifice comfort or value and is after a mattress that makes it easy to sleep through the night. In addition to Homes & Gardens, you can find her work in Real Homes, Livingetc, Apartment Therapy, MyDomaine, and The Spruce. She lives in Atlanta, GA.
Tested by
Tested by
Camryn Rabideau
Camryn Rabideau is a freelance writer and product reviewer specializing in home, kitchen, and pet products. In her five years as a product tester, she's tested hundreds of items firsthand, and her work appears in publications such as Forbes, USA Today, The Spruce, Food52, and more. Camryn does her product testing from her small homestead in beautiful Rhode Island.
Tested by
Chiana is our Junior Writer, and spends most of her time producing content for the Solved section of the website. She helps readers get the most out of their homes through clever decluttering, cleaning, and tidying tips. She reviewed the Emma Original mattress for this guide.
How to choose a budget mattress
When it comes to shopping on a budget, it's important to do your research. There's a fine line between what makes a cheap, badly-made bed, and one that is great value for money. To make sure you don't pick out a bed solely on price, these are the three things you should keep in mind:
Cheaper models by best-selling brands: Usually, big mattress brands like Nectar, Emma, and Dreamcloud will offer a 'value' mattress as an alternative to their more expensive, best-selling models. You can read reviews and specs but ultimately you can trust you'll be getting a good-quality bed even if it doesn't contain some of the high-tech features their more luxury models have. You can also ensure a sleep trial and warranty by buying directly from these brands.
Look at the specs: Mattresses may be marketed as more expensive, premium, or even luxury, but feature the same materials and specs are their cheaper counterparts. Just as much, a mattress may be labeled as luxury, but have a more than reasonable price tag – like the Dreamcloud. It's worth reading the finer print to see what you're really getting for your money.
Comfort over cost: A mattress is going to be in your bedroom for at least 7 years. While cost should always be kept in mind, you should choose a mattress based on your sleep style and needs. Forgetting about firmness rating and type could compromise how well you sleep for the next few years, at least.
Affordable mattress FAQs
Does a good mattress have to be expensive?
No. Despite common belief, a more expensive bed does not always mean better. The best mattresses will suit your sleep position, needs, and budget. That may mean a bed that's cheaper than the luxury options. A mattress isn't a one-size-fits-all product, and the best mattress for your specific requirements could be at either end of the scale. More generally, the best mattress in our buying guide includes affordable options like the Nectar Memory Foam Mattress and the Dreamcloud Hybrid. By all means, if you have a higher budget, there are extra features in luxury mattresses that give them the edge on budget beds. However, a good mattress does not have to be expensive.
How do I get the best price for a new mattress?
There are plenty of mattress sales to make the most of throughout the year. Though mattress prices will be at their lowest during key sales events that revolve around federal holidays, like Memorial Day, and Presidents Day, as well as major shopping events like Black Friday and the after-Christmas sales. Unless your current mattress is giving you major discomfort, then it's worth waiting til a sale is on to buy your new bed.
---
When it comes to mattresses, you do get what you pay for. The affordable mattresses we've listed here are perfectly great beds, but we can't put a price on wellness. We spend a third of our lives in bed, so you should make sure your mattress is as comfortable as possible and will last as long as possible. We recommend investing as much as possible into buying a new bed.