When to buy a mattress topper – and when they're a waste of money
Are mattress toppers worth it? We explore the pros and cons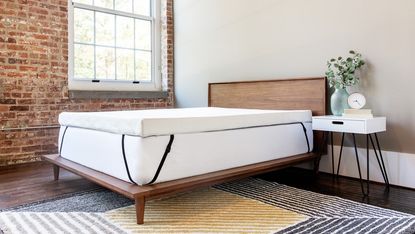 (Image credit: ViscoSoft)
If you are considering buying a mattress topper, but are wondering if they are worth the cost, then you will certainly want to continue reading.
If you want to improve the quality and longevity of a perfectly good mattress, then investing in a mattress topper could be the best investment you make for your sleep. After all, a better night's sleep will improve your mood, health, and wellness, so it is a worthwhile consideration.
The best mattress toppers make an instant difference to the comfort levels of your existing bed, but there's a wide range of differences in the quality. Here we look at the pros and cons, plus some specific sleep situations to help you decide whether a mattress topper is worth your money or not.
Are mattress toppers worth it? The pros
The right mattress topper can improve your sleep quality, offering increased pressure relief, cooling benefits, and making your bed firmer or softer, according to your preference. One of their most useful qualities is the ability to transform a mattress in an instant. There are countless options that can add extra support, and stability, and even relieve pressure points and cool you down.
They are also a great way to revitalize an older bed, break in a brand-new mattress or provide comfort in a new mattress that is perhaps too firm. They can also protect your mattress from spills, stains and will lengthen its lifespan, too.
Here are some of the reasons why we think you should invest in a mattress topper.
1. If your mattress still has a few years left
The best mattresses are made to last for many years, in fact, seven to 25 years, is the expected lifespan of your average mattress. But in truth, a lot of mattresses tend to wear out and sag over the years. Even with regular rotation, flipping and cleaning, your mattress will be a little more worn down with each night it has been used.
However, if your mattress is only a few years old, or has a few years of life left, you may want to consider investing in a mattress topper to prolong this lifespan. The mattress topper will not only add an extra layer of comfort, but it can also smooth out lumps and bumps for a more pristine look.
2. If you wish to soften your mattress
Do not underestimate the importance of buying a good-quality mattress for optimum sleep. 'We spend roughly a third of our lives asleep, so investing in one that is suitable for you is of great importance,' says Alison Jones, a sleep expert at Sealy (opens in new tab). 'No matter your sleep position, having a comfortable and supportive mattress that is tailored to your specific needs, isn't something that should be compromised on.
However, even with the proper research, a new mattress can take some getting used to, especially if you've been sleeping on an older, worn-out or softer bed. If this case, a mattress topper may be worth it while you wait for your body to adjust to the new mattress.
3. You want to make a sofa bed feel comfortable
Even the best sleeper sofas are not known for their comfort and softness. In order to fit a mattress on one of those sofa beds, manufacturers have to be incredibly precise, which is why they are not usually very thick or comfortable. This is where a mattress topper truly proves its worth. Not only will one add thickness but also softness and comfort – wonderful if you regularly have friends and family over to stay. Many are thin enough to leave on your sleep sofa once folded away, too.
Are mattress toppers worth it? The cons
While we often extol the virtues of a new mattress topper, there are also many reasons why buying a new one could be a waste of money.
These popular bedroom accessories are not always the magical fix we hope for, especially if the problem isn't just a mattress that is simply too firm. If your mattress is heavily sagging, in desperate need of replacement, or any other serious issues, a mattress topper will not mask these problems.
It is also worth noting the different materials before you make a purchase. Latex toppers can be too firm for some sleepers, and whilst polyester blends might be cheaper, they often become lumpy quite quickly. Memory foam does often get hot and is not the best option for those of us who turn a lot at night, and feather toppers can be noisy and may aggravate those with allergies.
Here are some of the reasons why a mattress topper may be a waste of money.
1. You plan to replace your mattress soon
If you have every intention to replace your mattress imminently, hold off on buying a topper just yet. If your mattress is on its last legs, a mattress topper will do very little to prolong its already-expired lifespan. Instead, purchase a new mattress first and then invest in a topper to suit. You may even decide you don't actually need one.
2. Your bed is worn-out or sagging
A topper is a great purchase for a mattress that is a few years old or only slightly worn, however, if your mattress has more than just a few gentle depressions, a topper will not fix this problem. If your mattress has passed its best-before date, then the only option is to replace it.
How can you tell if you need a new mattress? If you've noticed that it has started sagging, you can feel the springs digging into your back, or is it just no longer providing you with a comfortable night's sleep, then it is time to wave goodbye to your current mattress.
3. You are happy with your mattress as it is
This may seem obvious but sometimes the need to overconsume or invest in the latest product of gadget can become overwhelming. If you are truly happy with your mattress as it is, and even after reading this guide, haven't been convinced to invest in a mattress topper, then the chances are that you don't need one.