The Nolah mattress topper transformed my current mattress – now my husband has no back pain
We tested the Nolah mattress topper atop our current bed – it's the ultimate upgrade for better sleep, without the cost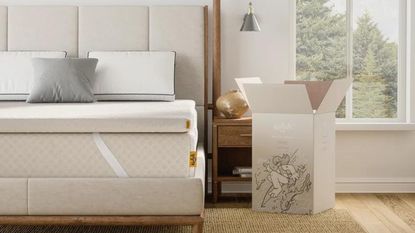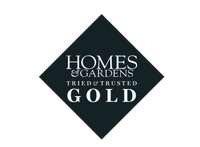 (Image credit: Nolah )
A great choice for anyone who isn't completely happy with their current mattress, but doesn't want to replace their entire bed
Reasons to buy
+

Affordable

+

Pressure relief points to relieve neck, hip, and back pain

+

Excellent motion isolation

+

Very good edge support

+

Made in the USA
Reasons to avoid
-

Short return period

-

Strong off-gassing smell
You can trust Homes & Gardens. Our expert reviewers spend hours testing and comparing the latest products, helping you choose the best for you. Find out more about how we test.
Sign up to the Homes & Gardens newsletter
Decor Ideas. Project Inspiration. Expert Advice. Delivered to your inbox.
Thank you for signing up to Homes & Gardens. You will receive a verification email shortly.
There was a problem. Please refresh the page and try again.
Instead of making a major investment in a new mattress, getting a mattress topper to change the feel of an existing mattress might be a less expensive and smarter move. We wanted to see how the Nolah mattress topper stacked against others in its class, so my partner and I tried one out for several weeks. I also put it through a series of tests to see how well it tolerates weight, movement, and more.
My partner and I got a new mattress a few years ago to replace a mattress I found far too soft but had excellent pressure relief. I thought our new mattress was a step up, but my partner recently confessed that he had woken up with back pain every day since we got the new mattress. I was thrilled to find out that quality mattress toppers exist and hoped that one could solve our problem without spending a ton on another new mattress.
I'm happy to say that the Nolah Mattress Topper did the trick. The topper completely changed the feel of my existing bed in just the right way. My partner says his back pain has completely disappeared since we started sleeping on the Nolah. Even though I would have been fine keeping our old mattress the way it was, I have found that I prefer our bed with this new topper, and I've been sleeping soundly too.
I only tested this mattress topper on my existing mattress. Results may be different depending on the type of mattress used under the topper. The Nolah website states that the topper "won't fix the issues of an old and worn mattress" and recommends purchasing a new mattress if the old one is worn out or sagging. However, after reading dozens of customer reviews, I believe my results are typical of what most customers can expect as long as their existing mattress is not too far gone.
Jamie Davis Smith is a product reviewer who's been testing all types of bedding and sleep products for over ten years. As a working mother of four, Jamie values a good night's sleep above all else.
She tried the Luxury Firm version of the mattress topper, though the topper also comes in a Plush version, which shares many features of the firmer version she tested.
Who will the Nolah mattress topper suit?
If you suffer from backaches: Memory foam is great at offering support for aches and pains. The sink-in feel cushions joints to relieve any pressure on the body. The smooth surface helps with affected areas and will transform how you sleep if you're used to something firmer. My partner says his back pain has completely disappeared since we started sleeping on the Nolah.
Those wanting a firmer sleep surface: If your current mattress has softened over time, sagged in the middle, or simply doesn't suit your needs, then adding a firm mattress topper like this one will work wonders for transforming your sleep surface.
Can't afford to invest in a new mattress: It's not always possible to buy a brand-new bed. New mattresses are expensive, so buying an affordable topper is a great way to extend the life of your current bed until you have enough money to invest. The Nolah mattress topper is a great temporary solution to up comfort levels before you can get a new bed.
Nolah mattress topper specifications
Swipe to scroll horizontally
| | |
| --- | --- |
| Type: | Aifoam |
| Material: | AirForam and cotton cover |
| Firmness: | Medium-firm |
| Thickness: | 2 inches |
| Sizes: | Twin, Twin XL, Full Queen, King, California King |
| Care | Spot-clean only |
| RRP | $249-$399 |
Unboxing and first impressions
My Nolah mattress topper was delivered by FedEx ground shipping and arrived within a few days of ordering. The box was light enough for me to carry inside by myself. The box was in good shape with minimal wear and tear.
When I slid the compressed mattress topper out of the box the first thing I looked for was instructions and I couldn't find any. While figuring out how to unwrap the mattress topper wasn't hard, when ordering mattresses in the past, they have always included instructions, including noting when the mattress would be fully inflated and ready to sleep on.
The Nolah Mattress Topper was covered with several layers of thick plastic. I cut through each layer slowly to ensure I didn't cut the topper. Once I cut off the layers of plastic, the topper puffed up right away. However, I didn't hop on to try it out then because the off-gassing smell was overwhelming. I had to open the windows and put the topper in a different room for the night and reassess the smell the next day. By bedtime the following day the smell was gone and I put it on top of my mattress.
To set it up, I simply unrolled the topper on top of my mattress, used the large elastic bands to secure the topper to the mattress, and put my sheets on as usual. I was worried that the topper would move around after a few nights of use but it has stayed firmly in place, even after weeks of use. It has stayed put through linen changes.
The Nolah Mattress Topper is compatible with mattresses that are 10"-15" tall. It comes in sizes Twin, Twin XL, Full Queen, King, and California King.
What's the Nolah mattress topper like to sleep on?
Firmness: When I first laid down on the Nolah Mattress Topper I felt very supported. Even though the existing mattress I put the topper on is rated as a firm, I felt a noticeable difference in the feel of the mattress with the topper secured. The Nolah Mattress Topper is advertised as having pressure relief, which I found to be accurate and effective. I had expected not to feel comfortable on my stomach or side on a firmer surface, but I was comfortable in all sleeping positions. I suspect the pressure relief features of the mattress topper help alleviate some of the hardness other firm mattresses have that makes them uncomfortable for some sleepers. Overall, I rate the firmness of the Nolah Mattress Topper as an 8.
To test the firmness of the Nolah Mattress Topper, I put a 25-pound weight on the mattress next to a 25-pound weight. As expected, the weight sunk into the mattress, but not as much as I had anticipated. In testing other mattresses the cover noticeably puckers. I found it noteworthy that the cover of the Nolah Mattress Topper did not pucker at all. This confirmed my impression that this is a very firm topper.
Motion Isolation: The motion isolation of the Nolah Mattress Topper is excellent. I put a glass of water on the mattress and walked around. The water did not move much, even when I was about an inch away. When I put a 25-pound weight next to the glass, the glass stayed put, even less than an inch away. When I moved the weight directly next to the glass, it tipped a little but not enough for water to spill out, which I found impressive.
My husband usually gets up earlier than me and since starting to use the topper this has not happened as often. I think the great motion isolation is one reason since I don't feel his movements as much when he gets out of bed.
Edge Support: The Nolah mattress topper performed very well on my edge support test. I put a glass of water on the edge and walked around the mattress. The water barely moved in the glass. When I put a 25-pound weight close to the glass, the glass hardly moved at all. Compared to other mattresses, I found this edge support to be exceptional.
Breathability: I usually sleep hot so I was concerned about how adding more layers of a memory-foam material would affect my sleep. Nolah claims that their AirFoam dissipates heat faster than memory foam and that the breathable organic cotton cover that comes with the topper keeps the inner foam cool. While I have no way of verifying these claims, I can say that I did not overheat while sleeping on the topper.
Construction and design
The Nolah Mattress Topper has one layer meant to be used on top of an existing mattress. It is made from material the company calls AirFoam, which is a form of memory foam. The topper is covered in a breathable organic cotton cover.
At 2" the mattress topper doesn't add a lot of height to existing mattresses. I liked that the topper didn't noticeably change how my bed looked once I put the sheets on. I was also very pleasantly surprised to find that my existing sheets easily fit over the mattress topper. Since my existing mattress is high, to begin with, I was happy to avoid needing new sheets.
Even though the Nolah Mattress Topper only adds one layer, I found that it is more than sufficient for completely changing the feel of the mattress underneath.
Returns and warranty
Returns and warranty is the weakest part of this topper. The Nolah Mattress Topper can only be returned within 30 days after purchase. The buyer also has to cover the cost of shipping, although Nolah provides discounted return labels.
Nolah also only allows customers to return one mattress topper, so if you return the first one you receive and order another you won't be able to return the second. The return window seems short to me, since it can take at least 30 days to break in a new mattress and get used to a new feel. While 30 days is probably enough time for most people to decide if they like the topper or not, competitors offer returns policies of up to a year.
However, the Nolah Mattress Topper comes with a 10-year limited warranty which covers defects in workmanship. The warranty states that covered toppers may be repaired or replaced.
How does the Nolah mattress topper rate online?
Customers on the Nolah website rank the mattress topper 4.9 out 5, which is very high. Many remark that, like me, they have been sleeping better since they started using the topper. One wrote that they ordered a second topper to use while traveling because it helps them sleep so much better. Another person commented that the topper did not go all the way to the edge of their twin bed. That could be for a number of reasons, but the comment underscores the importance of checking to make sure your mattress is a standard size before ordering a topper.
Where to buy the Nolah mattress topper
The Nolah mattress topper can be bought directly from their website, and is sometimes available on Amazon or Wayfair. That being said, we'd suggest always to buy direct as Nolah offer a 10 year warranty.
About our review and reviewer
I wear a sleep tracker every night and usually wake up disappointed that my sleep score is low. Since I started sleeping on the Nolah Mattress Topper, my sleep tracker shows that I have been getting more REM sleep, which is an indicator of deep sleep. Less than a week into trying the Nolah Mattress Topper I overslept for the first time in years, which aligns with the deeper sleep my sleep tracker has been picking up. I've decided to set my alarm to go off louder in the mornings.
Jamie's sleep stats
Sleep position: Side and stomach
Insomnia? No
Sleep problems: Hot sleeper
Average sleep time: 6-7 hours a night
Jamie's review of the Nolah mattress topper is based on her firsthand experience with the product, which was provided by the brand free of charge. She and her partner slept on the mattress for under a month before writing this review. Their young son sometimes joined them. Jamie plans to keep the topper, which gives us the opportunity to return to update the review with insights on how the product fares over an extended period of time.
For more insight into our heads-on review process refer to our how we review guidelines.
Sign up to the Homes & Gardens newsletter
Decor Ideas. Project Inspiration. Expert Advice. Delivered to your inbox.
Jamie Davis Smith is a writer, attorney, and product reviewer with more than ten years of experience. She has tested hundreds of items first-hand, sometimes with the help of her four children. Jamie lives in Washington, DC.