Saatva Latex Hybrid mattress review: The search for a 'Firm but Soft' mattress ends here
The Saatva Latex Hybrid Mattress meets all the marks – except one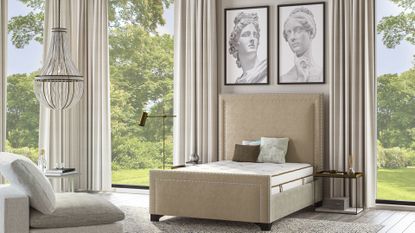 (Image credit: Saatva)
Excellent pressure relief, body contouring, and support are significant factors in considering this latex mattress as a top pick, but the edge support left something to be desired.
Reasons to buy
+

Bouncy and springy, but can't actually feel any coils thanks to hybrid design

+

High-quality topper that feels luxurious and well-designed

+

Breathable

+

Low motion transfer to other parts of the mattress
Reasons to avoid
-

The edges give way easily if you are sitting on the side

-

$99 return fee
You can trust Homes & Gardens. Our expert reviewers spend hours testing and comparing the latest products, helping you choose the best for you. Find out more about how we test.
Mattresses go through a lot in my house – my husband and I have four sons under age 7, a 60-pound Aussie-Doodle, and widely differing mattress preferences. They serve as a springboard to unauthorized attempts to hang from the bedroom fan. They endure nights where multiple kids end up co-sleeping in addition to two full-sized adults, thanks to nightmares. Also, as chronic back pain sufferers, both of us carry high expectations for our mattresses, expecting them to help our pain problems, not add to them.
Saatva Latex Hybrid Mattress At A Glance
Firmness: Medium
Type: Latex Hybrid
Construction materials: Organic cotton sleep surface with antimicrobial botanical treatment to prevent mold, followed by New Zealand wool, then latex, then a pocketed coil unit, in a loft pad organic cotton and wool base
Sizes: Twin, Twin XL, Full, Queen, King, Cal King, Split King, Split Cal King
Height: 12"
MSRP: $1,224-$2,424
When the Saatva Latex Hybrid Mattress arrived for testing, and we flopped down on it along with a few said toddlers, there was an immediate wow factor. For years we'd struggled to find a firm but soft mattress, the ultimate contradiction, but exactly what we needed for restful sleep. This hybrid mattress accomplishes that, through a five-layer system including a plush cotton topper, followed by a wool layer, a latex layer, on top of a pocketed coil unit far enough from your body that you'd never feel a "spring", all nestled into a solid base to anchor the hand-tufting and keep everything in place. This combination creates a bouncy yet firm feeling, cushioned in pillow-y softness that feels like a hotel. It's exactly the type of feeling you'd expect to find if you're after the best mattress.
Owning a Saatva might mean that you don't need another mattress for a long time, as the brand stands by its promises to be transparent, ethical, and eco-friendly, and its attention to detail shows in this product. (We'll get in more to this in our coming review.) Customers enjoy both a 1-year home trial and a lifetime warranty, alongside free in-room delivery and setup, with free removal of your old mattress. Their concern for customer satisfaction ensures that you are actually sleeping on a mattress that will stand the test of time, or you can send it back (note: there's a $99 return fee to cover labor and gas to pick it up again).
Who will the Saatva Latex Hybrid mattress suit?
Those looking for a "cozy" but supportive mattress, including stomach and side sleepers: If you've been looking for a soft and cozy mattress, but not at the expense of a firm, supportive sleep experience, this one's for you. It might seem like those two concepts can't work together, but they do. This is important, especially for stomach or side sleepers, who can't have a saggy mattress causing their back to arch unnaturally when they sleep, especially if they have back, hip, shoulder, or other joint issues.
Those who want some bounce or "give" to their mattress: It is especially springy or bouncy, but you sure can't feel a single-coil like a cheap motel mattress that leaves you achy in the morning. Instead, the bounciness means that you are supported on each natural curve of your body.
Sleepers who shy away from extremely firm mattresses: People who prefer a "hard" mattress might not love the soft topper, which has some plush "give" but does still provide overall support. Having previously used one of the firmest mattresses available with another brand, this was much more forgiving. But those who want extreme firmness may need to look elsewhere.
Those looking for an ethically produced mattress: Saatva mattresses utilize natural and recycled materials including over made with organic cotton, natural latex that's certified free of toxic chemicals, emissions, and pollutants, recycled steel coils, and a flame retardant barrier made from certified organic New Zealand wool, Mattresses are made to order in the USA and rarely travel more than 100 miles to reduce carbon emissions from factory to your home.
Consumers unsure of which type to buy: The hybrid option offers multiple materials that make everyone happy — those who want the long-term support of coils, but also who enjoy the extra layers of comfort that the latex provides.
Hot sleepers who want breathability: As someone who sleeps almost face down right on the mattress, I witnessed firsthand that the mattress is highly breathable, and doesn't create extra heat.
What's the Saatva Latex Hybrid mattress like to sleep on?
It can be hard to determine whether a mattress will be perfect for you while online shopping, but considering these features can aid your decision.
Overall comfort and support
Normally back pain has turned me into somewhat of an insomniac – tossing and turning through the night seeking a more comfortable position. When I woke up the first morning on the Saatva I turned to my husband and said 'Oh, it was our mattress.' I hadn't realized how detrimental our overly firm mattress had been in exacerbating chronic pain. As a stomach sleeper, it was highly supportive and also breathable, as I don't even use a pillow for optimal spine alignment during belly sleep. My husband who is a back sleeper also found it to be much more comfortable than our firmer older mattress, and more supportive.
Breathability and cooling
Being a face (stomach) sleeper means cooling and breathability is of the utmost importance. The Saatva didn't disappoint in these aspects, as Saatva's website credits their 'open-cell structure' that allows for more airflow and a cooling feeling. The mattress itself didn't have a dense or heavy feeling which contributed to better breathability, even when your face is directly down on the mattress.
Motion transfer
We went bold and didn't cover our cup of water in the 'cup test,' where we let numerous toddlers jump around the open cup on the bed. Not only did water not splash out, but the cup didn't come close to spilling in spite of their shenanigans. This proved the Saatva has excellent motion isolation, contributing to excellent sleep for each partner.
Edge Support
One of the only major flaws with the mattress is that the edges, in spite of a supportive edging that helps you realize you are at the end of the bed while you dream, do not hold your weight when you sit on the edge. In fact, I would never be able to sit on it to put sneakers on. The edges do cave in as you move towards the sides.
Weight test
My husband at 6'5" and 240 muscular pounds is the ultimate weight test – lying next to him on our old mattress meant a dip in the bed naturally occurred, which I'd end up accidentally sliding into in the middle of the night. This wasn't an issue with the Saatva. Instead, it supports weight on one part of the bed without transferring to the other side, helping us both sleep more soundly without affecting each other with our movements.
Saatva Latex Hybrid mattress design and construction
The main allure of the product is that there are many layers between you and the coils which are necessary and helpful for springiness, but not close to your actual body at all. The mattress products are non-toxic materials 'Greenguard Gold and eco-INSTITUT' certified, meaning pollutant and emissions-free, reducing potential exposure to daily chemicals that could harm your health. It also features hypoallergenic latex to prevent dust mites, mold, and other indoor allergies.
First, what you see, a hand-tufted Euro Top cushion wrapped in soft organic cotton is both breathable and provides the first introduction. Saatva uniquely treats its mattresses with Guardin, a botanical anti-microbial treatment that stops the growth of mold or bacteria. Immediately underneath, a layer of GOTS-certified New Zealand wool naturally wicks away moisture, serves as a temperature regulator, and is an all-natural flame retardant.
The 3" latex layers offer excellent body-contouring support, which felt like it was relieving all the right pressure points through soft cushiony material, but with a supportive and structured feel below that. It also felt more durable than past memory foam style mattresses I've tested in the past which eventually seem to lose their ability to bounce back after months of use. This mattress doesn't have that issue and continues to maintain its shape and support level while alleviating pain through the strong structure. The latex featured reinforced support around the lumbar region and ventilated pinholes for added breathability.
Then, the individually pocked coils, made from recycled steel, provide essential support, minimizes motion transfer, and increase breathability.
One interesting note about the mattress topper is that the tufts can be felt a slight amount through your sheet, but they are not overly noticeable or uncomfortable. They make for a beautiful design on the mattress itself, though you might rarely see it with bedding on. If this is a concern for you, adding a mattress protector helps create a slight buffer.
While I'd prefer a mattress that is flippable to optimize both sides as the years create wear and tear, this mattress doesn't offer this (though neither do many of its competitors anymore). But the excellent support, construction, and design imply that it won't need to be flipped anytime soon anyway.
Ordering, delivery, and set up
Saatva products are available exclusively via Saatva's website or by visiting one of their growing number of Viewing Room locations. Each mattress is made-to-order, taking an average of 9-21 days from creation to delivery.
Once ready for delivery, Saatva offers 'white-glove service,' which for those of us who always bought a mattress and loaded it into the back of a pickup at the expense of our backs, was a lovely surprise. It's simple – Saatva's delivery service calls you to let you know your drop-off time, and then two strong delivery people show up at your door during that window. Then, you point to the room, and they haul it up the stairs and set it up completely. But it doesn't end there. They also offer to take away your old mattress and handle disposing of it for you.
The delivery people handled the mattress carefully, setting up the wrapped mattress and then unwrapping it. Though it wasn't needed, they also build any foundation items you may purchase along with the mattress, making the product widely accessible to everyone in spite of physical limitations.
Saatva warranty and trial period
Saatva now offers a lifetime warranty on its mattresses. Saatva's trial period spans an entire year for you to decide if it's worth it for you. Saatva deducts a $99 return fee to cover the cost of picking up the mattress. Returned mattresses are donated to veterans' shelters or offered to employees and associates across their network of more than 150 delivery centers.
How does the Saatva Classic rate online?
Many high-quality mattresses stand the test of thousands of critics who have tried them, including the Saatva Hybrid. The product's website has 61 reviews, averaging 4.8 stars. One reviewer says, 'We both have had the best sleep of our lives in this bed…I've had lower back and hip pains for years and this bed has relieved a lot of that pain.' Other reviewers noted that they were less hesitant to try it thanks to the generous return policy/trial period ensuring they really love it first.
Is the Saatva Latex Hybrid mattress worth it?
I now spend time at dinner parties telling my friends they need this mattress. Some of them scoff at the higher price than some other mattresses, but I am confident they will go through two lower-quality mattresses before I have to replace this one, and my back has thanked me since the switch.
The lenient return policy makes it less of a scary financial commitment and proves the company's dedication to ensuring you have a mattress that actually matches your needs. THis is essential for an item that can and should last as long as it promises to.
Excellent pressure relief, body contouring, and support are other significant factors in considering this mattress as a top pick.
So, it's worth it if you are looking for support, quality, and a little bounce.
Where to buy
About our review – and our reviewer
Alex's Sleep Stats
Sleep position: Belly, no pillow
Insomnia? Bad, thanks to back pain
Sleep problems: frequent rolling
Average sleep time: 9 hours, depending on interruptions from kids
Alex is a 30-something mom, wife, and journalist in Cincinnati with four sons under 7, an old, achy, back, and a passion for product reviewing.
All our reviews, as in the case of the Saatva Latex Hybrid mattress, are based on the real-life experience of using these products at home. Alex tested this product for more than a month before writing about it, and continues to admire its quality. She has been allowed to keep the product for continued testing and hopes to be able to report back that it has stood the test of time in years to come.
Sign up to the Homes & Gardens newsletter
Decor Ideas. Project Inspiration. Expert Advice. Delivered to your inbox.
Alex Frost is a Cincinnati-based journalist and content marketing writer who specializes in medical/health, mental health and wellness, parenting and relationships, education, trends, business, and lifestyle writing. You can find Alex's work in Huffington Post, The Washington Post, Glamour, Parents, Women's Health, Reader's Digest, Popular Science, and Today's Parent, among other publications.