Tempur-Pedic ProAdapt Medium Hybrid mattress review
We tested the Tempur-Pedic ProAdapt Medium Hybrid mattress alongside the TEMPUR-Ergo Smart Base powered by Sleeptracker-AI. Here's our experience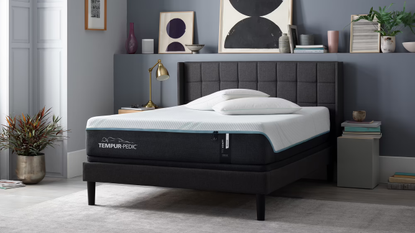 (Image credit: Tempur-Pedic)
Backed by the dependable Tempur-Pedic reputation, the ProAdapt Medium Hybrid Mattress combines the best pressure-relieving and motion isolation qualities of a Tempur-Pedic with the responsive and breathable qualities of a hybrid. Match made!
Reasons to buy
+

Sleeps cool

+

Cover zips off

+

Decent edge support and excellent motion isolation

+

In-home delivery
Reasons to avoid
-

Very Expensive

-

Heavy

-

Not compatible with box springs or on floor
You can trust Homes & Gardens. Our expert reviewers spend hours testing and comparing the latest products, helping you choose the best for you. Find out more about how we test.
Tempur-pedic is well established within the mattress world for innovation, though not to be confused with memory foam.
The renowned Tempur material was originally developed by NASA scientists in the 1960s to develop a material to absorb the G-force of astronauts traveling into space.
Tempur-Pedic ProAdapt Mattress At A Glance
Firmness: Medium-hybrid
Type: Hybrid
Construction materials: Tempur material and coils
Sizes: Twin, Twin XL, Full, Queen, King, Cal King, Split King, Split Cal King
Height: 12"
MSRP: $2,799-$5,598
The result: a viscoelastic material containing billions of heat-sensitive open cells with a "slow spring back foam." Years later, the material's formula was made public, and the quest to make this material optimized for sleeping began.
This proprietary material was quickly found to offer the perfect combination of support and comfort, with absorption, and motion separation for uninterrupted, deep sleep. Unlike memory foam, the Tempur material is uniquely formulated to respond to your body's weight, shape, and temperature.
We tested the Tempur-Pedic Pro Adapt Mattress alongside the Tempur-Ergo Smart Base powered by Sleeptracking AI to see how the pair created the ultimate Tempur-Pedic experience: advanced pressure relief, superior contouring, motion isolation, and complimentary sleep technology.
The Tempur-Pedic ProAdapt mattress is available in soft, medium, medium hybrid, and firm variations. After much back and forth between selecting the medium and the medium hybrid, we decided to go with the responsive nature of a hybrid and was advised that it's a really popular item in the lineup. This mattress is within the "Adapt" range that includes the Adapt, ProAdapt, and LuxeAdapt where each version offers better, best, and ultimate in terms of pressure relief and cooling properties.
Our time with the Tempur-Pedic ProAdapt calls for coveted space on our best mattresses list. Keep reading to see why the Homes & Garden team is so impressed.
Who will the Tempur-Pedic ProAdapt Medium Hybrid suit?
Those in need of pressure relief: the contouring foam will leave your body in a comfortable neutral position
Those who want the Tempur-Pedic feel and support with the convenience of a hybrid: the hybrid design make it easier to get in and out of bed, as well as move about while still enjoying the benefits of Tempur-material
All sleep types: Back, Side, Front, and combo sleepers will be comfortable.
Couples: Whether your sleeping partner is your significant other, a child, or your pet, the motion isolation is unparalleled.
Hot sleepers: The ProAdapt keeps cooling comfort in mind, with its SmartClimate Dual Cover System that is cool to the touch
Those looking to pair with an adjustable base: The Tempur-Pedic mattress alone, great... with a smart base? magic!
What's the Tempur-Pedic ProAdapt like to sleep on?
Overall comfort and firmness
Is it possible for a mattress to feel both firm and plush at the same time? The material may feel firm upon first contact, but as it responds to your body heat, you'll notice the mattress start to conform to your individual shape, and then spring back once lifted. Tempur-material actually responds to temperature, so if a room is really cold, the mattress can feel less responsive and slightly firmer, and the opposite if your room is warmer.
It's easy to move from side to side, though you will have the feeling of being in the mattress.
Pressure relief and support
The goal of Tempur-Pedic is for you to feel like you're floating, for a zero-gravity weightless feeling. That doesn't mean you won't sink in the mattress because you definitely will as it contours around you.
In our weight test, below, see how the the bed craters where the 50lb. kettlebell sits, sinking about 6 inches. This occurs to help put your body in a neutral position as the foam contours around you. The use of coils, however, will keep you from feeling trapped.
Breathability and cooling
I tested this mattress in the transition from winter to spring, and the second warm weather hits, the bedroom in my home where the Tempur-Pedic was placed tends to trap heat and feel like a heat bubble, even with a ceiling fan running. The smart base also has a temperature sensor that constantly notified me the room was too warm for optimal sleep.
On the nights that the room was at a comfortable temperature, overheating never became a concern for me in the bed. On those warmer nights, I didn't feel like the mattress contributed to any temperature discomfort, though I may have kicked off the duvet. The hybrid model has been found to be consistently more breathable (thanks to the coils), though we've found that the soft and medium versions can build up heat due to the conforming nature. The stretch-knit cooling cover, crafted to channel heat away from your body and the mattress also contributed to my sleeping fresh and cool through the night. I even added a mattress protector, which did not interrupt the cooling properties, though Tempur-Pedic advises against mattress pads.
Motion transfer
For a lot of our mattress reviews of late, our reviewers have been rolling around a cup of water with a paper towel secured to it to see if movement caused the water to shift around, leaving wetness on the towel. Well, here's an anecdote for you, while attempting this "test" my dog, who has to be a part of everything leaped onto the bed within inches of the cup filled with water, and it was not disturbed at all. A testament to the motion isolation of the ProAdapt. After all, who recalls the Tempur-Pedic commercials of the early 2000s with a filled glass of red wine balanced on the bed as a woman jumped about.
Edge Support
The addition of coils helped reinforce edge support. If you're sitting on the edge, your body does sink, as opposed to collapsing. There was never that feeling of sliding right off when sitting on the sides or the front of the bed.
Tempur-Pedic Pro Adapt mattress design and construction
The Tempur-Pedic is a heavy mattress, luckily they offer in-home delivery because I don't think I'd be able to have managed this mattress myself. For perspective, the queen size can range from 85lb.-117lb. depending on the firmness rating.
The hybrid is composed of an outer cover and three main layers:
The SmartClimate® Dual Cover System uses a cool-to-touch outer layer combined with a super-stretch inner panel, so you feel cooler when you lie down, that zips off for easy washing.
The top layer features 6 cm of the TEMPUR-ES Comfort layer for a a softer feel to work in combination with;
a 4cm of the TEMPUR-APR Support Layer is where you'll find the pressure-relieving magic Tempur-Pedic is known for.
The base integrates a hybrid design with over 1,000 premium spring coils for additional edge support & easier movement.
The other versions, soft, medium, and firm will have a similar two-layer makeup of various Tempur-foams. For instance, the medium swaps the TEMPUR-ES Comfort Layer for the Original TEMPUR Comfort Layer.
For those in between the medium and medium hybrid, the medium hybrid will be slightly softer in feel and is helpful for people who have trouble getting out of bed or turning over in bed, but still, seek out the comfort and support of Tempur-Pedic. For instance, the medium swaps the TEMPUR-ES Comfort Layer for the Original TEMPUR Comfort Layer.

Ordering, delivery, and set up
Our experience was directly through Tempur-Pedic's website, but you're also able to find Tempur-Pedic at major mattress stores like Mattress Firm and Macy's, which may have slightly different policies.
Often times Tempur-Pedic runs promotions that will grant you $300 off a range of accessories, or discounts if you opt for a smart base too. They really do go together like milk and honey, to get the most benefit out of your Tempur-Pedic.
Tempur-Pedic offers White Glove Delivery in which they set up your new mattress in your desired room, remove and discard all packaging materials and even dispose of your existing mattress and box spring. The mattress comes off the truck in a large cardboard box and will be ready to be laid on immediately, with no off-gassing period.
Tempur-Pedic warranty and trial period
Tempur-Pedic offers a 90-day trial, but you must sleep on it for a minimum of 30 nights before initiating a return request. A $175 return fee may also apply.
It has a standard 10-year warranty on its products that fully cover manufacturer defects, such as a visible indentation greater than .75 in or a physical flaw in the mattress that causes the TEMPUR® material to split or crack with normal use. It does not cover any increase in softness, comfort preferences, physical abuse or damage, or secondary owners. Also within the fine print, while Tempur-Pedic will fully replace or repair your mattress, associated transportation costs are on you.
How does the Tempur-Pedic ProAdapt rate online?
When you shop Tempur-Pedic directly, the mattress rating that's most prominent lumps together all Adapt, ProAdapt, and LuxeAdapt models. However, at the bottom of the page, if you are to get into the details of the reviews, you can filter out the other mattresses to read reviews individually. The ProAdapt has over 3,500 reviews, and the medium-hybrid makes up about 700 of them.
The mattress is called reliable, supportive, and dependable. Many noted how their back and hip pain have been eliminated while others noted it helped reduce snoring when paired with an Ergo base. Main sentiment pondering why they had waited so long. One reviewer also emphasized a statement I could agree with: "the 12" mattress sits very high on the Ergo base and makes getting into bed a small challenge, but the supported sleep is worth it.
On Mattress Firm, the Medium Hybrid model has nearly 3,000 reviews with an average rating of 4.6, with several noting this mattress has given them the best sleep they've ever had, and there was a minimal break-in period.
Is the Tempur-Pedic ProAdapt mattress worth it?
We don't really want to put a cost on a wonderful night's sleep, but the right tools will make a big impact on the way you view your sleep, with the mattress you choose right in the center. So yes, the Tempur-Pedic ProAdapt is on the pricey side, there's no denying that, but it also lives up to each of the features it highlights: pressure relief that leaves you feeling like you're floating on air, unparalleled motion isolation so no one else's movement can disturb your sleep, and upgraded tech to keep you cool and comfortable. There's also a model for every body and every type of sleeper.
Plus those who are unsure about taking the total plunge on foam will love the Medium hybrid, while those looking for a traditional foam feel will not be disappointed at all.
It's also remarkably simple to take care of: it doesn't require flipping or rotating, and the zip-off mattress cover makes it easy to wash (and replace) for routine care.
Where to buy
About our review – and our reviewer
Jaclyn is the sleep eCommerce editor across the homes titles at Future, including Homes & Gardens, where she spends her days evaluating the best mattresses to seeking out the best ways to make the bedroom your oasis. But because she could literally nap anywhere, anytime, and really needs a full eight hours of sleep to function, the opportunity to test out mattresses for our readers brings a new definition to the title of a dream job! In what other world would she get the chance to sleep on the job!
All our reviews, as in the case of the Tempur-Pedic ProAdapt mattress, are based on the real-life experience of using these products at home. The products are given to us free of charge and we test them for as long as possible before sending them back to the brand unless we are able to keep them as we are with this mattress. This means that we can continue to use the product which gives us the opportunity to return to our reviews for updating, so you can keep up-to-date with how it's fared over a period of time.
Sign up to the Homes & Gardens newsletter
Decor Ideas. Project Inspiration. Expert Advice. Delivered to your inbox.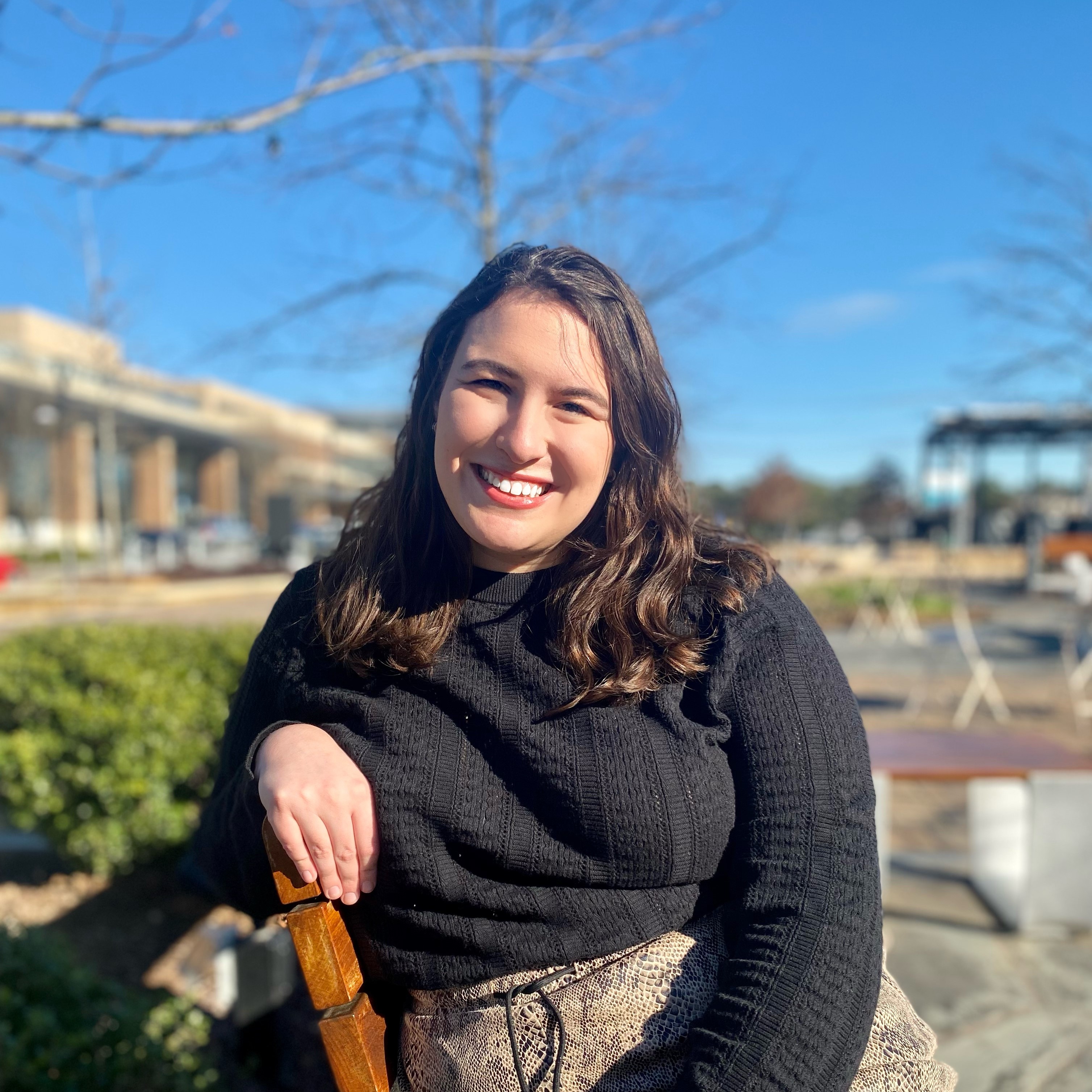 Jaclyn is H&G's eCommerce editor and oversees all things shopping. She's also a bonafide sleep expert, and previously managed all sleep content on Homes & Gardens and Real Homes– in fact, she has passed our five-step certification process to become a verified customer advisor on mattresses. She regularly scouts out the best of the best for buying guides to help you fill your home with only the best. She joined the team in January 2021. She has previously worked with Apartment Therapy, The Kitchn, The Spruce, The Spruce Eats, and MyDomaine. When Jaclyn's not working, she loves browsing real estate listings, unwinding with a chilled glass of Rosé, and entertaining her Cavapoo, Reese.