Birch Luxe Natural Mattress review: eco-luxury at it's finest
Materials matter, especially in the case of the organic Birch Luxe Natural mattress, made with only natural textiles and fibers. Read on for our full experience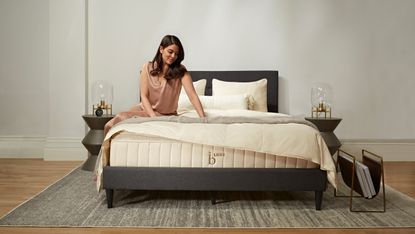 (Image credit: Birch)
If you're looking for a natural mattress that's made with regard to a healthy night's sleep and the health of the environment, this bed is a winner.
Reasons to buy
+

3 organic cashmere and wool comfort layers

+

Zoned lumbar support for enhanced contouring

+

Great edge support

+

Sleeps cool and moisture-wicking
Reasons to avoid
-

In-home set up only available for King and Cal-King customers

-

Heavy. Setting up this mattress is a two-man job

-

Expensive. The Birch Luxe costs $1,000+ more than the standard version

-

Latex. If you have an allergy, you'll want to steer clear

-
Birch has secured a foothold as one of the best organic mattress brands on the market thanks to a combination of high-quality, all-natural materials, an environmentally conscious manufacturing process, and a reputation for comfort. After testing out the Birch standard mattress for a review last spring and sleeping on it every night since I can personally vouch for the latter. So, when it came time to review the Birch Luxe Natural mattress, the brand's upgraded offering, I was excited to be the one to check it out. Especially because I've found the original Birch Natural mattress to be incredibly luxurious to begin with.
Birch Luxe Mattress At A Glance
Firmness: Medium-Firm
Type: Latex-Hybrid
Construction materials: Naturally sourced latex, organic cashmere, organic wool, organic cotton
Sizes: Twin, Twin XL, Full, Queen, King, Cal King
Height: 11.5"
MSRP: $1,849 - $3,249
There are a number of features that set the Birch Luxe Natural mattress apart from the original, and even some of the best mattresses, and they're all pretty lavish. First and foremost, the Luxe boasts two extra comfort layers, the part of the mattress that adds loft and softness. One of those extra layers is made from a blend of organic wool and organic cashmere, while the standard mattress sticks to organic wool. Other upgrades include lumbar support for added contouring, extra edge support, and a matelassé woven cotton cover.
Naturally, the added features come at a price, to the tune of about $1200. So is the price jump worth it? Here's an overview of the pros and cons of the Birch Luxe Natural mattress and how it compares to the best organic mattresses out there.
Who will the Birch Luxe Natural mattress suit?
Those looking for a luxury mattress: This mattress is, without a doubt, a luxury. It's heavy, it's soft, and it just feels well made. The stitching is beautiful, it's cozy, and it makes you feel like you're at a posh hotel when you sleep on it. It's a splurge-worthy splurge, indeed.
Those looking for a natural, ethically manufactured mattress: Birch uses only natural and organic materials and is committed to ethical sourcing. Its products have received a wide range of supporting certifications, like GOTS, Greenguard, Fair Trade, and Wool Integrity NZ.
Those avoiding flame retardants: This mattress is flame-retardant free, and instead uses wool as a natural fire repellant.
Hot sleepers: I tend to sleep hot. It was actually a too-hot memory foam mattress that prompted me to try the hybrid-style Birch mattress (half latex, half coil) since they tend to sleep cooler. I've found this to be true.
Couples: The mattress is medium-firm, which tends to be a sweet spot for those who need a firm mattress and those who prefer a plusher feel. Plus, it offers excellent motion transfer, so you won't feel your partner toss and turn during the night.
What's the Birch Luxe Natural mattress like to sleep on?
Overall comfort and firmness
As a stomach and side sleeper, I find this mattress incredibly comfortable for both positions. One of the issues I had with memory foam mattresses was that, when I slept on my stomach, my hips tended to sink into the mattress, which put a lot of pressure on my lower back. The Birch Luxe Natural mattress is more supportive, and I don't sink into the latex top in the same way I did with the memory foam mattresses I've tried. That said, it's not overly firm, either. The plush top layers give it a softness that's instantly cozy.
Overall, the mattress feels indulgent. It's heavy, it's soft, and it just feels well made. The stitching is beautiful, it's cozy, and it makes you feel like you're at a posh hotel when you sleep on it. It's a splurge-worthy splurge, indeed. This is the type of mattress that makes you look forward to crawling into bed each night (even more so than you already do).
Breathability and cooling
One of the big reasons I traded in my memory foam mattress is because it was too hot. The Birch Luxe Natural mattress is noticeably cooler. This is both thanks to the fact that it has a coil base, as well as the materials it's made with. Cotton, cashmere, and wool are naturally breathable and thermoregulatory fibers, and wool has the added benefit of being hygroscopic, which means it absorbs humidity.
Motion transfer
I sleep next to a 6'4" man, so motion transfer is important to me. This is one area where the Birch Luxe Natural mattress shines. With more than 1,000 individually wrapped coils and a motion-absorbing latex layer, the motion transfer is just as good as a memory foam mattress.
As a former memory foam devotee, edge support is one of the things I love most about hybrid mattresses. You can sit on the corner of the mattress without slumping off. Compared to the Birch standard mattress, the Luxe touts improved edge support, however, I didn't notice a huge difference between the two. Still, the edge support on this mattress is excellent.
Birch Luxe Natural mattress design and construction
The Birch Luxe consists of ten separate layers.
The cover is an organic cotton matelasse, designed for breathability, followed by a naturally fire-retardant wool layer just beneath it.
Then comes the three comfort layers, including the top one made from cashmere and wool, which adds a plush touch while also promoting airflow and heat regulation.
The bulk of the mattress comes from the next two layers, a thick band of latex, which helps to relieve pressure points and offer support, and the coil layer, which features more than 1,000 individually wrapped coils. Finally, the base layer is another sheet of moisture-wicking wool.
Materials
There aren't many mattresses that can compete with the Birch Luxe when it comes to materials. Birch takes a lot of care when it comes to sourcing what goes into its mattresses. The Birch Luxe mattress consists of only natural textiles and fibers, plus steel coils. The complete materials list includes Organic cotton, organic cashmere, organic wool, natural latex, and steel.
The brand goes above and beyond when choosing specific materials, too. The organic cashmere, for example, is from herded free-range cashmere goats, which are only combed once a year.
Eco-friendliness
The Birch Luxe comes with a long list of eco-friendly certifications. It's made with GOTS-certified organic cotton, Wool Integrity NZ-certified, fair-trade wool, organic cashmere, and naturally sourced, GREENGUARD Gold and eco-INSTITUT-certified latex. What is it made without? Chemical flame retardants and foams you can barely pronounce.
Ordering, delivery, and set up
Image 1 of 2
I ordered the mattress directly through the Birch website. It was shipped via FedEx ground and arrived at my door in about three weeks (the website currently states delivery lead times of 1-4 weeks). Delivery was contact-free, and the mattress was left in a box on our side porch. It weighed a ton and required both my husband and myself to bring it into our home. However, because the mattress is vacuum-packed in a compact box, it wasn't cumbersome to move, which is a plus.
After removing it from the box in our bedroom, my husband and I laid it on our bed and cut the plastic packaging, which immediately expanded the mattress (so stand clear!). Once it was unrolled, it re-inflated pretty quickly, and we slept on it that night.
Birch warranty and trial period
The mattress is covered with a 25-year limited warranty, which encompasses manufacturing defects. The first 10 years are fully covered and include any defects in workmanship or materials. Years 11-25 are covered by a prorated warranty, which means Birch will replace the mattress at a portion of the cost, depending on how long you've owned it.
As for returns? If you decide you don't like sleeping on the Birch Luxe Natural mattress, you have 100 days to send it back, free of charge.
Birch Luxe Natural vs. Birch Natural
Between the standard Birch Natural mattress and the Birch Luxe Natural mattress, I found the Luxe version to be softer, almost akin to when I tried the standard Birch mattress with the brand's plush topper. This makes sense because, as I mentioned, the mattress features two extra comfort layers. It also looks higher-end thanks to channel stitching around the base.
I also noticed a difference in the way each mattress smells. The standard Birch mattress smells a lot like wool when you first open it, and the smell lingered for a couple of months. It's not a bad smell by any means, but it's definitely there and is a *bit* reminiscent of a farm. The Birch Luxe Natural mattress had almost no smell (no wool, no chemicals, nada), and what little smell it did have faded after a few days.
Is the Birch Luxe Natural mattress worth it?
Absolutely. Crafted with a the highest quality natural materials, and a long list of eco-certifications, we think if you're looking for a natural mattress that's made with regard to a healthy night's sleep and the health of the environment, this bed is a winner.
The mattress itself is luxuriously plush, and features the essential elements that we appreciate in a mattress like breathability, support, comfort, and structure. While the set-up is a little cumbersome due to it's weight, once the bed is made, it's sweet dreams from here on out.
Where to buy
About our review – and our reviewer
Kaitlin Madden Armon is a writer and editor covering all things home. Her work has appeared in Real Homes, Architectural Digest, Martha Stewart Living, Refinery29, Modern Luxury Interiors, Wayfair, The Design Network, and lots more
All our reviews, as in the case of the Birch Luxe mattress, are based on the real-life experience of using these products at home. The products are given to us free of charge and we test them for as long as possible before sending them back to the brand unless we are able to keep them as we are with this mattress. This means that we can continue to use the product which gives us the opportunity to return to our reviews for updating, so you can keep up-to-date with how it's fared over a period of time.