The 10 timeless kitchen design essentials – to ensure yours never, ever dates
They are a big investment, so the key is to create a timeless kitchen that will still look current in years to come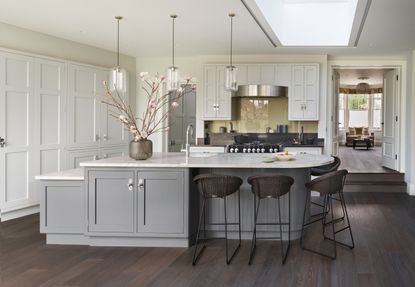 (Image credit: Martin Moore)
Sign up to the Homes & Gardens newsletter
Decor Ideas. Project Inspiration. Expert Advice. Delivered to your inbox.
Thank you for signing up to Homes & Gardens. You will receive a verification email shortly.
There was a problem. Please refresh the page and try again.
Choosing a timeless kitchen is the singular most important aim that anyone of us should have if we're remodelling but might need or want to move house any time in the next eight to 10 years.
Of course we want to love the style of our kitchens, and for them to look beautiful while being practical, but it is the one room in the house that can really add value to a home – and make or break a sale – so it's vital that it isn't going to date.
The key to designing a timeless kitchen so that even if you're not planning on moving, you won't feel the need to update it every few years? Go classic and you'll get longevity. You can always add your own stamp and personality with easy to replace accessories, wallpapers, window treatments, upholstery and paint colors.
We examine the 10 essential timeless kitchen design elements below – these are what the experts all agree on.
See: Kitchen ideas – decor and decorating ideas for all kitchens
1. Neutral-colored cabinetry is key
Although classic white is a popular color for kitchen cabinetry – and, to be honest, you can't go far wrong with that in terms of style longevity – it's worth using carefully-chosen, neutral color, such as cream, pale grey, an earthy light green, pale blue or beige if you want to create a more individual look without damaging the kitchen's long-term credentials.
Ruth Mottershead, Creative Director at Little Greene shares her thoughts on choosing colors for kitchens:
'One of the liveliest spaces with the most activity and energy, a kitchen is usually the heart of the home. Whilst often you will see bright colors such as vibrant yellows and greens used here to reflect the level of energy in the space, soft neutrals and earthier tones can work just as well and will create a comforting and timeless scheme that feels homely and calming.'
2. Cabinetry style – go for dependable classics
Kitchen trends come and go, but some timeless kitchen elements never date. Traditional Shaker-style and more contemporary flat-fronted cabinetry are both dependable, while painted and wooden kitchen cabinetry are always classic choicees.
And while we have started to see a move away from the all-painted kitchen to one that includes wood finishes and even plywood – which we love – the basic elements remain steady.
Mindy O'Connor, Principal of Philadelphia-based architecture and interiors studio, Melinda Kelson O'Connor Design, talks to us about contrasting materials and using natural wood:
'The use of a dark natural wood, like this walnut, as an accent against a light cabinet color creates a modern feel, but with warmth and depth. Walnut can have a rich and beautiful effect and wood cabinetry is most timeless as an accent rather than dominating the space if used on all of the cabinetry.'
See: Kitchen cabinet ideas – the materials, styles, colors and trends to know
3. A perfect kitchen layout is essential to a timeless kitchen
A layout that is intricately planned to be as near to perfection as possible is going to give your kitchen longevity. If you never have a negative thought about the position of certain elements, you are less likely to want to replace it. A professional kitchen designer – and your own valuable experience can help with this.
However, the main ingredient for a successful layout, whatever the size of the space, is the kitchen triangle, which consists of the sink, oven and fridge. They create the anchor that the rest of the kitchen flows from, whether your kitchen is L-shaped, galley, U-shaped – or built around an island.
See: Kitchen layout ideas – clever ways to arrange cabinetry and configure your space
4. The ideal balance of fitted and freestanding furniture
One of the main decisions when choosing timeless kitchen design elements is whether you opt for a freestanding or fitted kitchen. They both have pros and cons and can fit into 'timeless style' – but, in truth, the perfect timeless kitchen (in our opinion) should have elements of both styles.
Freestanding (or 'freestanding-look' – fitted but looks freestanding) is more laid-back in finish, ideal for period properties – and you can take elements of it – a dresser or kitchen island, for example – with you when you move.
Fitted kitchens ensure you maximize your space to the last inch, especially if you're going down the bespoke road and, whether freestanding-look or not, are usually better at creating a streamlined look in a small kitchen. And, even a totally fitted kitchen can have freestanding elements, such as open shelves.
Which leads us to our next timeless kitchen design element...
5. Open shelving – the new design classic
We believe that open shelving is now one of those timeless kitchen design elements; it's not for everyone, but it's a look that's not going anywhere.
'Having items on display can breathe life and personality into any kitchen,' says Tom Howley, Design Director at bespoke kitchen company, Tom Howley. 'Whether you are displaying your best glasses, earthenware, pots and pans or plants on open kitchen shelving, there are ways to get the look just right.
'Many people may shy away from open shelving as a storage option fearing that it may leave the kitchen looking cluttered or untidy but, done well, it actually helps to open up the kitchen and create a sense of space.
'Having items that you use everyday on display is a great time saver – you go straight to the things you need. It also deters the clutter that might build if you keep your items closed away behind cupboard doors – it's sometimes too easy to stack paperwork in the same space as your breakfast bowls. You won't do that if the world can see what you're up to so it does promote a level of organization too.
'Organised kitchen cabinets make meal planning and grocery shopping easier because everything has a place and you can see at a glance what you need to use up, or stock up on.'
6. A multi-functional kitchen island
You're more likely to see a kitchen with an island these days than without – they've evolved into a kitchen essential that's become a design must-have. You can play with scale and shape to suit your needs – but they have to work hard to cater to all the needs we place on a modern kitchen.
Richard Moore, Design Director at Martin Moore explains why they've become such a key design element:
'Islands provide the most space-efficient way to organize everything in dedicated zones... and this helps significantly with the flow of traffic around the room. They make a great focal point for the room, especially when they are multi-functional incorporating appliances and informal seating.
'They help us multi-task: cooking for a dinner party, chatting to friends gathered around the island or sitting kids down to do their homework whilst we prepare supper. Islands also make great space dividers between the kitchen and adjacent dining/living areas and you can add even more design focus in your choice of color and worktop materials.'
See: Kitchen island ideas – clever ways make a statement
7. Kitchen flooring that's up to the task
'Although the kitchen's design is the biggest priority, it's important not to forget other elements of the room, such as the floor and lighting,' explains Ben Burbidge, Managing Director at Kitchen Makers.
'Everything should be considered individually but also as a whole to make sure they work together. You'll want these pieces to feel cohesive throughout the space and consulting your kitchen designer can help to ensure this.'
Classic flooring choices for kitchens are wood and stone. Wood flooring adds character and in the case of this kitchen shown it adds warmth to the otherwise white scheme. Stone works in the same way and creates a tactile element, it also works well with underfloor heating.
See: Kitchen flooring ideas – stylish but practical floors for kitchens
8. Countertops that are durable – and enduring
Countertops need to work hard from a practical point of view – but also from a design perspective. Our advice? Avoid on-trend countertops or designs that are brightly or boldly colored if you are looking for 'timeless'.
If your units are plain, you can add extra pattern or texture with natural stone, or a stronger marble veining, for example, or combine different materials within a kitchen to create a more eye-catching decorative aspect.
Graeme Smith, Head of Retail and Commercial Design at Life Kitchens explains:
'Your work surfaces are continuously used, whether for preparing and serving food or dining as well as to store everyday items. As such, they need to be able to withstand regular, intensive pressure from pots, pans and utensils as well as remaining timeless.
'They are also always on display and so are a key part of the design process. Think about combining materials such as quartz and granite with end-grain timber to provide you with resilience and durability as well as a strong, statement look.'
See: Kitchen countertop ideas – worktop inspiration in marble, granite and composite materials
9. Kitchen lighting that is chic but incredibly practical
We often spend all our time and budget on the core of the kitchen, but forget about the important finishing touches like lighting. And we don't just mean One Big Light – kitchen lighting needs to be bold when you need it, yet subtle when you want to create ambience.
'Kitchens are often the central hub of the household and are as much entertaining and family spaces as they are functional spaces,' says Charles Bowles, Director at Original BTC. 'If possible, consider your lighting scheme at the planning stage to maximize opportunities.
'You need two types of illumination: shadow-free task lighting for cooking and prep, and ambient lighting for when you simply want to unwind or entertain.
'Most kitchens will benefit from a central lighting source plus a combination of practical, space saving wall lights and spotlights. If possible, make sure your lights are controlled separately so you can create different moods at the flick of a switch. Asking your electrician to install several circuits means you'll be able to introduce texture and depth.
'A dimmable pendant – or, for a dramatic look, a row of pendants – is useful for switching from functional to relaxation mode, whether over your dining table or central island. Consider also accent lighting to highlight areas of interest – it's a great way to showcase a collection of china, or wall art.
'Think about the look of the fittings themselves as well as the overall lighting effect – kitchens can sometimes look austere, and interesting fittings are a great way to soften the look. And don't scrimp on fittings – installing lighting can be an expensive and messy job which you won't want to repeat if you're not happy with the result.'
See: Kitchen lighting ideas – to set the scene for cooking, eating and entertaining
10. Fixtures and fittings – the icing on the cake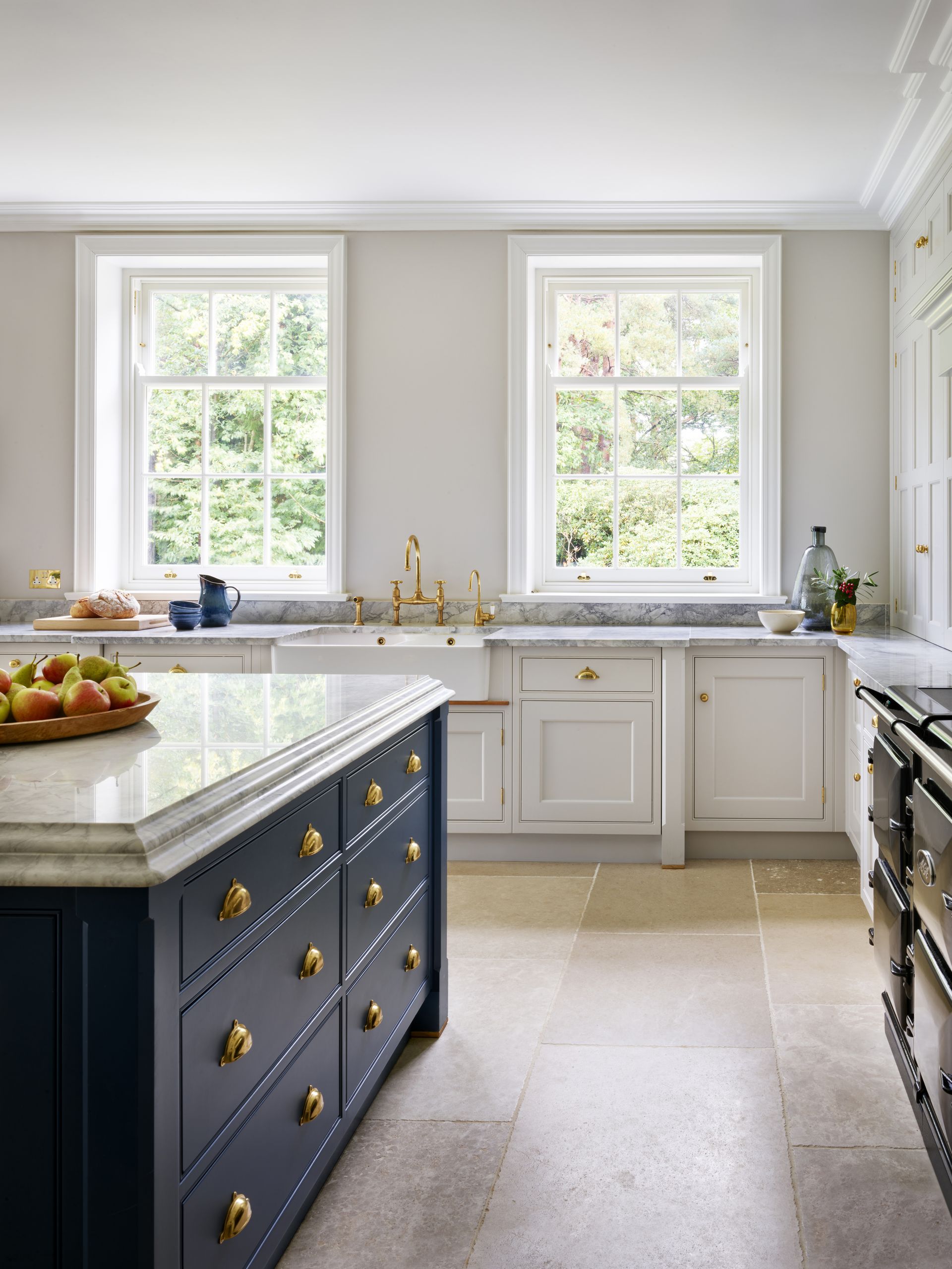 Handles, knobs, faucets, hinges – these are the details that are going to give your kitchen character.
To create a timeless kitchen, it has to have a cohesive look, so make sure you match all of your features and fittings, particularly when using a metallic – the handles, the faucets and light sockets (and so on) should all complement each other.
In this Georgian-style house, Martin Moore designed a classically beautiful kitchen for the family to cook and entertain. Warm brass finishes feature throughout, complementing the hand painted cabinetry and adding visual interest to the space.
Sign up to the Homes & Gardens newsletter
Decor Ideas. Project Inspiration. Expert Advice. Delivered to your inbox.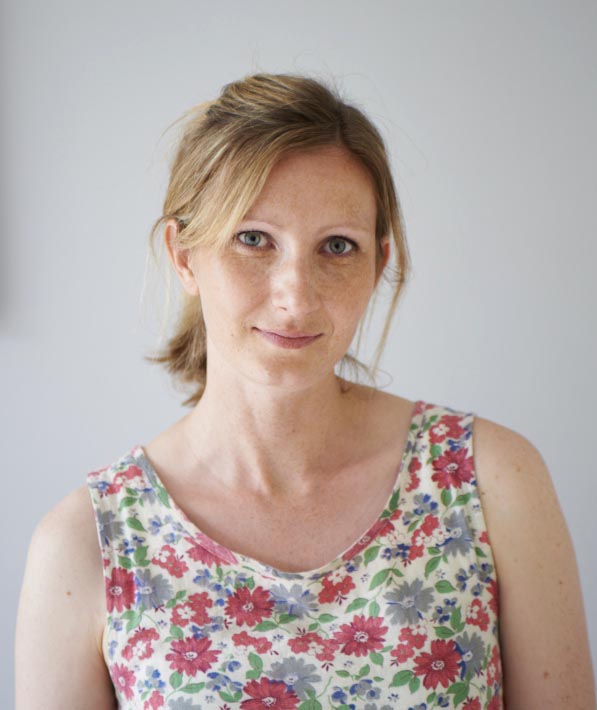 Sophie has been an interior stylist and journalist for over 20 years and has worked for many of the main interior magazines during that time, both in-house and as a freelancer. On the side, as well as being the News Editor for indie magazine, 91, she trained to be a florist in 2019 and launched The Prettiest Posy where she curates beautiful flowers for modern weddings and events. For H&G, she writes features about interior design – and is known for having an eye for a beautiful room.