Double island kitchens – 10 ideas for more counter and storage space
Double island kitchens offer a ton of extra space for everyone – from keen cooks to home-workers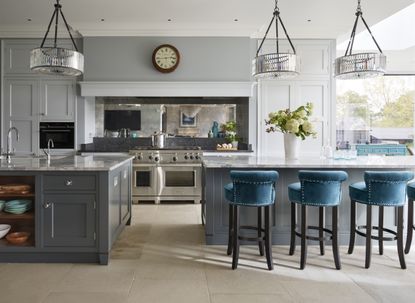 (Image credit: Martin Moore)
Double island kitchens don't have to be the preserve only of those with the largest of kitchens – but if you do have a big kitchen, having two kitchen islands can be really useful.
Why? Well, one very large kitchen island can look monolithic – not in a good way – and its sheer size can make it somewhat impractical. Double kitchen islands allow you to zone prep and dining/work areas, break up the monotony of the layout, and can add much needed interest in a large open plan space. And they're one of those kitchen ideas that can work in more modest spaces, too.
Below, we show you how double island kitchens work well – and offer expert advice and design tips, too.
Double island kitchen ideas
Double kitchen islands allow your space to be multi-functional and neat, and are an ideal addition to a home that doesn't have a separate pantry or home office, for example.
'Kitchen island ideas are a perennial favorite; our homes are evolving, and with this comes the surge in demand for double island kitchens. We are now taking it to the next level and expanding our kitchen islands by doubling up as the extra counter space takes multifunctional living to a new dimension,' bespoke kitchen designer Tom Howley explains.
'Kitchens have become the hub of the home during the last two years and as our lives and habits have changed, so have the demands that we make on our kitchens, and investing in two kitchen islands can simply elevate a kitchen area to a multitude of social spaces to cater for all the family.'
1. Use one island for function, the other for entertaining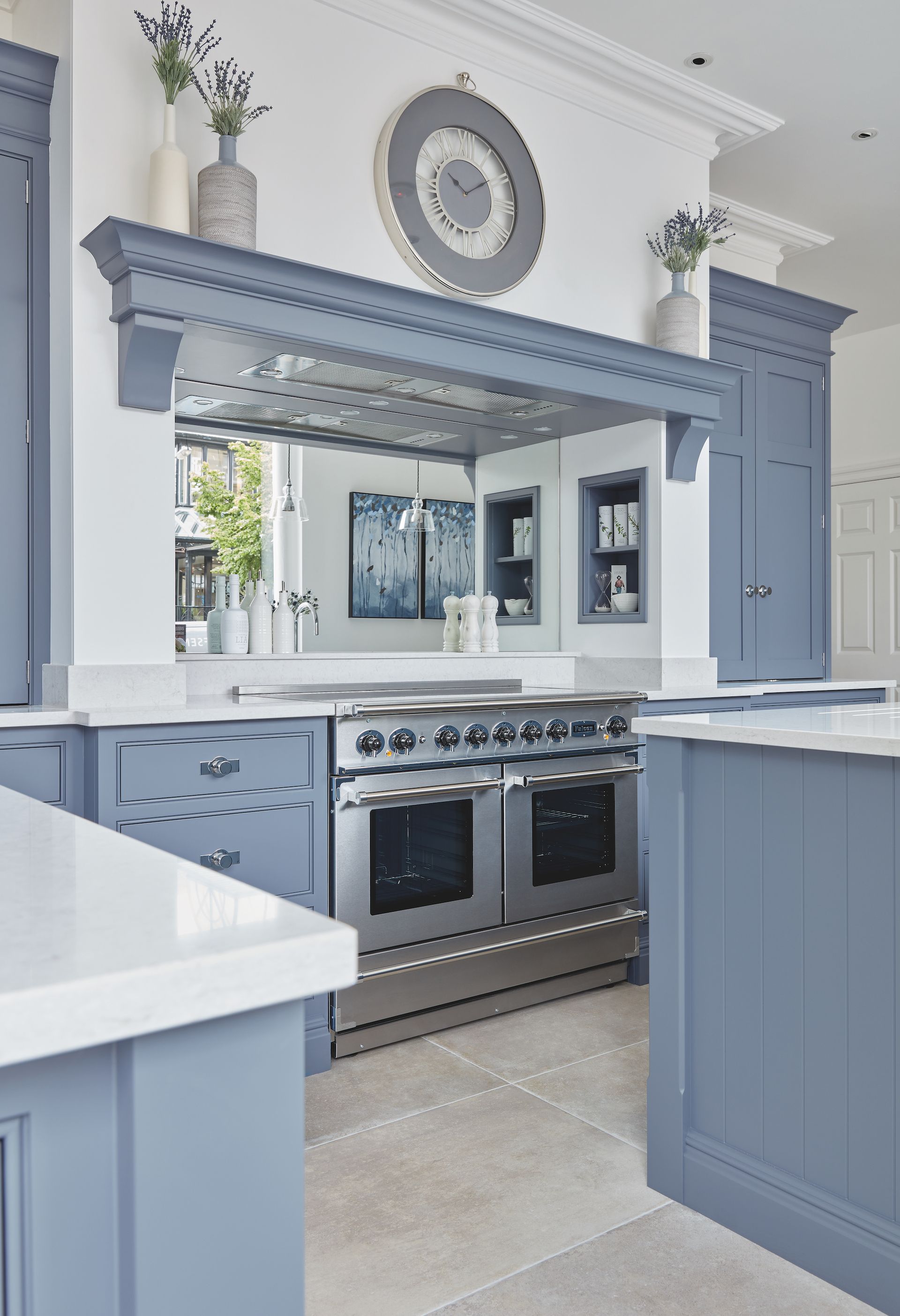 'Having double kitchen islands serves a variety of purposes to make multifunctional life easier – providing twice the counter space in the kitchen for food prep, and even offering a second sink to streamline the cooking process,' continues Tom Howley.
'Typically, one island serves a more functional role – great for food prep and may include a second sink or even a dishwasher, streamlining the cooking process. The second island is then dedicated to entertaining or eating. It often has an area for kitchen island seating ideas, allowing guests to relax as you prepare a meal or for your children to do their homework while you whip up an after-school snack.'
2. Let double kitchen islands blend into your scheme
'The benefit of a double island kitchen layout is that it is great for zoning in open plan kitchens, which is what most people opt for today,' explains Sam Hart, designer at Roundhouse.
'They're a good piece of social furniture and effectively create two different spaces. Another big benefit in an open plan space is that an island can be made to look more like a piece of furniture.'
What we love about this scheme is how the wooden drawers on the far island match the trio of pendants above it, and the decorative light above the table – these design details are elements to consider when designing a kitchen island, or two.
3. Use one island as a breakfast bar
As kitchens are the hub of the home, you can encourage more conversation by designing one side of one of the double kitchen islands for breakfast bar ideas.
'If you have the space, a double kitchen island is an excellent solution; one island can be used as a prepping zone whilst the other can be used as a gathering area when entertaining friends and family. A double island design offers an amazing amount of work surface without the wasted space that you would have with a large, singular island,' says Richard Moore, design director of Martin Moore.
4. Choose an extra-wide countertop for dining
'We wanted to keep the work/prep space in this kitchen separate from the eat-in/entertaining area,' explains Eddie Maestri, AIA principal architect, creative director and owner of Maestri Studio.
'By creating two kitchen islands, we have designated the spaces in a way that brings an overall continuity to the kitchen.'
We love this idea because the width of the second kitchen island is generous enough to create a countertop space that's fit for entertaining. Knowing how to choose the right sized island is more important in a double island kitchen – the two islands need to be in proportion to each other, of the same height (ideally) and with enough circulation space between and around them to ensure their functionality is as well considered as their looks.
'One of the mistakes to avoid with kitchen island design is installing units that are simple too large – two smaller kitchen islands are often much better than one very large one,' says H&G's Editor in Chief Lucy Searle.
5. Make double island kitchens the focus for cooking
'For those who enjoy cooking, creating a zone in the middle of an open-plan kitchen to work is so beneficial,' explains Gary Singer, founder and creative director of Eggersmann Design.
'It's a really good way to create an isolated space, yet you are in the middle of the room. There is a clear thoroughfare to the tall storage away from the islands, so that the cook isn't disturbed by people coming to the fridge or larder. And more edges mean that more people can congregate, with the cook in the middle.'
Note, too, the kitchen island lighting ideas matched above these double kitchen islands – they provide decoration, focus and unity.
6. Stagger double kitchen islands to create a layout that works
Contrary to popular belief, your double islands don't need to line up and they can be different lengths and widths if you're not a fan of a symmetrical feel.
One can be placed nearer to the range and store tableware, sink and hob. The other can be for casual dining and family get-togethers, and be used for holding appliances like a wine fridge. Here, the island with the breakfast bar is set back a little so that there is room on the floor plan for breakfast seating to be pushed in and out comfortably.
7. Narrow double kitchen islands are perfect for a small space
For a truly bespoke look, consider La Cornue's kitchen layout below. Bold and beautiful, these double kitchen islands are perfect for narrow, long or square kitchens, providing defined zones for washing dishes, cooking and prepping and dining – or home working.
8. Position double kitchens islands in line for symmetry
'We decided to do double islands in this kitchen to maximize the space and give the client a dedicated prep area as well as dedicated eating space,' says Lauren Lerner, founder and principal designer at Living with Lolo.
This charming kitchen has a lovely light and airy feel due to the pale blue cabinetry and light marble countertops. The overall layout is key to double islands working within the scheme, and here, symmetry plays its part well.
9. Use the second kitchen island for display
Modern kitchen island ideas mean that you can be more flexible with your approach. This might mean that one of your pair of double kitchen islands looks more like a sideboard, perhaps serving the dining zone in the kitchen, and of course, you can even explore portable kitchen island ideas for a truly flexible space.
In this kitchen you can see how well it can work, the second island can be used to suit your own individual needs, be it extra storage, a breakfast bar or a bespoke console. Whichever you choose, you will still get extra countertop space. We asked Eddie Maestri, AIA principal architect, creative director and owner of Maestri Studio his advice on how to make this flexible kitchen addition work:
'When keeping a kitchen open to the adjacent living room, we still like to incorporate some kind of visual divider in the space that is both beautiful and functional. In this case, we designed a two-sided console as an island. This piece adds definition to the room, but is still functional to serve food when entertaining, and to accessorize as a piece of furniture.'
10. Create a traditional look in a double island kitchen
If you're not a fan of the conventional-style double island kitchen options then consider this charming version instead.
'The ground floor of this home is taken up by a breakfast room and kitchen. The design of this kitchen was a collaborative effort between myself and bespoke specialists Artichoke, who made it,' explains Henriette von Stockhausen, Co-Founder design agency of VSP Interiors.
'At one end of the room, there is a professional stove with induction hobs, set into an arched alcove, and a pair of hefty wooden preparation tables. At the other end, a long dining table stands in front of the French windows. These two areas are divided by a marble-topped counter, reminiscent of the waiter's station at a traditional French brasserie.'
Why have a double island kitchen?
There are many benefits to having a double island kitchen – firstly you double your space immediately in terms of both countertops and hidden storage. Double islands can help you zone a room, separating a cooking area from a dining area, and can add a more sociable appeal to your space too if you position bar stools on one island. If you don't have space for a laundry room you can use an island for the washer, or can dedicate one to being a pantry, too.
How big does a kitchen need to be for a double island?
The myth is that you need a large kitchen in order to fit in two islands, when in fact, you don't – a kitchen no bigger than 10ft x 10ft can fit in two small islands. Double islands don't need to be huge – you can opt for long and narrow, or no bigger than an average dining table. You could even have an island instead of having a wall of cabinetry which would give you a more compact storage space.
Sign up to the Homes & Gardens newsletter
Decor Ideas. Project Inspiration. Expert Advice. Delivered to your inbox.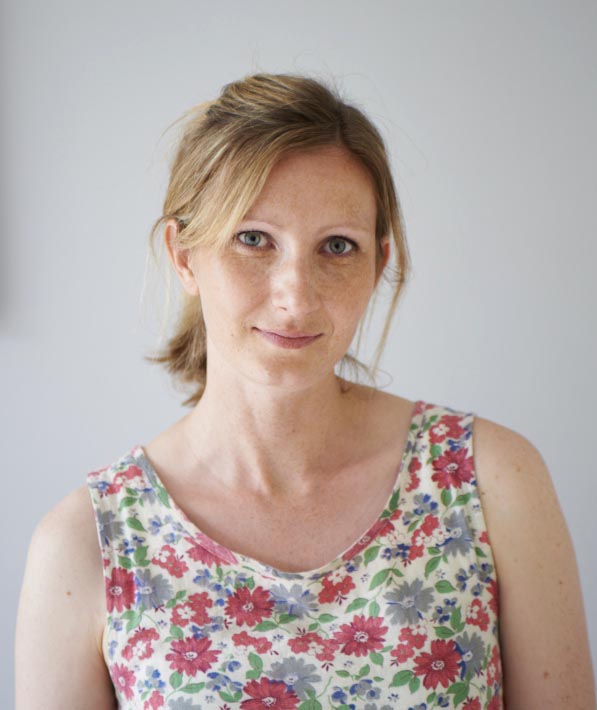 Sophie has been an interior stylist and journalist for over 20 years and has worked for many of the main interior magazines during that time, both in-house and as a freelancer. On the side, as well as being the News Editor for indie magazine, 91, she trained to be a florist in 2019 and launched The Prettiest Posy where she curates beautiful flowers for modern weddings and events. For H&G, she writes features about interior design – and is known for having an eye for a beautiful room.