The 5 types of juicers – and which type is best for you
It's undeniably confusing that there is a range of different juicer types. So what sets them apart? We explain all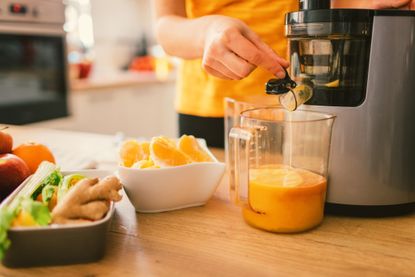 (Image credit: Getty)
If you're thinking of buying a juicer any time soon, you might be overwhelmed by the sheer choice. There are five different types of juicers on the market, and to make sifting through all the information even more confusing, some of them go by more than one name.
One of the jobs we take on weekly is product testing. Our product review team has hands-on experience with every juicer brand, so we know a centrifugal juicer from a cold press, and the pros and cons of each type, meaning we can make short work of helping you divine which is the best juicer for you.
Here, I'll break down the varying types of juicers to help you determine which will be the most beneficial for you and your nutrition goals.
What are the 5 types of juicers?
The two most common types of juicers are centrifugal and cold press juicers. If you already know you'd like one of these, you can find out more in depth information in our investigation of centrifugal vs cold press juicers. Otherwise, this guide looks in detail at all juicer types, and I recommend our pick of the best, too.
1. Centrifugal or 'fast' juicers
Centrifugal or fast juicers utilize a fast-spinning blade to chop up fruit and vegetables against a fine mesh filter to separate the juice from the pulp. They require little prep and can quickly make delicious juice thanks to their high speeds, typically between 6,000-14,000 RPM.
These are better for use with softer fruits, but aren't as adept with ingredients such as leafy greens and herbs. They also tend to require a higher volume of produce to create the desired amount of juice and are noisier than other juicers.
The high speeds of a centrifugal juicer's blades will generate heat which can cause the nutrients to be compromised a little, and they are not as efficient as slow/masticating juicers, as some juice can sometimes be taken along with the pulp, and come out overly frothy.
Centrifugal juicers are regarded as entry-level buys, which makes them a starter buy for anyone on a tight budget. Among the best centrifugal juicers, you'll want to seek out designs like the Breville Juice Fountain which has a wide chute, a high-power motor with two speeds, and ample juicing capacity. You can read our review of the Breville Juice Fountain for more details.
Pros: Varying price points, easy to use.
Cons: Noisy, juice has a lot of pulp or froth and oxidizes faster
Best centrifugal juicer
Specifications
Power: 850W
Capacity: 70fl oz
Feeding tube size: 3.3in
Reasons to buy
+
High capacity juice jug and pulp basket
+
72-hour fridge life for your juice
+
Large feeding tube
+
Good value
2. Cold press or 'slow' or masticating or auger juicers
Cold press or slow juicers, also known as masticating juicers, use a crushing, squeezing element known as an auger to extract the juice and separate the pulp and fibers. In theory, the process is slower, but not in a way that you'd have to wait an extended period of time before being able to enjoy it.
The exacting construction of the best cold press juicers results in a pricier investment, but it offers some of the highest-quality juice. They offer a higher juice yield than their centrifugal counterparts and provide more nutrients because of their slower extraction process.
Slow juicers offer the most versatility, and some even have the capacity to make nut milk and butter, smoothies, and sorbets. Our favorite is the Kuvings EVO820 Whole Slow Juicer.
It's also of note that these machines are generally harder to take apart and clean, with few having dishwasher-safe components.
Pros: Highest juice extraction, quieter operation, more versatile.
Cons: Expensive, hard to clean
Best slow juicer
Specifications
Power: 240W
Capacity: 13.5 oz
Feeding tube size: 3.22in
Reasons to buy
+
Powerful
+
Easy to use
+
Multi-purpose
+
Two-way feed chute
Reasons to avoid
-
Tall and may not fit under counters
3. Triturating or twin gear juicer
Triturating juicers, or twin gear juicers, are part of the masticating family of juicers but use two twin stainless steel interlocking gears (augers) to grind produce between them at a slower RPM than single auger masticating juicers to provide the most thorough and efficient extraction process.
These are definitely the priciest of the bunch, though offer the most efficient juice extraction while providing the highest nutritional content that will last the longest.
Pros: Best fruit extraction and most nutritious, particularly good for leafy greens and wheatgrass.
Cons: Most expensive.
4. Citrus juicers
If you're keen to make fresh orange juice, grapefruit juice, or lemonade, you'll typically get on well with a citrus-style juicer, which uses a cone-shaped reamer to extract the juice from the fruit.
They are available in a range of price points when you decide between manual or electric configurations and are generally easy to use and clean. However, they are only suitable for juicing citrus-style fruits like limes, lemons, oranges, and grapefruit.
Pros: Affordable, typically quiet, easy to clean.
Cons: Only for citrus fruits.
5. Steam juicers
Steam juicers are much more of a niche buy because very few of us will want to extract juice that we'll be bottling and drinking later. However, if you are a keen kitchen gardener, you may find this type of juicer is perfect for you.
Steam juicers work by creating a concentrated juice that's had many of its enzymes, and sadly, nutrients, removed in the heat steaming process. They're typically made of stainless steel and used directly on top of a stovetop. This juice concentrate can be kept refrigerated or frozen or can be used as a drink mixer or to make jams, for example.
Pros: Easy to use, useful if you are juicing large quantities.
Cons: Not the healthiest of options.
What to look for when choosing a juicer
Yield/Capacity
Consider how much juice you will be making, personal portions or enough to stock up on the week, as well as the types of fruit and vegetables you plan to juice. Centrifugal juicers can make a lot of juice, quickly, while masticating juicers are able to squeeze out more juice to create a drier pulp and work well with leafy greens.
Speed
Again, this idea of slow versus fast is determined by how quickly you need your juice: seconds versus minutes. Centrifugal juicers deliver a volume of juice quickly, while slow juicers work slower, but deliver maximum nutrition benefits.
Noise
If you're planning to use your juicer first thing in the morning, the noise level could definitely be a factor in your decision. Centrifugal juicers can be a bit noisy, more like a blender, while slow juicers operate at a lower decibel hum.
Size
Juicers come in a range of sizes, so you'll want to think about factors like height and weight, and where you plan to store them. Not all juicers fit comfortably in a cabinet, while others may be heavy to take in and out.
Ease of use
Consider the time you're able to devote to prep and clean up, as well as the overall ease of use to use. Centrifugal and citrus designs are convenient for beginners just getting started on a juicing routine, while those who plan to make investments in their juicing may get on with taking the time to familiarize themselves with a masticating design.
Health benefits
Whether you're juicing for the convenience of fresh delicious juice or for its nutritional benefits, a masticating juicer offers the most nutritional benefits.
Price
How often you plan to use your juicer may influence how much you're looking to invest. Juicers can cost around $100 to many times that.
Jaclyn is H&G's eCommerce editor and oversees all things shopping. She's also a bonafide sleep expert, and previously managed all sleep content on Homes & Gardens and Real Homes– in fact, she has passed our five-step certification process to become a verified customer advisor on mattresses. She regularly scouts out the best of the best for buying guides to help you fill your home with only the best. She joined the team in January 2021. She has previously worked with Apartment Therapy, The Kitchn, The Spruce, The Spruce Eats, and MyDomaine. When Jaclyn's not working, she loves browsing real estate listings, unwinding with a chilled glass of Rosé, and entertaining her Cavapoo, Reese.