Hurom H-AA Slow Juicer review
The Hurom H-AA Slow Juicer has a compact form that's ideal for smaller kitchens, and it squeezes every last bit of juice from ingredients.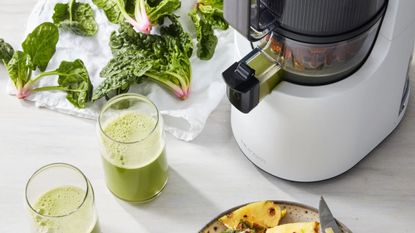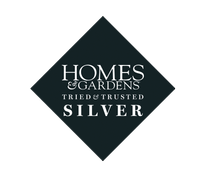 (Image credit: Hurom)
We were impressed with the Hurom H-AA's juice extraction abilities, but there were a few design quirks that we didn't love.
Reasons to buy
+

Sleek design

+

More compact than most juicers

+

Includes three strainers

+

Maximum juice extraction

+

Quiet operation

+

Includes drying rack
Reasons to avoid
-

Must be hand-washed

-

Pulp chute gets clogged

-

Small ingredient chute
You can trust Homes & Gardens. Our expert reviewers spend hours testing and comparing the latest products, helping you choose the best for you. Find out more about how we test.
There's nothing better than turning fresh produce into refreshing homemade juice, but many of today's best juicers are large and bulky, taking up quite a bit of space on your kitchen counter. If you're looking for a more compact option that's better suited for a small kitchen, the Hurom H-AA Slow Juicer has a very sleek and streamlined form, and it even comes with a drying rack to keep all its pieces neatly organized when they're not in use.
While it's definitely an attractive appliance, we wanted to know how the H-AA stacks up against the best cold press juicers—a.k.a. slow or masticating juicers—that we've tested. This style of juicer slowly chews up hard and soft ingredients, pushing them through a strainer to extract as much juice as possible. The H-AA Slow Juicer also comes with bonus strainers that you can use to make smoothies and even frozen desserts, increasing its versatility in the kitchen.
We tested the Hurom H-AA over the course of several weeks, using it to process a variety of fresh ingredients and even make banana ice cream. At the end of testing, we were impressed with its juice extraction abilities, but there were a few design quirks that we didn't love.
Hurom H-AA Slow Juicer: specs
Type: Masticating juicer
Materials: ABS plastic, Tritan, Stainless steel
Dimensions: 8.8 x 7.8 x 16 in.
Cord Length: 4.6 ft.
Weight: 18.2 lb.
Chamber Capacity: 16.2 oz.
Power: 150 watts
RPM: 43
Unboxing
Even just from the packaging, I could tell that the Hurom H-AA Juicer was going to be significantly smaller than many of the other models I've tested—the box was only half the size of the Breville Juice Fountain Cold Plus packaging. As I took the components out of the package, everything was wrapped in a layer of plastic, and I was a bit confused about what some of the pieces would be used for. However, I did immediately love the shiny rose gold finish of the base!
Even though I've tested several juicers in the past, I had to consult the Hurom's manual to figure out what all the pieces were for and how to put this model together. There are three different strainers—a fine strainer, coarse strainer, and ice cream strainer—and several of the pieces are for its drying rack, where you can rest the lid, auger, and strainers after washing. I thought this was a nice inclusion, as it helps keep your counters clear of clutter.
It took me a few tries to get the juicer itself together—I wasn't putting the strainer in properly, which prevented the lid from locking. The strainer needs to be positioned a certain way within the juicing chamber so it locks in place, and once I figured that out, I didn't have any further issues.
Overall, I love the sleek, modern appearance of this juicer, and it's definitely the most compact model I've tested. I have relatively limited counter space in my kitchen, and this appliance is small enough that I could keep it out all the time without it being in the way.
Pineapple, apple and ginger juice
To get acquainted with the Hurom H-AA Juicer, I started out simple with a recipe I make all the time—two slices of pineapple, two apples, and a piece of ginger. As I got the juicer ready to use, I noticed that it has a lever on the front that can be pushed to "open" or "closed" settings. I wasn't sure what to do with it, and the manual explained that it should be closed while juicing. The lever controls a plug at the back of the pulp spout, and it only needs to be open when you're cleaning the appliance.
I started feeding my ingredients into the juicer, and it had no problem grabbing the fruit and pulling it down into the auger. Because it's a masticating juicer, the auger spins slowly, forcing ingredients against the strainer to separate the pulp from the juice. As pulp started being pushed out, I noticed that it was much drier than pulp from the Hurom HP Slow Juicer, one of the brand's less-expensive models.
I did run into a bit of trouble when I was feeding the apple slices into the juicer. The chute is only 2 inches wide and about 1 inch deep, and several of the pieces I had cut off the core wouldn't fit into the opening. As such, I had to stop juicing for a few minutes to cut them up even further on the cutting board.
Because the chute is fairly small, you definitely have to do more prep work than you would with, for instance, the Kuvings EVO820 Juicer, which can easily fit whole apples in its extra-large chute.
Mango, raspberry and pineapple juice
Hurom has a collection of juice recipes on its website, and the recipe for Mango, Raspberry and Pineapple juice caught my eye, as the brand claims it will help relieve stress and improve digestion. I ended up using a whole mango (pitted and peeled), as well as several slices of pineapple and half a package of raspberries in my drink.
When I turned the juicer on this time, the auger made a squeaking noise as it rotated, and it drove my dogs into a barking frenzy. However, the noise stopped as soon as I started feeding ingredients into the machine. Once it gets going, the juicer is actually extremely quiet—you could likely use it without disturbing someone in the next room.
I put the raspberries in first, and the machine extracted an impressive amount of juice from them, with only the seeds coming out of the pulp chute. However, as I put in the pineapple and mango, I was surprised to find that there was no pulp coming out of the machine.
The opening for pulp is quite small, and it seemed to have gotten blocked up with the fibrous pineapple pulp. I also noticed that the juice seemed a bit thicker than usual, almost a smoothie-like consistency, and I have a feeling it was because the pulp wasn't being pushed out of the juicer like it was supposed to be. Overall, this juice recipe was absolutely delicious, and I plan to make it again.
Carrot, spinach and lemon juice
Next, I wanted to try a recipe that used harder ingredients, so I used the H-AA to make another one of my go-to drinks. This green juice recipe includes carrots, spinach, apples, lemon, and ginger.
After peeling the carrots, I fed them into the juicer first, and the machine quickly chewed up the vegetables, extracting a good amount of juice from them. The carrot pulp came out of the pulp chute with no problem, so I think the machine mostly has trouble with more fibrous ingredients.
I cut up the remaining ingredients into small pieces that would fit into the juicer's chute, and it made quick work of everything. It was a little tough to get the spinach into the small hole, but I used the device's pusher to cram the leaves in there. I didn't have as much spinach as I would usually use, so the juice ended up kind of brown instead of green, but it still tasted bright and refreshing.
Banana 'ice cream'
The Hurom H-AA comes with a "ice cream" strainer that's designed to be used with frozen ingredients, so I decided to make banana ice cream with it. This isn't a true ice cream recipe—it just involves pureeing a frozen banana into an ice cream-like consistency. I've made it before using a food processor, and it's surprisingly delicious (and obviously healthier than actual ice cream, as there's no added sugar).
To make this recipe, I set up the juicer with the ice cream strainer, then fed the frozen banana into the chute. In retrospect, I probably should have cut up the banana into pieces, as the juicer had a hard time grabbing the banana in its auger. I did have to push the banana into the juicing chamber with the food pusher, but once it grabbed, the machine made quick work of the frozen ingredient.
Within 10 seconds or so, it had chewed up the banana into a smooth, creamy consistency and extruded it from the spigot. The ice cream came out in a square shape, which was kind of funny, and I will admit that it doesn't look like ice cream. However, the taste and texture were spot on, and I think it would be absolutely delicious with some chocolate sauce on top. You could also mix together different frozen ingredients to create interesting flavor combinations.
My only (small) complaint is that when I went to clean out the juicer, I found that there was quite a bit of banana left behind in the strainer. This attachment doesn't do quite as good a job pushing out the ingredients, so there is a bit more waste than usual.
Cleaning the Hurom H-AA Slow Juicer
One of the big downsides of the Hurom Juicer is that all its components have to be washed by hand. The brand recommends cleaning the juicer immediately after you use it, as the gunk will more easily rinse off. I definitely recommend following this guidance—I didn't have time to clean the appliance right away after one use, and it took a lot of scrubbing to get the dried-on produce bits off the metal strainer. If you clean it right away, the strainer and juicing chamber usually only need a quick wipe with a soapy sponge.
I love that this juicer comes with a drying rack for its components. With other models, I typically end up laying the pieces out on a kitchen towel to dry, and it was much more convenient (and less cumbersome) to simply hang the pieces on the rack until the next time I needed them.
Should you buy the Hurom H-AA Slow Juicer?
The Hurom H-AA Slow Juicer is one of the brand's mid-level models, retailing for $439. It's more sleek and versatile than the Hurom HP Slow Juicer, and overall, it does a great job extracting the maximum amount of juice from all types of ingredients. It can be used to make frozen treats and smoothies, and it's compact enough to keep on your kitchen counter when it's not in use.
However, if it's convenience you're after, the H-AA Slow Juicer may not be the best pick. It has to be cleaned by hand, which can be a frustrating task if you don't do it immediately after juicing, and its small chute means you have to do quite a bit of prep work before juicing. With a model like the Kuvings EVO820, you're able to simply toss whole pieces of fruit into the extra-large chute, and it will chew them up with ease.
About this review, and the reviewer
Camryn Rabideau is a freelance writer and product reviewer who has been testing small kitchen appliances (as well as other home goods) for several years. She's tested everything from toasters to oil infusion machines, and she recently fell in love with juicing, as it's a great way to use up the extra produce she grows on her farm while sneaking more vitamins into her diet.
Camryn does her product testing from her small homestead in beautiful Rhode Island. When she's not tinkering around with the latest home gadgets, she spends her time tending to her animals, working in her garden, or crafting.